You're looking for some of the best cheap bourbons
Good bourbon doesn't have to be expensive, but when you get into the bourbon under $30 range, you also start running the fairly high risk of getting something not particularly good, or undrinkable at worst. You get what you pay for, but ideally you get something that over delivers for the price, which is what I'm going to delve into here. You're smart to be reading this list.
Major distilleries dominate in this price range because they have the scale to do it. At least for now, craft distilleries generally can't afford to price any of their whiskeys (or at least good whiskey) under $30 because starting a distillery is very very very expensive, and they need that money to fuel their business. That may change over time.
Here's the general criteria I used so you understand my general thought process to identify some of the best cheap bourbons.
At least "Mid Shelf" rated, with a preference towards "Mid Shelf+" if possible. 
Predominately avoid extremely limited or allocated bourbons so this list is actually useful and actionable
I've reviewed it. This means that some may be missing because I haven't reviewed it yet
I want this to be clear, this is a living and growing list. It is not a definitive and complete piece of writing like a review. I haven't had everything yet so I'll update this as I go, but there are bourbons I already know should be on this list.
This is a continually evolving list of some of the best bourbons under $30, ORDERED BY PRICE (knowing that pricing is different everywhere).
For around $12-15,
Evan Williams Black Label
is far more developed and refined than it has any right to be. Sweet, herbal, earthy, and a little fruity, it delivers a solid sip with no "off" or immature traits. In my opinion, this is the best bourbon under $20 made today that you can find everywhere, and the one I recommend if you want to spend as little as possible.
Evan Williams Bottled in Bond
has always been pleasant and surprisingly good. For around $20, you get a fairly dark, sweet, roasty, and well-developed bourbon that's tasty neat and has enough heft for cocktails. My review goes into the nitty gritty details of how it drinks if you want to know more.
It's not necessarily amazing and doesn't push any boundaries, but it has enough richness and nothing "off" about it to make it unbeatable for the price and even exceeds it. I was very pleasantly surprised the first time I drank it, and was even more pleased when I reviewed it. You really can't go wrong.
By volume,
Old Taylor Bourbon
is the cheapest bourbon in this list. At around $20 for a 1.75L bourbon, albeit a little allocated for no good reason, it seems that the quality would be suspect at best. I thought that going into my review and oh man I was wrong. No, it's earth shatteringly great, but it delivers a surprisingly all-around pleasant experience that's hard to beat for the money.
Best of all, it's not funky, bitter, or grainy like other cheap bourbons can be. It could use another 5% ABV, but it's hard to complain too much given the price. I honestly think the it holds up well to Buffalo Trace. It's not exactly the same, but it's more fruity and less bitter and earthy than Buffalo Trace (but not the same).
It sounds crazy, but I compared them because I wanted to find out for myself.
Jim Beam Double Oak
caught me by surprise. Double Oak Bourbon, usually at least $50, can't be this affordable and good…right? What corners did they cut? The answer is some (especially with the ABV and barrel selection to some degree), but they still left enough sweet character and (insert) to make it squeak into "Mid shelf+" territory.
I admit that the regular Jim Beam White Label isn't good, but the second barrel aging makes all the difference, amping up the sweetness and fruitiness. It's not as good as
Woodford Reserve Double Oak
or
Old Forester 1910
, but you owe it to yourself to at least try, and you too might also be pleasantly surprised.
I've unfortunately lost some Glencairn's while in transit, and that made me very sad. So, I wised up and bought this Glencairn Travel Case that comes also comes with 2 glasses so I don't need to worry so much about them breaking. I think it's great, and I think you'll love it too.
Seriously, if you already have glasses, protect them.
Full proof/ high abv bourbon from Buffalo Trace makes everyone go crazy with lines, markups, and hoarding. Then, Buffalo Trace threw a curveball and released
Benchmark Full Proof
for around $25 in some regions across the US, where it seems to be readily available. The trade off is that it's probably around 4-5 years old and sporting the budget Benchmark brand name.
For the price though, you're not sacrificing anything. Turns out that it's quite good. It still has quite the oaky and spicy kick, and some youthful graininess, but "chewing" really opens up the sweetness that adequately balances out the youth. It's a little rough around the edges and the richness isn't all the way there, but still very tasty overall. This is likely a top 3 bourbon under $30. If you see it, buy it.
I admit that I'm not the biggest fan of
Wild Turkey 101
(I lean towards Heaven Hill bourbon under $30), but for around $25 I get the allure. It's got some honey and fruit sweetness, fennel herbalness, and roasty oak and spice that many enjoy, although there's a more bitterness than I'd like (for me at least) that puts me off a little.
I personally don't highly recommend it, but you know what, so many people like it and I think it's good enough so it's worth trying if you haven't already and you can decide for yourself if this is your favorite affordable bourbon.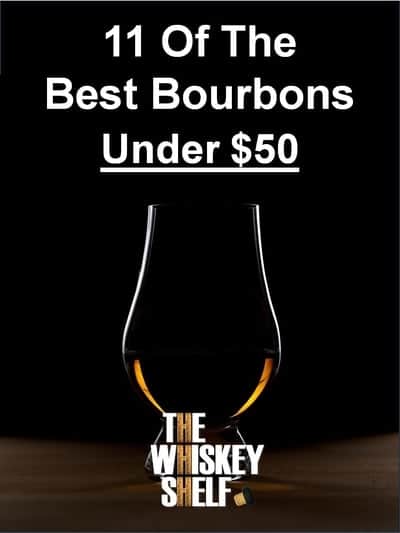 I think that
Larceny bourbon
is the best wheated bourbon under $30, besting Maker's Mark, Weller Special Reserve, and Rebel 100 Proof. That discovery really shocked me after I reviewed Larceny bourbon because I didn't expect it, but I'm glad that I did.
Yes it has the distinctive (and not for everyone) Heaven Hill dry nuttiness, but there's plenty of caramel nougat and vanilla, a lot of cinnamon, more delicate peach and citrus, and just a little baked bread and cocoa powder to be richer and complex than other wheated bourbons under $30. It's truly a go-to wheated bourbon in general, although not necessarily for everyone.
I'm going to disregard the whole best bourbon thing for
Bernheim Wheat Whiskey
, which is not bourbon but what I call wheated bourbon on "Wheaties". With 39% corn in the mash, it's not so far off from being bourbon, but nonetheless it's not bourbon.
This 7 year old wheat whiskey (not-bourbon) is very good, full of caramel and spice, and a surprising amount of dark chocolate for such an affordable option. It flies under the radar because it's not bourbon, but you shouldn't make that mistake.
There are only a few wheated bourbons under $30, and I would pick this over all of them, even
Weller Special Reserve
. I personally don't recommend
Maker's Mark
, Larceny is already on this list, Weller Special Reserve is too allocated to be here, and I'd rather have Larceny over Rebel 100.
This one is creeping into the over $30 range, but I think it can still often be found for under $30. This is one of my top favorites, with Benchmark Full Proof. I've enjoyed that denser caramel, vanilla, dark fruit, oak spice, and hints of herbal licorice. There's actually some nice maturity, viscosity, and variety that competes well with more expensive bourbons.
Although it's very different from Buffalo Trace, I'd also take Elijah Craig over Buffalo Trace. So if you're looking to spend around $30, this is the bourbon to try first.
So much hard work goes into each and every review, comparison, guide, and article, so please consider supporting The Whiskey Shelf in its continued journey of whiskey exploration and sharing.
Best Cheap Bourbon Under $30
I recognize that I haven't reviewed everything (working on it). So, here's a list of bourbons (not remotely comprehensive) that I haven't reviewed yet so they haven't been considered for this list.
Old Forester 100 Proof
Jim Beam Bonded
JW Dant Bottled in Bond
And more!
You have a number of great options for some of the best cheap bourbons under $30. Because I can only guide you and not drink for you (that would be weird), it's up to you to decide what you like and build on that to develop your own preferences. I'm just trying to help you avoid some really bad purchases. I hope you found this list to be useful. Cheers!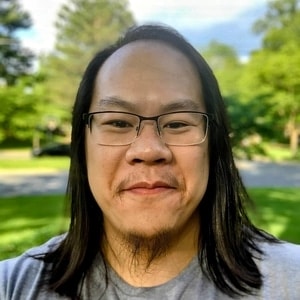 I have far too much fun writing about whiskey and singlehandedly running The Whiskey Shelf to bring you independent, honest, and useful reviews, comparisons, and more. I'm proudly Asian American and can speak Cantonese, Mandarin, and some Japanese.
There are no sponsors, no media companies, and no nonsense. Support The Whiskey Shelf by 
Buying Me A Shot
.