Wild Turkey 101 Bourbon Review [In Depth]
Distillery: Wild Turkey
Type & Region: Bourbon, Kentucky, USA
Alcohol: 50.5%
Composition: 75% Corn, 13% Rye, 12% Malted Barley
Aged: ~6 years in virgin white oak barrels
Color: 1.1/2.0 on the color scale (burnished)
Price: $3 (50mL), $25-30 (750ml)
From the Wild Turkey website:
"For more than 60 years, legendary Master Distiller Jimmy Russell has been crafting Wild Turkey 101 the right way. With a high rye content, this iconic bourbon is perfectly aged in American White Oak barrels with the deepest char for more character."
wild turkey 101 bourbon overview
Wild Turkey 101 is probably one of the most, if not the most, popular budget bourbons within the bourbon community. It's higher proof (50.5% ABV), affordable, and available at pretty much every store in America that sells bourbon. And if you're reading this review, it probably means that you've heard about Wild Turkey 101 Bourbon as well, but whether you've actually drank it is a different thing.
So the main question to answer in this review is – if it's affordable and easy to find, is it actually good to drink? Let's cut to the chase and find out if the bourbon inside is as good as people say it is in this Wild Turkey 101 Bourbon review.
wild turkey 101 bourbon taste and aftertaste
Interestingly enough, peppermint spice is the most prominent smell with Wild Turkey 101. I'm surprised because the mash is made from only 13% rye, which is quite low. Even so, it still outshines the corn. Underneath the rye, there is light to moderate caramel sweetness and wood that complement the rye. The 50.5% alcohol is noticeable, but more gentle and subdued than I expected. 
Swirling the bourbon releases some grassy and floral notes akin to being out in a field while crops are being cut. Even more swirling reveals light hints of cherry, vanilla, and bubblegum. When the glass is dry, there is a light amount of sweet corn mash, musty wood, and peppermint from the rye.
This is a pretty short section because there isn't that much to smell. It smells like a nice-enough and straightforward bourbon, but nothing about it wows me or gets me interested. It is more mellow than I would expect from a 50.5% alcohol bourbon. Overall though, Wild Turkey 101 Bourbon smells fine. 
If you're shopping on Amazon for Black Friday, Cyber Monday, the holidays, or any other occasion, support The Whiskey Shelf by shopping through my affiliate link – Shop Amazon. Disclaimer: I may earn a commission from your purchases.
Very much like the smell, Wild Turkey 101 tastes decent, but is far from great. Every sip has a mix of light to moderate sweetness, peppermint spice, cinnamon, oak, grain, and alcohol. The sweetness is made up of slightly sweet candy corn, vanilla, and bubblegum. It generally tastes young and a bit underdeveloped.
There also are undertones of citrus and something herbal that I can't quite identify. I might even classify this as a sweeter bourbon, especially because the alcohol is lighter than I expected. Still, Wild Turkey 101's flavors come off very young and not so interesting, so there's not a ton to pick out here.
After swallowing, I immediately taste a combination of youthful corn mash (but not sour), wood, and peppermint. The aftertaste fades into light caramel, wood, and peppermint. Peppermint lingers the longest. The alcohol is gentle and pleasant. It's not a bad way to end the drink, but nothing great or noteworthy either.
Again, Wild Turkey 101 tastes like a standard high-rye bourbon, even though its made from a low rye mash. I enjoy sipping it and wouldn't mind having it at the bar. It's not special, but I guess that's not Wild Turkey's goal with this. I still prefer Evan Williams Bottled in Bond.
Wild Turkey 101 is a solid, but not great, bourbon. At its best, it's straightforward and drinkable, so it's appropriate for many situations. It was also significantly more mellow than I expected, so it doesn't require much of my attention, and sometimes that's all I need.
The first time I had this (prior to this review from a different bottle), I was not left with a good impression. The alcohol was very hot on the nose, and the flavors were subdued, but this little bottle has changed my mind some
I enjoyed drinking Wild Turkey 101 Bourbon and wouldn't be upset if this was my only option at the bar. But given my experience (and subsequent experiences) with Wild Turkey 101, I wouldn't frequently buy this for my personal whiskey shelf, but would consider it if I needed a decent bottle for a party or other event.
So yeah…I don't understand why people frequently claim that it's such a great budget bourbon, because I'd rather have Evan Williams Bottled in Bond or Elijah Craig Small Batch Bourbon if I'm going to spend a little more.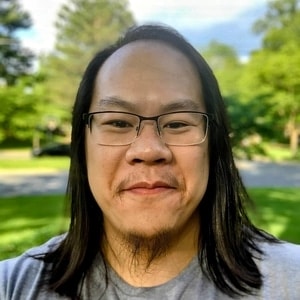 I have far too much fun writing about whiskey and singlehandedly running The Whiskey Shelf to bring you independent, honest, and useful reviews, comparisons, and more. I'm proudly Asian American and can speak Cantonese, Mandarin, and some Japanese.
There are no sponsors, no media companies, and no nonsense. Support The Whiskey Shelf by 
Buying Me A Shot
.
Comments are closed.