Frey Ranch Bourbon Review [In Depth]
Frey Ranch Bourbon Details
Distillery: Frey Ranch
Type & Region: Bourbon, Nevada, USA
Alcohol: 45%
Composition: 66.6% yellow dent corn, 10% winter wheat, 11.4% winter rye, 12% barley
Aged: 5 years
Color: 1.4/2.0 on the color scale (Tawny)
Price: $45-50
From the company website:
A true farm-to-table bourbon, Frey Ranch Four-Grain Straight Bourbon Whiskey is 100% sustainably grown, malted, distilled, matured, and bottled on the Frey Ranch. Aged for 5 years, this 90-proof bourbon is smooth yet complex with oak and citrus aromas followed by vanilla, caramel, banana chips, and dried hay on the palate. With a 4-grain mash bill of non-GMO corn, winter cereal rye, winter wheat, and two-row barley-malted on site, this is a flavorful bourbon that can easily be enjoyed on its own, yet also holds up in any whiskey-based cocktail.
Frey Ranch Bourbon overview
Nevada is known for a bunch of things, whiskey usually isn't one of them. But then again, Nevada is a big state, so there's opportunity for a diverse range of industries. I personally have never associated Nevada with agriculture, but I learn new things all the time.
This is where Frey Ranch comes into the picture. Located in Fallon, NV, in northwest Nevada closer to Sacramento, CA and Reno, the ranch itself has existed since 1854, but the distillery wasn't established until 2006. And like other farms turned distilleries, that means there already are home grown grains to use. And they lean into that, growing all the grain they use in their whiskeys.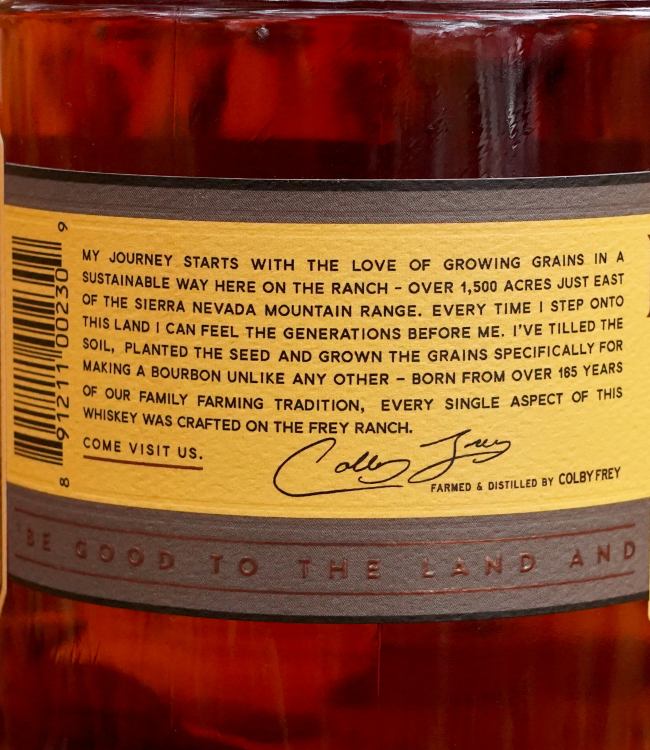 Speaking of that, Frey Ranch's bourbon uses four grains: corn, rye, wheat, and barley. Corn makes up ⅔ of the mashbill, and rye, wheat, and barley fairly evenly make up the remaining third. They also create a 100%-rye rye whiskey.
I also give them props for the 5 years of aging, although it's only mentioned in the website and not actually an age statement. Nonetheless, 5 years is a good place to be with your "entry level" and least expensive bourbon. The question always is though, are they going to be able to break through and consistently release older whiskey? That's for another discussion.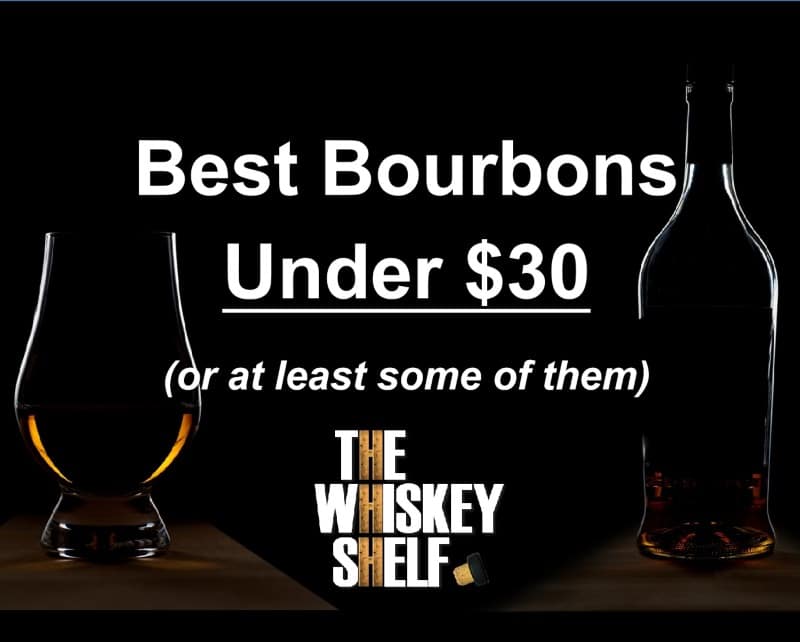 This is my first time trying anything from Frey Ranch, so I'm excited to learn more. Let's find out what this grain to bottle to glass shows off in this Frey Ranch Bourbon review.
Thank you to Frey Ranch for providing this bottle. All opinions are my own.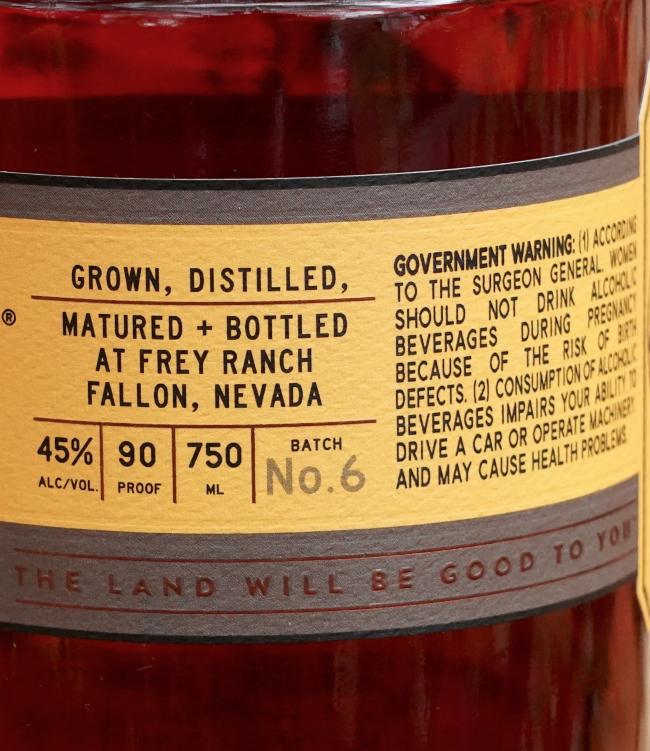 The scents start with caramel, dried orange, roasted corn tortillas, roasted oak that's not too burnt or earthy, cinnamon, vanilla, fennel, dried apricot, maple syrup, and mint. I get that there's a lot of corn in mashbill, it's bourbon of course, but Frey Ranch Bourbon has a distinct extra corniness with roasted corn tortilla smell. There are certain grainy notes, usually overly earthy and funky that are unpleasant, but this one is pleasant.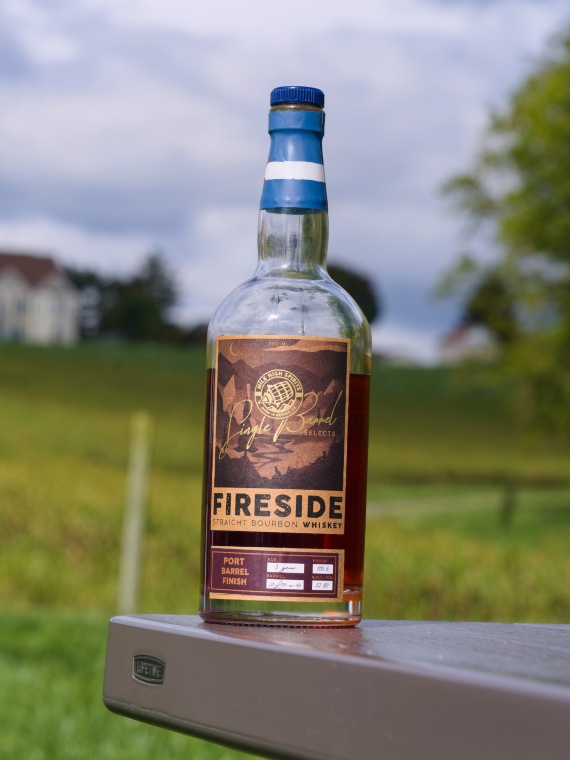 This smells quite good and more rich than the 45% ABV would suggest. There's a nice underlying fruitiness and darkness that smells more like it's 8 years old, so this is a great start.
After swirling, I get similar scents with caramel, brown sugar, roasted corn chips (in a pleasant way), roasted oak, dried orange peel and apricot, cinnamon, fennel, dried cherry, and mint. Frey Ranch Bourbon is dark yet bright, fruity, roasty, and spicy at different times, so there's some range and depth.
I wish that there was a little more roundness and heft, but that's likely reserved for its higher ABV siblings. I also think that nothing really sticks out as unique or exceptional, but I enjoy the scents as they are. They feel fairly mature and developed but would benefit from more developed fruitiness and sweetness.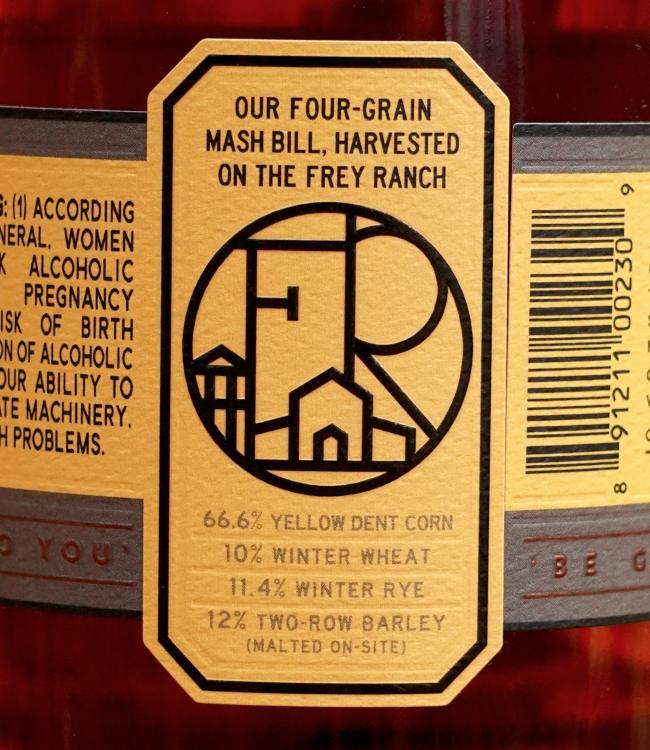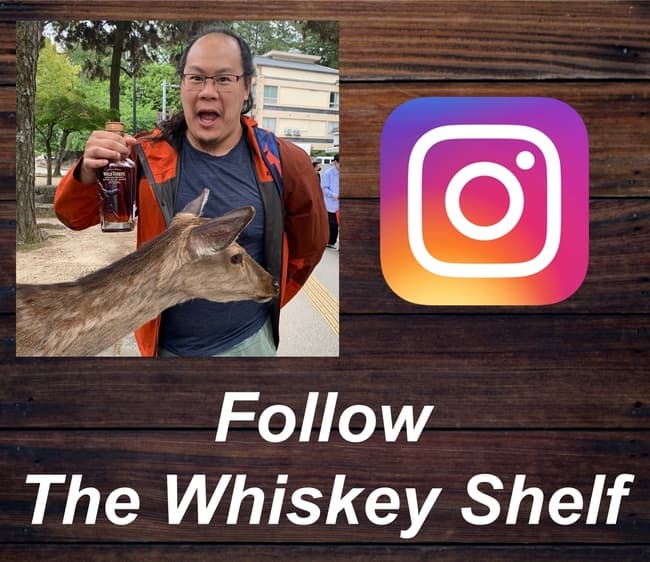 Frey Ranch Bourbon taste and aftertaste
At first the flavors have caramel, apricot, roasted corn, roasted oak, cinnamon, orange peel, cherry, clove, vanilla, licorice, and a little roasted coffee and nuts. The flavors are a bit more roasty than the scents are, but still allow the sweetness and fruitiness to come through.
So far, Frey Ranch Bourbon tastes pretty good, but this is where the age starts to come through, although admittedly it's not that young or old. The flavors are a bit more oak and spice-forward, while the fruitiness takes a back seat. Nothing stands out yet, although there's nothing unpleasant either. It smells more mature than it tastes.
Even at 45% ABV there's decent richness, but the expressiveness, depth, and fruitiness aren't all there yet.
After "chewing" I get a little more caramel and vanilla followed by apricot, roasted oak, red apple, orange peel, tortilla chips, cinnamon, clove, licorice, mint, and a little bit of roasty nuttiness. "Chewing" brings out more sweetness and fruitiness, which better balances-out the oak and spice, and brings forth a little more expressiveness.
Frey Ranch Bourbon tastes good. There's some sweet, fruity, and oaky range that's definitely enjoyable and avoids all the pitfalls of younger-ish craft bourbon. That said, I still want more body, richness, and vibrance. I want something that really stands out. As I sip and "chew" a few more times, I can feel a slightly youthful hollowness start to emerge. It's a tough sensation to explain, but it's like the sweetness and density that's there start to fade over time.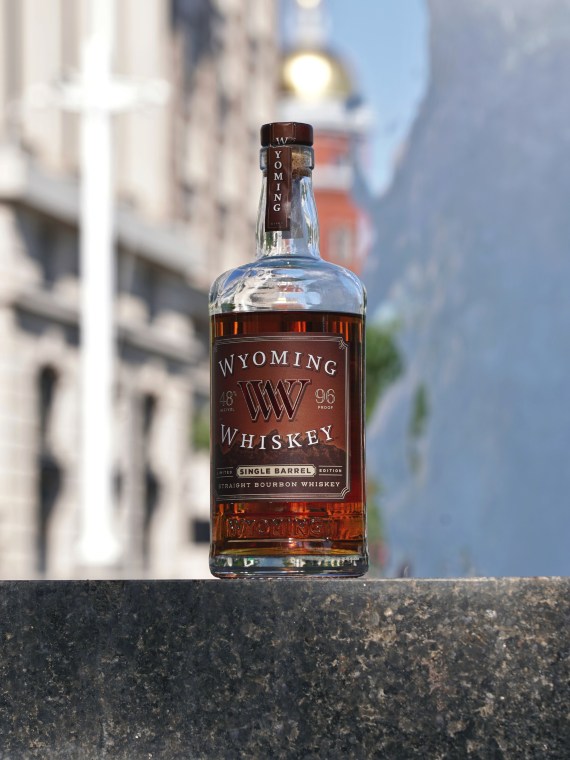 The finish starts with caramel, roasted oak, cinnamon, roasted corn chips, licorice, and dried orange peel. The aftertaste has more roasty sweetness and spice than the flavors do. After "chewing" it leaves caramel, dried apricot, roasted oak, cinnamon, and clove with lingering roasted oak, cinnamon, and tortilla chips.
Frey Ranch Bourbon delivers a solid and enjoyable experience that feels more mature than the 5 years mentioned on the website.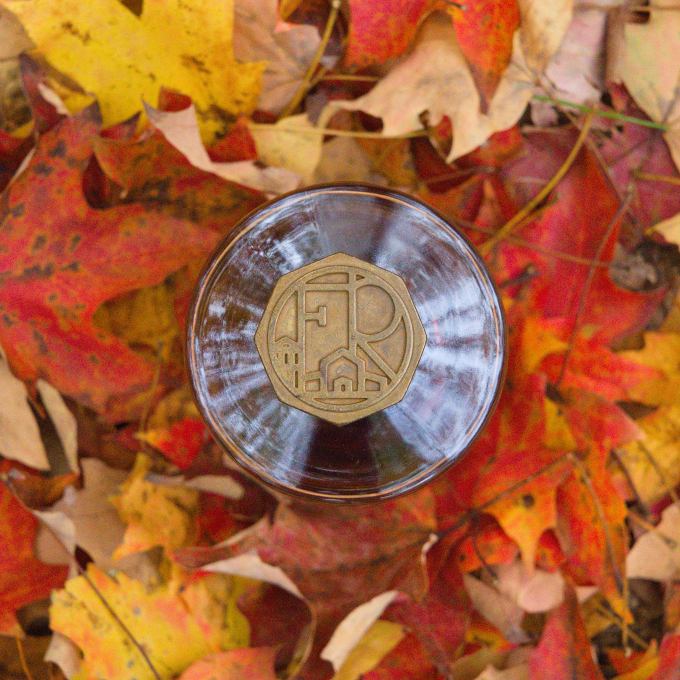 I've unfortunately lost some Glencairn's while in transit, and that made me very sad. So, I wised up and bought this Glencairn Travel Case that comes also comes with 2 glasses so I don't need to worry so much about them breaking. I think it's great, and I think you'll love it too.
Seriously, if you already have glasses, protect them.
Frey Ranch Bourbon Rating

Frey Ranch is a solidly developed and varied bourbon that provides a nice experience, but leaves things on the cutting room floor for other higher ABV and/or possibly older releases. The sweetness, fruitiness, oakiness, and spiciness are all there, and in my mind that means the bourbon is already fairly well matured and blended.
Let me start there though. For a 5 year old bourbon, Frey Ranch bourbon smells and drinks older than it is. There's a fairly wide range of notes, with none of the unpleasant grain or funk of a younger bourbon, so that already tells me that they know what they're doing. I drink this and I go, "yeah this is good, I like where this is headed". I expect that it will get better with more aging.
To the point of more aging, as-is I wish that it had a bit more sweetness and fruitiness. For the most part this is still a corn, oak, and spice-forward bourbon, and that added fruitiness and sweetness would make it feel more mature and complete. Nothing stands out or pops just yet.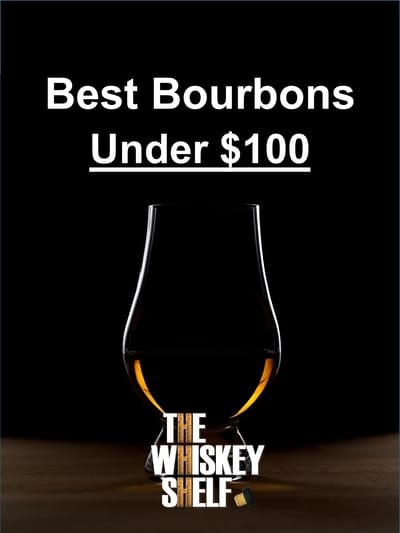 I hope that the various cask strength releases bring a richer and deeper experience that addresses the bulk of my desires. I also hope that additional aging might also help round out the sweetness and fruitiness.
To my final comment – the price. At $40-50 (more often $50), the price isn't necessarily bad, but it still leaves a bit to be desired when there's already a lot of strong competition from craft distilleries in the $35-50 range already. That includes New Riff, Woodinville, Wyoming Whiskey, Still Austin and many others. I can't confidently say that Frey Ranch is $10 better in some cases. Plus there are some really compelling craft options at $50, including Still Austin Cask Strength (Top Shelf) and Bardstown Bourbon Company Origin Wheated Bourbon (nearly Top Shelf").
But you know what, unlike Heaven Hill or Buffalo Trace, who are often stuck in their ways, the younger and smaller distilleries are still maturing and growing into their full capabilities. Frey Ranch is already showing the promise of what's to come, and I hope that they will continue to push their limits and do even better. That said, I can't highly recommend Frey Ranch Bourbon yet, but I think you'll enjoy it if you get it. If you're looking for something different, this is one to consider.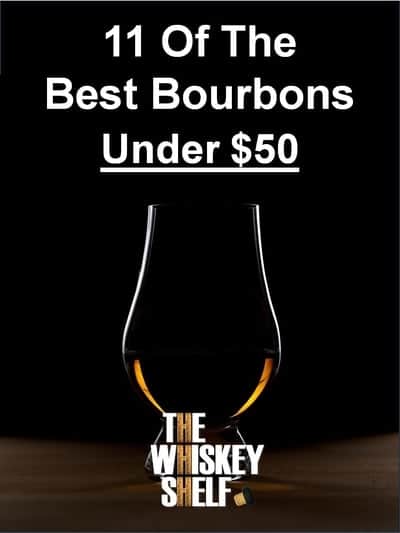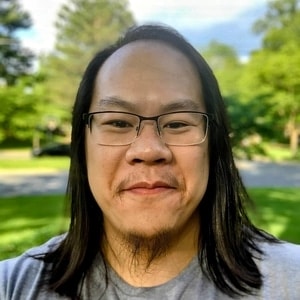 I have far too much fun writing about whiskey and singlehandedly running The Whiskey Shelf to bring you independent, honest, and useful reviews, comparisons, and more. I'm proudly Asian American and can speak Cantonese, Mandarin, and some Japanese.
There are no sponsors, no media companies, and no nonsense. Support The Whiskey Shelf by 
Buying Me A Shot
.