Four Roses Ten Recipe Tasting Experience Review [In Depth]
Four Roses Ten Recipe Tasting Experience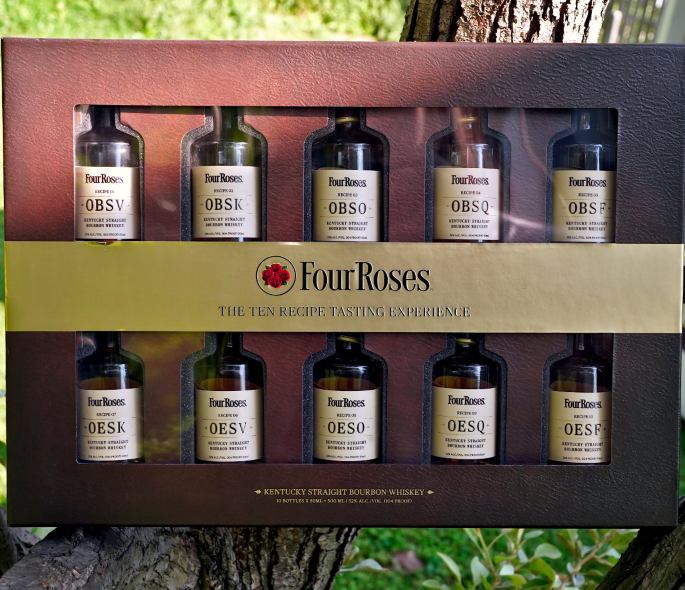 From the back of the boxcompany website
As fans of Four Roses know, the creative blending of our ten signature recipes is what sets us apart and gives each of our award-winning bourbons its distinctive characteristics.
We've perfected the art of quality and consistency and used that guiding principle to develop these recipes. Each is made from a combination of one of our two mash bills and one of our five proprietary yeast strains, and demonstrates its own balance of spice, fruit, and flavor nuance.
For the first time ever, we are releasing all ten non-chill filtered recipes for you to experience firsthand and gain key insights into the building blocks of the unique and versatile flavors that make up Four Roses Bourbons.
Inside, you'll find each of our hand-selected recipes bottled and labeled with its mash bill and yeast strain, along with a personal guided tasting where I will discuss the flavors and the distinctive production process that creates variety among the recipes.
Cheers,
Brent Elliot, Master Distiller
Look no more, you can try all 10 Four Roses recipes in one place
Just like people chase Blanton's for all the letters on the horse tops, some people chase Four Roses Private Selects to get at least one bottle from each of the 10 mashbill and yeast combinations. It wasn't that easy to begin with, especially when some combinations were less common than others. It became even more difficult when Private Selects became very popular and sold out within hours of being released at a retailer. I'm rarely on it enough to get any these days.
But in summer of 2023, Four Roses released a cheat code of sorts to get around having to individually find each bottle: The Four Roses Ten Recipe Tasting Experience. The Four Roses Tasting Experience is a set of 10-50ml bottles, containing one sample bottle from each mashbill and yeast combination. I confirmed with the media company that each bottle comes from the Four Roses single barrel program and is 8-10 years old.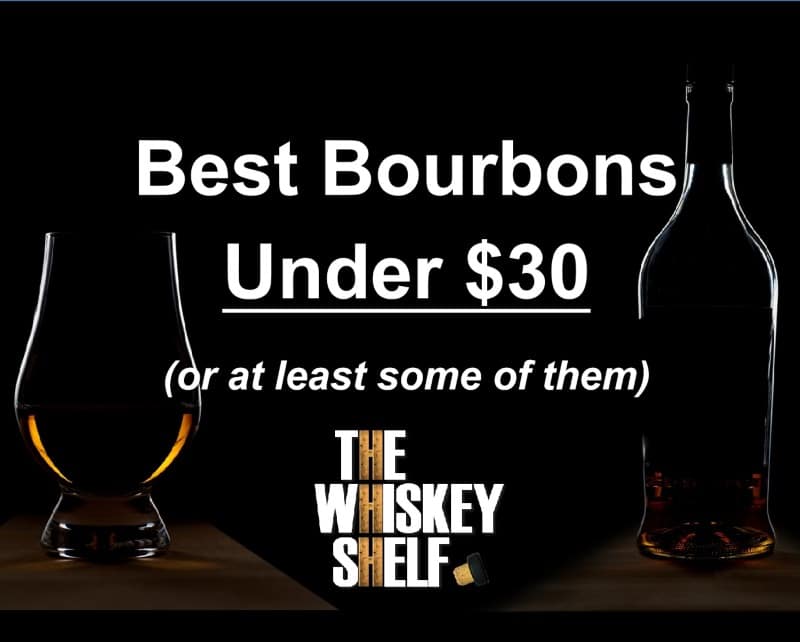 What isn't as clear is if each bottle comes from a single barrel or is a blend of multiple single barrels. Either way is fine, but it makes sense if each one is a blend because Four Roses might want everyone to get the same set of 10 bourbons, and doing single barrels will not allow them to do that. A much larger blend of each recipe will help them reach consistency. But unlike the single barrel program (or maybe the batched version of it), every single one is diluted to 52% ABV.
There are 5 yeast strains (denoted on the last letter of the 4 character code as O, K, F, V, Q) and 2 mashbills (denoted on the second letter as E or B). Mashbill E means 75% corn, 20% rye, 5% barley. Mashbill B is 60% corn, 35% rye, 5% barley.
Each combination brings a little something (or a lot) different to the glass. O (first letter) and S (third letter) are always the same. These are the 10 combinations and what Four Roses says you can expect.
OBSV: DELICATE FRUIT AND RYE
OBSK: RYE AND BAKING SPICE
OBSO: RICH FRUIT
OBSQ: RYE AND LIGHT FLORAL CHARACTER
OBSF: DELICATE RYE AND MINT
OESV: DELICATE FRUIT AND CARAMEL
OESK: BAKING SPICE
OESO: RICH FRUIT AND VANILLA
OESQ: DELICATE GRAINS AND FLORAL CHARACTER
OESF: LIGHT GRAIN AND MINT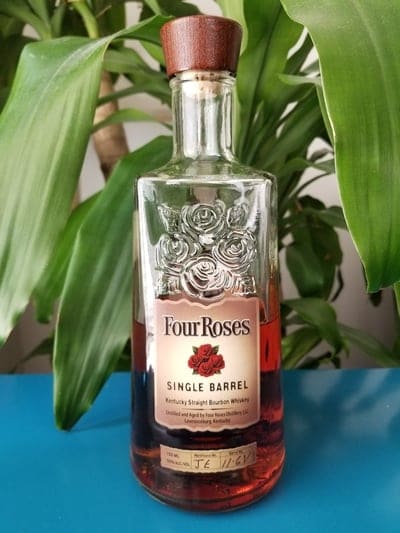 There are multiple ways to enjoy this set. You can drink them individually, compare them, and even try blending them together to see what you can create. For this review, I'm not going to individually review all 10 bottles. It would take far too much time, so instead I'll provide tasting notes and thoughts on each one, and highlight those that I think are especially good. To be honest, I barely remember what each combination means, so I'm going into this blind even though I can read what the combination is.
But let's be real here, you probably want this no matter what I write, assuming the price is right. It's not cheap, but the value is still there because it's such a rare opportunity to get to try them all. This is less about each bourbon being amazing, and more about the chance to try all of them in any way that you choose. Unfortunately, these are quite limited and only distributed to a handful of states, including Kentucky. It's not sold where I live, but I was kindly given the full set to review (thank you).
Let's find out more about this curated experience in this Four Roses Tasting Experience review.
Thank you to Four Roses for the full Tasting Experience set. All opinions are my own.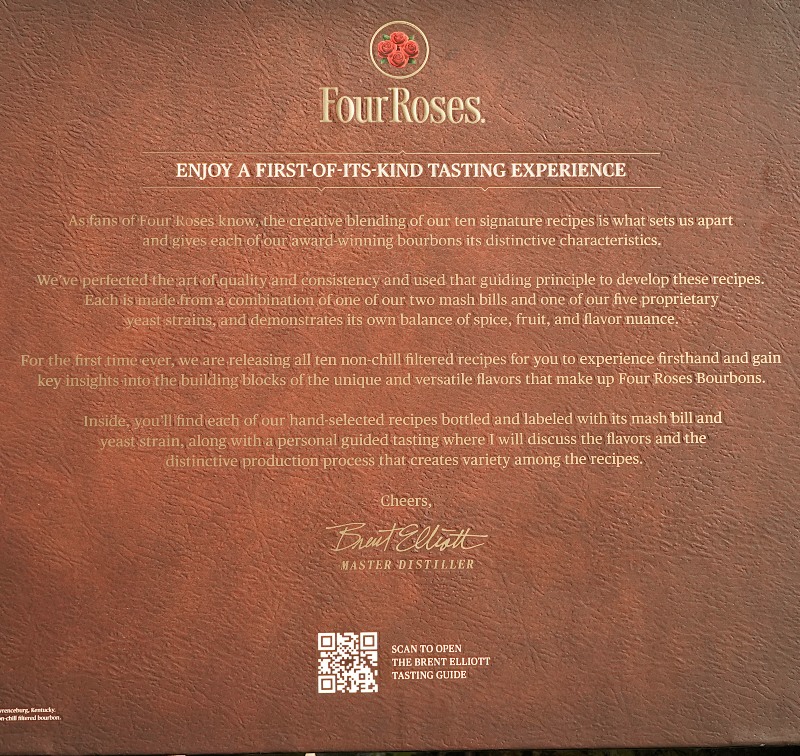 I'm not even sure if this image is readable
#1 OBSV: Delicate Fruit and Rye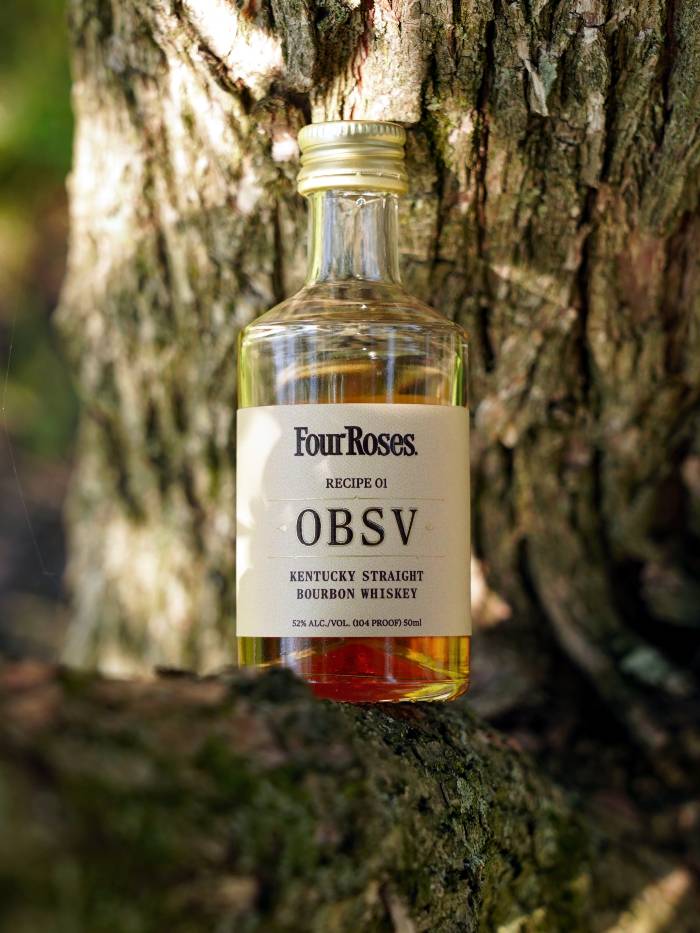 Caramel, roasted oak, apricot, cinnamon, musty corn, chocolate malt ball, black tea, dried orange, lemon licorice, strawberry, rose, and a little eucalyptus
Sweet and fruity with an interesting herbal side
Coming back to this after trying others, I get a much stronger Lipton sweet tea vibe
This is the better version of Blanton's
Honey, black tea, peach, lemon, licorice, roasted oak, cinnamon, toasted grains
Yeah, this is straight peach and lemon flavored black tea. Has a distinct character to it (in a good way), so that's always a plus
Distinctive flavors
#2 OBSK: Rye and baking spice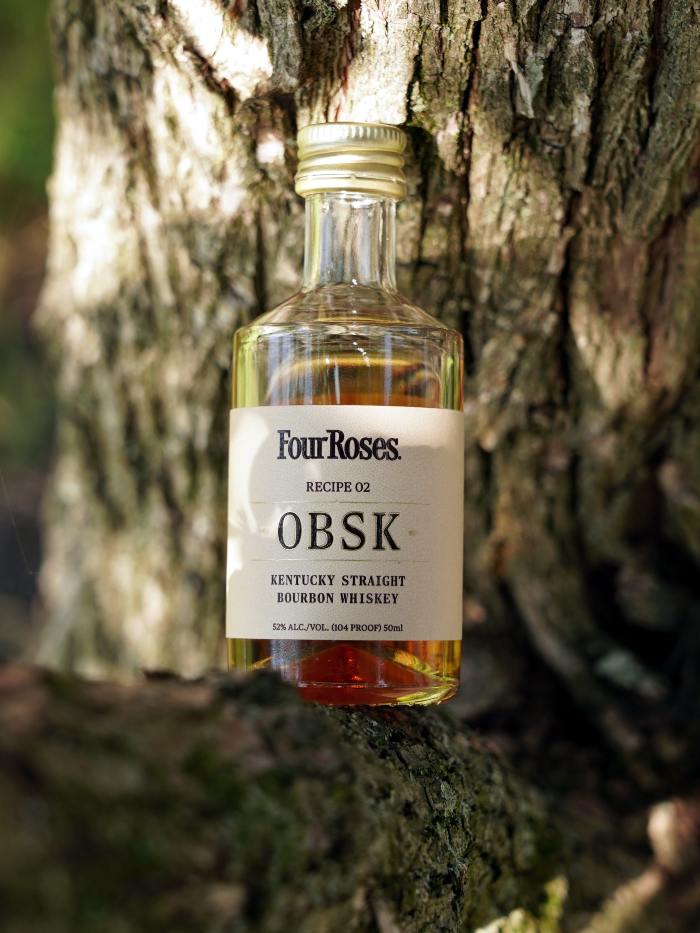 Darker caramel, dark chocolate, vanilla, dried red apple coated in cinnamon, roasted oak, dark berries, licorice, root beer / cola, nougat, and a hint of earthy caraway seed
Darker, denser, and more roasty scents that are very cola / root beer-forward
These scents are rich, developed, and unique
The difference is further accentuated as I jump between the samples
Dark caramel, dark berries, roasted oak, dark cola, mocha, cinnamon, dark chocolate, dried blueberries, licorice
This is totally different from the others. It is so much darker and heavier
More dark sweetness and dense fruitiness. This is incredible.
By far the most distinct, rich, and interesting.
This probably could be borderline "Top Shelf+". It's so good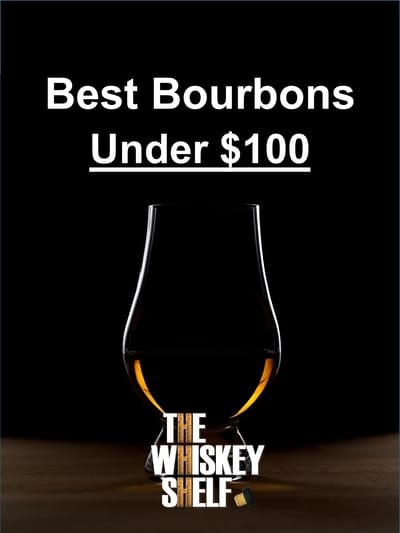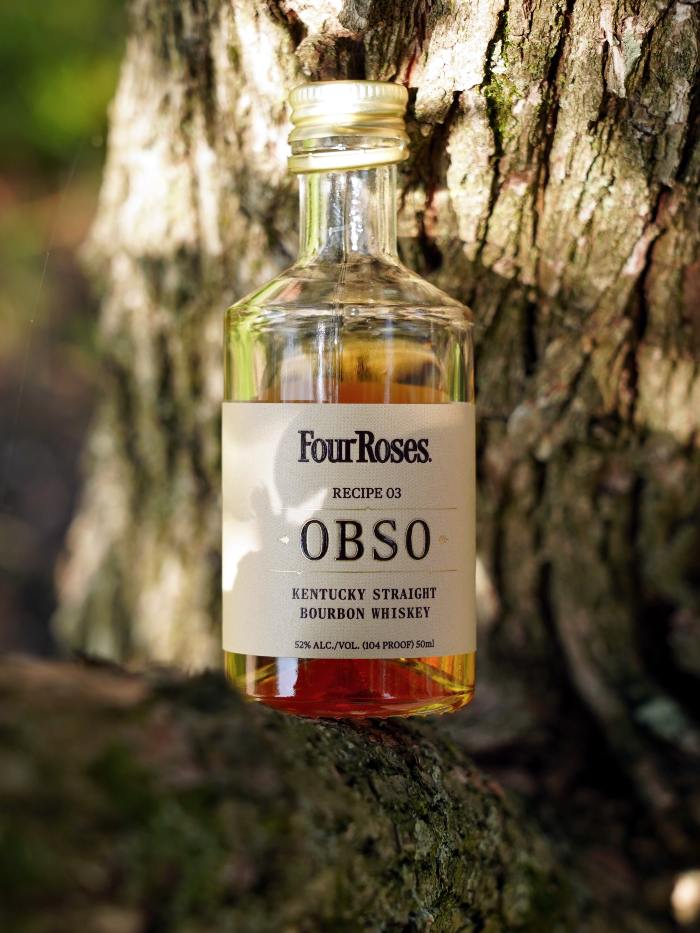 Bright honey, vanilla, white peach, white pear, honeysuckle, light roasted oak, cinnamon, light smoky peat, orange peel, licorice, malted grains, pine, and a sweet grassiness
Bright and delicate scents that remind me of bourbon cask-aged Scotch
This is very different and weird
My least favorite of the OBS combinations
Darker herbal honey, licorice, fennel, pear, roasted oak, cinnamon, clove, rose, and a little nougat
Herbal and sweet, with a little darkness and spice
This is the least interesting one
#4 OBSQ: Rye and light floral character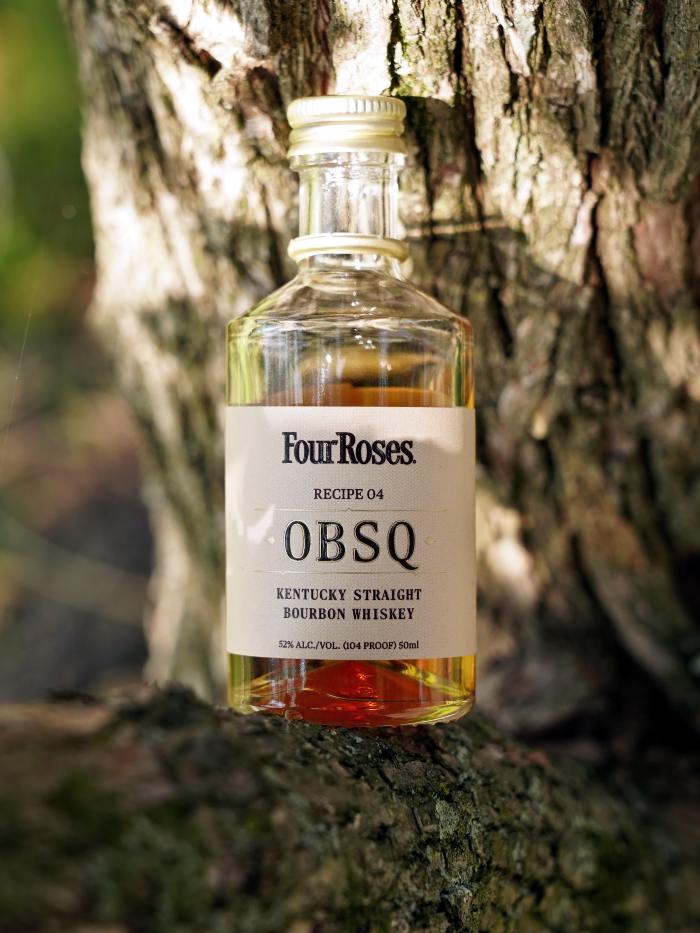 Honey, pear, licorice, roasted oak, cinnamon, licorice, ripe apple, a little caramel nougat, light earthy pumpernickel, clove
A clear licorice and pear note that becomes more noticeable as I jump around
Scents are more on the delicate side but also have a little darkness. And it gets darker with more time
A mix of sweet, dark, and herbal. Feels like a mix of the herbal OBSV and darker and denser OBSK. Not as herbal as OBSF
Honey, white pear, licorice, fennel, roasted oak, clove, cinnamon, black tea, peach, and a little earthy pumpernickel
Has a faint metallic alcohol flavor. It's not too bad, but I can tell it's there
More delicate, fruity, and herbal
I've unfortunately lost some Glencairn's while in transit, and that made me very sad. So, I wised up and bought this Glencairn Travel Case that comes also comes with 2 glasses so I don't need to worry so much about them breaking. I think it's great, and I think you'll love it too.
Seriously, if you already have glasses, protect them.
#5 OBSF: Delicate rye and mint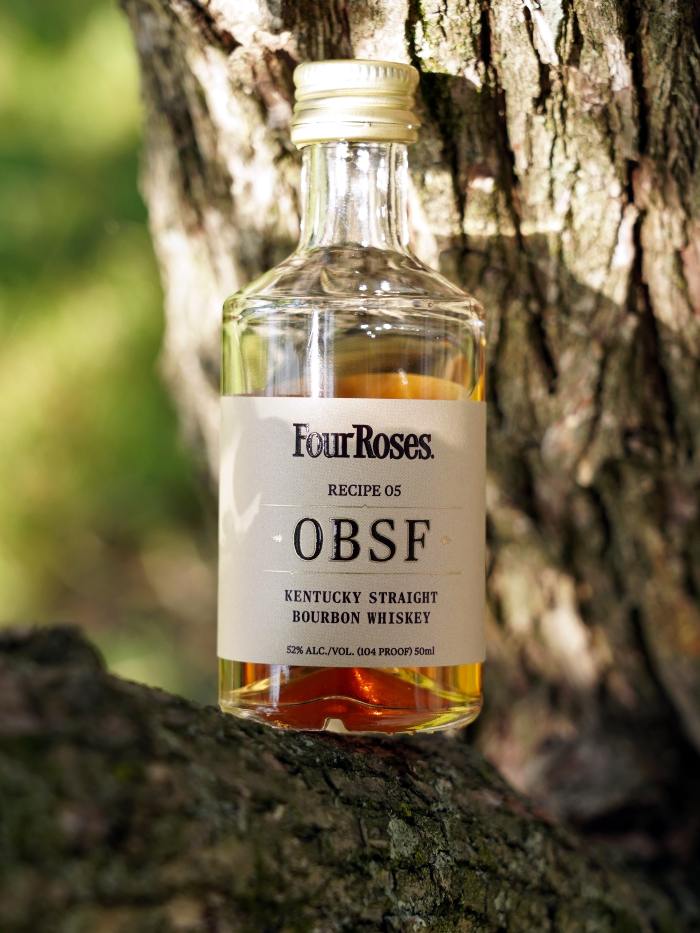 Darker honey, dried licorice, cherry, dried apricot, roasted oak, vanilla buttercream, rose, strawberry fennel, papaya
Dark, herbal, and fruity
Has some of the heaviness of OBSK and a lot of the herbalness of OBSV
Honey, licorice, apricot, roasted oak, ripe pineapple and asian pear, cinnamon, clove, papaya, a little bit of dark berries, and pumpernickel in the back
Has this slightly savory earthiness that I can't quite describe
Herbal and fruity up front with backing earthiness
This is probably my #2 in terms of flavor (in the OBS group).
Probably #4 overall
#6 OESV: Delicate fruit and caramel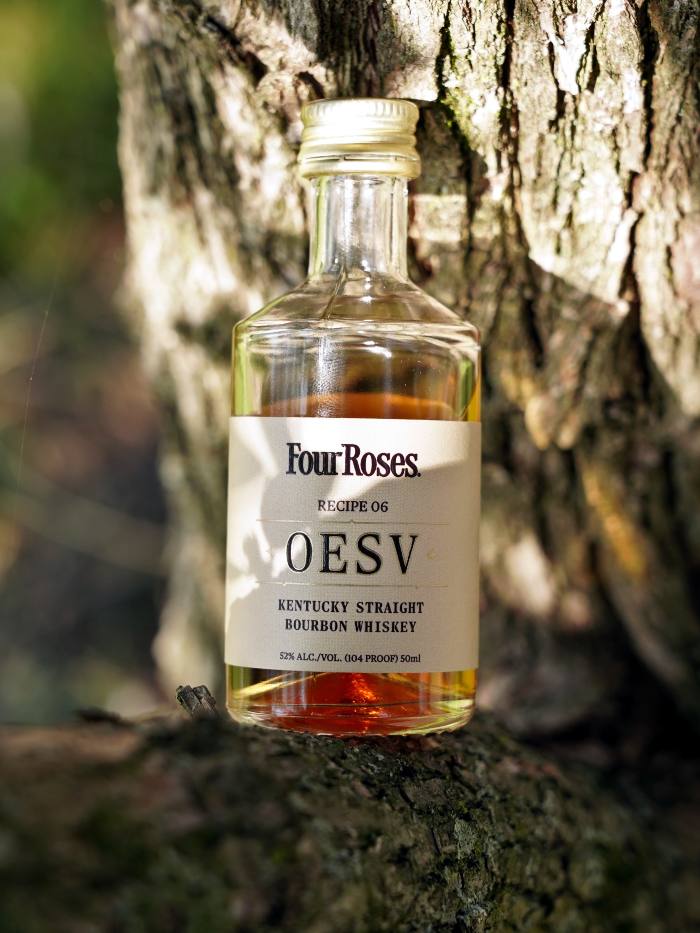 Moderately dark and woody scents – darker honey, roasted oak, dried apricot, vanilla buttercream, cinnamon, slightly dried nuts, licorice, ripe red apple, mint, dried pineapple, and just a little bit of eucalyptus
One of the darker-smelling bourbons in the set, and one of the better ones here
This reminds me of a "traditional" bourbon like Wild Turkey that's a mix of fruity, herbal, and oaky
Rich caramel, vanilla, ripe red apple coated in cinnamon, nougat, roasted oak, dried apricot, maraschino cherry, caramel fudge, cinnamon, licorice
It's so delicious, round, developed, and interesting with so much dark sweetness. This stands out to me
Yes, this is a great one, #2 overall. I'd buy this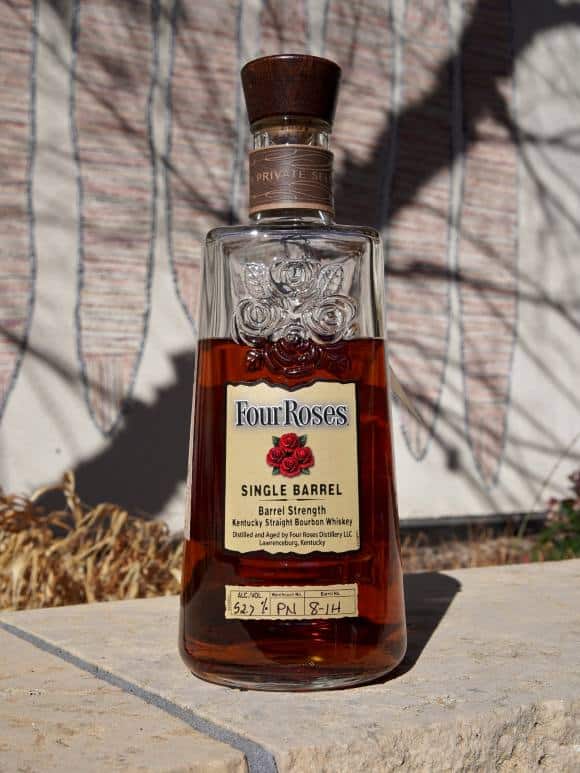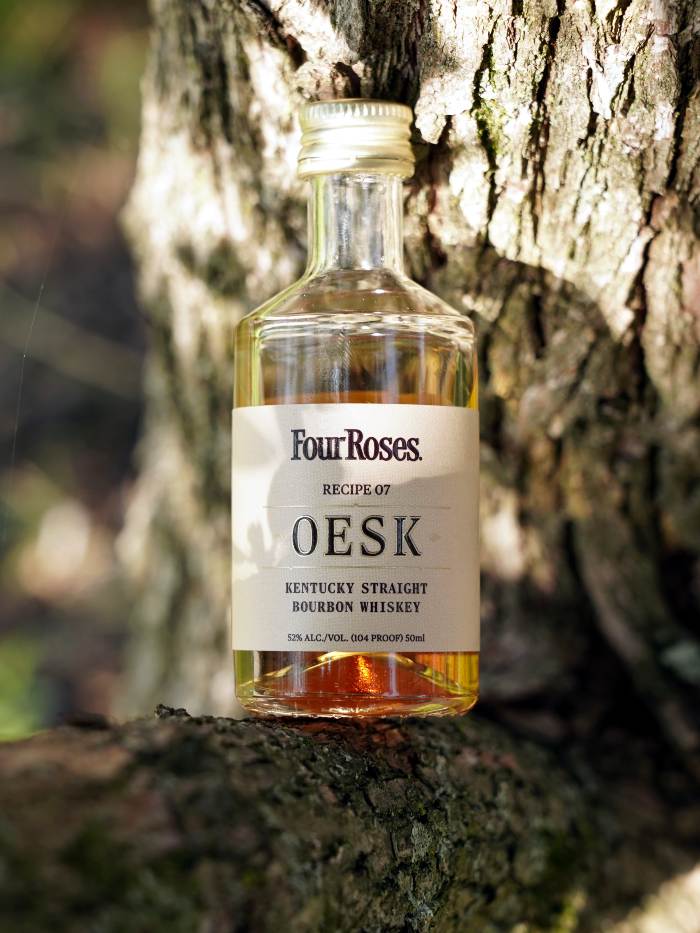 Brighter honey, tart cranberry, licorice, fennel, asian pear, roasted oak, a lot of clove, cinnamon, marshmallow, green grape, chardonnay-type scents
This is more or less what Frank August Bourbon smells like
Has the bright herbal fruitiness with a slight tartness from slightly underripe asian pear
Smells pretty good, but one of the less interesting ones in the set
Caramel, tart cranberry, apricot, white pear, green grape, roasted oak, a lot of clove, cinnamon, vanilla, licorice
One of the more familiar tastes, yet isn't forgettable
Herbal and fruity, and kind of fino sherry-like
Yeah, this tastes like a better version of Frank August. I honestly wouldn't be surprised if Frank August sourced their bourbon from Four Roses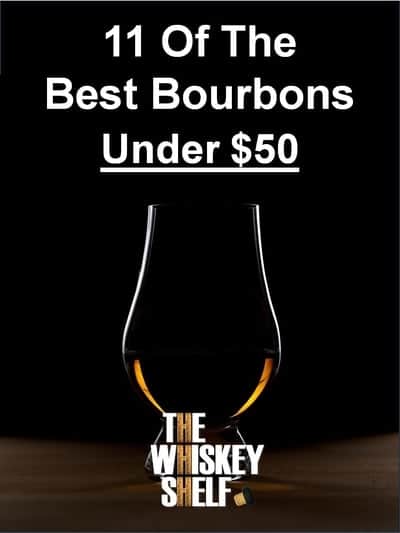 #8 OESO: Rich fruit and vanilla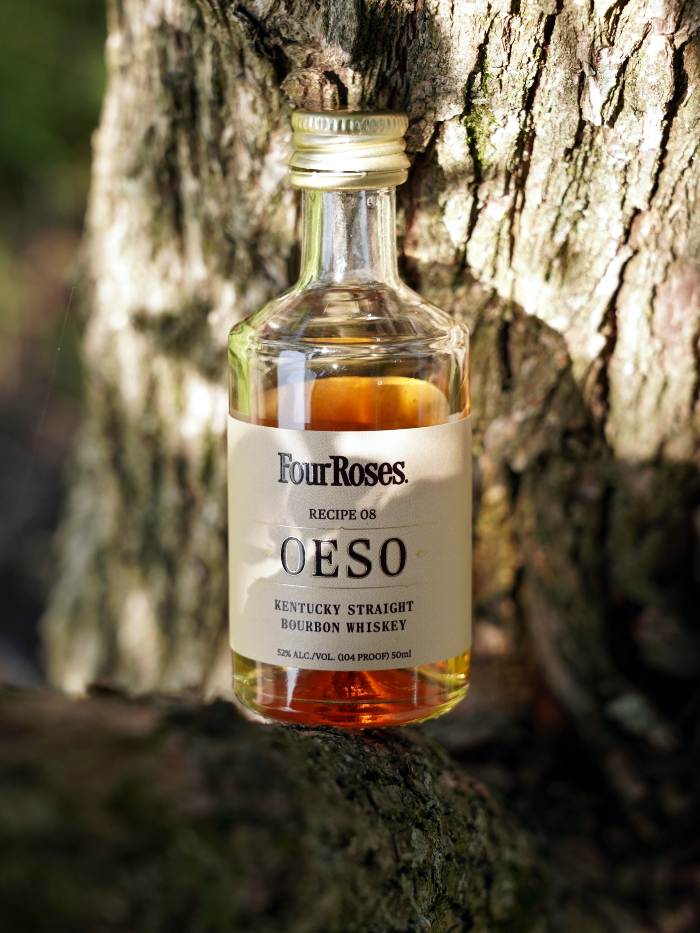 Darker honey, mint, licorice, pear, roasted oak, cinnamon, peach, clove, honeydew, and spring greens
Moderate darkness with herbal fruitiness and some vegetalness, although not as herbal and "green" as OESK. Has a little more ripe fruit
Has a distinct mustiness that I actually interesting
Slightly darker and with a little more low-end heft
A little more interesting, but I wouldn't say that it stands out
Dark honey, fennel, toasted vanilla custard, preserved lemon, roasted oak, cinnamon, clove, and a little peanut butter
Has a light honey roasted peanut butter flavor
Also darker than I expected it to taste with a more viscous dark sweetness and a fruitiness I can't quite describe
#9 OESQ: Delicate grains and floral character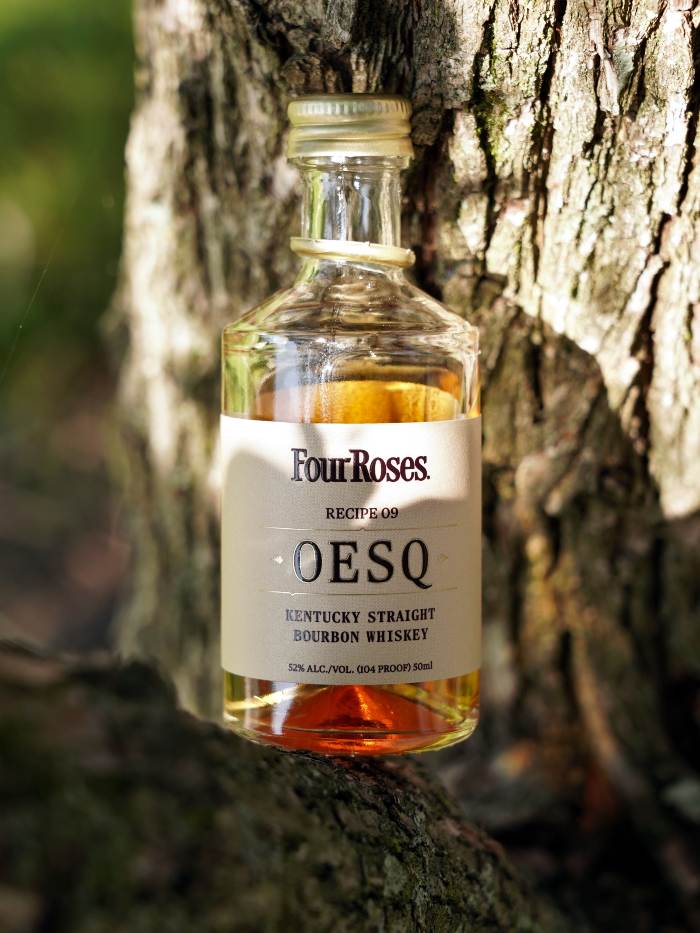 Darker honey, canteloupe, fennel, mint, fragrant roasted oak, dried apricot, cinnamon, cherry, and a little dry nuttiness and caramel
I don't know what it is, but I have a tough time figuring this one out.
Starts off shy, but seems to open up nicely as I continue to smell it
Quite minty, but I get more dark sugars, apricot, and cherry with times
Smells nice, but doesn't stand out from the crowd
Darker herbal honey, dried apricot, custard, vanilla cream, roasted oak, dark cherry, starfruit, and licorice
Darker flavors with these sweet and roasty flavors that swell in my mouth
This is flavorful and complex, one of the better tasting ones. This is probably #3
#10 OESF: Light grain and mint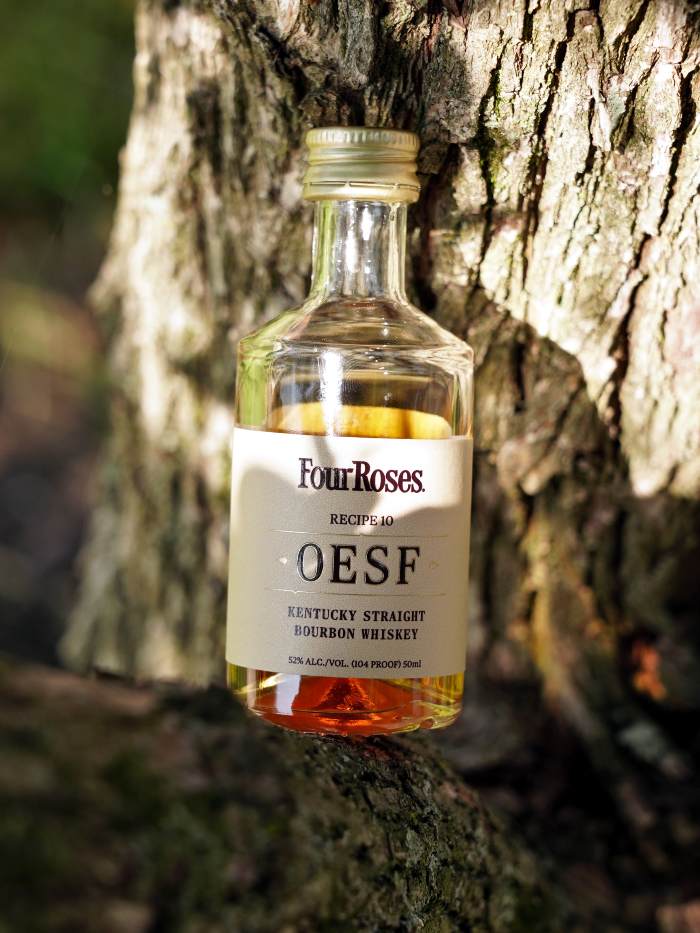 Darker honey, ripe pear, must, mint, roasted oak, vanilla, cinnamon, orange peel, and grassy nuttiness
Has a little extra roastiness and nuttiness than the others. Becomes even more nutty when comparing various samples
I've had an amazing 12 year single barrel pick of this, and this is not remotely close to it
This one is also musty
Honey, pineapple, asian pear, vanilla, roasted oak, cinnamon, clove, mint, starfruit and a little more back-end roastiness
That's not what I expected. This particular OESF is very honey-forward with tropical, and fruity sweetness that then transitions to toastiness and some spring greens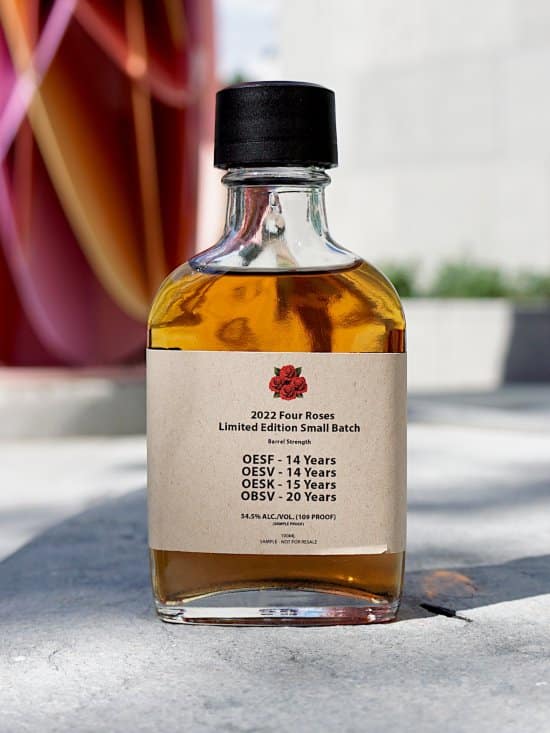 Final Thoughts: A fun & interesting set worth getting
This has been a lot of fun and I'm glad that Four Roses put this together. It took me 2.5-3 hours over 2 sessions to try all ten, doing OES[X] and OBS[X] separately, so it definitely takes time to sample and appreciate everything. I truly believe that you'll also have a blast going through the entire tasting experience. Given that it's 500ml of bourbon in total, do it with a friend or 2. Compare your notes, thoughts, and favorites, because I think everyone's going to pick something different.
Now more onto what I think. If you couldn't tell, I did my best to carefully go through every sample, enjoy them, and do some comparisons. If this were a barrel pick, the OBSK sample stands out by far as the best smelling and tasting bourbon. It is some of the best Four Roses bourbon I've ever had, including various barrel picks and Limited Edition Releases.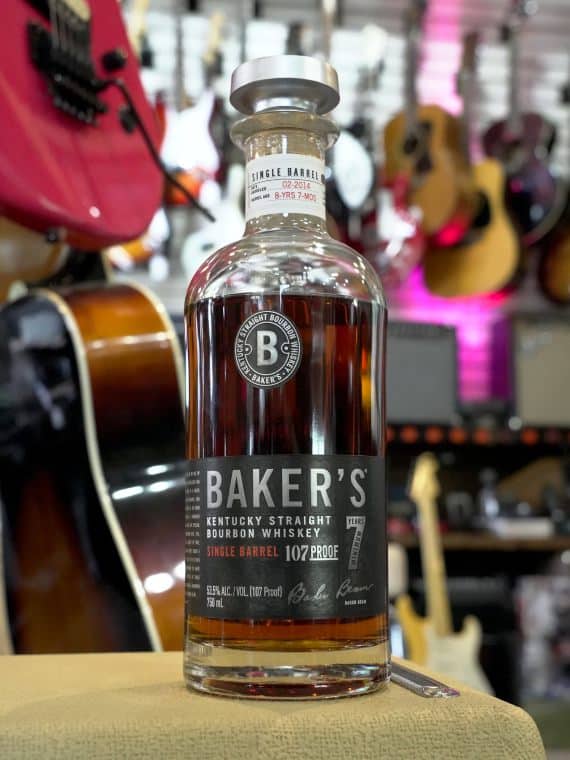 The profile is more or less ideal for me, chock full of dark sweetness, dark berries, and overall thickness, density, and richness that I can't get enough of. This particular OBSK sample might be a "Top Shelf+" bourbon on its own. I was so caught off guard by how incredible it was, and my adoration only grew after trying others and going back to the OBSK.
I would buy multiple bottles of that bottle. I know nothing about the original ABV or tier of this bourbon, I just know it's amazing. That is also the beauty of this experience: there are no tiers or other numbers to bias you. All you have is the recipe and a uniform ABV, and you decide from there.
The OESV sample is a far, but still fantastic, second. After that, there were some great samples and others that were good, but not memorable. I think a lot of these would be strong "Mid Shelf+" bourbons and some might be "Top Shelf" if I wasn't so focused on trying everything and could laser-in on one as I do in my reviews. For the most part, they mostly seem to meld together in my mind so that I couldn't remember them all that well. Two stood out and the rest mostly faded away in my memory. It goes to show that sometimes (maybe most of the time) great barrel selection trumps the recipe.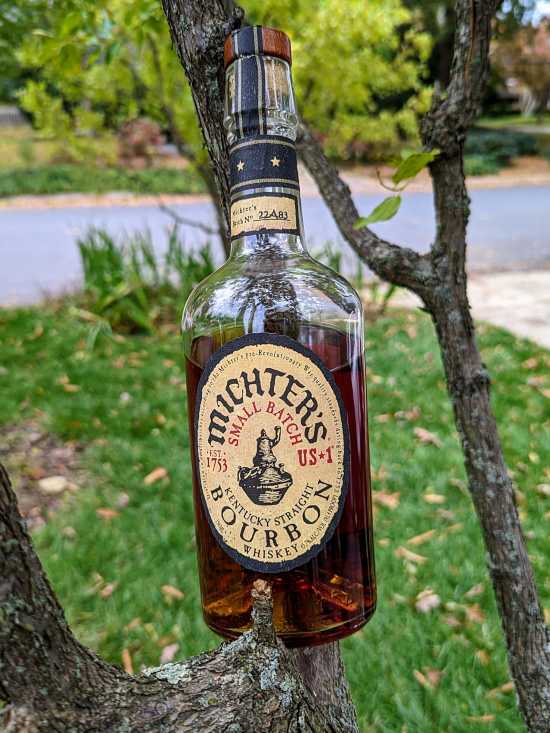 The point is, this is one heck of a tasting experience that was genius to release, I just wish that it was more accessible since this comes in 10-50ml bottles (smaller format) that are 52% ABV, so not quite cask strength. Doing rough math, 10-750ml bottles would create 15 sets of 10-50ml bottles (there are 15-50ml bottles in 750ml). Assuming a barrel has at least 80-100 bottles (at cask strength), that's at least 1200-1500 sets from just 10 barrels. If you dilute everything to 52%, you might be able to add 5-10% more sets, but I won't adjust for that in this simple math.
If Four Roses could pull 20 barrels of each recipe, which might actually be a lot because that's 200 barrels in total, that might be 24,000-30,000 sets, and likely even more if you adjust for the lower 52% ABV. Well…now that I think about it, that's still not that many sets considering the likely super high demand. Four Roses would probably need at least 80K-100K sets to come remotely close to distributing nationally, and it would still be allocated. That's actually quite a sobering thought about how much bourbon has to be drawn to feed demand.
Yeah, I guess I understand why this set is limited. But you know what, it's a wonderful and unique set that's definitely worth it if you're willing to pay whatever the asking price is.
So much hard work goes into each and every review, comparison, guide, and article, so please consider supporting The Whiskey Shelf in its continued journey of whiskey exploration and sharing.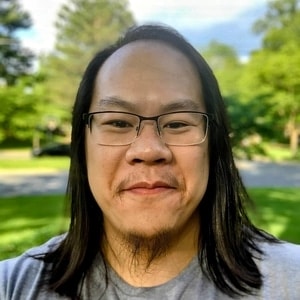 I have far too much fun writing about whiskey and singlehandedly running The Whiskey Shelf to bring you independent, honest, and useful reviews, comparisons, and more. I'm proudly Asian American and can speak Cantonese, Mandarin, and some Japanese.
There are no sponsors, no media companies, and no nonsense. Support The Whiskey Shelf by 
Buying Me A Shot
.