Mary Dowling Tequila Finished Bourbon Review [In Depth]
Mary Dowling Tequila Finished Bourbon
Mary Dowling Tequila Finished Bourbon Details
From the company website:
Mary Dowling Tequila Barrel was created in honor of Mary's own perseverance and determined spirit to stop at nothing to make her whiskey. This is a high rye Kentucky Straight Bourbon Whiskey; aged over 3 years in #3 wood-fired, toasted and charred new American Oak and then finished in Reposado Tequila barrels.
The result, of course, is that Mary Dowling Tequila Barrel has an incredibly original and nuanced taste profile.
On the nose: subtle spice, anise and light floral notes are present in Mary Dowling Tequila Barrel before a hint of agave and citrus, grapefruit, smoke, tobacco and nutmeg warms the palate before giving way to a black pepper and lingering spice finish.
mary dowling tequila finished bourbon overview
Bourbon with a Tequila finish might seem strange, but bear with me because it has some historical significance with this bourbon, and this brand tries to capture that.
The Mary Dowling whiskey brand is a joint venture between Kaveh Zamanian (founder of Rabbit Hole) and Pernod Ricard, a major beverage conglomerate, to celebrate "The Mother of Bourbon," Mary Dowling.
History is a major part of why this brand exists and why there's a tequila finished bourbon. I'll paraphrase the
full story provided on the Mary Dowling website
. Mary Dowling was a hugely successful distiller and ran the Waterfill and Frazier distillery in Kentucky. I'd never heard of the brand until I learned about this bourbon, so no one's tried to revive the name…yet.
When prohibition began, Mary Dowling eventually moved her operations to Juarez, Mexico, where she legally produced bourbon (before there was any rule about it being made in the US), and had it bootlegged into the US. As a result, there is a link between Mary Dowling and Mexico, which is where Tequila comes into the picture.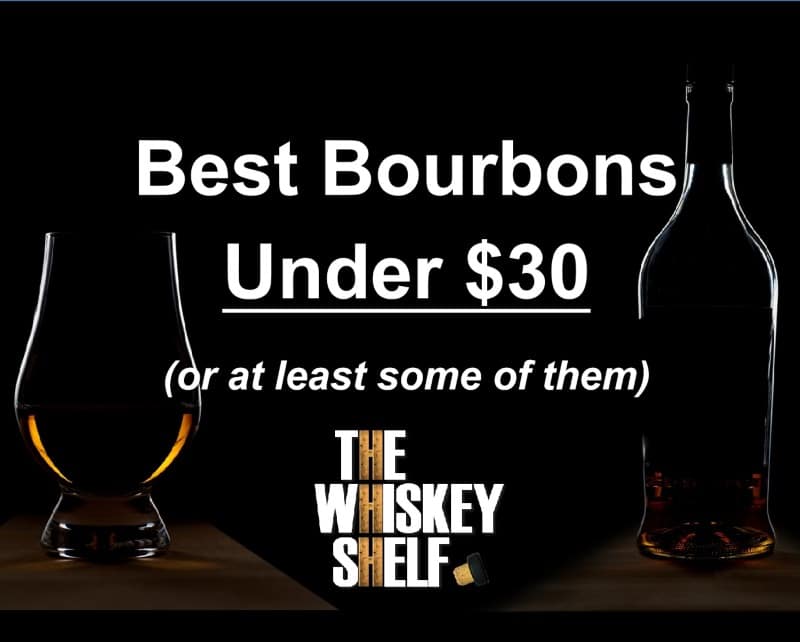 To commemorate the bourbon and Mexico connection, Kaveh Zamanian and Pernod Ricard chose to finish Kentucky Bourbon in Mexican Tequila casks. You can call it a marriage of the US and Mexico. As of this review, I can think of maybe one other bourbon that has been finished in bourbon. It's a rarely used cask finish. Speaking of bourbon and finishes, I'm fairly certain that the base bourbon comes from Rabbit Hole, which Kaveh Zamaian owns.
On top of that, the tequila barrels used in this bourbon have had quite a life. This is from the company website – "The barrels first held sacrificial sherry for a year, followed by Oloroso sherry with Solara system for four years, and then two years holding VDN (Vin Doux Naturel), before holding reposado tequila in Mexico." These barrels aged wine for years before aging Tequila, and then bourbon. Hopefully the wine and tequila come through in the bourbon.
Find out what this unorthodox finish brings to the glass in this Mary Dowling Tequila Finished Bourbon review.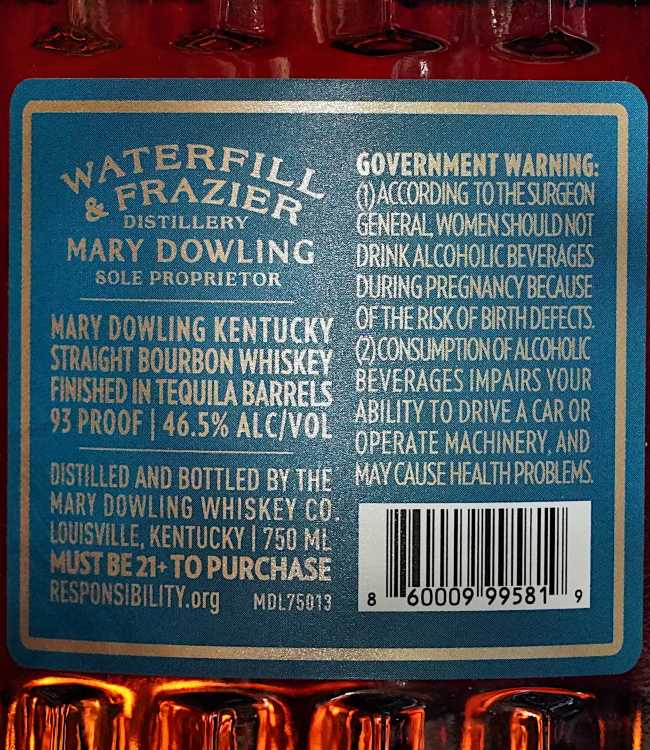 mary dowling tequila finished bourbon smell
The scents start with honey, pear, roasted grains, roasted oak, marshmallow, cinnamon, lime, black pepper, cherry, red apple, licorice, and clove. Unlike Mary Dowling Double Oak, this is more grain and youth-forward, although there's still no youthful funk.
I know what aged tequila smells like, and I'm getting very little of it. One could argue that reposado tequila isn't super intense to begin with (or at least compared to wine), so it feels subtle. You could tell me that this wasn't finished and I'd believe it because the finish is subtle at best
So far, Mary Dowling Tequlia Finished Bourbon smells nice and has little to no heat, but doesn't have a whole lot of density or expressiveness either. The scents still cover a lot of ground, but don't have much depth yet.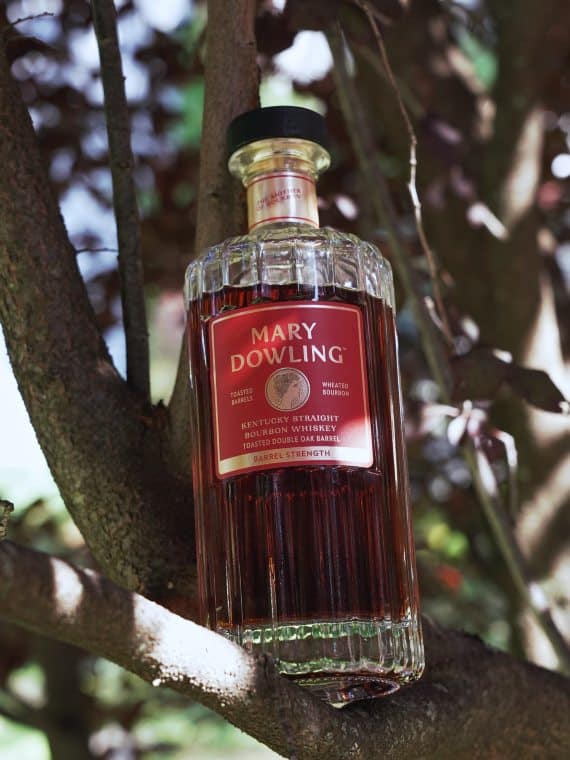 After swirling and rest, I smell honey, lime, roasted grains, vanilla, apricot, red apple, cinnamon, clove, licorice, and honey baked bread. In my opinion, the tequila finish is still way too subtle in the scents to the point that it's not really there. All that extra wine-finishing in the barrel also doesn't seem to bring much to the scents. The Tequila finish doesn't feel right. It's not janky or out of place, but it's just too subtle.
Regardless, Mary Dowling Tequila Finish Bourbon is solid. It has good range and budding richness, so I'm certainly not bored. The tequila finish just feels like an unimportant part of the experience.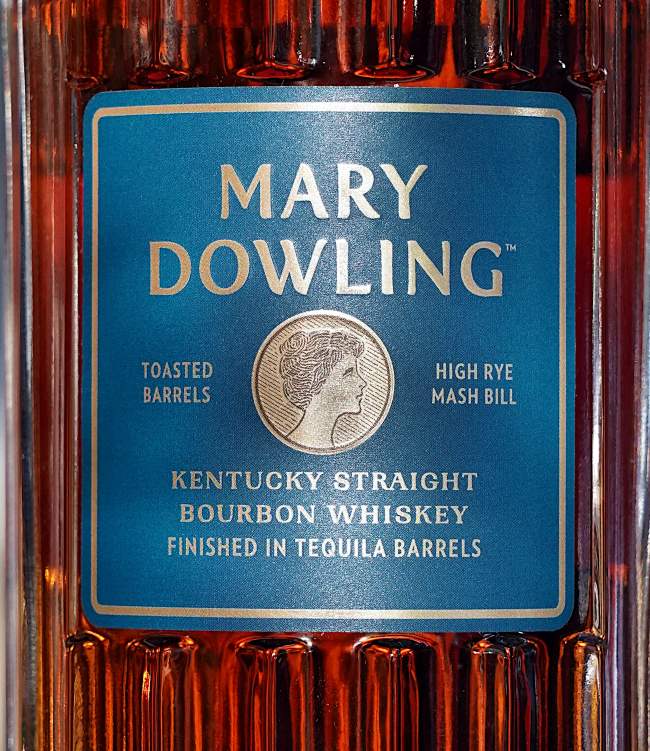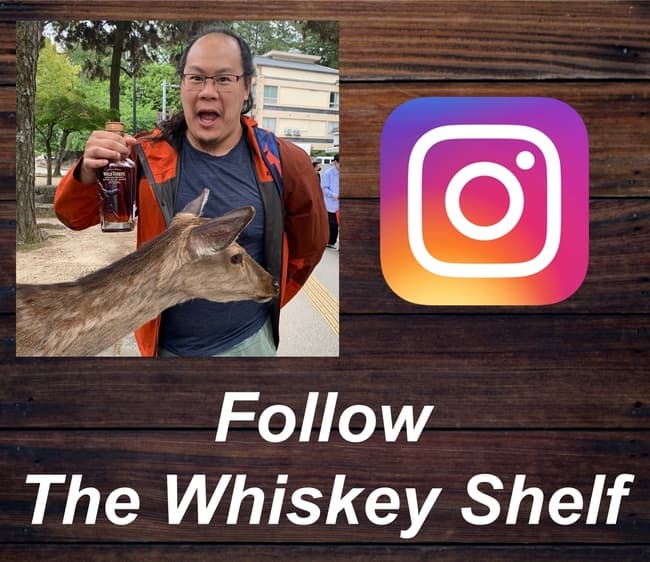 mary dowling tequila finished bourbon taste and aftertaste
At first I taste honey, vanilla, lime, red apple, roasted oak, cinnamon, vanilla, pumpernickel, and roasted grains. The flavors have a round mouthfeel and decent range, but the depth still isn't there yet. Maybe…just maybe the slightly more viscous mouthfeel comes from the tequila? This slight youthfulness comes from the 4 year old bourbon, and it shows. It still tastes pretty good, but it's not attention grabbing and the finish doesn't really elevate it because it's also too subtle in the flavors.
After "chewing", I taste honey, red apple, vanilla, roasted oak, cinnamon, lime, roasted grains, and baked bread. I know I'm a broken record at this point, but even with "chewing" the tequila is subtle at best. The good news is that the base bourbon still tastes pretty good with nice sweetness, fruitiness, and spice. The tequila finish just doesn't do much.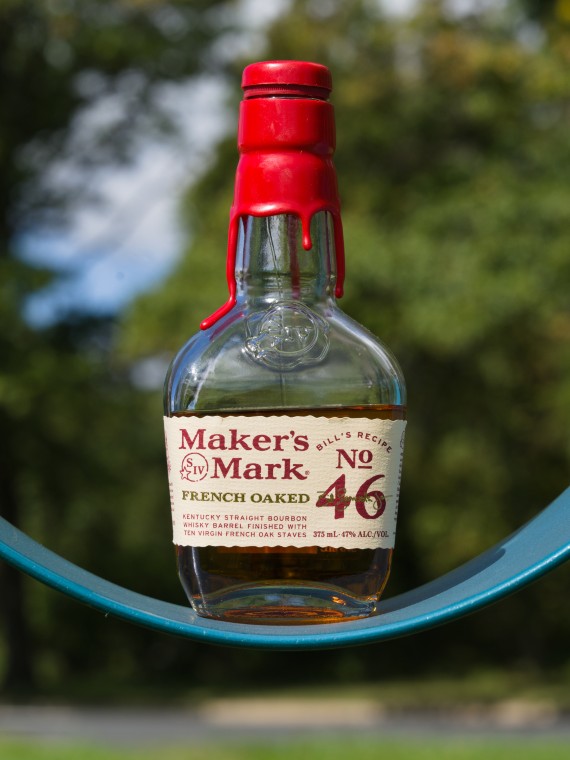 Honey, roasted grain, red apple peel, lime, roasted oak, and what just might be some tequila start the finish. The tequila barrel finish is a little more noticeable, but it's still quite subtle and easy to miss. But yeah, I get some tequila vibes. After "chewing" the finish has honey, red apple, lime, roasted oak, cinnamon, and maybe some tequila on the back end. The tequila doesn't really stick out, but overall the finish is good.
Mary Dowling Tequila Finish Bourbon is nice to drink, but I'm not amazed by it. It doesn't have any of the oomph or pop that
Mary Dowling Barrel Proof Double Oak
has, and that's "Top Shelf" by the way. Then again, the secondary aging in another virgin cask is totally different (more intense) than in a used tequila cask that likely previously held bourbon. I'm sure the 46.8% ABV is also part of the lack of pop or oomph.
I've unfortunately lost some Glencairn's while in transit, and that made me very sad. So, I wised up and bought this Glencairn Travel Case that comes also comes with 2 glasses so I don't need to worry so much about them breaking. I think it's great, and I think you'll love it too.
Seriously, if you already have glasses, protect them.
Mary Dowling Tequila Finished bourbon Rating

Mary Dowling Tequila Finished Bourbon in theory is an interesting concept. In practice, the finish is subtle at best and I don't think that most people will actually be able to smell or taste it. I expect more citrus, black pepper, and vegetal character. Unfortunately, I don't think it meshes well because the finish wasn't long enough.
The good news is that the base bourbon is still pretty good. Since the finish didn't do much, I'm more or less left with just drinking the bourbon. In that regard, I'm still pleased with the experience because it already has some range and richness. It's still young, but it's getting there. There's a bright future for Rabbit Hole when it gets a few more years in oak.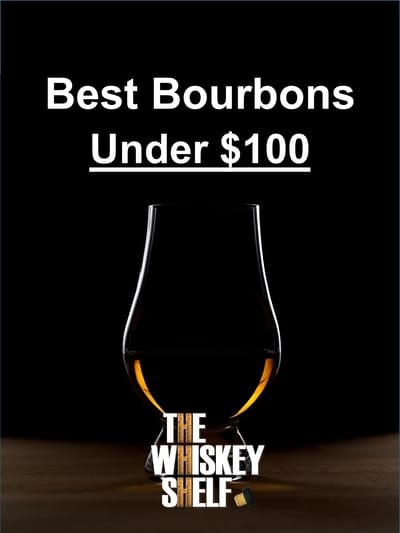 After aging various wines for 7 years, the oak barrels used to age tequila and then finish this bourbon have to be really worn out already, meaning that they're likely not going to infuse a lot unless you finish something in it for an extended period of time.
On top of that, reposado tequila only ages in oak barrels for up to 1 year, so the tequila realistically hasn't had enough time to really get into the barrel and then eventually into the bourbon as part of the finish. If anything, the finish should have been for 12-16 months to get a sufficient influence, but few companies will ever do that. It costs too much time and money to do that.
This was an interesting idea that wasn't executed well.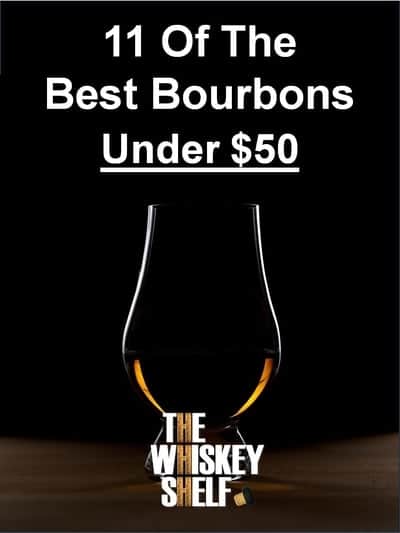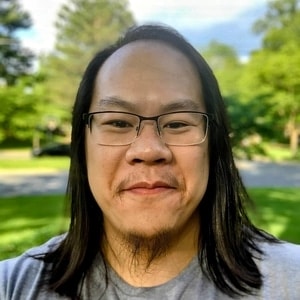 I have far too much fun writing about whiskey and singlehandedly running The Whiskey Shelf to bring you independent, honest, and useful reviews, comparisons, and more. I'm proudly Asian American and can speak Cantonese, Mandarin, and some Japanese.
There are no sponsors, no media companies, and no nonsense. Support The Whiskey Shelf by 
Buying Me A Shot
.