Old Taylor Bourbon Review [In Depth]
Old Taylor Bourbon Details
Distillery: Buffalo Trace
Type & Region: Bourbon, USA
Alcohol: 40%
Composition: I'm not sure, more about that in the overview
Aged: At least 4 years old (straight bourbon, no age statement)
Color: 1.1/2.0 on the color scale (burnished)
Price: 
$6-7 for 375mL, ~$20 for 1.75mL
From the company website:
There's nothing…seriously.
old taylor bourbon overview
Old Taylor Bourbon is an interesting bourbon with an unexpected backstory (at least for me). Today, you primarily know the name from Buffalo Trace's line of highly desirable EH Taylor bourbons and ryes that all come with tubes. You're probably chasing one (or more) too.
Turns out that there's a "budget" version called Old Taylor Bourbon. While it used to have have 6 year age statement, I'm guessing that it's younger now because the age statement is gone. All that's left is the number 6 (but not 6 years), as well as the Kentucky Straight Bourbon Whiskey denotation (without an age statement). As a result, it's still at least 4 years old, but likely younger than 6 years.
Because of the price, it also means that Old Taylor Bourbon is cousins with
Benchmark Bourbon,
Buffalo Trace's "budget" mashbill #1 bourbon.
As for the history – long story short (thanks to 
The Spirits Educator
), the Old Taylor brand was at one time owned by National Distillers (who also used to own Old Grand Dad). Jim Beam bought Old Taylor and Old Grand Dad in 1987, and then Sazerac (owns Buffalo Trace) bought Old Taylor (and Jim Beam's stock) in 2009. This is when get things become unclear.
I noticed that while the Buffalo Trace website has information on all the EH Taylor-branded products, there's no information on Old Taylor Bourbon. It's odd, but I wanted to point that out because it's rumored that Old Taylor still uses that Jim Beam distillate, not Buffalo Trace Mashbill #1 like most other EH Taylor bourbons. That's all my personal speculation though, so who really knows.
With so much attention on EH Taylor and Buffalo Trace, let's find out if this affordable Buffalo Trace-made bourbon offers noteworthy value in this Old Taylor Bourbon review.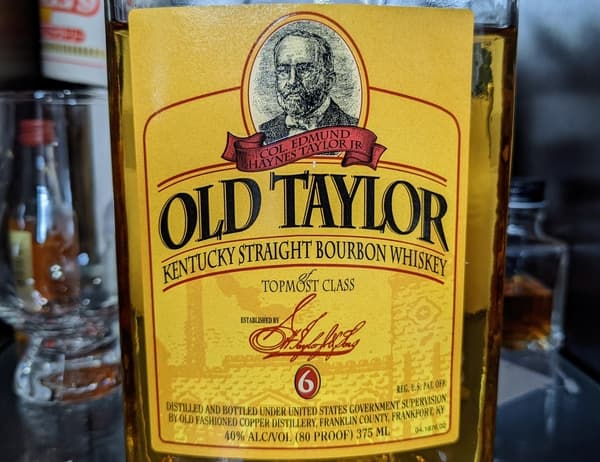 Still says Colonel Edumund Haynes Taylor Jr on the bottle (aka Colonel EH Taylor)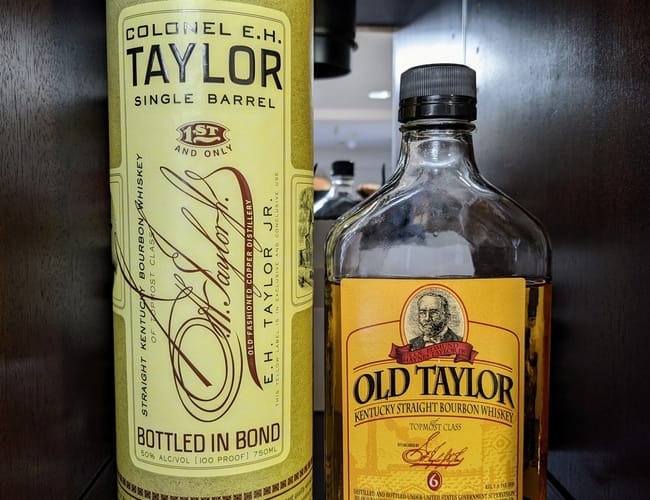 Old Taylor Bourbon and EH Taylor Single Barrel Bourbon side by side
Old Taylor Bourbon starts off with slightly darker honey, apricot, toasted oak, dry caraway seed, coffee grounds, cinnamon, orange peel, fuji apple, and cranberry. I'm pleasantly surprised with the nice mix of sweet, fruity, herbal, and oaky. I'm also happy with the fact that it's not flat or bland, which I admit is a low bar.
After swirling, I smell honey, vanilla, apricot, and licorice at first, followed by roasted oak, caraway seed, cinnamon, clove, dried cherry, and grilled pineapple. There's some underlying dark fruitiness and herbalness in the background mingled with the sugar sweetness, herbalness, and earthiness.
Old Taylor Bourbon is already starting to take on the herbal fruitiness I've found in
Buffalo Trace
(the bourbon). It doesn't quite have the darker fruitiness and earthiness of EH Taylor Small Batch yet, but it seems to be getting there.
So overall, while it's not all that expressive, rich, or complex, it's still a decently varied and fragrant bourbon that carries itself well for a very affordable and 40% ABV bourbon.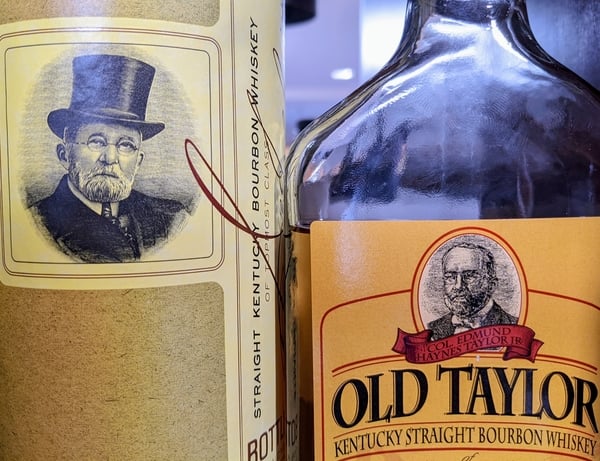 Same-looking man on EH Taylor Single Barrel and Old Taylor Bourbon
old taylor bourbon taste and aftertaste
Honey, apricot, orange, roasted oak, vanilla, caraway seed, licorice, and cinnamon kick off the flavors. Old Taylor Bourbon is a bit more honey and roasty-forward with supporting fruitiness and herbalness. So far, it's very drinkable, but not necessarily noteworthy in any way.
After "chewing", Old Taylor bourbon has roasted honey and vanilla, roasted oak, pineapple, clove, caraway seed, red apple, dark cherry, and licorice. It's sweet and herbal forward with a noticeable supporting fruitiness and oakiness that offers some depth. It's certainly starting to get my attention.
There's actually some body in the mouthfeel and flavors too (it never feels too thin), but is still by no means rich or complex. At the same time though, I'm enjoying what I'm tasting and it continues to grow on me with each sip, especially with the range of light to dark fruitiness of a more expensive bourbon.
Roasted oak, honey, licorice, apricot, and hints of coffee grounds lead into the finish. It's short, but there's nothing offensive to trouble me.
The finish perks up a little after "chewing" with charred oak, honey, licorice, apricot, slightly bitter roastiness, caraway seed, and pineapple. While the finish is a tad bitter, it's never overpowering or unpleasant as it is with
Benchmark Bourbon
.
If you're shopping on Amazon, support The Whiskey Shelf by shopping through my affiliate link – Shop Amazon. I may earn a commission from your Amazon purchases.
Old Taylor Bourbon Rating

You really never know what you're going to get with cheap bourbon, but I'm impressed with Old Taylor Bourbon. No, it's not a budget 
EH Taylor Small Batch
 killer, but it still brings a decent range of sweet, herbal, fruity, oaky, and earthy scents and flavors that I can enjoy. There's absolutely nothing off, unpleasant, or bland that would make this a "Bottom Shelf" bourbon.
That said, Old Taylor Bourbon is noticeably better (from memory) than
Benchmark Old No 8
, another very affordable Buffalo Trace-made mashbill #1 bourbon. It's richer, fruitier, more mature, and doesn't have that unpleasant and overly bitter aftertaste.
That's the funny thing – I don't like Benchmark, but I'm good with Old Taylor Bourbon. It's wild how they're similarly priced bourbons sold by the same distillery, yet totally different bourbons entirely (unknown mashbill not withstanding).
Although the Taylor name and face are on the label, I think this actually has more in common with
Buffalo Trace
because of the more herbal and fruity traits.
It's not nearly as dark, roasty, and fruity as
EH Taylor Small Batch
or
Single Barrel
(although it's getting there), but for the price that's not really the point. Then again, I can sort of smell and taste what it'd become in a few more years + 10% higher ABV (even if it turns out the mashbills are different).
For something super duper affordable, although not necessarily super available, I can get behind Old Taylor Bourbon. If you're looking for a sub-$20 handle of bourbon, I say it's one worth trying because it drinks far more expensive than it actually is. This also came to mind – I like this more than
Four Roses Yellow Label
, which is more expensive.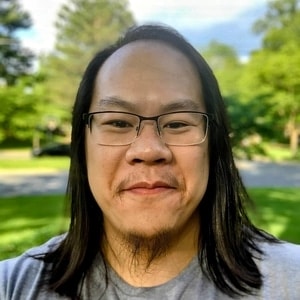 I have far too much fun writing about whiskey and singlehandedly running The Whiskey Shelf to bring you independent, honest, and useful reviews, comparisons, and more. I'm proudly Asian American and can speak Cantonese, Mandarin, and some Japanese.
There are no sponsors, no media companies, and no nonsense. Support The Whiskey Shelf by 
Buying Me A Shot
.
Comments are closed.