Distillery: Maker's Mark
Type & Region: Bourbon, Kentucky, USA
Alcohol: 45%
Composition: 70% Corn, 16% Soft Winter Wheat, 14% Malted Barley
Aged: NAS (rumored ~6 years), aged in virgin American white oak
Color: 0.9 to 1.0 (amontillado sherry or deep copper) 
Price:
$3 (50ml bottle), $25-30 (750ml)
From the Maker's Mark website:
"Bill Samuels, Sr., simply wanted a whisky he would enjoy drinking. That's why Maker's Mark is made with soft red winter wheat, instead of the usual rye, for a full-flavored bourbon that's never bitter or hot. To ensure consistency, we rotate every barrel by hand and age our bourbon to taste, not time. Each and every bottle of Maker's is still hand-dipped in signature red wax at our distillery in Loretto, Ky., just like bill would have wanted."
Maker's Mark is Maker's Mark's most widely sold and popular product. It's probably the world's best selling wheated bourbon too, found in nearly every store that sells bourbon…the opposite of Buffalo Trace's Weller Special Reserve.
For some background on wheated bourbon. Wheated bourbon just means that wheat is the part of the bourbon's mashbill. Most bourbon is made from corn, rye, and barley, so a wheated bourbon is usually corn, wheat, and barley. There are some bourbons that used wheat and rye, which are usually referred to as "four grain".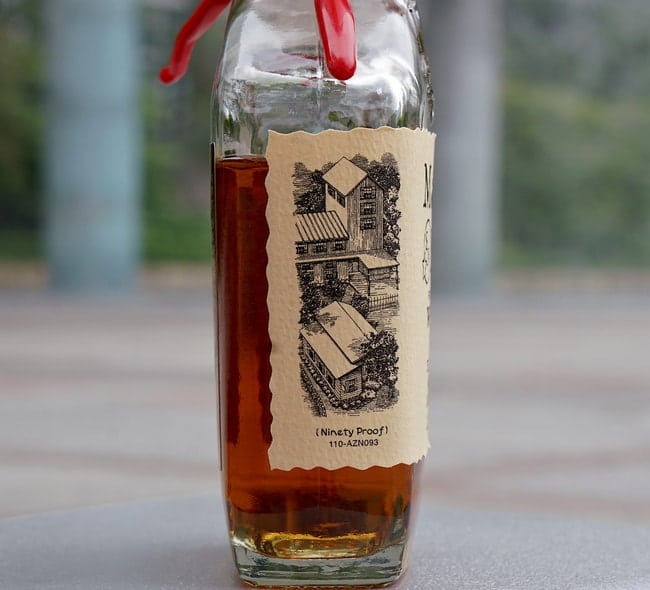 To be brief about it, wheat tends to create a sweeter and less herbal and earthy traits. This means less licorice, fennel, caraway seed, pumpernickel bread, and pineapple that are signature rye traits. Instead, you usually find more cinnamon, clove, and wheat bread.
Back to this Maker's Mark. So unlike the cask strength version, which has batch numbers, the regular version is blended using significantly more barrels so it's very difficult to differentiate between different years. It's just…Maker's Mark. It's not better or worse, just their business practice. The company doesn't disclose the exact number of barrels.
Let's find out, how the world's most accessible wheated bourbon is in this Maker's Mark review.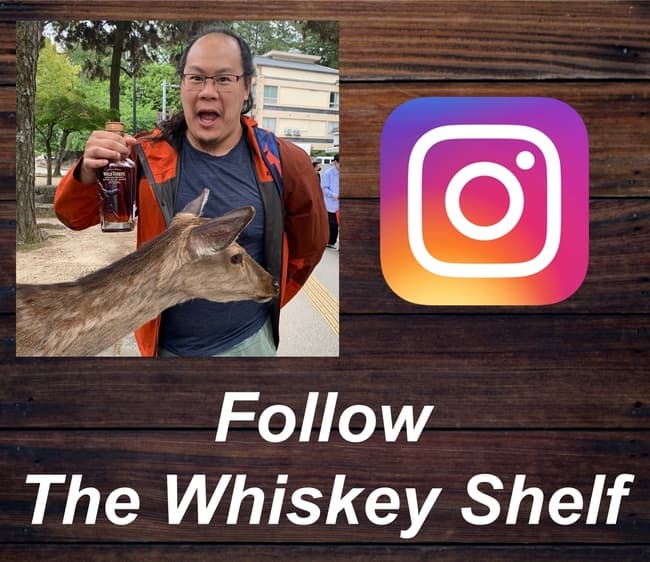 Maker's Mark offers moderately dark caramel with this grassy and kind of grainy fragrance (I'm guessing wheat), dried peanuts, vanilla, dried apple and orange, roasted oak, cinnamon, clove, and a very faint hint of sourdough bread and milk chocolate.
I haven't had this in years, but that distinct dry grassiness and nuttiness is still there. It's not quite as intensely nutty as some Heaven Hill and Jim Beam bourbons can be, instead more grassy. So on my first re-impression, Maker's Mark Bourbonhas grassy, oaky, and spice-forward scents that smell fine, but don't have any noteworthy qualities.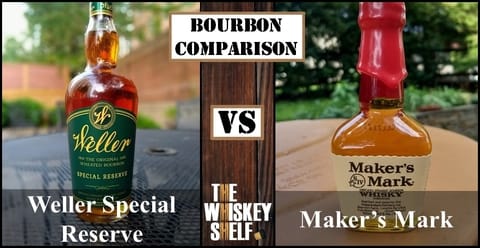 After swirling there's caramel, dried grass (hay?), ginger, dried red apple and orange peel (maybe even lemon peel), roasted oak, cinnamon, clove, nutmeg, and hints of roasted marshmallow and cocoa powder.
Maker's Mark smells a little better with slightly darker and sweeter scents with the grassy, roasty, and oak spice-forward scents. Swirling also wakes up the ginger and brings even more oak spices (cinnamon, clove, and nutmeg) that are telltale signs of a wheated bourbon.
Overall, the scents have middle of the road richness and expressiveness so I can enjoy them, but I could use more roundness, low end, and some standout trait. This isn't for you if you dislike those nutty and grassy scents.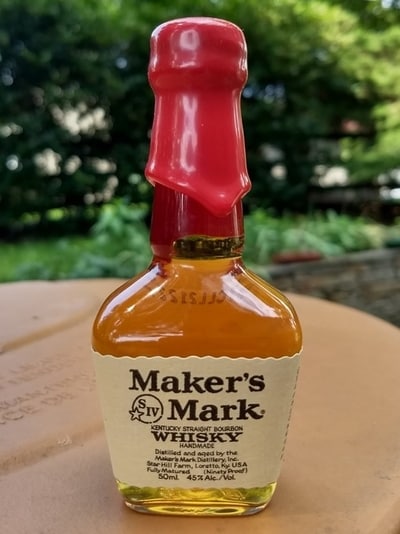 Maker's Mark taste and aftertaste
Maker's Mark starts off with caramel, roasted grains and oak, vanilla, apple, cinnamon, clove, and cocoa powder. Just like the scents, the flavors focus on caramel, grain, oak, and spice (cinnamon, clove, and nutmeg). The lighter fruitiness mostly stays in the background.
After "chewing" I taste caramel, ginger, vanilla, roasted oak, cinnamon, clove, nutmeg, this gummy and slightly underbaked bread and grain taste, red apple skin, grass, and lemon / orange peel. Lightly sweetened chai tea may be a close-ish comparison (but with booze).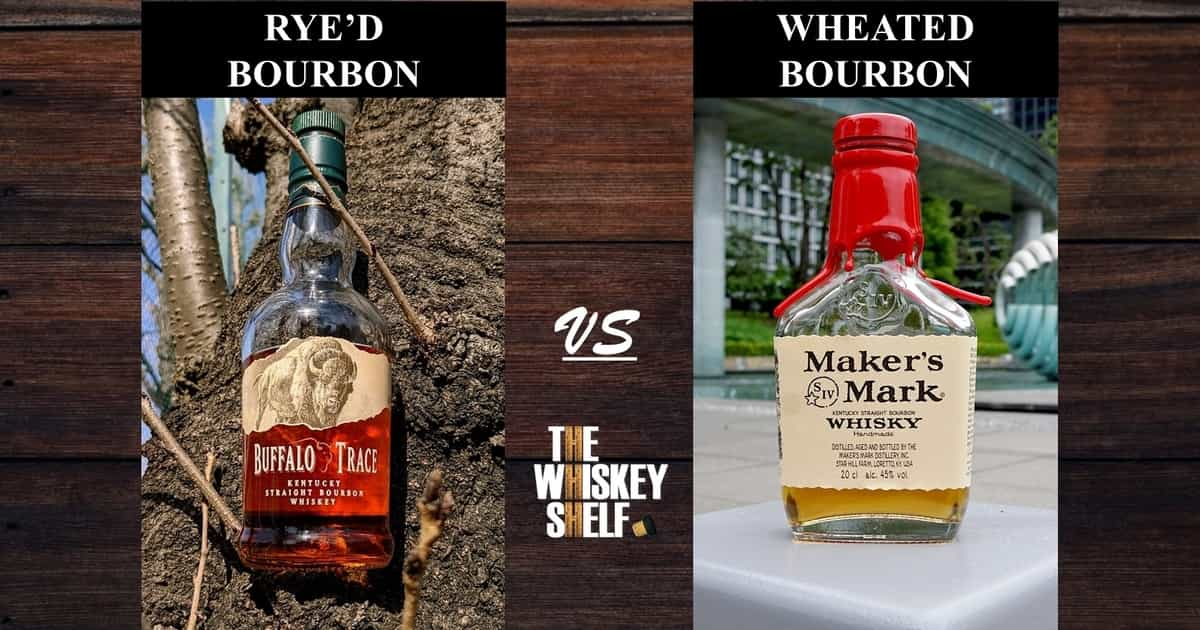 Maker's Mark is definitely a spice-forward bourbon, as is often the case with wheated bourbons such as Weller Antique 107, Larceny Bourbon, New Riff Maltster Wheat, and Van Winkle 10 Year Bourbon. But there is an extra graininess and grassiness that makes me think it's less mature.
On top of that, that ginger reminds me of Old Grand Dad 114 and Blanton's Straight From The Barrel. Those may be very different bourbons, but there is that spicy overlap.
On the not so good side, I taste a bit more alcohol, although it doesn't actually bite or burn more. It's just slightly more vodka-y, which makes me think less developed. More often than not, Maker's Mark Bourbon tastes alright, but the thinness and surface level depth are noticeable drawbacks that make it very average and forgettable.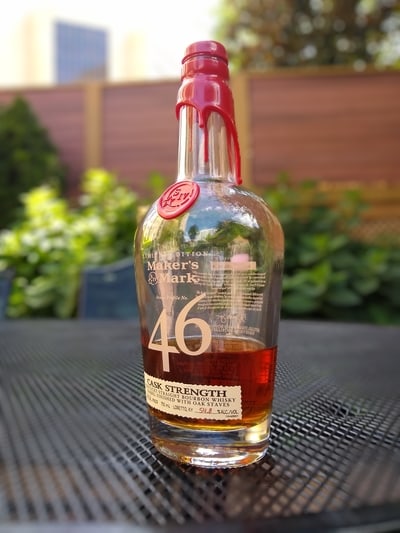 Caramel, something a bit gummy (maybe dough) and grainy, clove, cinnamon, roasted oak, roasted nuts, and mint come first in the finish. The spice doesn't quit, getting spicier over time.
After "chewing", there's caramel, that wheat-influenced slightly under-baked bread and fresh grain, dry grass, oak, clove, cinnamon, and ginger. The ginger and spice does leave this nice lingering freshness like after drinking chai tea. I'm also glad it all doesn't fall off a cliff and disappear after a few seconds, so the aftertaste does well.

Maker's Mark Bourbon is a roasty, grassy, and oak spice-forward bourbon that brings a rich-enough, complex-enough, and interesting-enough drinking experience. It's not particularly great, unique, or noteworthy for me, but it's still a solid option if you're looking for something that's available, affordable, and easier to drink neat.
Especially with wheated bourbon, where Larceny,
Weller Special Reserve
,
Rebel
, and David Nicholson are your other main less expensive options, sometimes that's all you can ask.
Regardless of what I think about how it drinks, I have to recognize the iconic hand-dipped red wax. It's truly a work of art that's not cheap to do at their massive scale.
In terms of wheated bourbon, Maker's Mark definitely brings the notes that I expect. There's all the oak spices that I've found in other wheated bourbons regardless of price (clove, cinnamon, nutmeg, plus orange), and a little underbaked bread.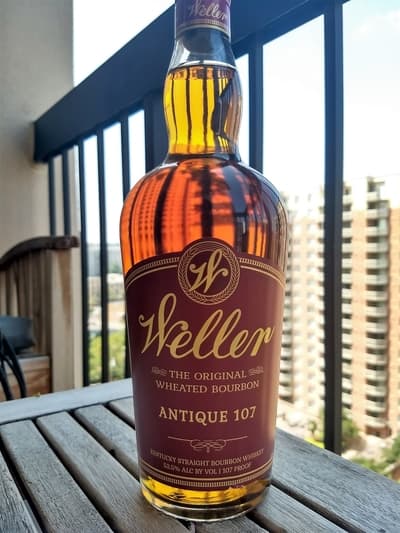 Due to blending, ABV, and other factors, it's a bit thin and underdeveloped compared to other wheated bourbons (admittedly they're usually way more expensive), so I personally don't intend on buying more in the future.
Thankfully they also offer Maker's 46,
Maker's Mark Cask Strength
,
Maker's Mark 46 Cask Strength
,
Private Selects
, and the annual limited releases to satiate people want more richness and complexity. Regular Maker's Mark is for everyone, and the other bottles are for those who want more and are willing to pay for it, so it mostly depends on your budget and what you want.
While you're reading, I always try to offer alternatives just in case you want to try something different. In this case, I think that
Bernheim Wheat Whiskey
and
Larceny
are great options to try next.
Bernheim is a wheat whiskey, not wheated bourbon, so it has at least 51% wheat in the mashbill instead of the 16% in Maker's Mark. I affectionately call it wheated bourbon on "wheaties". It has much of the same spice as Maker's Mark, but with more caramel, chocolate, and coconut. Because it costs about the same, I'd pick Bernheim over Maker's Mark bourbon every time.
Larceny brings many of the same wheat notes in Maker's Mark, but with more heft in part because of the higher ABV.
So much hard work goes into each and every review, comparison, guide, and article, so please consider supporting The Whiskey Shelf in its continued journey of whiskey exploration and sharing.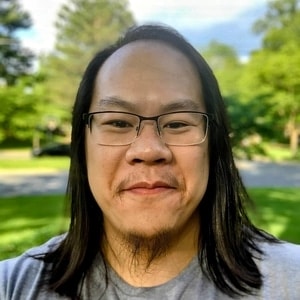 I have far too much fun writing about whiskey and singlehandedly running The Whiskey Shelf to bring you independent, honest, and useful reviews, comparisons, and more. I'm proudly Asian American and can speak Cantonese, Mandarin, and some Japanese.
There are no sponsors, no media companies, and no nonsense. Support The Whiskey Shelf by 
Buying Me A Shot
.
Comments are closed.