Bernheim Wheat Whiskey Review
Bernheim Wheat Whiskey Details
Distillery: Heaven Hill
Type & Region: Wheat Whiskey, Kentucky, USA
Alcohol: 45%
Composition: 51% wheat, 39% corn, 10% barley
Aged: 7 years in virgin American white oak
Color: 1.3/2.0 on the color scale (russet muscat)
Price: $25-30
From the Heaven Hill website:
"This Heaven Hill Distillery original is named for the famed Bernheim Distillery here in Louisville. 7-Year-Old Wheat Whiskey, Bernheim Original is the first new style of American Whiskey to be introduced since Prohibition. Aged for 7 years in our traditional open rickhouses, Bernheim's mellow taste is refreshingly smooth when served straight or in cocktails."
bernheim wheat whiskey overview
Wheat whiskey is a pretty small and often overlooked segment while its wheated bourbon cousin gets most of the attention. In the realm of wheat whiskey, Heaven Hill's Bernheim Wheat Whiskey is one of the most widely distributed, and overall interest and supply is growing with distilleries releasing their homemade whiskey and/or sourcing from MGP.
Wheat whiskey follows virtually all the same rules as bourbon or rye, but is composed of at least 51% wheat instead of corn or rye. You can think of it as a wheated bourbon on wheat steroids (wheaties?). Bernheim uses 51% wheat and 39% corn, so it's not so far off from a wheated bourbon, and its 7 year age statement is great too. I don't have much experience with wheat whiskey, so let's discover what it's about in this Bernheim Wheat Whiskey review.
Thank you to Ryan B. for the sample.
As an FYI, I bought and use these Glencairn glasses for my reviews and comparisons (because they're the best): Glencairn Crystal Whiskey Glass, Set of 6, Clear, 6 Pack. Full transparency, this is an affiliate link, so I may earn a commission if you buy this or something else from Amazon.

bernheim wheat whiskey smell
Bernheim Wheat Whiskey smells quite dark with caramel, musty oak, lightly chalky dark chocolate, orange peel, lightly burnt baked bread, and a lot of cinnamon, nutmeg, and clove, and just a little date. My guess is that the wheat emphasizes the wood spices, also in part because there's no rye to get in the way.
After swirling, Bernheim is caramel and honey-forward with a little more heat, and now lemon, coconut meat, oak, tobacco, cinnamon, dried out chocolate bar, honey baked bread, and just a hint of nuttiness. It really does smell like Weller Antique 107. The oak also has a great mature fragrance to it, like Remus Volstead 14 and Woodford Very Fine Rare Bourbon, that makes it smell much older than 7 years old and ties it all together into a nicely fragrant whiskey
bernheim wheat whiskey taste & aftertaste
The flavors are quite caramel and brown sugar-forward with coconut, vanilla, orange peel, apple, roasted oak cinnamon, and cocoa powder. There definitely is a distinct and unique, but not overpowering, coconutiness.
"Chewing" brings caramel, coconut meat, vanilla frosting, baked apple, and a good amount of oak, cinnamon, nutmeg, chocolate, dried nuttiness, citrus, clove, and baked bread. There's quite a bit of back and forth between the sweet caramel and roasted oak, with little heat, again making me think that this is older than 7 years old. While the flavors are thinner than the scents, they are still fairly flavorful and interesting.
I bet a higher proof version would be awesome given how it tastes at 90 proof, so I'm glad that Heaven Hill decided to release a cask strength version as a distillery-only release as of March 2021. It makes too much sense since they already have higher proof releases with 
Elijah Craig Barrel Proof
, Larceny Barrel Proof, and 
Pikesville Rye
.
The finish is oak tannin-forward followed by lighter caramel, cinnamon, and dried orange peel. "Chewing" makes the finish darker and more bitter with oak tannins, cinnamon, caramel, and orange, but it's not overdone in any way. The finish is short and drops quickly into low smoldering oak tannins, cinnamon, and clove. It's quite the change from the sweeter flavors into the more oaky and dry finish. 
Whiskey is also for sharing, so I use Vivaplex, 12, Amber, 2 oz Glass Bottles, with Lids for smaller samples and Vivaplex, 12, Amber, 4 oz Glass Bottles, with Lids for larger ones. Full transparency – This is an Amazon affiliate link so I may earn a commission if you buy this or something else. Regardless, I actually use these myself.
Bernheim Wheat Whiskey Rating

Bernheim Wheat Whiskey smells great and tastes pretty good too. This reminds a lot of me of wheated bourbon, especially with the emphasis on wood spices and the light baked bread notes, and I'd easily mistaken this for one as well.
With the relatively rich caramel, coconut, oak, and wood spices, it smells and tastes like a 12 year old 90 proof wheated bourbon. Weller 12 comes to mind, but I haven't had it yet so I can't yet say how Bernheim compares to it.
After this review, I'd go so far as to say that Bernheim Wheat Whiskey is superior to 
Weller Special Reserve 
and 
90 proof Maker's Mark
, but not quite as good as 
Weller Antique 107
. If you like wheated bourbon, then I think you'll like Bernheim too because it also has wheat, corn, and barley in it, just in different proportions.
This is easy enough to recommend give its mix of affordability, availability, quality, and uniqueness. Don't expect to be completely blown away, but it's good and I'd drink it again.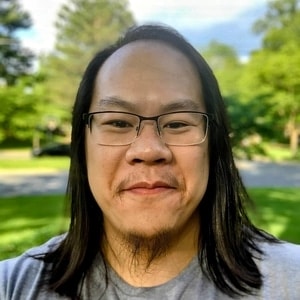 I have far too much fun writing about whiskey and singlehandedly running The Whiskey Shelf to bring you independent, honest, and useful reviews, comparisons, and more. I'm proudly Asian American and can speak Cantonese, Mandarin, and some Japanese.
There are no sponsors, no media companies, and no nonsense. Support The Whiskey Shelf by 
Buying Me A Shot
.
Comments are closed.