Four Roses Small Batch Select Review [In Depth]
Four Roses Small Batch Select
Four Roses Small Batch Select Details
Distillery: Four Roses
Type & Region: Bourbon, Kentucky, USA
Alcohol: 52%
Composition: The mashbills are disclosed, but not the percentage of each, so we don't know the exact final mashbill
Aged: 6 years in virgin American white oak
Color: 1.3/2.0 on the color scale (russet muscat)
Price: $55-60 MSRP
From the Four Roses website:
"Master Distiller Brent Elliott selected and mingled six of Four Roses' 10 Bourbon recipes, each aged a minimum of 6 years, to handcraft Small Batch Select. Non-chill filtered and 104 proof, our newest permanent product-line extension, offers truly unique flavor characteristics. Balancing notes of candied fruit with warmth and spice, Small Batch Select is enjoyable to both casual drinkers and Bourbon connoisseurs. Small Batch Select is best enjoyed straight up or on the rocks. 104 proof. 52% alcohol/volume."
Four Roses Small Batch Select overview
Four Roses Small Batch Select is the newest bourbon in the Four Roses lineup, made up of Four Roses Yellow, Small Batch, Single Barrel, the annual limited edition small batch, and the cask strength single barrel store picks and master distiller selections (including this OESV selection). With an existing Four Roses Small Batch bourbon, the Four Roses Small Batch Select name is strange but still welcome.
It's effectively a higher-proof and non-chill filtered Small Batch that uses 6 of Four Roses' 10 mash bill and yeast combinations, while the regular Small Batch uses "just" 4.
The additional mashbills (
link to Four Roses' website here with more details
) and slightly higher age (6 years vs NAS) should result in a different experience. In this Four Roses Small Batch Select review, let's find out if all these new things add up to a great bourbon.
*A huge thank you to my friend Saurabh for this sample
Four Roses Small Batch Select smell
Four Roses Small Batch Select starts off balanced between honey, mint, anise, cinnamon, and wood followed by apples, oranges, and dried berries underneath. It's not overly sweet, spicy, or woody, everything is balanced and well-integrated.
The rye mint, anise, and fennel really come through with some cinnamon extract, adding a slightly spicy, herbal, and floral quality and a gentle underlying breadiness. It just smells great and continually unveils more scents. At 52%, the alcohol is easy to find but stays even and never surges into my nose.
Swirling makes Four Roses Small Batch Select smell darker and even better with caramel, oranges, cherries, vanilla extract, cinnamon, clove, anise, and just a little lime and cornbread. It has a pleasant dried fruit and oak presence, as well as musty wood and pine. That combination of wood, mint, and alcohol smells like winter and permeates every nook and cranny of the nose.
The scents ebb and flow, constantly keeping it interesting. Four Roses Small Batch Select doesn't necessarily offer any unique surprises, but everything comes together so well that it doesn't matter. 
Four Roses Small Batch Select taste and aftertaste
That first sip of Four Roses Small Batch Select just pops with dark caramel, brown sugar, and spiced cola with dark fruits and lemon. There's a solid cinnamon and nutmeg spice kick with alcohol that isn't shy, but behaves itself. It takes a moment for the roasted oak to appear, providing additional darkness and spice, and a light nuttiness towards the end.
"Chewing" releases primarily sweet caramel and honey with vanilla, custard, peach, dried orange peel, apple, anise, and fennel. Underneath is moderate wood and tobacco with cinnamon oil, nutmeg, black pepper, and caramel corn. The herbal sweetness and oaky background definitely has some
Blanton's-like
qualities, and I would argue that it's actually better.
The lack of chill-filtering comes through in the thick and rich mouthfeel from the oils. The oak and alcohol build as I let Four Roses Small Batch Select sit my mouth, giving me a solid, but manageable kick that permeates everything.
Slightly nutty wood with honey, oak tannin bitterness, and an alcohol tingle start the finish, transitioning into anise and dried citrus peel. After a minute, it fades into lime-y Sprite. 
With "chewing", the finish is sweet with honey, bitter with oak, cocoa powder, and herbal anise and fennel that slowly turn into slightly sweet dried citrus skin, sort of like key lime pie, that leaves a drying sensation.
Again, Four Roses Small Batch Select is not particularly unique, but it has a lot of great flavors packed into every nook and cranny. 
If you're shopping on Amazon for Black Friday, Cyber Monday, the holidays, or any other occasion, support The Whiskey Shelf by shopping through my affiliate link – Shop Amazon. I may earn a commission from your Amazon purchases.
Four Roses Small Batch Select Rating

Four Roses Small Batch Select is a wonderful bourbon. I had no idea what to expect going into this, but I'm very pleased. There are so many layers to uncover because it's constantly evolving, so don't be surprised if you find yourself smelling it for a while and reaching for another pour when you're done drinking. 
It's so well balanced between the sweetness, fruit, wood, and rye, with various notes that pop from time to time, especially the mint, anise, and fennel from the rye. 
Because it more of that high-rye herbal quality, I argue that it's a better
Blanton's Single Barrel Bourbon
. 
It's also a nice upgrade from 
Four Roses Single Barrel
, which is also tasty and worth trying if you haven't already.
I don't often say this, but Four Roses Small Batch Select's proof is just about right. I'll never say no to a higher proof, if not cask strength, but everything is already so fragrant and flavorful that it doesn't actually need more. I know distribution is still not completely nationwide, but it seems to be expanding by the year so availability is improving.
Great job Four Roses on a bourbon well done. If you can find out at a reasonable price (say under $65), then I highly recommend it because it's the best Four Roses bourbon you're probably going to be able to get. The cask strength single barrels and highly allocated annual limited release are just too difficult to find, so this is the best option from Four Roses for most people.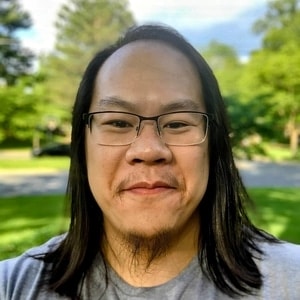 I have far too much fun writing about whiskey and singlehandedly running The Whiskey Shelf to bring you independent, honest, and useful reviews, comparisons, and more. I'm proudly Asian American and can speak Cantonese, Mandarin, and some Japanese.

There are no sponsors, no media companies, and no nonsense. Support The Whiskey Shelf by Buying Me A Shot.