Evan Williams New vs Old​ Comparison
Evan Williams Black Label goes way back
Evan Williams has been on sale since 1957, and I'm guessing Evan Williams Black Label has been on shelves since the beginning. Over the years though, a lot has changed in whiskey, world affairs, everything. The rules and process around bourbon seem to have mostly stayed the same, although that doesn't mean that the final result will be consistent.
That's why I keep doing these old vs new comparisons. It's because 1) I somehow find myself in the possession of older bottles, and 2) I'm curious how much has changed and what hasn't. So when I found a bottle of Evan Williams Black Label 7 Year from 1990 for $7 (ludicrous), I had to take the rare opportunity to compare the old with the new / current.
Assuming that this dusty Evan Williams was actually bottled in 1990, based on the 90 on the bottom of the bottle, this a comparison of bourbons with the same name and distillery (sort of since there was the fire and Heaven Hill had to move), but bottled about 32 years apart. It's almost like father vs son.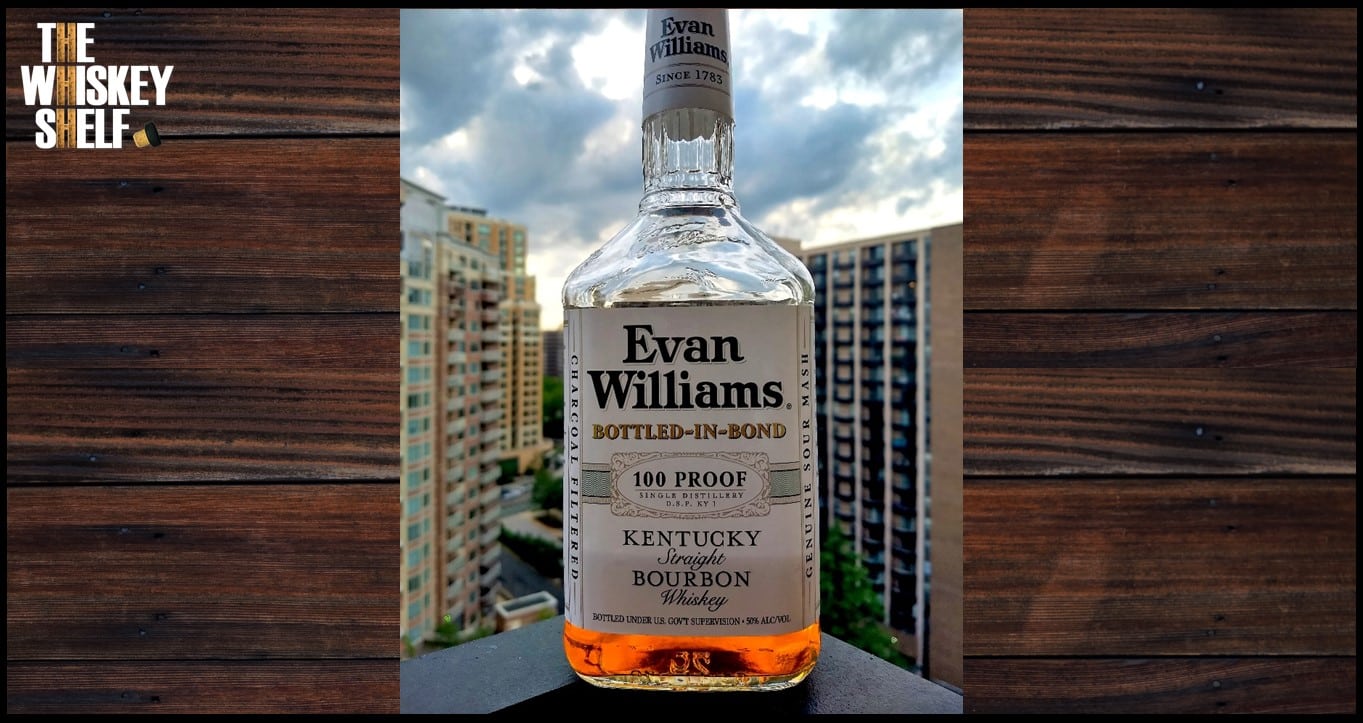 Ok fine, the age statement and ABV are different too, but it comes with the territory of bottles from decades apart. Evan Williams Black Label from back then seems to always have been age stated, and today's aren't. The bottle shape is also mostly the same, not that it's relevant for the smelling and tasting part.
Even at first glance before doing the comparison, the bourbon's colors are noticeably different. The 7 Year from 1990 is a few shades darker.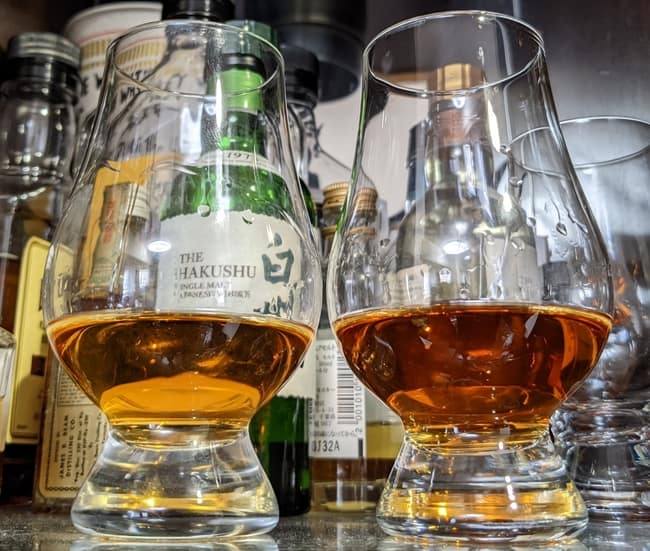 Let's find it how much Evan Williams Black Label has changed over 30+ years in this Evan Williams Old vs New comparison
The table below outlines the two whiskeys.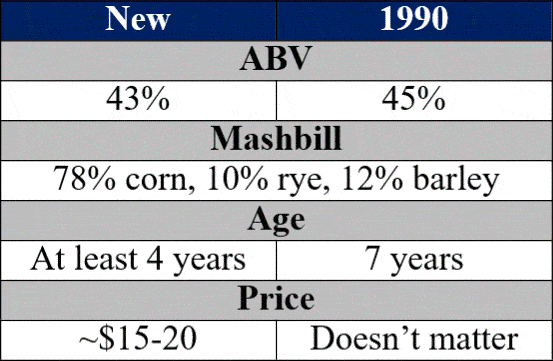 As an FYI, I bought and use these Glencairn glasses for my reviews and comparisons (because they're the best): 
Glencairn Crystal Whiskey Glass, Set of 6, Clear, 6 Pack.
Full transparency, this is an affiliate link, so I may earn a commission if you buy this or something else from Amazon.
If you're shopping on Amazon, support The Whiskey Shelf by shopping through my affiliate link – Shop Amazon. I may earn a commission from your Amazon purchases.
Evan Williams 7 Year from 1990 and
modern day Evan Williams Black Label
have almost nothing in common, and it's absolutely wild because they come from the same distillery. Well…that's only half true because Heaven Hill moved after the 1996 fire, so they were made at different locations and with a lot of changes in the production process.
The point I'm making is that distilleries, including Heaven Hill, don't (more likely can't) make bourbon as good as they used to, or at least based on my definition of "good". As many times as I've done this type of comparison, it never ceases to amaze me how wide the gap in quality is. It's not a subtle difference here or there, it's a complete overhaul.
Today's Evan Williams Black Label, while actually pretty good and balanced on its own, drinks like the way way way younger and less developed bourbon. There's some caramel, vanilla, dried fruit, and licorice, but overall is more earthy, oaky, and spicy-forward (with a little bite), and is a tad thin all around.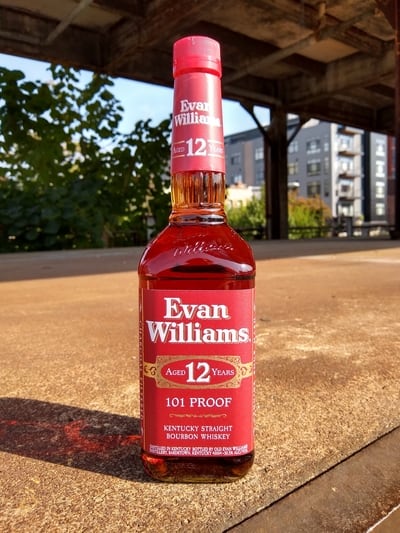 As obvious as it sounds, today's Black Label isn't particularly rich, developed, or interesting. It's solid and gets the job done, and I won't complain about that.
But whatever you know about today's Evan Williams, throw out the window because the 1990 version is not that. The 7 Year's scents and flavors are viscous, fruity, rich, dark, and mature in ways that today's $100+ bourbons don't even have.
Top to bottom, they're doused in luscious dried fruit (apricot, prune, cherry) and old oak that's rich, heavy, and vibrant at the same time, making it an impressive bourbon to savor. Most expensive bourbon today can't do this, although the occasional wine and/or Armagnac-finished one gets close.
Today's version has absolutely zero dark fruit, old oak, or tobacco, while the older version has no grassiness or youthful graininess (caraway seed, toasted grains). It's wacky.
The spice and oak are also delivered in entirely different ways. Today's Evan Williams has a little more roasty and oaky bite. It's not quite rough or harsh, but doesn't feel refined. The 7 Year is still dark, oaky, and spicy, but has this densely dark smoothness, refinement, shimmer, and vibrance to it that's puzzling and intriguing.
It's sort of like freshly ground spices and candied fruit that make everything feel alive. I can tell what it is every time, but it's still tough to adequately explain.
Even though I think the older version is leagues better, today's version doesn't just comipletely lay down and get steamrolled. Going from 1990 to modern, the modern version actually maintains some sweetness and character so it doesn't taste terrible and like straight alcohol. I promise that's a compliment.
Considering that Old Grand Dad 114 didn't taste so good after having Buffalo Trace, I still consider Evan Williams Black Label to be quite a compelling budget bourbon that definitely lost, but put up a valiant effort in a lopsided comparison. The most ironic thing it is that I paid about double for today's version (about $14) than I did the one from 1990 ($7).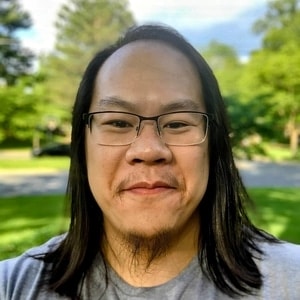 I have far too much fun writing about whiskey and singlehandedly running The Whiskey Shelf to bring you independent, honest, and useful reviews, comparisons, and more. I'm proudly Asian American and can speak Cantonese, Mandarin, and some Japanese.
There are no sponsors, no media companies, and no nonsense. Support The Whiskey Shelf by 
Buying Me A Shot
.
Maker's Mark Cask Strength Comparison