Pure Kentucky Bourbon 2006 Review [In Depth]
Whistlepig Piggyback Legends: Alfa Romeo F1 Rye
Whistlepig Piggyback Legends: Alfa Romeo F1 Rye Details
From the company website:
This Single Barrel is bottled at 96.77 proof, a nod to Valtteri Bottas' racing number, 77, and the precision of racing. Inspired by Zhou Guanyu, the first Chinese F1 driver, this Rye Whiskey is finished with lychee and oolong tea. Herbal and floral notes of the oolong tea complement the herbaceous notes of our signature PiggyBack 100% Rye.
Like Alfa Romeo F1® Team Stake's signature C43 racing vehicles, trial barrels were tested in the team's wind tunnel in Switzerland before hitting the track. Select barrels then endured varying levels of G-Forces at the WhistlePig farm and distillery for the finishing touch, accelerating the interaction between the whiskey and the wood, staying true to the physical nature of Formula 1.
Whistlepig Piggyback Legends Alfa Romeo F1 Rye overview
The WhistlePig legends series is a collaboration between WhistlePig and a "legend" in something. One previous release was a collaboration with "Big Papi" David Ortiz, a baseball legend who played for the Boston Red Sox. This time around, WhistlePig partnered a racing "legend" in the Alfa Romeo F1 team. It's a little unorthodox, because you usually don't mix drinking and driving (don't drink and drive), but in this case they're just putting the whiskey under some race-like conditions…no drinking and driving here.
I don't know why WhistlePig chose to make an F1-themed whiskey, but they created this rye with the F1 team's input and influence. The 96.77 proof refers to Valtteri Bottas' racing number: 77. If you don't know F1 drivers (just like I do), he's one of Alfa Romeo's drivers. The part that gets really crazy is the lychee and oolong tea barrel finish, which is supposed to be a nod to Alfa's other current F1 driver, Zhou Guanyu (last name then first name, because that's how you do it in Chinese), who's Chinese.
Wait what…a lychee and oolong tea barrel finish? I'm Chinese and that still sounds crazy. There are a lot of ways you can incorporate Chinese things into the whiskey, and I guess lychee and tea are two of them. Lychee is a fruit native to southern China, where my family is from, and tea is a very important part of Chinese culture. It's certainly appropriate, but still unorthodox. I guess it's better than a soy sauce finish, which would probably be awful. This type of finish is so unique that I have no idea how it's even possible, or good.
On top of that, this was released in September 2023, which also coincides with the Mid Autumn Festival (September 29, 2023). It could be on purpose or a coincidence, who knows.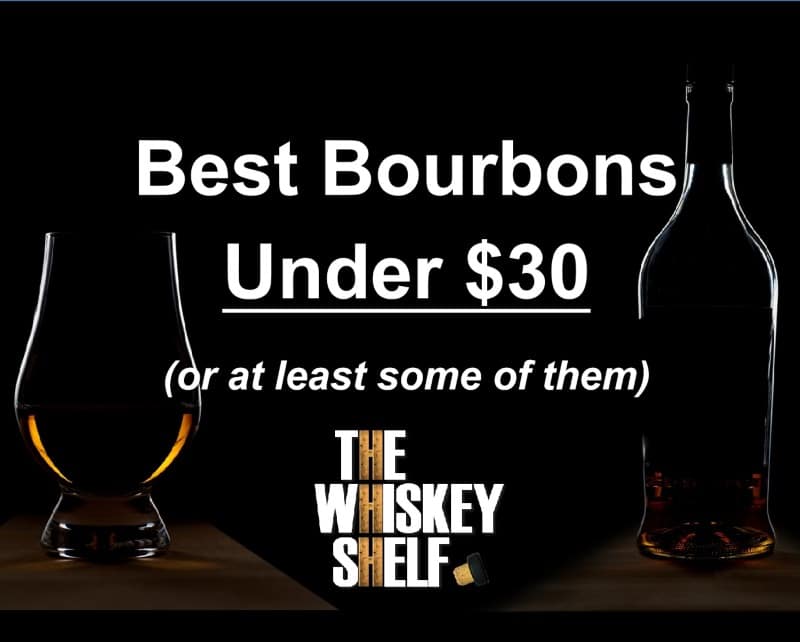 This wouldn't be much of a collaboration if there wasn't F1-stuff involved in the creation process. You would be right, and so WhistlePig and Alfa Romeo did some F1-level stuff to age the whiskey in unique ways. From what it sounds like, they put the barrels in Alfa Romeo's wind tunnel for aerodynamic "testing". At some point, they also drove the barrels around the Alfa Romeo test track (Balocco Proving Grounds?) and on the roads around the WhistlePig distillery. They probably didn't strap whiskey barrels onto multi-million dollar F1 cars, so maybe they drove a fast van, truck, tractor, or something.
The point of the driving is to jostle the whiskey around in the barrel to accelerate the interaction between whiskey and barrel. Driving fast and applying g-forces to it can help that. When a car accelerates / brakes / turns and you feel your body getting pulled one way or another, so too does the whiskey get pulled into the barrel.
Right before we get to the review itself, I want to also mention that the whiskey in this blend was distilled in VT and Canada, as indicated on the back label. This means that the blend uses some sourced Canadian whiskey (I think from Alberta) and some homemade rye whiskey. I have no experience with WhistlePig's homemade whiskey, so I don't have any opinion on it.
Let's find out if this experimental finish takes us on an exciting ride in this Whistlepig Piggyback Legends Alfa Romeo F1 Rye review.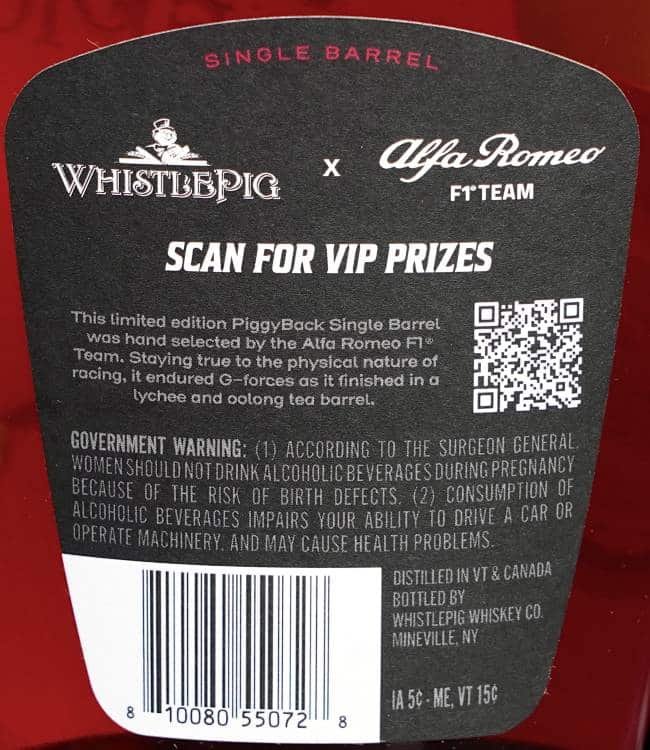 Whistlepig Piggyback Legends Alfa Romeo F1 Rye smell
Whistlepig Piggyback Alfa Romeo F1 Rye straight up smells like dense lychee for days, followed by honey, licorice, mint, pineapple, grapefruit some, oak (but not that much), black tea, and eucalyptus. There's a slightly medicinal quality here, which may be the rye and less so the lychee or tea. So far, the tea component doesn't feel so strong, although the lychee is incredibly sweet like a freshly peeled and slightly overripe lychee.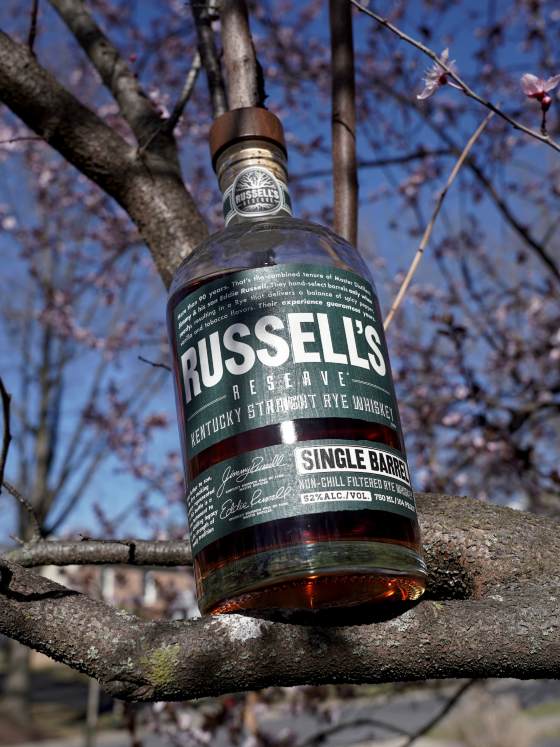 Honestly, I'm transported back to a time when I was in China being fed lychee by my grandparents (rest in peace). Everyone's sitting around the table peeling them and eating them, and I'm being stubborn and not eating many because I don't want to deal with the seeds.
After swirling and rest, I get more dense lychee, mint, grapefruit peel, licorice, pineapple, a little bit of oak, clove, eucalyptus, and a hint of black tea. This is tropical rye whiskey to the max…just like F1 takes driving to the max. The lychee part is still first, second, and third on the list of scents. It's strangely interesting and I like it a lot, but you could also argue that it's outrageously unbalanced.
Whistlepig Piggyback Alfa Romeo F1 Rye actually has nice richness and roundness, although I suspect that the finish is a big part of making it this way. At the same time, all that lychee is really strange and jarring because it completely takes over the experience. Lychee itself isn't a weird trait in rye, but this level of it is insane. It's really unique, and probably not for everyone.
I am personally not turned off by it.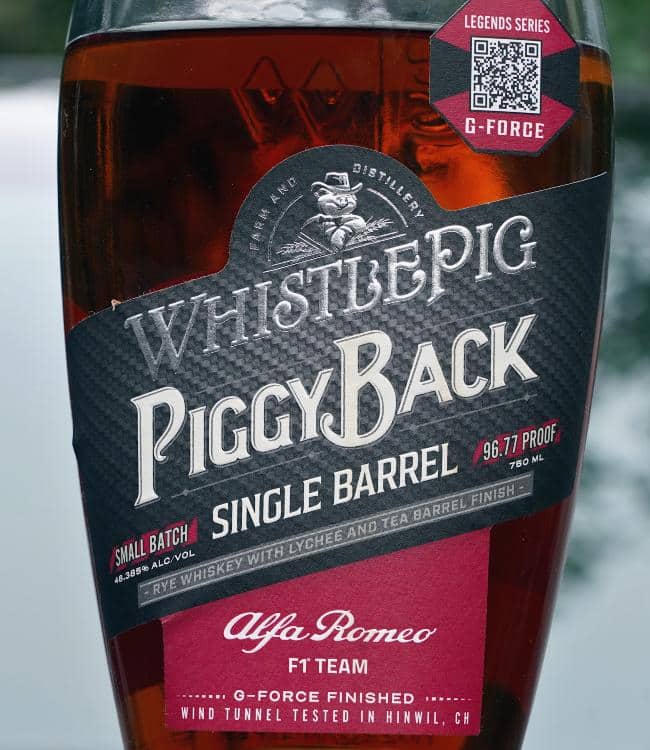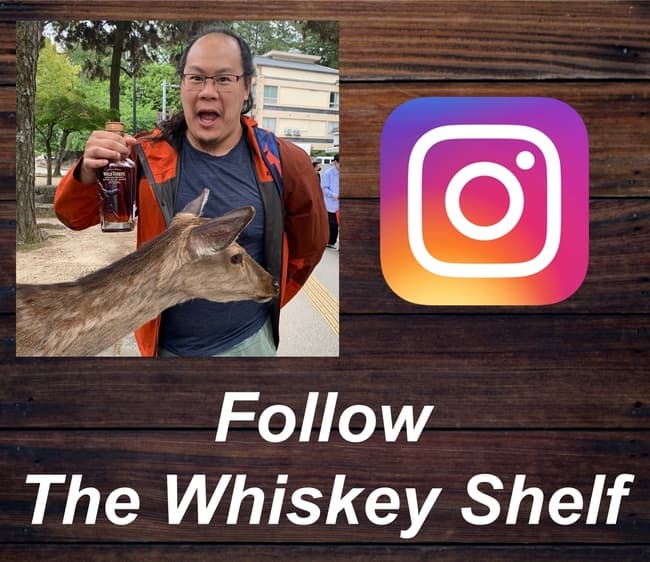 Whistlepig Piggyback Legends Alfa Romeo F1 Rye taste and aftertaste
The flavors start with dense and sweet lychee and slightly bitter black tea, licorice, grapefruit, roasted oak, clove, earthy pumpernickel bread, and then oak and black tea tannins. The lychee is still the main character in all of this, but the tea barrel finish is now more noticeable, while it was dominated by the lychee in the scents. It helps balance out the sweet lychee.
Whistlepig Piggyback Alfa Romeo F1 Rye actually has good viscosity. It's also not as sweet as the scents made me think it could be. As lychee-forward as it is, it still feels somewhat balanced and offers an interesting set of flavors I've never tasted before with minimal heat.
After "chewing" I taste lychee syrup-infused black tea with some black tea earthiness and bitterness, grapefruit peel, roasted oak, licorice, pineapple, mint, eucalyptus, and clove. It tastes more balanced than it smells, with more lightly earthy and bitter black tea in the mix to balance out some of the sweeter lychee. For the most part, it all fits together well within the whole experience.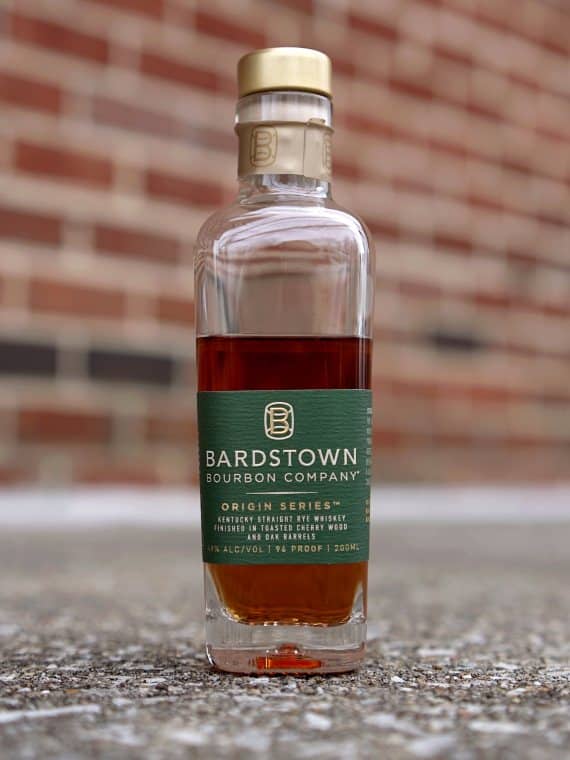 The finish starts with lychee, slightly bitter and drying black tea, grapefruit, clove, roasted oak, and earthy pumpernickel. After "chewing" it leaves lychee, slightly bitter black tea, grapefruit, pineapple, clove, oak and black tea tannins. I get more lightly bitter and drying tannins from the black and oak. It's not too bitter, but it feels like I just drank black tea.
Think of Whistlepig Piggyback Alfa Romeo F1 Rye like a lychee-infused black tea. To be fair, lychee and black tea flavors aren't all that "out there" for rye whiskey, but it feels a little weird (but in a good way) how front and center it is here. I personally like that type of drink, but it's probably not for everyone. Rye whiskeys often have lychee and black tea flavors, but they are turned up to 1000 with this Whistlepig Piggyback Alfa Romeo F1 Rye.
For better or worse, it's unabashedly lychee and black tea-forward…and unique.
I've unfortunately lost some Glencairn's while in transit, and that made me very sad. So, I wised up and bought this Glencairn Travel Case that comes also comes with 2 glasses so I don't need to worry so much about them breaking. I think it's great, and I think you'll love it too.
Seriously, if you already have glasses, protect them.
Whistlepig Piggyback Legends Alfa Romeo F1 Rye Rating

Whistlepig Piggyback Alfa Romeo F1 Rye is a really "out there", "wacky", and "insane" rye whiskey, and in most ways it delivers a unique and tasty experience that I enjoy. The price feels good for around $50. It is certainly far from balanced or for everyone, so I might call it a mad scientist experiment that mostly worked.
Now that I've had this whiskey, the lychee and tea barrel concept makes some sense. Like I mentioned already, rye whiskey can have lychee and black tea notes, so turbocharging them to the max doesn't introduce a complete foreign trait that wrecks the experience. It just can be a little jarring at first, but I got mostly got used to it.
I still don't understand how this type of barrel finish is even done. I've heard of black tea leaves being aged in oak, but not lychee. To get this level of lychee, they may have soaked barrels / staves in lychee juice or syrup. I don't think that there's a traditional way to infuse that much lychee into whiskey. The wind tunnel and g-forces likely helped speed up the infusion process.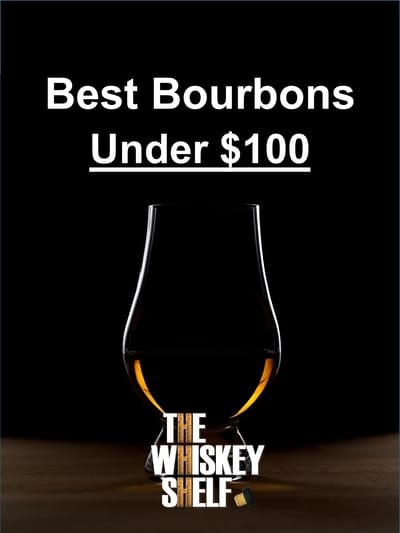 Methods aside, Whistlepig succeeded in capturing some of the Chinese "essence". It certainly evokes memories of spending time with my grandparents in China. You know what though, Whistlepig didn't go full mad scientist here. If they wanted to go all out, they would have done some insane baijiu oak finish where they poured baijiu into barrels, rolled them around for 1-2 months, dumped out the baijiu, and then finished the rye whiskey in that. Or…durian finish? Either of those would be nutcase-level things to try, and potentially be awful. Maybe it's best we never find out.
As interesting and weird as it is, I'm not 100% sold that I'd want to frequently drink this neat, but this would be absolutely amazing in a slew of lychee and/or tropical-inspired cocktails. You could probably replace bourbon or rum in some cocktails to add a unique twist.
I think this serves one of two purposes for those considering to buy this
Provide a unique experience for someone who likes rye whiskey and wants to try something totally (and I really mean totally) different. The price seems reasonable too.
For people / bars / restaurants that want to add a distinctive lychee flair to a cocktail. It can be "Asian-inspired" or not, I don't care.
Now to end this review with a car-related simile. I think this lychee and black tea finish is like a massive spoiler on a car: it succeeds in doing a specific task (e.g., increasing downforce and stability), but at the cost of everyday functionality (e.g., being able to see out the back, being bulky and possibly unsightly). WhistlePig succeeded at the specific task of crafting this rye but at the expense of being something people might want to often drink.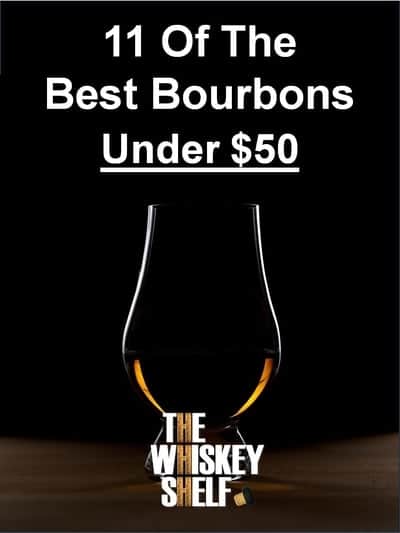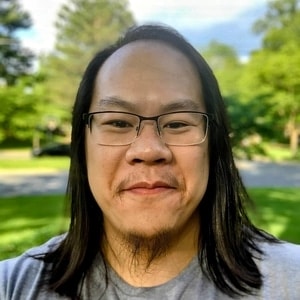 I have far too much fun writing about whiskey and singlehandedly running The Whiskey Shelf to bring you independent, honest, and useful reviews, comparisons, and more. I'm proudly Asian American and can speak Cantonese, Mandarin, and some Japanese.
There are no sponsors, no media companies, and no nonsense. Support The Whiskey Shelf by 
Buying Me A Shot
.