Woodford Reserve Double Oaked​ Review [In Depth]
Woodford Reserve Double Oaked
Woodford Reserve Double Oaked Details
Distillery: Woodford Reserve (Brown Forman)
Type & Region: Bourbon, Kentucky, USA
Alcohol: 45.2%
Composition: 72% corn, 18% rye, 10% malted barley
Aged: NAS, aged in virgin American white oak then finished (double oaked) in another virgin American white oak cask
Color: 1.7/2.0 on the color scale (burnt amber)
Price: $50-60 MSRP (750mL)
From the Woodford Reserve website:
"An innovative approach to twice-barreled bourbon creates the rich and colorful flavor of Woodford Reserve Double Oaked. Uniquely matured in separate, charred oak barrels – the second barrel deeply toasted before a light charring – extracts additional amounts of soft, sweet oak character."
Woodford Reserve Double Oaked​ overview
Woodford Reserve Double Oaked is an interesting bourbon. While a growing number of bourbons are being finished in wine, rum, or brandy, a few are also finishing bourbon in a second virgin charred oak barrel, hence the term double oak (double barrel can also mean the same thing).
The second dose of virgin charred oak is supposed to add additional layers of dark and roasted notes to the bourbon. For the Double Oaked, Woodford Reserve is diverting some of what would have become regular Woodford Reserve and finishing it to bring you Woodford Reserve Doubled Oaked.
There are only a handful of double oaked bourbons out there such as Jim Beam Double Oaked and
Michter's Toasted Barrel Finish Sour Mash
, although I'm sure more are in the process of experimenting with it. The challenge is that once these expensive barrels are used to finish bourbon, they can no longer be used as the primary barrel to age more bourbon because they are no longer virgin American oak. 
Once they're considered "used", they can only be used as the primary barrel for American whiskey or the secondary barrel to finish whiskeys such as bourbon and rye. Technicalities aside, let's dive into this Woodford Reserve Double Oaked review to see what the second oaking does to transform Woodford Reserve.
One additional note: Woodford Reserve Double Oaked is one of the darkest bourbons that I've ever seen, bordering on a solid block of dark chocolate. At face value, it looks like very old bourbon.
*I want to thank my friend Tyler for this sample
Woodford Reserve Double Oaked​ smell
Woodford Reserve Double Oaked has a very interesting and unique nose. It's incredibly dark and roasted yet not harsh or bitter. It's like a 70% cocoa milk chocolate bar mixed with coffee, cinnamon, nutmeg, maraschino cherries, and vanilla. The double barrel maturation also adds a smoky charcoal quality, but not the briny and vegetal notes you find in peated Scotch.
There's a moderate alcohol presence, but nothing out of the ordinary for what it is. The overall chocolate forwardness reminds me so much of 
Old Line's Cask Strength American whiskey
, made from 100% malted barley, but not nearly as intense.
With swirling, the alcohol picks up and comes to the front. It's not strong per se, but it seems to cover up the scents for a moment. 
After the alcohol fades, I start smelling milk chocolate, a little maple syrup, caramel nougat, honeycomb, and vanilla, as well as slightly roasted corn. There's also a slightly soggy wood scent that's tough to describe.
Woodford Reserve Double Oaked​ taste and aftertaste
Woodford Reserve Double Oaked starts with sweet brown sugar, chocolate, and cherries, very much like in the scents. There are times when I taste soggy chocolate, like chocolate doused in skim milk or cereal milk infused with cocoa pebbles.
A sprinkle of spice accents the sweet chocolate, but it's not nearly as abundant as I'd expect from double oaking. It's not that hot either.
"Chewing" releases more brown sugar, honeycomb, and milk chocolate. The soggy, sort of plasticky, milk chocolate taste is still there, and I don't really love it. Digging deeper, I find some caramel nougat and cinnamon, but it's surprisingly not that spicy or bitter given how chocolatey it is, more milk chocolate than dark chocolate. 
It's not necessarily a bad thing though. This Woodford Reserve may be double oaked, but it's not double spiced or over oaked. Let's just say that it's very chocolatey.
Light oak bitterness and milk chocolate follow into the finish. It's a little thin and milky like skim milk, not so dark and dense. 
"Chewing" teases out sweet caramel, chocolate, and oak. The Double Oak has a gentle bitterness, so even though it has twice the oak, it doesn't have twice the bitterness. This Woodford Reserve Double Oaked, with its more enjoyable and deep flavors, is a huge upgrade from regular Woodford Reserve, and probably best had as a dessert whiskey.
If you're shopping on Amazon for Black Friday, Cyber Monday, the holidays, or any other occasion, support The Whiskey Shelf by shopping through my affiliate link – Shop Amazon. Disclaimer: I may earn a commission from your purchases.
Woodford Reserve Double Oaked Rating

Woodford Reserve Double Oaked is a distinct, sometimes interesting, bourbon. The double oak maturation infuses the otherwise bland Woodford Reserve with stronger dark and milk chocolate-forward traits that few other bourbons, even old ones, have.
It's dark and sweet first and foremost, but not unpleasantly so, and the lighter spice and cherry notes add some balance to create a solid bourbon that I'd be happy to drink.
It's also radically different than the 
Michter's Toasted Barrel Sour Mash
, which is much brighter and a little more fruity. Goes to show that double barreling can lead to drastically different results.
Surprisingly, the second oaking doesn't add much spice or bitter oakiness, making it quite different from oak and spice bombs such as
Elijah Craig Barrel Proof
,
Stagg Jr
, and
Knob Creek Single Barrel
. Admittedly, there's also a huge difference in alcohol, making the Double Oaked much calmer and easier to drink as well.
The most noticeable detractor is a soggy, sort of plasticky, chocolate note that is prevalent in the flavors. I'm not sure if it's normally part of the Double Oaked, but I also don't think it's due to my glass sample container. Regardless, I don't see myself buying a full bottle of this, especially for the price, but I certainly would happily drink it if offered.
It has some interesting moments and pairs well with chocolate and other darker-flavored desserts, but overall it doesn't wow me and compel me to buy a bottle. It's not bad by any means, but you can do better with Elijah Craig Barrel Proof, Stagg Jr, Wild Turkey Rare Breed, or even 
Evan Williams Bottled in Bond
. 
Now if you're craving a chocolatey whiskey, then this is a good one to consider.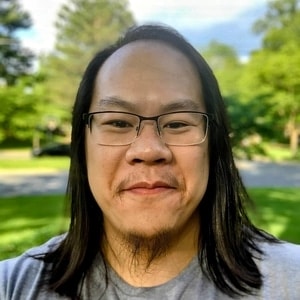 I have far too much fun writing about whiskey and singlehandedly running The Whiskey Shelf to bring you independent, honest, and useful reviews, comparisons, and more. I'm proudly Asian American and can speak Cantonese, Mandarin, and some Japanese.
There are no sponsors, no media companies, and no nonsense. Support The Whiskey Shelf by 
Buying Me A Shot
.