1980's Old Forester Bottled in Bond Bourbon Review [In Depth]
1980's Old Forester Bottled in Bond
1980's Old Forester Bottled in Bond Details
Distillery: Old Forester
Type & Region: Bourbon, Kentucky, USA
Alcohol: 50%
Composition: 72% corn, 18% rye, 10% malted barley
Aged: At least 4 years old
Color: 1.4/2.0 on the color scale (tawny)
Price: I have no idea
From the back of the bottle:
No other whisky in the world is made like Old Forester. It gest its final flavor and color solely from the unique maturation process. The process is slow and natural, but extremely necessary, for only in this manner does Old Forester become Great Whisky.
1980's Old Forester Bottled in Bond overview
Reviewing old "dusty" bourbon is my favorite thing to do as a whiskey blogger. Every old bottle I've had is full of history and trying a bottle someone may have drank decades ago is just…flat out cool. So up this time, I review a 500ml bottle of Old Forester Bottled in Bond, probably from the early 80s.
Here are some of the details on the bottle. Code on the label: M886431 Distilled and bottled by: Brown Forman Distillers Corporation Tax stamp: none
From my attempt to research how old this is, the "Distilled and bottled by: Brown Forman Distillers Corporation" in the front label is an important piece of information. The bottle I previously reviewed from ~1988 says Distilled and bottled by Old Forester Distilling Company. The distillery apparently moved in the early 80s, and they changed the "distilled and bottled by part" on the label.
(Est.) Mid to late 1980's Old Forester 86 Proof: "Distilled and Bottled by Old Forester Distilling Company at Louisville in Kentucky"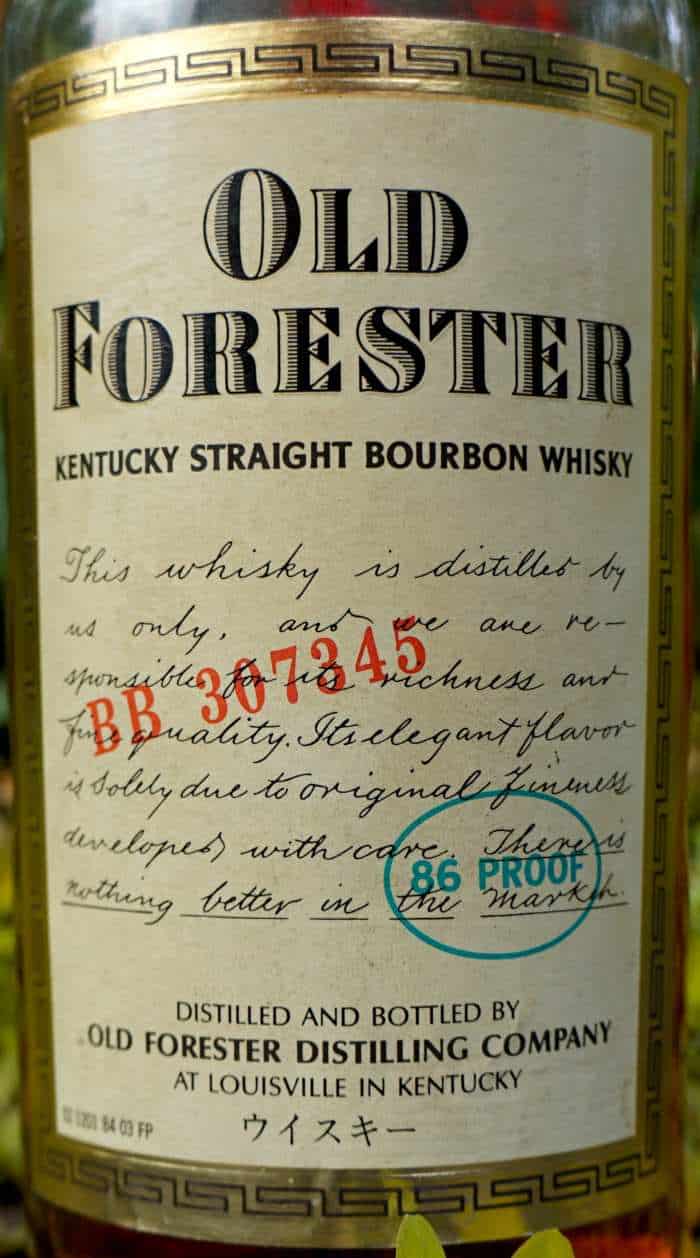 (Est.) Early 1980's Old Forester Bottled in Bond: "Distilled and Bottled by Brown Forman Distiller's Corporation at Louisville in Kentucky"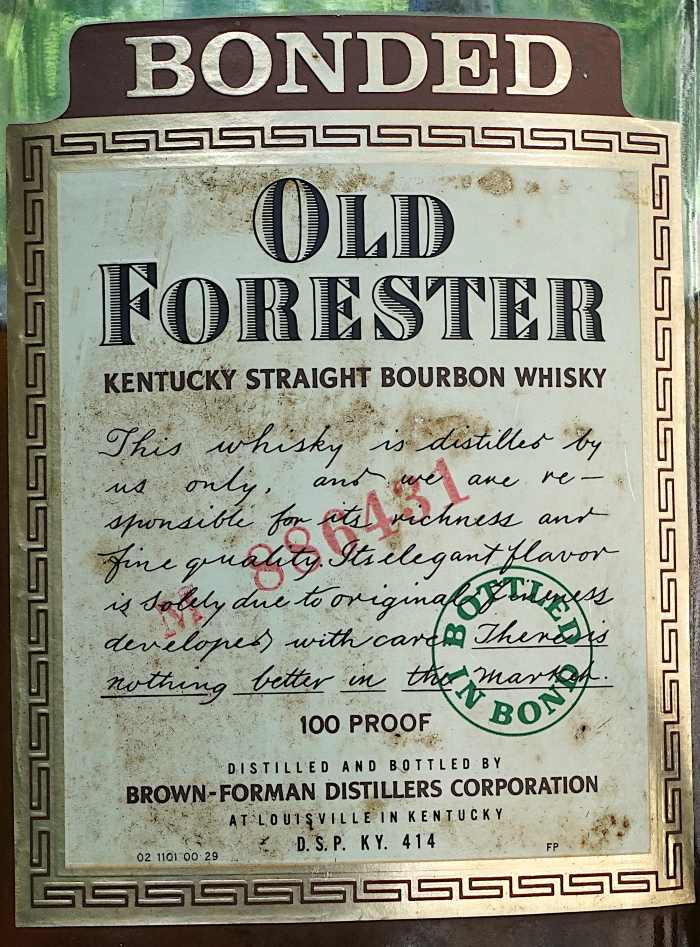 Regardless, I know that this is old bourbon.
The only reason why I'm reviewing this is because my old whiskey Sensei found this in Washington DC around 2015 at some store that people clearly don't often visit for bourbon. I don't know all the details of where it was on the shelf so no one saw it, but the fact that it sat they're for decades without notice is wild.
That's all I have to say about that, so let's drink some old bourbon in this 1980s Old Forester Bottled in Bond review.
I'd like to thank my whiskey Sensei An for giving me this bottle.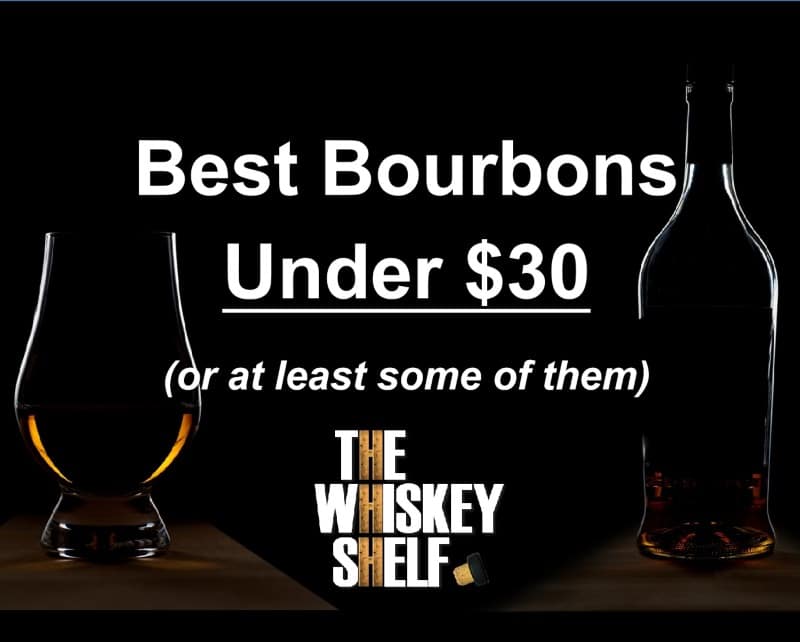 1980's Old Forester Bottled in Bond smell
Oh yeah that's delightful. There's dense caramel, dried cherry, fresh apricot, vanilla frosting, roasted oak, cinnamon, licorice, then more cherry and cranberry in the back, and some dark chocolate and rose. It's dark and dense, but also bright and fruity, expressive with a fantastic cherry base and some fruity pop.
Old Old Forester Bottled in Bond isn't the most dense bourbon, but it's great for 100 proof. It's well rounded with a lot of character.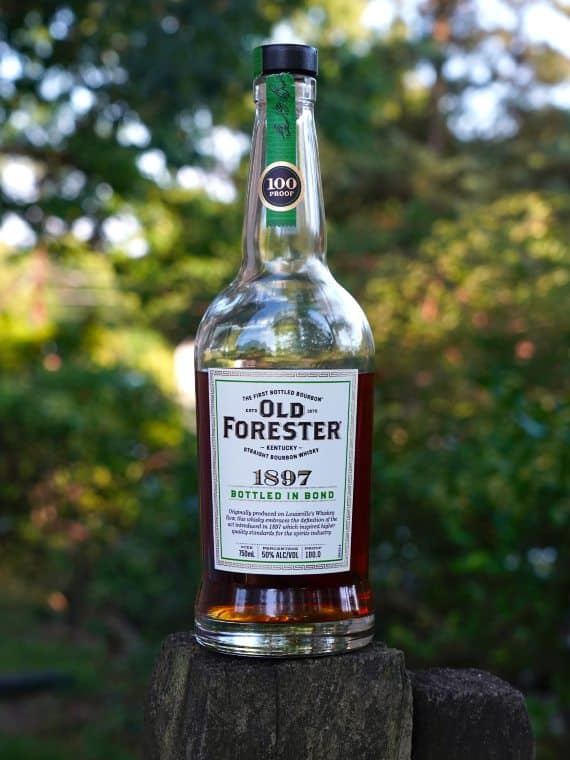 After swirling, 1980s Old Forester Bottled in Bond has dense candied caramel, vanilla frosting, orange, cherry, cola, roasted oak, cinnamon, licorice, old musty oak, zested lime, and occasionally some maple syrup. There's great sweetness, fruitiness, and old oakiness with a sweet orange creamsicle feel. Old Forester does not make bourbon that smells like this, or at least I haven't found it yet.
I think the bourbon coated on the sides of the glass are enhancing the density and candy qualities of the scents.
This smells fantastic. It's still not a big and burly bourbon like today's
Old Forester Single Barrel,
but the maturity, roundness, and depth are there.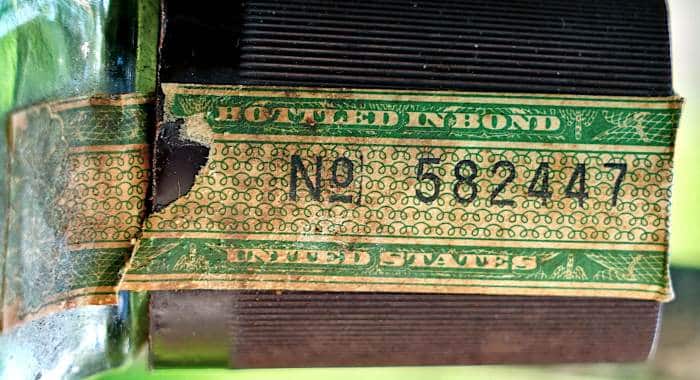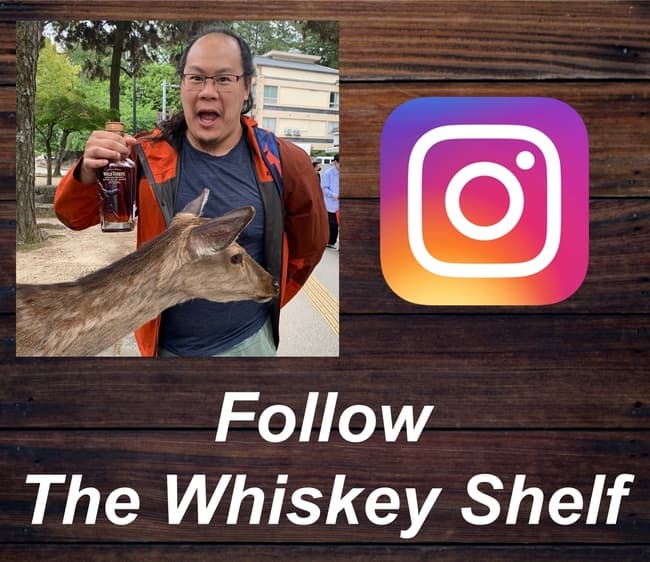 1980's Old Forester Bottled in Bond taste and aftertaste
The flavors start with caramel, vanilla, cherry, apricot, roasted oak, cinnamon, something that's slightly bitter, coffee, licorice, and peppercorns. There's this slightly spicy zing and oaky dryness. It's not at all unpleasant, but there's definitely a spiciness to the flavors, along with nice fruitiness and sweetness.
1980s Old Forester Bottled in Bond has nice roundness and viscosity, but it's not a hefty bourbon like the modern Old Forester Barrel Proof. It is an upgrade from the modern Old Forester Bottled in Bond though.
After "chewing" this has denser caramel, cherry, orange, vanilla, roasted oak, cinnamon, licorice, pepper, citrus zest, and some old mustiness. It's not musty oak, it's like a slightly plasticky thing. This has a slightly fizzy and citrus-y feeling like drinking Sprite. I know that sounds weird, but the alcohol seems to tickle my tastebuds like fizz and all the citrus give me that Sprite vibe…well Sprite + the darkness of Coke.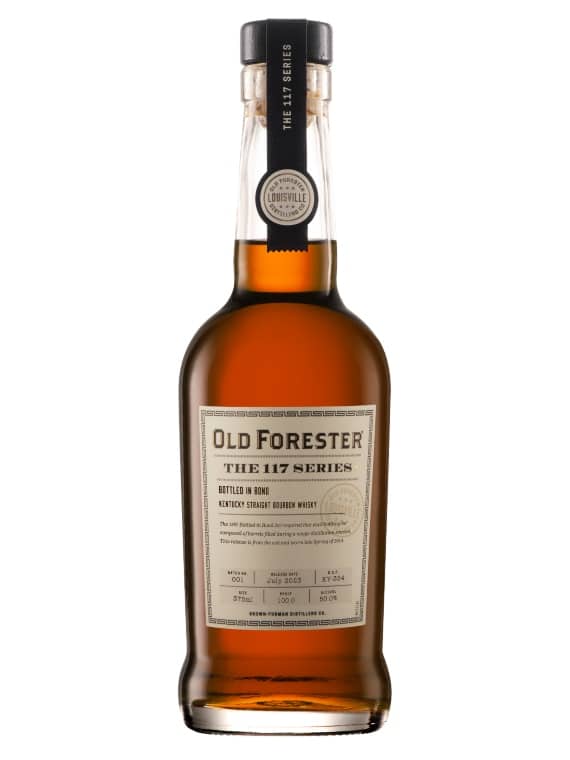 "Chewing" opens up the fruity sweetness and tames some of the oak and spice. The cherry and orange pop nicely, and the still present pepperiness is more subdued now. Old Old Forester Bottled in Bond has an interesting mix of fresh fruit, old mustiness, and dried licorice all at once, a sensory battle of the delicious variety.
Caramel, fennel, dried cherry, oak, cinnamon, pepper, old oak, and dried licorice start the finish.
After "chewing" it leaves caramel, cherry, vanilla, orange, roasted oak, oaky tannins, cinnamon, nutmeg, and pepper. It's more sweet and less dry this time, leaving a nice lingering toasted orange creamsicle taste and some old mustiness.
As old bourbons tend to be, there's slightly above average viscosity and mouthfeel for the ABV, and a lot of great traits that I really enjoy. This is really delicious stuff, one of my favorites from Old Forester.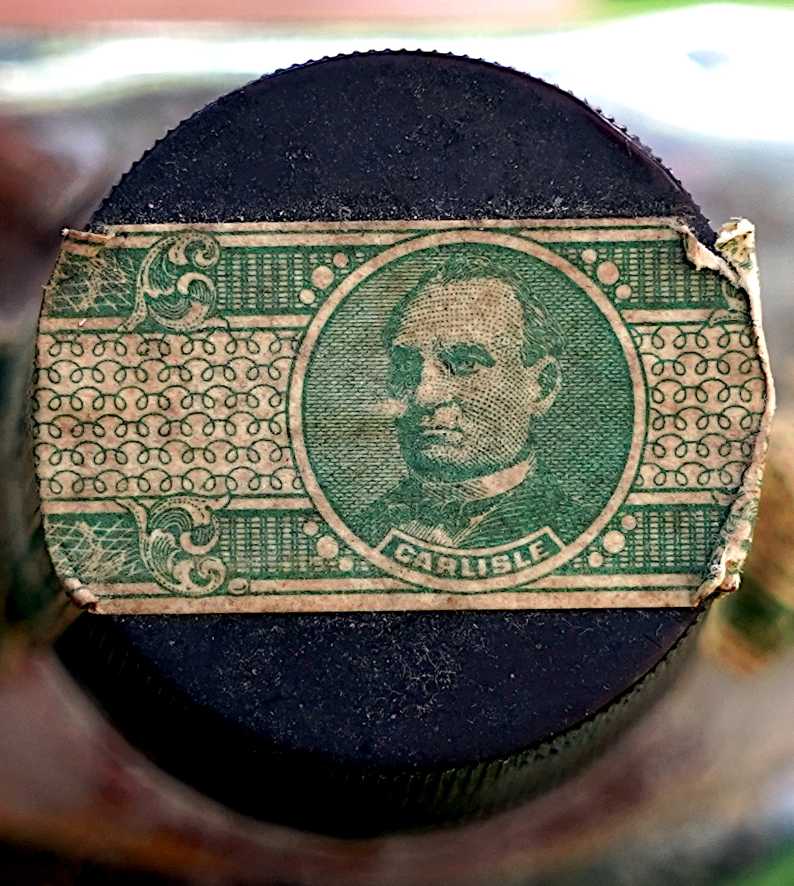 If you're shopping on Amazon, support The Whiskey Shelf by shopping through my affiliate link – Shop Amazon. I may earn a commission from your Amazon purchases.
1980's Old Forester Bottled in Bond Rating

This old Old Forester Bottled in Bond that people drank back in the day is delicious. I've never had any Old Forester like this: citrus-y, fruity, and sweet to go along with the oak and spice. Today's Old Forester goes heavier in dark caramel, banana, apple, and oak. Like I've written many times, modern bourbon is nothing like bourbon from decades before.
The musty funk is a little weird though. It has some of the musty and plasticky essence of an old person's home and everything is from the 70s. That's the best description I can think of…and I'm not even sure that will make sense for anyone reading.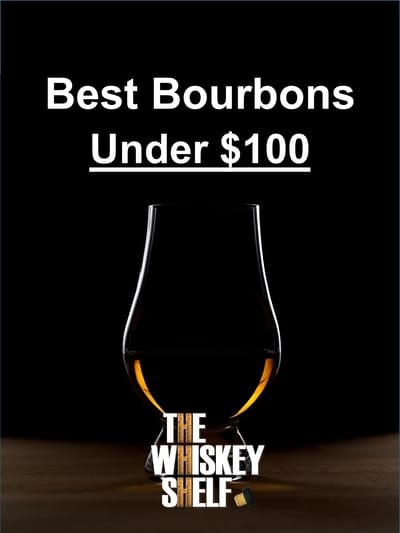 Clearly this bottle is great, but I have a hot take on old Old Forester based on my experience so far: it's still been some of the least amazing dusty bourbon I've had. Admittedly I've only had 2 dusty Old Forester's, but I have a lot of experience with other dusties. Even this great Old Forester can't compare to old
Wild Turkey
,
Blanton's
,
Old Grand Dad
,
IW Harper
,
Maker's Mark
, and
Heaven Hill
. They have a little more body and expressiveness, and little to no musty funk.
The funny thing is that this stuff was probably very affordable back in the day, and it stomps all over most of what Old Forester makes today. I haven't had Birthday Bourbon or the 150th Anniversary Bourbons, but I wouldn't be surprised if it wasn't that far off from the most sought after Old Forester bourbons that exist today.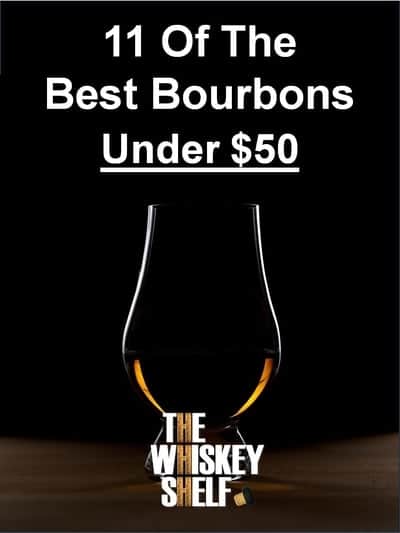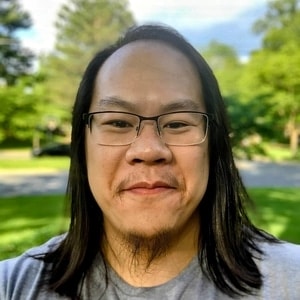 I have far too much fun writing about whiskey and singlehandedly running The Whiskey Shelf to bring you independent, honest, and useful reviews, comparisons, and more. I'm proudly Asian American and can speak Cantonese, Mandarin, and some Japanese.
There are no sponsors, no media companies, and no nonsense. Support The Whiskey Shelf by 
Buying Me A Shot
.