Baker's Bourbon Single Barrel​ Review [In Depth]
Baker's Bourbon Single Barrel
Baker's Bourbon Single Barrel​ Details
Distillery: Jim Beam
Type & Region: Bourbon, Kentucky, USA
Alcohol: 53.5%
Composition: 75% corn, 13% rye, 12% malted barley
Aged: 8 years 7 months
Color: 1.4/2.0 on the color scale (tawny)
Price: $60-80
From the company website:
Named for a truck-driving, motorcycle-riding, bourbon-loving, hardworking whiskey man, Baker's Single Barrel Bourbon is a singular experience. A big, bold bourbon that was created by one legend to honor another.
Baker's Bourbon Single Barrel​ overview
Baker's Bourbon (FYI made by Jim Beam) has been around for a long long time. I'm pretty sure it's been around since at least the 1980's as a small batch 7 year old (minimum age) bourbon. But with the later release of Knob Creek 9 Year Small Batch (100 proof) and Knob Creek Single Barrel (9 years old and 120 proof), Baker's was slotted into a weird position: priced between
Knob Creek Single Barrel
and
Booker's
, yet oddly younger and lower ABV than Knob Creek Single Barrel, and without Booker's small batches.
In late 2019, Jim Beam overhauled the brand, changing it from a 7 Year Small Batch to a 7 year old Single Barrel Bourbon, and overhauling the bottle design. The kicker, they added barrel details and the age to the neck of the bottle! That's a bourbon nerd's dream, and the bottle design is well-done too. It's a good looking bottle, but it still seems a little weird because Knob Creek Single Barrel is older, higher ABV, and also single barrel, but I think a lot of it comes down to barrel selection. As an aside, I'll have to get around to comparing them to find out how they're different.
By the way, apparently there are 4 collectible tops (trying to be Blanton's are you now?), but I don't think anyone cares or even knows about it. Shoot, I didn't know until I went to the website. I guess it's a fun little addition, but it seems irrelevant.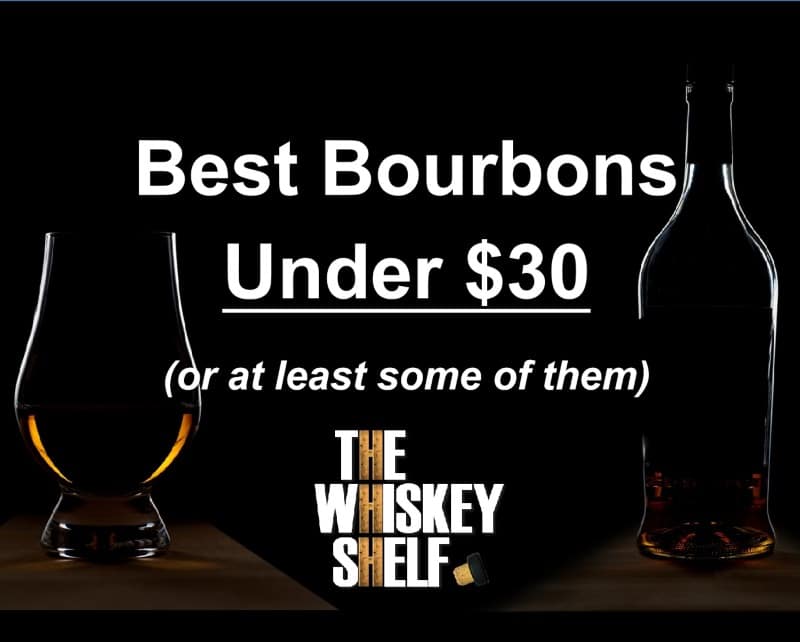 As single barrels can be, the age can vary and I am so glad that Jim Beam provides a lot of detail. Even though the age statement sets a 7 year old minimum, I've seen barrels from around 7 years and 5 months all the way up to 8 years and 10 months. At least as of this review, I've mostly seen barrels that are at least 8 years old.
The Baker's Bourbon barrel for this review is 8 years and 7 months old, from barrel 000256029, barreled February 2014, dumped October 2022, and aged in rickhouse CL-1. Using the
barrel explorer feature on the website
, Jim Beam says that this barrel was aged in one of their rickhouses in their Clermont location, Floor 6, rack 51. Floor 6 is the 2nd highest floor, so you're sure to get a lot of heat, humidity, and oak interaction. This barrel went through a lot over nearly 9 years.
Pricing is all over the place with Baker's Bourbon. I've seen some stores charge $60 (I think about MSRP), and others for some reason north of $90. It makes no sense to me because I don't think it's that allocated. I don't think it's abundant, but I don't think there's the hype / demand and limited supply to mark it up that much. Who knows, some liquor stores are just super shady or just outright stupid.
Let's find out what's going on with Jim Beam's somewhat out of place bourbon and find out if it's one worth taking home with you in this Baker's Bourbon Single Barrel review.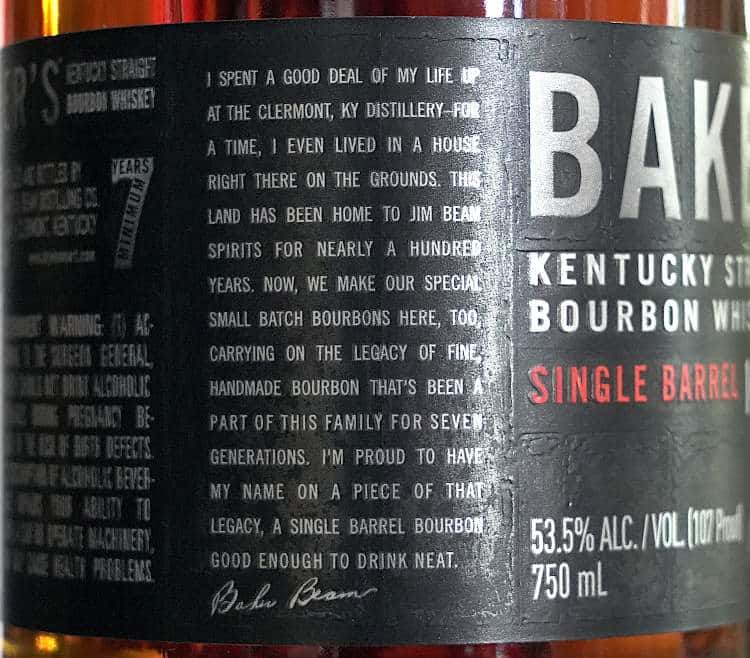 Baker's Bourbon Single Barrel​ smell
Baker's Bourbon Single Barrel starts with dark caramel, a lot of roasted oak, coffee, dried red apple, cinnamon, vanilla, more wood, licorice, apricot, and a little strawberry and starfruit in there. While it starts off very dark, sweet, oaky, and roasty, it evolves as I sniff to reveal more fruit and herbalness. It's not completely an oak bomb, and that shows nice maturity and character.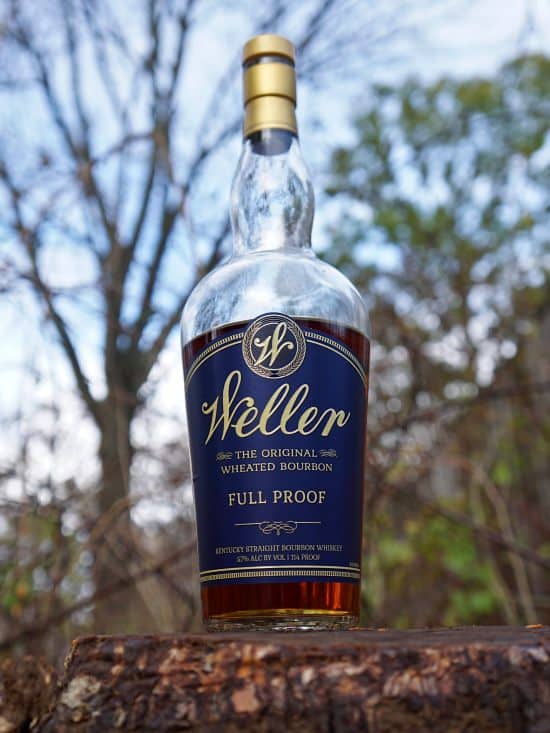 Admittedly it's not that unique, with that Jim Beam / Heaven Hill-type personality that's caramel and oak heavy, but the familiarity still smells great. The heat is quite manageable, but not docile.
With swirling and rest, I smell roasted caramel, roasted oak, smoke, toasted vanilla, dried apricot, roasted coffee, fennel, cinnamon, clove, orange peel, and a little mint and strawberry. Again, Baker's Bourbon Single Barrel is a sweet, roasty, woody, and spicy bourbon that I very much associate with Jim Beam and Heaven Hill.
There's solid richness across the entire spectrum, and although it's oak-heavy, it still feels generally well balanced. I know this is a strange tangent, but smelling this makes me think, "why isn't the new 
MGP-sourced Barrell Single Barrel Bourbon
like this?" Bourbon can be abundantly oaky yet not dominated by it at the same time, especially when it's often north of $70.
If you know what Knob Creek and Booker's smell like, this will be pleasantly familiar. I dig it.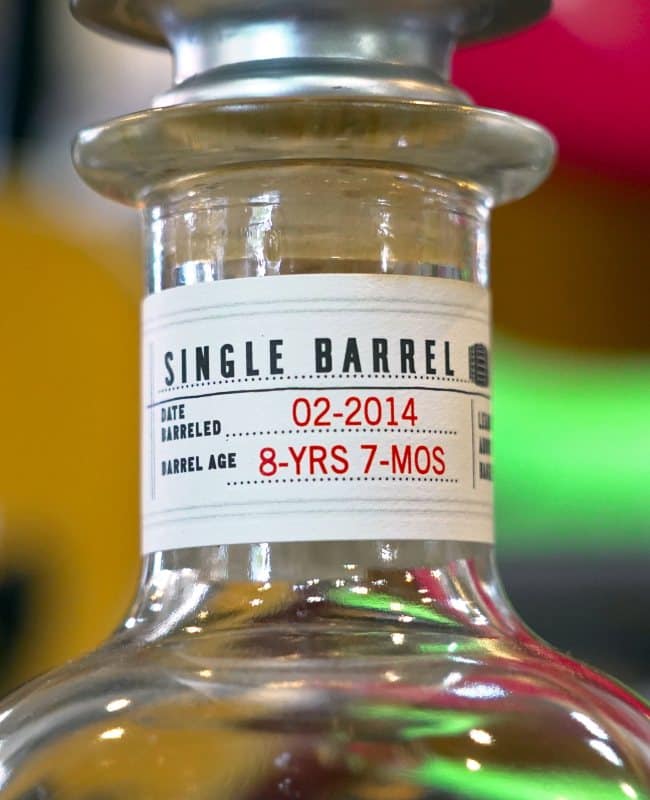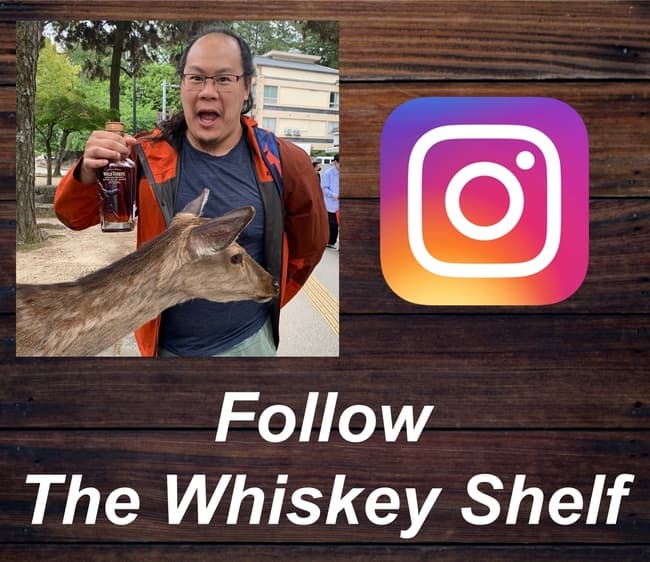 Baker's Bourbon Single Barrel​ taste and aftertaste
On my first sip I get dense caramel and vanilla, roasted oak, and then more oak, dried apricot, cinnamon, fennel, orange, starfruit, cherry, clove, and a little nuttiness. Baker's Bourbon Single Barrel is sweet and very oaky with supporting fruit and herbalness. As oaky as it is, it's not quite overbearing. It's in your face, but it still leaves room for the sweetness, fruitiness, and herbalness. It's dense and flavorful, but not that unique.
After "chewing" I taste rich caramel, vanilla, a hint of fudge, roasted oak, cinnamon, dried apricot / apple / orange / cherry, licorice, starfruit, clove, and a little bit of roasted coffee, coconut, and dried nuts. The alcohol is well controlled too. Ah yes, "chewing" opens up the gates to more flavor and it is so good. The fruitiness is very present, not at all dominated by the oak-forward flavors, and it makes it that much more tasty. It's not quite fruit forward, but it has a notable supporting role.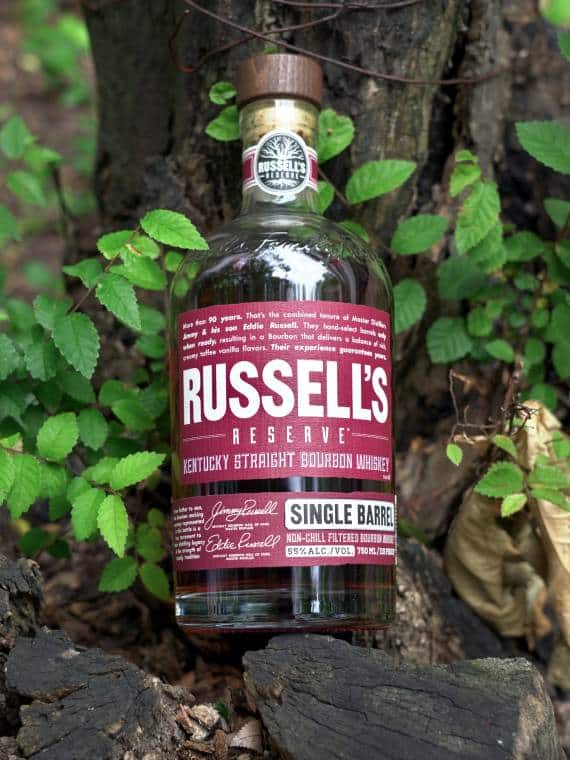 Caramel, roasted oak, cherry, apricot, fennel, cinnamon, and a hint of dry nuttiness and dry oak start off the finish. It's not overly dry though, more a bit of everything mixed with the oaky dryness.
After "chewing" it leaves roasted caramel, vanilla, roasted oak, dried cherry, cinnamon, light nuttiness, and sweet coffee. It's sweet, oaky, fruity, and herbal, all without being out of balance.
This is a great example of how to select an oak forward bourbon that leaves room for other flavors and doesn't overshadow them. I wish there was more chocolate, but that's more of a wish rather than a critique.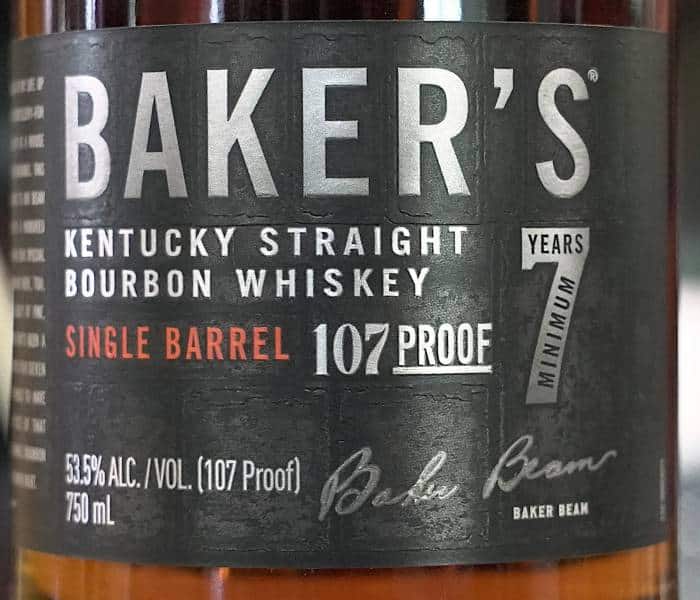 If you're shopping on Amazon, support The Whiskey Shelf by shopping through my affiliate link – Shop Amazon. I may earn a commission from your Amazon purchases.
Baker's Bourbon Single Barrel​ Rating

I can't remember if I've ever had the original Baker's 7 Year, but the updated Baker's Single Barrel Bourbon (or at least this barrel) is a hit. When it comes to a quintessential premium bourbon done very well, I think that this should be high up on your list to consider. It's sweet, very oaky, fruity, herbal, and spicy, but nothing ever quite takes over completely to drag down the experience.
As very oaky as it is, there's still a delicate balance between everything that somehow keeps it all together. A number of other expensive bourbons fall victim to the oak, but they somehow avoided it here, so props to whoever picked it.
I'm especially high on this bourbon because it tastes so much better than it smells. It's not to say that scents are bad, but the flavors feel more balanced, rich, and expressive. The scents are a little more oak heavy and hot while the flavors put the alcohol to rest and let everything shine. And honestly, I don't feel like I'm missing that much "heft" because it's not cask strength. 53.5% ABV goes a long way here. It punches above its weight.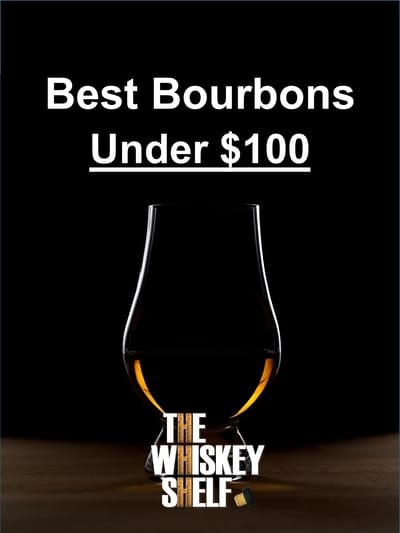 As always, I wish the overall balance shifted more towards the fruit and less the oak, but that's me nitpicking an otherwise excellent bourbon. This is also very much in-line with bourbons these days: heavier on the oak and less on the fruit. I strongly prefer the generally more fruit-forward profile from before the 2000's. I would know, I drank a lot of it when I lived in Japan, and it was magical.
If I'm paying $60-80 for a bottle, at bare minimum I want something this good. It doesn't have to have this exact personality, but I do want this level of quality. This is why I have a hard time digesting some of these brands out there that source 4-6 year old bourbon and charge what I consider to be crazy prices – they can't come close to matching this or something like
Russell's Reserve Single Barrel bourbon
.
No, I don't want to pay $100+ for your 5 year old MGP bourbon finished in not worth it. Then again, I occasionally buy those types of bottles because I want to review them and share my findings with you.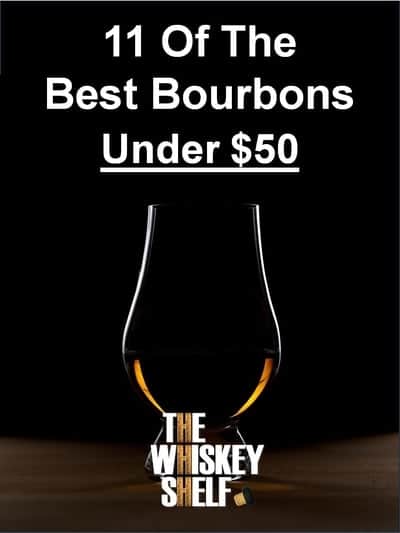 Even if you can afford it, Baker's Bourbon Single Barrel probably won't satisfy you if you're looking for two things: 1) a unique experience, 2) a less oaky bourbon. Otherwise, I think it's worth trying. If you can find it for around $60, this is more or less an automatic buy if you've never had it before and can afford it.
Quality-wise it's not bad at $70 either, but I'd be more hesitant at $80. This is a rhetorical thought, but I am curious how different this is from the more expensive Booker's, besides the $30-40 or so price difference. I'll find that out at some point, but I have a feeling that Baker's Bourbon is no slouch. Great job with this Jim Beam.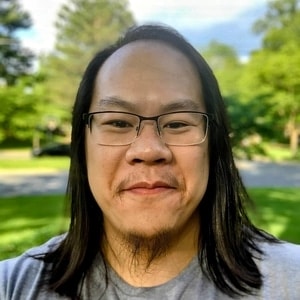 I have far too much fun writing about whiskey and singlehandedly running The Whiskey Shelf to bring you independent, honest, and useful reviews, comparisons, and more. I'm proudly Asian American and can speak Cantonese, Mandarin, and some Japanese.
There are no sponsors, no media companies, and no nonsense. Support The Whiskey Shelf by 
Buying Me A Shot
.