Frank August Bourbon Review [In Depth]
Frank August Bourbon Details
Frank August Bourbon overview
I don't know about you, but Frank August Bourbon seemingly came out of nowhere and into the spotlight. The bottle, the branding, and whatever something sometime there is got a lot of people's attention. And it moved, as the $60-70 bourbon sold out pretty quickly, and then the $120-150 single barrels and experimental finishes within days of being put out. There must be something there, and I'm going to try to find out.
Where the brand came from, it's hard to say. All I know is that it's a 100 proof small batch Kentucky Bourbon supposedly blended from 10-15 barrels. What I do know is that pulling open the top for the first time is really satisfying. The hefty top, substantive like the ones on Bardstown Bourbon Company Discovery releases, feels solid and premium. It's one you keep even when the bottle is done.
The bottle and labeling are works of art too, oozing what I might call luxurious minimalism. I'm not an art person, but that's what comes to mind with the gold top, decanter-like bottle, and gold-colored text on the clear bottle. No flashy labels and gaudy imagery, just high-end class.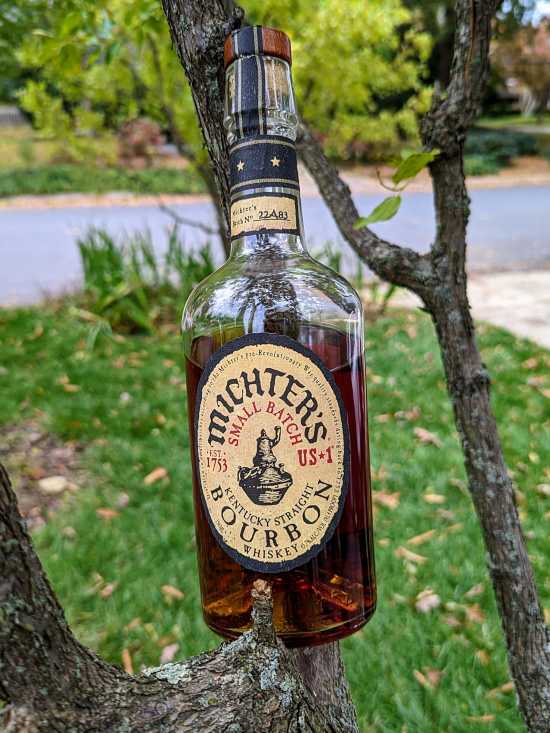 While the minimalism is great in one regard, the minimal disclosure about the bourbon is a different entirely, as it's shrouded in mystery…although Frank August might call it intrigue. As I went through the website to learn more, the constant stream of empty marketing fluff stood out to me. The worst offender, and most hypocritical, is the sentence "Frank August is a call to be open and undisguised."
That is laughably flat out nonsense coming from a brand that does not (maybe legally not allowed to) mention the source, age, and mashbill. There is just about zero transparency around the bourbon, yet they claim to want to be "open and "undisguised". It's all insincere marketing garbage. You don't need to have heritage or history to be a worthy brand, but the nonsense on the website is ridiculous. It sours my impression of the brand.
At the end of the day, I can live with marketing jargon and nonsense pulled out of thin air if the quality of the drinking experience is great. If the bourbon is great, I can forgive the other stuff. Let's find out if the bourbon is as beautiful as the bottle in this Frank August Bourbon review.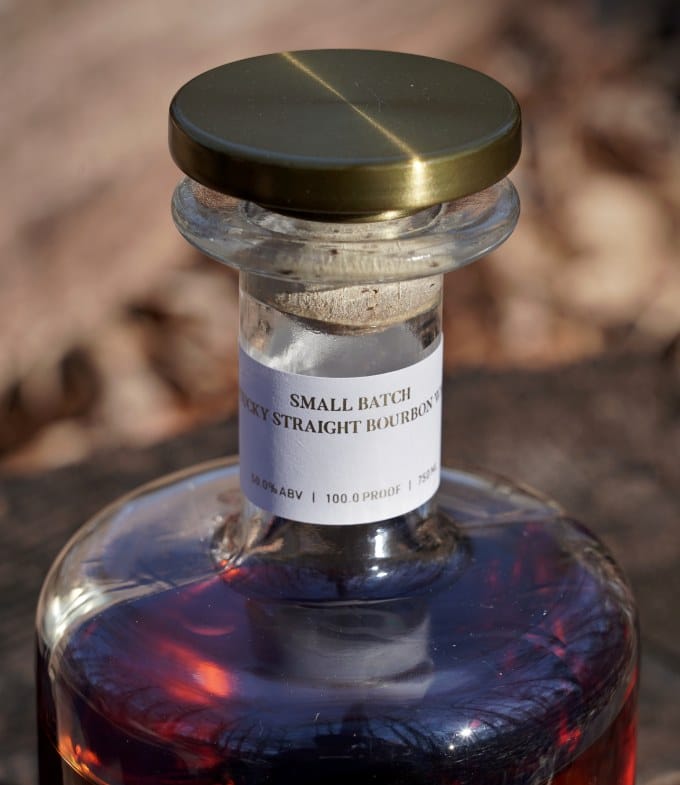 Frank August Bourbon smell
Frank August Small Batch kicks off with caramel that's not too dark or bright, cherry, vanilla, cedar-like oak, licorice, cinnamon, clove, ripe red apple, strawberry, and a little ginger. It has a Four Roses OESV-like creamy sweetness and fruit with some herbalness and oak in the background that's all well-balanced. Over a little time the oak comes out a little more. Frank August Bourbon seriously feels like a toned-down version of the excellent Someone Say Whiskey Four Roses OESV Private Select I reviewed.
After swirling I smell caramel, licorice, dried cherry, vanilla, roasted oak, cedar, marshmallow, cinnamon, clove, and pineapple. This time it's a little more sweet, herbal, and fruity, and less earthy and oaky. It really hasn't fully settled-back in after 15 minutes, so it takes a longtime to open-up. I'm talking around 20 minutes to get it back to what it was before, which I admit is a long time.
Frank August Bourbon taste and aftertaste
My first sip has a tasty mix of caramel, vanilla, cherry, dried red apple, a bit more roasted oak, lightly vegetal pineapple, licorice, cinnamon, hint of earthy caraway seed and slightly burnt bread, and some oaky dryness. The flavors touch a range of sweet, fruity, oaky, and spicy notes, so the variety is there. At the same time, there's nothing really noteworthy about it, so it doesn't really reach the level of special.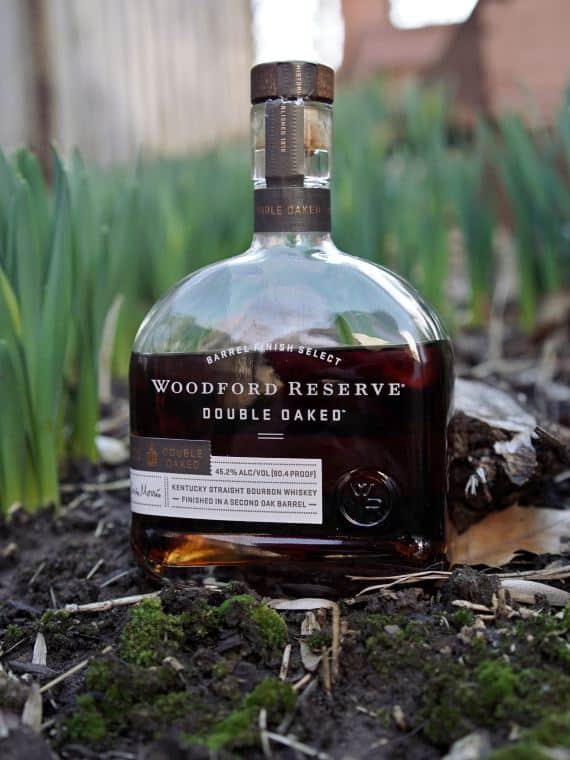 After "chewing" I get caramel, dried cherry, vanilla, candied pineapple, roasted oak, cinnamon, clove, and a slight surge of burnt oak and earthy caraway seed in the back. "Chewing" makes it better, bringing forth denser sweetness and tropical fruitiness. The oak and earthiness kick in towards the end, so the flavors hit the range of dark to bright.
On the aftertaste I get lingering caramel, red apple, roasted oak, cinnamon, clove, and lightly bitter oak tannins. The oak tannins and dryness linger with everything. After "chewing" it leaves caramel, roasted oak, cedar, dried cherry, and mint, again with lingering gentle oakiness and cedar.
Frank August Bourbon provides good heft and viscosity so it feels mature and flavorful, but there's no pop, no wow, and no exceptional or outstanding quality (I recognize that I've mentioned it a few times already). I still can't shake the thought that it tastes similar to Four Roses OESV.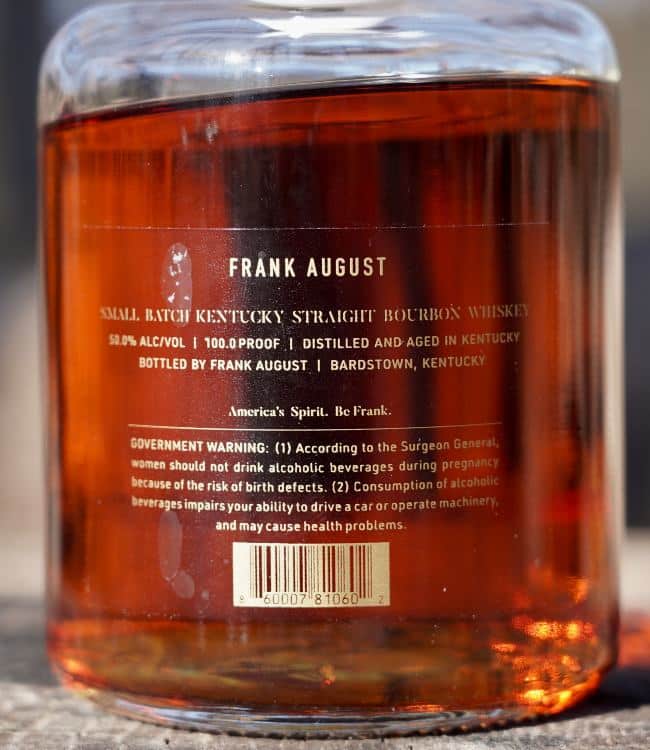 If you're shopping on Amazon, support The Whiskey Shelf by shopping through my affiliate link – Shop Amazon. I may earn a commission from your Amazon purchases.
Frank August Bourbon Rating

Let me get a few things out of the way first. Is Frank August Bourbon good? Yes, I'd even say very good. Would I recommend buying it? Purely on how it smells and drinks, not so much at around $60-70. Competition is fierce at that range, but I will admit that the bottle design makes it stand out anywhere. Interpret that all as you will.
Like I mentioned before, it's modern, minimalist, and gorgeous. It looks like old school luxury (or something like that). I guess it may also mean that they spent a lot of money on packaging to separate themselves from the pack. Sourcing is expensive too, but so is that bottle and stopper.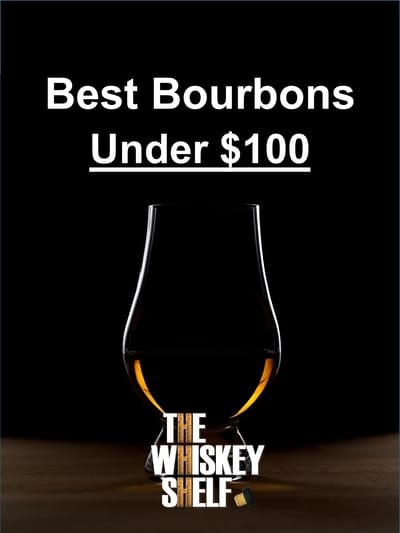 The bourbon itself provides a balanced and well-made experience that checks off a lot of the scent and flavor boxes. The sweetness and fruitiness are developed enough to balance the oak and spice, the heat is well controlled, and overall I enjoy drinking it. My critique is that nothing pops or feels outstanding (I'm repeating myself over and over).
I had this moment of clarity when I had my first few sips after opening the bottle for the first time. "It's Four Roses!" I thought to myself as I furiously messaged Mike at The Bourbon Culture about my epiphany. I can't guarantee that I'm right, but so much of it feels like Four Roses OESV bourbon – creamy and fruity with that distinct cedar oakiness. It was even more distinct because I reviewed a Four Roses OESV Private Select the day before I tried this for the first time.
Going off on a tangent about the possible source, there's the process of elimination for who it's likely not. It's Kentucky Bourbon, so the options are already limited, and it's most likely not wheated bourbon (not spicy and orange-y enough). Then take out the distillers that don't make bourbon that taste like this: Jim Beam and Heaven Hill. Then take out the distilleries that never / rarely source: Buffalo Trace, Brown Forman (including Old Forester and Woodford Reserve), and Wild Turkey.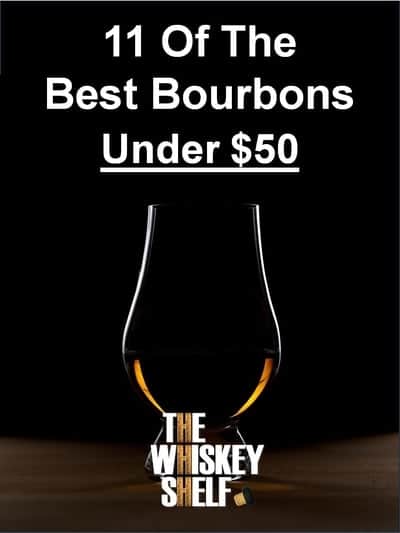 After that, there are only a few large enough Kentucky-based distilleries that could even be possible: Four Roses (my guess, although I don't think they sell their distillate to other companies), Bulleit, Bardstown Bourbon Company, Green River (owned by Bardstown Bourbon Company), and Barton (but it doesn't feel quite like it). I'm missing some from the list, but I think you get my point. Pardon my tangent.
Getting back on topic, I'm happy to drink Frank August Bourbon and think that you'll be happy too. The visually stunning packaging also makes a great gift for someone who's not nearly as critical as I am. If your focus is on the drink itself and packaging doesn't matter, this isn't the best option for $60-70. In the same ballpark personality, I'd go with
Four Roses Small Batch Select
or even
Russell's Reserve Single Barrel Bourbon
.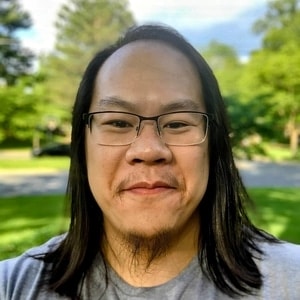 I have far too much fun writing about whiskey and singlehandedly running The Whiskey Shelf to bring you independent, honest, and useful reviews, comparisons, and more. I'm proudly Asian American and can speak Cantonese, Mandarin, and some Japanese.
There are no sponsors, no media companies, and no nonsense. Support The Whiskey Shelf by 
Buying Me A Shot
.