four roses private select oesf 12 year review
Four Roses Private Select OESF 12 Year Potomac Wine and Spirits Select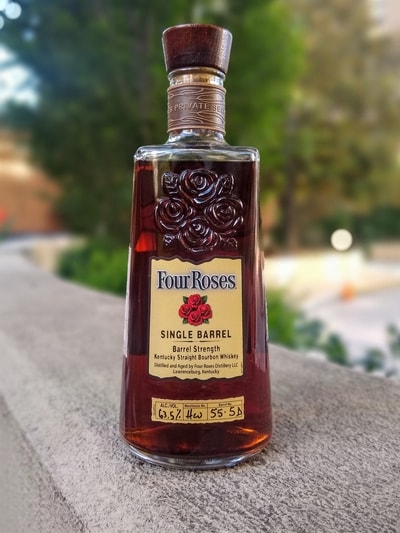 Distillery: Four Roses
Type & Region: Bourbon, Kentucky, USA
Alcohol: 63.5%
Composition: 75% corn, 20% rye, 5% barley
Aged: 12 years and 3 months
Color: 1.4/2.0 on the color scale (tawny)
Price: $100 MSRP
From the Four Roses website:
There's absolutely nothing about the private select program.
four roses private select oesf 12 year overview
There's a big universe of Four Roses mashbills, yeasts, and barrels, and here I have a Potomac Wine and Spirits Four Roses OESF Private Select that's 12 years and 1 month old, bottled April 16, 2020 from barrel 55-5D. OESF means that it uses the 20% rye mashbill and "F" yeast to create "minty, fruity, full body" character. This pick is particularly interesting because of the above average age and proof. Before I forget, this was bottled 
From what I've seen, these single barrel selections usually range from 8-11 years, with few ever reaching 12 years. These usually hover in the 54-59% ABV range, with the occasional one exceeding 60%, although I did review an OESV Jim Rutledge Master Distiller's Selection from 2014 that was over 60%. Let's find out if the unique combination of extra age and proof makes a difference in this Potomac Wine and Spirits Four Roses Private Select OESF 12 Year review.
Fun fact, I reviewed this five times before committing to this final version. It sounds crazy, so I'll tell you more about that in the review itself.
As an FYI, I bought and use these Glencairn glasses from Amazon for my reviews and comparisons (because they're the best): Glencairn Crystal Whiskey Glass, Set of 6, Clear, 6 Pack. Full transparency, this is an affiliate link, so I may earn a commission if you buy this or something else from Amazon.

four roses private select oesf 12 year smell
Oh boy, this 12 year old Four Roses OESF is dark, dense, and rich with roasted caramel, tobacco, vanilla, dense orange, cherry, fennel, caraway seed, licorice, candied dried pineapple, roasted oak, cinnamon, clove, eucalyptus, and mint. That dense sweetness, tobacco, and fruit come first followed by the herbal and lightly earthy rye traits. 
The more tobacco-forward trait, but not too roasted or burnt, is quite captivating and really enhances the fragrance. There isn't much heat either, which is a miracle because it was so hot for so long the other times I tried to review this, and it wasn't particularly pleasant. I guess this gets better with age?
After swirling I get very dark, rich, and fragrant caramel, honey, tobacco, fennel, licorice, vanilla custard, orange peel, roasted pineapple, roasted oak, cinnamon, clove, and caraway seed. It's become more herbal and picked up this dark earthiness that further adds to the incredible depth and complexity that's led by the sweet and oaky richness. This Four Roses OESF is tough to explain in words, it just smells so damn good in so many ways. The fragrant tobacco makes a big difference too. 
four roses private select oesf 12 year taste & aftertaste
The flavors are incredibly sweet with caramel, white sugar, orange, vanilla, fennel, licorice, peach, tobacco, lightly toasted oak cinnamon, and mint. The heat isn't bad at all either, so it's pretty easy to enjoy everything; it's the constant waves of sugar, fruit, rye, and oak flavors that make it challenging, yet so great, to process.
"Chewing" unleashes a blast of honey, sweet licorice, fennel and pine, white sugar, candied pineapple, tobacco, vanilla, orange, roasted oak, cinnamon, clove, and just a little rosemary and mint. It's amazingly flavorful, bold, and so distinct, on top of the flavors constantly shifting in my mouth. The fruit and herbalness mingle into this unique, mature, and rich sweetness that kind of reminds me of Kentucky Owl Rye Batch 1, but overall I can't adequately describe it well. 
I can say that the flavors are so well balanced; and the smooth tobacco and fennel add so much intrigue that entices me to keep exploring. The mouthfeel is decently viscous and there isn't much heat, so it's just amazing and I'm never bored.

The finish really leads with tobacco, caramel, licorice, orange, candied pineapple and mint, leaving a long-lasting and gentle mintiness. Overall though, it's not that minty, herbal, or earthy in the finish. After "chewing" is tobacco, honey, orange and apple peel, grilled candied pineapple, licorice, fennel and thyme. It's still not all that minty, but it doesn't really matter because the finish lasts and is outstanding.

Place on the Whiskey Shelf

This 12 year old Four Roses Private Select OESF from Potomac Wine and Spirits took me on a winding journey through four separate reviews before nailing down the "Top Shelf+" rating on the fifth time. It's a strange bourbon with two wildly different personalities. The first side is an alcohol Balrog that battles me nonstop and makes it difficult to appreciate the bourbon. I faced that beast in review attempts 2-4.
The other side, the one I mostly got the first time, right at the end the fourth time, and locked-onto the fifth time, is a rich, luscious, and beautiful bourbon that is completely unique…it just needed a ridiculous amount of air-time and probably more patience than I should have given it. I had so much patience because it was borderline "Top Shelf+" the first time I reviewed it and I wanted to revisit it to round-out that review.

This Four Roses doesn't get this rating because it has an abundance of traits, but because it absolutely nails everything that it has and delivers it in such an expressive and captivating, yet puzzling way. It has such a unique blend of sweet, fruit, herbal, oak, tobacco, and herbal traits that I kept asking myself "what the heck is this?" at every moment (in a good way). The refined tobacco notes, without being overoaked, are also sublime and a major plus.
It definitely has the full-bodied and fruity OESF traits, but is not so minty. I finally came around to it after many attempted reviews, and this Four Roses 12 Year Old OESF is now my favorite to date. I just wish that this could have hit its stride sooner because I drank a lot of it and didn't like it that much, but I'm glad it got there eventually. Thankfully I have one more bottle to enjoy.

There's a lot of great content to come, so consider supporting The Whiskey Shelf on Patreon. Support here.
Comments are closed.