Four Roses Single Barrel Review [In Depth]
Four Roses Single Barrel Bourbon Details
From the Four Roses website:
"You'll want to savor the taste of this premium Single Barrel again and again. It's complex, full-bodied and surprisingly smooth with a delicate, long finish that's unbelievably mellow. Drink straight up or on the rocks. 100 proof. 50% alcohol/volume"
four roses single barrel overview
The standard Four Roses Single Barrel Bourbon, not to be mistaken with the Four Roses Single Barrel Private Selection, is the distillery's widely distributed single barrel bourbon that's a staple at liquor stores across the US.
Out of the 10 recipes they have, these single barrels always use the 35% high rye OBSV recipe, characterized as "delicate fruit and rye".
Unlike Four Roses Small Batch and Small Batch Select, which should be very consistent, the Single Barrel inevitably will have some variability. For your reference, this particular Single Barrel I'm reviewing came from warehouse JE and barrel 11-6V. This is my first time drinking this in a long time, so let's learn more in this Four Roses Single Barrel Bourbon review. 
*A big thank you to my friend Ryan B. for a sample of this bourbon.
As an FYI, I bought and use these Glencairn glasses for my reviews and comparisons (because they're the best): Glencairn Crystal Whiskey Glass, Set of 6, Clear, 6 Pack. Full transparency, this is an affiliate link, so I may earn a commission if you buy this or something else from Amazon.

four roses single barrel smell
Four Roses Single Barrel kicks it off with musty and oaky caramel with vanilla, citrus, apple, and minty wintergreen. I can't say that the heat is powerful, but it emits this doughy note that I don't love, but also don't hate.
I smell more dried citrus after a few sniffs with continued underlying roasted oak, although I also wouldn't call this hugely oaky either. Even after 25 minutes resting in the glass, it still takes another 5 minutes or so to open-up, so be patient if you can.
The heat perks up after swirling, giving-off some eucalyptus and minty winter notes. Four Roses Single Barrel now has more apple and honey sweetness with complementary roasted oak, cinnamon, and cocoa that provide dark undertones, and vanilla cream to add a little extra sweetness and richness. I also start to smell some strawberry when I tilt the glass a certain way.
There's this interesting swap between musty old wood and freshly cut wood, as well as this rosemary-type herbal note that adds to the intrigue. Four Roses Single Barrel has a fragrant fruitiness from the apple, citrus, and just a little green grape and strawberry that lends to the overall character and depth that I enjoy, and sort of reminds me of 
Barrell Bourbon Batch 21.
This is a really good nose, not big, bold, and deep per se, but fragrant and enjoyable nonetheless.
four roses single barrel taste & aftertaste
Four Roses Single Barrel immediately pops of honey, apple, and vanilla sweetness, with the oak, cinnamon, and clove coming on the back end with a little heat. The mouthfeel is middle of the road and the heat is about right for 100 proof, but the pleasant sweetness leads here.
"Chewing" makes Four Roses even sweeter with honey, caramel, cocoa, baked apples spritzed with orange, vanilla, and a dash of toasted grains. The sweetness really leads the way with the oak coming in a few seconds after. 
As sweet as it is, Four Roses Single Barrel Bourbon not hugely fruity, but there's enough of an apple and orange presence with hints of berries that add a nice touch of vibrance and complexity. 
The roasted notes stay close by in the background with some toasty oak, cinnamon, nutmeg, and cocoa. The flavors are really nice and somewhat varied, but I can still tell that they don't have that depth or roundness of a great bourbon. 
Still, this is plenty enjoyable to drink and occasionally reminds me of Elmer T Lee. By the way, Four Roses Single Barrel bourbon holds up well to 
Elmer T Lee 
and 
Blanton's
.
Honey and citrus start the finish with a little floral something something, freshly sliced apple, and a little oak tannin. After a minute I'm left with slightly more prominent apple, citrus, and mint noes as part of a long finish. 
"Chewing" leaves a little more doughy alcohol, as well as a mix of honey, apple, licorice, and more tannic oak. There's a little lightly bitter cocoa powder and oak this time with a small squirt of citrus, apple, honey, and licorice that complement the bitterness on the very long and tasty finish.
Whiskey is also for sharing, so I use Vivaplex, 12, Amber, 2 oz Glass Bottles, with Lids for smaller samples and Vivaplex, 12, Amber, 4 oz Glass Bottles, with Lids for larger ones. Full transparency – This is an Amazon affiliate link so I may earn a commission if you buy this or something else. Regardless, I actually use these myself.
Four Roses Single Barrel Rating

Overall I'm impressed with this widely available $40-45 bourbon. I looked up the meaning of OBSV after the fact and definitely got those "delicate fruit and rye" notes that Four Roses mentioned. The scents and flavors are both enjoyable and well balanced between the toasted sugars, fruit, and wood.
I especially enjoy the apple, orange, and occasional berry fruitiness in both the nose and palate that aren't huge, but also not shy or weak either. As good as it is, it all still lacks the richness and depth of a "Top Shelf" bourbon. Four Roses saved the really good stuff for their Private Selects and Small Batch Limited Editions.
Four Roses Single Barrel is just a really good single barrel bourbon and sub-$50 bourbon that's almost always accessible and rarely marked-up. With all single barrels though, variation is inevitable so I hope you never run into a bad barrel. 
This particular barrel is still better than any experience I've had with Henry McKenna 10 Year (with some actually being quite good and others disastrously bad).
Four Roses Single Barrel is definitely one to consider as you work your way towards higher-end / more expensive bourbon and one I'd be happy to drink again. I probably won't go out and buy one (even at $40), but that's also because I'm looking for something totally different.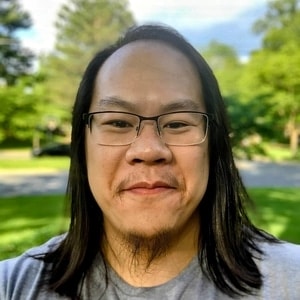 I have far too much fun writing about whiskey and singlehandedly running The Whiskey Shelf to bring you independent, honest, and useful reviews, comparisons, and more. I'm proudly Asian American and can speak Cantonese, Mandarin, and some Japanese.

There are no sponsors, no media companies, and no nonsense. Support The Whiskey Shelf by Buying Me A Shot.

Comments are closed.