Michter's Small Batch Bourbon​ Review [In Depth]
Michter's Small Batch Bourbon
Michter's Small Batch Bourbon​ Details
Distillery: Michter's
Type & Region: Bourbon, Kentucky, USA
Alcohol: 45.7%
Composition: Unknown
Aged: At least 4 years old (straight bourbon)
Color: 1.4/2.0 on the color scale (tawny)
Price: $40-50
From the company website:
Michter's US1 Kentucky Straight Bourbon is made from a carefully selected mashbill that features the highest quality American corn. It is then matured to the peak of perfection. Truly "small batch" each batch of our US1 Kentucky Straight Bourbon is batched in a holding tank sized to fit a maximum of twenty full barrels, leaving no margin for "blending out" imperfection and thus necessitating excellence from every barrel. Reflecting the spirit of the Bluegrass State, Michter's US1 Kentucky Straight Bourbon is nuanced, mellow and earthy. Michter's US1 Kentucky Straight Bourbon is also available with personalized Fort Nelson Select labeling at Michter's Fort Nelson Distillery.
Michter's Small Batch Bourbon​ overview
At this point, Michter's has become an entrenched part of the whiskey scene through their highly acclaimed…well pretty much everything. While I haven't loved every single thing they've released, there have been some big hits, including the
Barrel Proof Rye
,
10 Year Rye
, and
Bomberger's Bourbon
. But the thing is, all of those are at least $100 a bottle and not that easy to find.
With the
10 year bourbon
being stupidly hard to find and the older stuff living on the Mount Olympus of Unicorn Land, Michter's Small Batch Bourbon is the only option for most people. This is the most affordable and somewhat accessible bourbon that Michter's makes. Whether that's good or bad, I don't know yet, but that's the point of this review.
It's generally well-known that Michter's has sourced Kentucky bourbon for years, with some bottlings pre-2010 being legendary, but it's less known from where. For this 2022 batch, Michter's has quite a few years of distillation and aging under its belt, so it's entirely possible that Michter's has started to incorporate their own distillate into the blend, although I can't say that with any confidence.
Whatever they're doing, it only really matters if the bourbon is good, so let's find out how good (or not) Michter's most affordable bourbon is in this Michter's Small Batch Bourbon review.Whatever they're doing, it only really matters if the bourbon is good, so let's find out how good (or not) Michter's most affordable bourbon is in this Michter's Small Batch Bourbon review.
First off, I have to recognize that color, because it is a beautiful reddish caramel color (aka tawny on the color scale I use).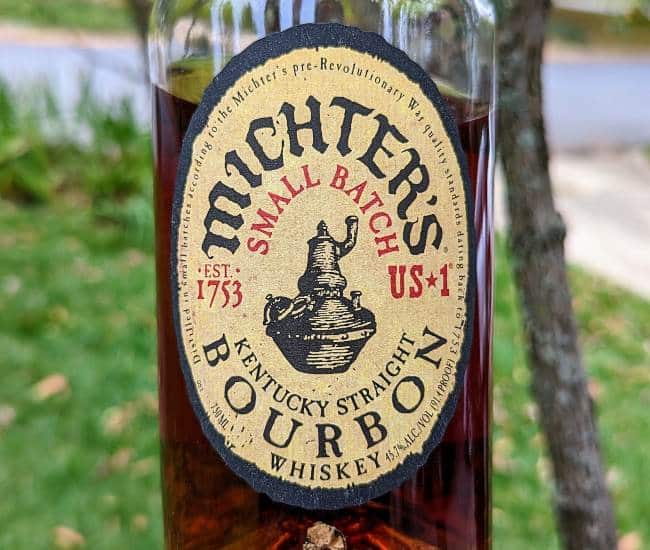 Michter's Small Batch Bourbon​ smell
Right out of the gate, Michter's Small Batch bourbon comes with a solid wallop of heat that catches me off guard. It's not overpowering, more punchy if that makes sense. After that, I get charred brown sugar, roasted oak, vanilla, dried apple, orange, and cherry coated in cinnamon, licorice, and chocolate fudge and grass in the background. There are a lot of nice scents in there – dark roasted sugars, dried fruit, dark oak, and brighter herbalness. The heat unfortunately gets in the way a little bit.
But, there's solid maturity and richness, with a similar dark, roasty, and slightly grassy oakiness that's also in Michter's Barrel Strength Rye and less so the 10 year. And maybe it's because I know it's Michter's, but I swear it's there. All things considered, it's a pleasant conundrum.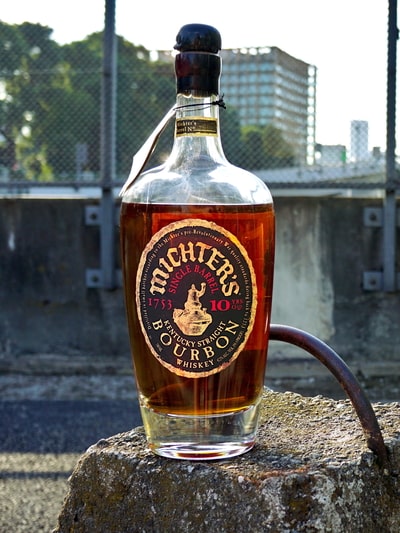 After swirling, there's brown sugar, vanilla, dark and dried oak, cinnamon, baked apple and orange with cinnamon, licorice, strawberry, a little dried grass, and coffee grounds. It's a surprisingly dark, sweet, and oaky bourbon. Even with what I consider to be a relatively low 45.7% ABV, Michter's Small Batch Bourbon has above average richness and maturity that make me forget that it's too low.
Over time, a bit more of the herbal licorice and pineapple come out that add some delicateness. I don't know the actual age, but this could be 7-9 years old. The heat has come down, which is a big improvement.
On top of that, the sweet coffee and oak quality reminds me a bit of Still Austin The Musician, which is also a very good bourbon. I recommend that you try Still Austin's bourbon when you get the chance.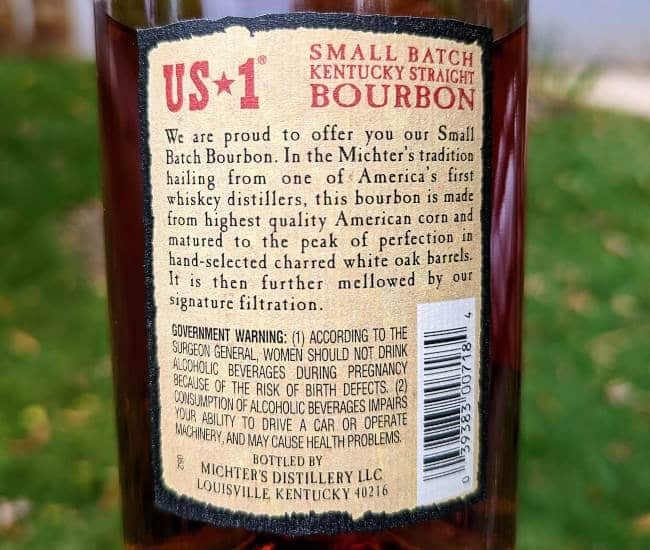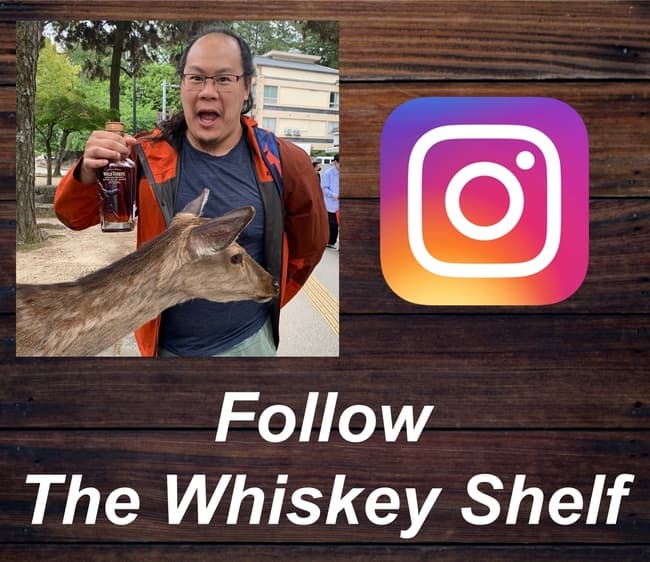 Michter's Small Batch Bourbon​ taste and aftertaste
My first sips bring brown sugar, roasted oak, dried apple and apricot, vanilla, cinnamon, nutmeg, licorice, roasted coffee beans, and dry grass. It's a dark, sweet, and oaky bourbon. The lower ABV does rear its head a little bit with the thinner viscosity, although the flavors generally have some roundness and richness to them.
The oakiness is a big surprise, bringing more burnt char and oak spice. It brings a little oaky kick and makes me think that it's actually closer to 8-9 years old or something like that.
After "chewing" I get caramel, vanilla, chocolate fudge, roasted oak, cinnamon, mocha, dried apple and orange, licorice, and nutmeg. Hm, Michter's Small Batch Bourbon definitely reminds me of
Still Austin The Musician
with the sweet and roasty mocha. The difference is that Still Austin does it at around 3 years old (because they've provided an age statement on the back label). Who knows, maybe a lot of the blend in Michter's is younger as well, but it's done very well.
I will say that there's more flavor than the ABV would suggest, although the viscosity isn't quite up to the same level. "Chewing" makes it tastes so much better, and brings out more sweetness
The oak really comes out in the finish with caramel, roasted oak, and coffee grounds with a long-lingering oakiness and dried grassiness. Going into this, I was not expecting Michter's Small Batch Bourbon to be this oaky.
After "chewing" I'm left with caramel, vanilla, roasted oak, chocolate, and a little dried grass that fades into lightly sweet and roasted oak, and a drop of pineapple. Really nice.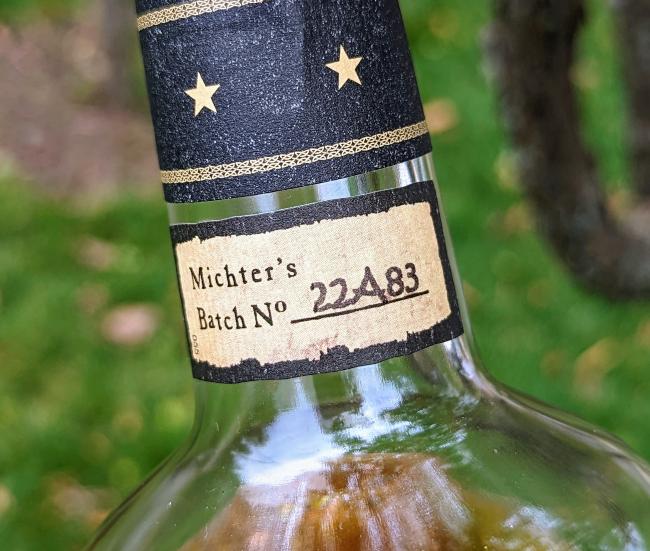 Michter's Small Batch Bourbon again is a dark, sweet, and roasty bourbon that tastes mature and well developed. I just despise the criminally low ABV that limits what is already a great tasting bourbon. A 101 proof version would be delightful, but I guess that you can go to Michter's and try to get the barrel strength bourbon, which requires that you visit the distillery in Kentucky and hope that they're selling it that day.
If you're shopping on Amazon, support The Whiskey Shelf by shopping through my affiliate link – Shop Amazon. I may earn a commission from your Amazon purchases.
Michter's Small Batch Bourbon​ Rating

Like I mentioned already, my relationship with Michter's is hit or miss. In this case, Michter's Small Batch Bourbon puts together a surprisingly dark, mature, and delicious bourbon that I can gladly recommend. I'm pleasantly surprised, so this is a hit.
The $40-50 MSRP, which has no impact on the rating, is actually pretty good given their propensity to go very high on prices. There's a wasteland of nothingness between $50 and $100, and then a bunch of $100 to $20000+ whiskeys. I paid $40, and it has a place on the list of some of the best bourbons under $50. You should buy this over
Brother's Bond
100% of the time, which I mention because I reviewed that around the same time I did this.
This is also one of those unusual cases where a whiskey tastes better than it smells, but I'll always take that over the opposite. The scents are a little all over the place, dark and fairly rich at times, and hot and alcohol-y at others. The flavors though, are consistently dark, sweet, and delicious, providing greater richness than the ABV suggests, but I still want a higher ABV.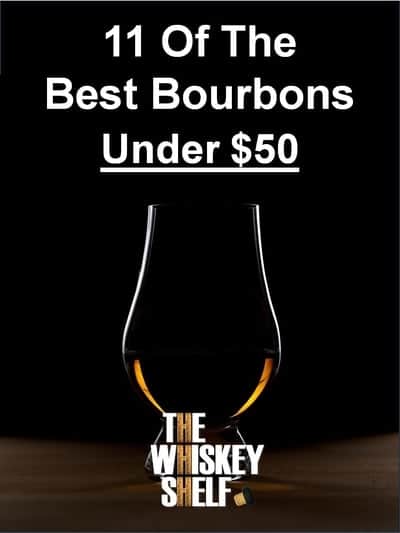 I'm really impressed. With this experience under my proverbial belt, I now have some additional thoughts on Michter's 10 Year Single Barrel. Yes, the 10 year is more mature, having more chocolate, tobacco, and berries that I enjoy in my bourbon.
It's an upgrade, but solely based on MSRP, the 10 year is not 3-4 times better (assuming the Small Batch is $40-50 and 10 Year $160). If you use secondary, it's not 5-6 times better. It's puzzling, because my brain does not compute.
What does compute is that I like Michter's Small Batch Bourbon and recommend that you give it a try. You've likely seen a bunch of talk about it, and I think it's good enough to meet the manageable hype behind it. Well done Michter's.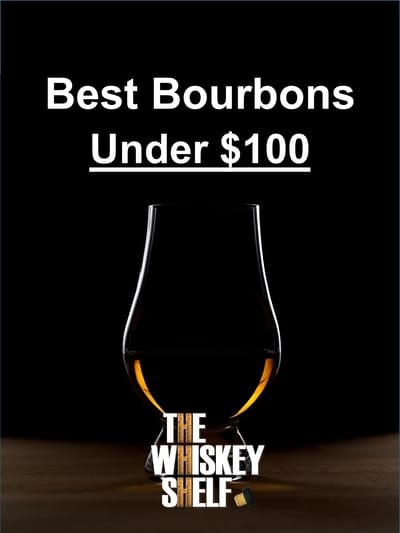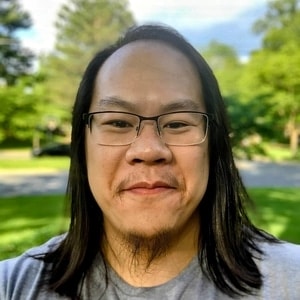 I have far too much fun writing about whiskey and singlehandedly running The Whiskey Shelf to bring you independent, honest, and useful reviews, comparisons, and more. I'm proudly Asian American and can speak Cantonese, Mandarin, and some Japanese.
There are no sponsors, no media companies, and no nonsense. Support The Whiskey Shelf by 
Buying Me A Shot
.