Four Roses Small Batch Limited Edition 2022 Review [In Depth]
Four Roses Small Batch Limited Edition 2022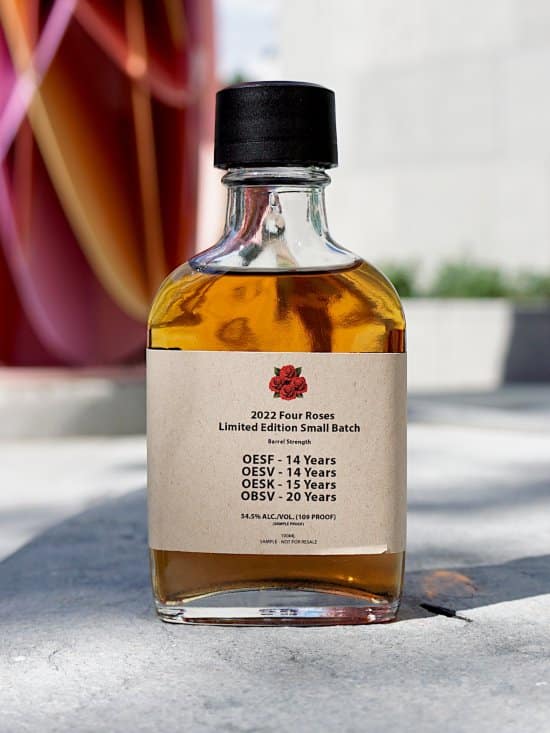 Four Roses Limited Edition 2022 Details
Distillery: Four Roses
Type & Region: Bourbon, Kentucky, USA
Alcohol: 54.5%
Composition: The blend is is provided, but not percentages
Aged: Blend of 14-20 years
Color: 1.4/2.0 on the color scale (tawny)
Price: $150 (MSRP, although that kind of doesn't matter)
From the box included with this sample:
"Every September, we create a special barrel-strength Limited Edition Small Batch Bourbon to achieve endless flavor possibilities by combining some of Four Roses' 10 distinct bourbon recipes. After several months of testing over 30 different recipe combinations, I'm very excited to share this special bourbon which features a blend of our hand-selected recipes aged 14 to 20 years – and we are thrilled to have you be one of the first to give it a try! What you are about to sample is a remarkably mellow, complex, and layered liquid different from years past to demonstrate our versatility. With delicate aromas of brown sugar, dark cherries, and seasoned oak, and a distinct finish of creamy vanilla, ripe berries, and cinnamon, we hope you'll love this bourbon as much as we do."
Four Roses Small Batch Limited Edition 2022 overview
Every year, Four Roses, the legendary Kentucky distillery (partly owned by Kirin – a Japanese company), spends a lot of time and effort to explore and blend some of their best bourbon to give us their annual Limited Edition Small Batch.
With 10 different combinations of mashbill (20% rye / 35% rye) and yeast strains (5 of them), not to mention unlimited access to the best barrels for this top of line and very limited release, Four Roses has a lot of flexibility to make something unique, and hopefully out of this world amazing. 2022 is no exception, and they've gone big as always.
Here's the age and mashbill breakdown, as well as the super short summary Four Roses provides
OESF (10) – 14 years (75% corn, 20% rye, 5% barley / herbal notes)
OESV (6) – 14 years (75% corn, 20% rye, 5% barley / delicate fruit)
OESK (7) – 15 years (75% corn, 20% rye, 5% barley / slight spice)
OBSV (1) – 20 years (60% corn, 35% rye, 5% barley / delicate fruit)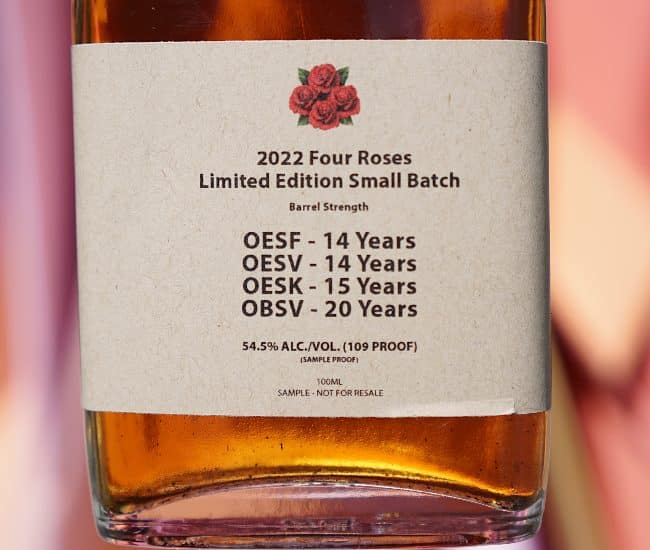 This is a blend of 14-20 year old bourbon, and that's a change from what they've done recently. I don't have a lot of experience with these releases, but thankfully the website provides a lot of information for releases 2016 and onward. This 2022 Limited Edition, at 14 years old, is the oldest since then, while the others have been 10-12 years.
Apart from the age, one of the mashbills used is distinct. The past few years have heavily leaned on OBSV, OESV, and OESK (all in this one as well). This year, Four Roses has added 14 year old OESF (bolded above), which has not been used since at least 2016. Again, I personally don't have a ton of experience with all the mashbills, in part because I haven't bought tons of their barrel picks, but I know I like Four Roses.
Funny enough, I did previously
review an epic 12 year old OESF pick
, which was hugely rich with a lot of dense and sweet caramel, herbal licorice, and earthy caraway seed notes, not to mention mature and rich tobacco that took it to the next level. It reminded me a lot of Kentucky Owl Rye Batch 1, one of the best rye whiskeys I've ever had. Who knows, maybe the 14 year OESF will bring some of those traits as well, and that would be fantastic.
Before I get to the actual review, I want to recognize that doing this particular review via media sample is a big deal for me. Yes, I've received a number of samples in the past (thanks everyone), so that part isn't so unique (although very welcome and appreciated). But holy moly, getting a media sample of a super-allocated and sought-after limited release is something totally different. That's big league stuff right there.
I didn't even ask, they asked me if I wanted it. And of course, hell yeah I do. I'm 95% sure I won't be able to buy a bottle of this at retail, so this is my only opportunity to try and review it. It makes me wonder if I've finally become a somewhat recognized whiskey blogger.
Regardless of how pleased I am to receive this sample (very), I'm going to put on my serious hat and provide an honest and objective review about what Four Roses 2022 Limited Edition Small Batch is like and just how good (or not) it is. Let's not kid ourselves, availability and markups are the main barriers to getting it, not a lack of knowledge or desire. Four Roses is guaranteed to sell every single bottle.
Let's get serious and uncover the fruit of all this exploration and hard work in this Four Roses 2022 Limited Small Batch review.
Thanks to Four Roses for this sample. All opinions, good / bad / amazing / terrible, are still my own. And thanks for the branded Glencairn too, which is always 10/10 amazing.
Four Roses Small Batch Limited Edition 2022 smell
Four Roses 2022 Small Batch Limited Edition starts out of the gate with dark and kind of heavy caramel sweetness up front (like caramel chews), dense vanilla, tobacco, strawberry, rounder licorice, brighter plum (not heavy and preserved), dried apricot, cinnamon, a little dark chocolate, sweet rose (like gulab jamun), and mint.
My best guess is that the age brings denser sweetness with slightly lighter herbal, fruity, and oaky scents, and a little bit of that fruit-forward "dusty" character. There's a lot of "delicate fruit and rye" qualities, my guess very OESV.
The rosy-licorice herbalness reminds me of Michter's 10 Year Rye and Kentucky Owl Rye Batch 1. It sounds a bit strange to compare this bourbon to "barely legal" Kentucky rye, but that rye-y character is clearly there for me.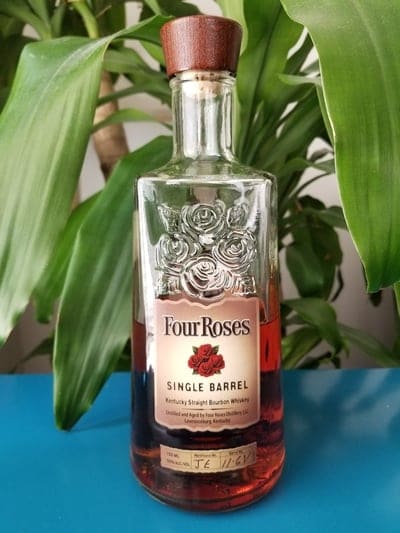 Swirling opens it up more with denser honey and licorice at first, followed by a mix of fresh cherry, strawberry, and apricot, vanilla, moderately dark oak that's roasted and freshly sawn at the same time (contradictory I know), cinnamon, pumpernickel, rose, and dark chocolate. It's a toasted strawberry field dessert, and still has that very fragrant and rich rose and licorice of my favorite rye whiskeys.
The sweetness and oakiness open up, but it doesn't come off as overly roasty or burnt, especially considering the 14-20 year old blend. It's a moderated and dark oak presence that seems happy to hang out in the back and out of the way, which allows the denser "delicate fruit and herbal notes" to lead the way.
This Small Batch Limited Edition 22 smells incredible and interesting with not much heat, although it doesn't really explode out of the glass as I'd like. I get that denser sweet base, but it's not so round and feels content to lounge there instead of getting up and hauling ass out of the glass. It's less loud and more reserved, delicate, and nuanced, although incredibly mature nonetheless.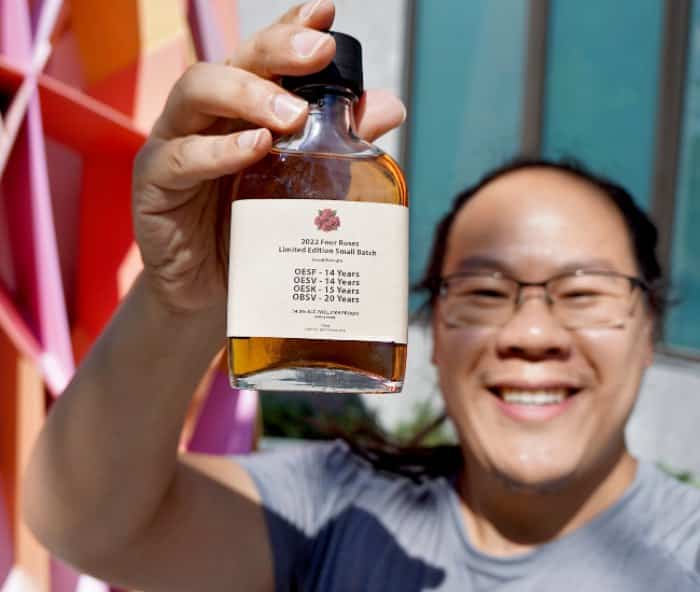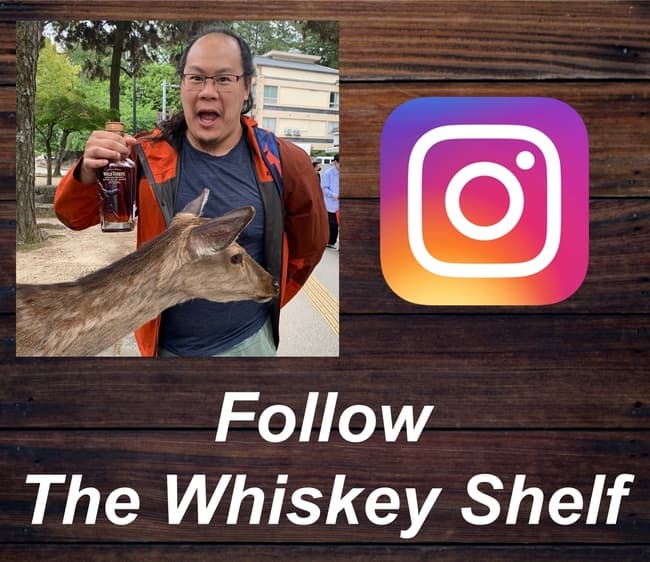 Four Roses Small Batch Limited Edition taste and aftertaste
My first sip pops with sweet honey, vanilla, cherry, licorice, roasted oak, cinnamon, rose, and fresh apricot, with some background pumpernickel. It feels a lot like a "barely legal" Kentucky rye with a sweet, fruity, and herbal-forward personality that isn't that dill-y or earthy. It doesn't have what I might call the more polarizing rye notes.
The 2022 Small Batch Limited Edition is rich and delicious, but I don't think it's overly impressive. Everything meshes well together and there's great depth, but I'm not getting a truly standout or unique trait that makes me think "wow". This may be
kind of a dumb statement, but it feels like more like a very refined and mature 
Four Roses barrel pick
with a bit more body, sweetness, and herbalness. It doesn't feel like it's really going above and beyond what I've had from some barrel picks in the past.
After "chewing", I get a bigger burst of caramel (darker sweetness), dense licorice, way more roasted oak, vanilla, fresh apricot and cherry, rose, clove, strawberry, milk chocolate, tobacco, and cherry coated chocolate. While it again starts off very herbal, sweet, and fruity, it quickly becomes very oaky as if the older bourbon experiences turbolag and needs a moment to get going. But when it does, that older oakiness kicks in hard with mature roastiness, chocolate, and tobacco.
In the aftertaste there's honey, licorice, roasted oak, fresh apricot, and cherry with lingering oaky spice, honey, cherry, and dry licorice that last for a few minutes. It's great: fruity, herbal, and oaky, but doesn't have that next gear to immaculately tie it all together.
Unsurprisingly, after "chewing" it's more oaky. There's honey, licorice, cherry, and pumpernickel wrapped up in oak and cinnamon with lingering herbal licorice, toasted oak, tobacco. It's slightly drying, so the oils and tannins are in there.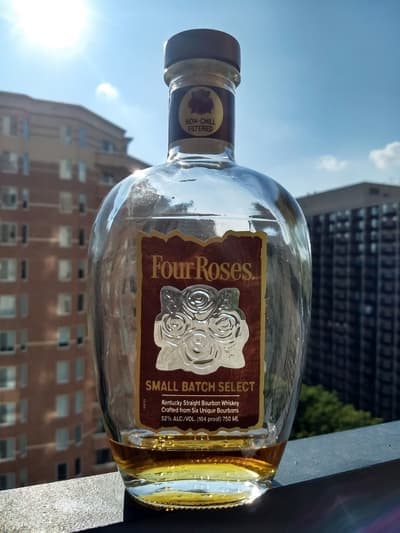 It's surprising that "chewing" makes that much of a difference, but it finally feels like a blend of 14-20 year old bourbon. The oak comes in strong, but feels well controlled and not at all overly burnt or tannic. This one is going to challenge you.
The weird thing (it's going to sound contradictory) is that it tastes wonderful, but I don't quite think "wow". I think a lot of it has to do with the fact that it doesn't feel that viscous, and the herbalness and fruitiness doesn't rise to the level of the mature oak, instead it shies away.
If you can't tell, I'm having a tough time giving you a straightforward description. Four Roses 2022 Small Batch Limited Edition is an amazing bourbon, but it doesn't quite have that next gear to be unforgettable. I wonder if there are store picks out there that are nearly as good, if not just as good.
If you're shopping on Amazon, support The Whiskey Shelf by shopping through my affiliate link – Shop Amazon. I may earn a commission from your Amazon purchases.
Four Roses Small Batch Limited Edition 2022 Rating

This summary / conclusion is going to be a bit all over the place because that's how my head is after smelling and tasting Four Roses Small Batch Limited Edition 2022 twice over the span of a week. I enjoyed the heck out of it. It's awesome, clearly blended well using excellent bourbon, but leaves me anticipating more that doesn't quite fully surface. It's a very strong "Top Shelf", borderline "Top Shelf+".
In one way, it means that the 2022 release embodies the OESF and OESV "delicate fruit and herbal notes". The extra age (among other things) brings more density, "muscle" as I like to call it, and mature oak. For the most part, there's rich herbal licorice, fruit (cherry, apricot, strawberry), and honey that gets my attention and keeps me wanting to uncover more traits.
The twist is the older oakiness from the 14-20 year old barrels, which simmers in the scents and blasts out with greater intensity after "chewing". That's how I know the bourbon is old AND refined – very dark, roasty, chocolate-y, and tobacco-y without being overly burnt, astringent, and/or dry. Bourbon that old isn't always well done, which I unfortunately experienced with
Wild Turkey 17 Year Bottled in Bond
.
Where it falters, held back from "Top Shelf+", is that the fruity and herbal flavors can't keep up with the hefty mature oak because they're not strong enough. The big shift in balance between fruit / herbal / sweet and oak feels out of place.
On top of that, the overall fullness isn't completely there, so I'm not 100% sold that it's "Top Shelf+". I have to fully commit to that rating, and I need "wow / oh shit / hell yeah" to come to mind to get to that point.
For a sanity check, I had a small pour of the 2017 release (lucky me I know). The 2017 release has more body, viscosity, and overall presence, offering more caramel, vanilla, and strawberry sweetness. At least as of when I publish this review, I haven't actually reviewed the 2017 release yet, so I don't have a final rating.
It's more of a quick sanity check that I'm not being unreasonable. If you eventually see a link to that 2017 review, just know that I did that after the 2022 release.
But let's get back to context. I had an incredible experience doing this review, but at the end of the day, this review isn't going to influence and/or change anyone's mind about whether to get it. The answer is obviously "hell yeah…if I can find it at the right price".
Like I mentioned earlier, Four Roses will sell every bottle without issue. All I can do is offer my thoughts on how it drinks and give you an idea of what to expect if you're ever lucky enough to get a bottle or have a glass.
To that final point, Four Roses Small Batch Limited Edition 2022 is a mature, nuanced, and delicious bourbon that has few peers and is absolutely worth the $150 or so MSRP. It just doesn't quite deliver the complete experience it probably should that would make it unforgettable.
Now if only it were easier to find and not always marked up. Even peons like me probably won't be able to get a full bottle, which I would like to have. Then again, getting this sample is already more than I ever expected and I'm so pleased to have had the opportunity to review this. Good luck finding it.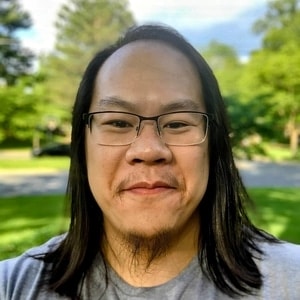 I have far too much fun writing about whiskey and singlehandedly running The Whiskey Shelf to bring you independent, honest, and useful reviews, comparisons, and more. I'm proudly Asian American and can speak Cantonese, Mandarin, and some Japanese.
There are no sponsors, no media companies, and no nonsense. Support The Whiskey Shelf by 
Buying Me A Shot
.