Old Grand Dad 114 Lot 17​ Review
Old Grand Dad 114 Lot 17​ Details
Distillery: National Distillers
Type & Region: Bourbon, USA
Alcohol: 57%
Composition: Unknown
Aged: Not stated
Color: 1.6/2.0 on the color scale (mahogany)
Price: Paid $50 (a miracle), but you'll pay much more
From the back of the bottle:
Old Grand Dad 114 Barrel Proof is the most unique Bourbon you can buy because it's bottled straight from the barrel. It's this natural quality that gives the 114 proof its unsurpassed smoothness. Each bottle is so unique, in fact, it bears its own lot number.
old grand dad 114 lot 17 overview
Oh boy, if you're reading this then you've come to learn more about some old school Old Grand Dad 114 (
Old
Old Grand Dad 114), this one from Lot 17 and distilled by National Distillers, NOT
Jim Beam
who bought the brand in 1987. The old and new versions may have the same name, bottle shape, and legacy, but the similarities supposedly end there.
From what I can tell, this bottle was released in the mid-late 80's, but I can't quite pinpoint the exact year. The bottom of the bottle is marked 89, but I've seen Lot 17 be mentioned from 1986 to 1988 as well, so maybe Lot 17 was released over a few years.
I've acquired quite a few amazing bourbon during my travels, but finding this bottle in 2021 was a miracle. I found this in an actual liquor store in central Tokyo for around $50, not a resell shop that acquired it from an individual.
That means that this bottle somehow sat on a shelf, in its box, overlooked 30+ years. Otherwise, I've seen it at one other place for $600.
I speculate that the bottle being in its box was the main reason why it was still there. Maybe people thought the box was empty and didn't check the contents, even though there was a price tag in front of it. Some smaller stores have the annoying habit of displaying empty boxes, so people may have been conditioned to ignore old-looking boxes.
Far too often, I've seen a box and gotten a glimmer of hope that I'd find something amazing, only to have my dream crushed when there was nothing inside. But this time, there was bourbon gold inside that golden box
For better or worse, there was some evaporation. "New", the fill level was already dipping into the shoulders of the bottle. My best guess is that around 10% was lost to the second angel's share. Those are some damn greedy angels to come back and steal more from the bottle, not just the barrel.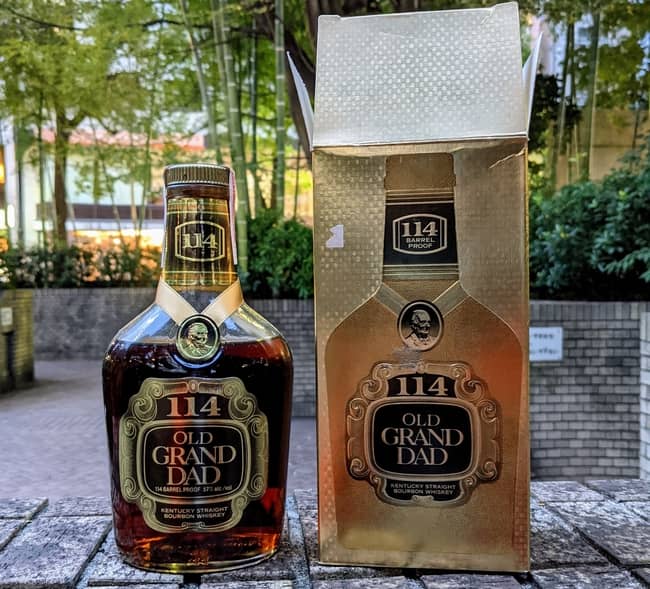 Check out that fill level
Let's find it if this pre-Jim Beam old timer is any good in this Old Grand Dad 114 Lot 17 review.
And before even getting to any actual smelling or drinking, dang that's some dark-looking bourbon. It has an incredible dark red hue within the darkness.
old grand dad 114 lot 17 smell
Whoa, Old Grand Dad 114 Lot 17 starts off with a wall of dry cherry, dense honey, musty and dry oak, toasted vanilla, dried apricot, date, strawberry, old tobacco, roasted coffee beans, more old oak, and licorice.
There's so much dried dark fruit, and this roasty oak and tobacco that's less roasted and more just musty, dry, and fragrant. Imagine jammy fruit in a tobacco rollup. This has an interesting expressive, effervescence, and vibrant personality because the scents really leap out of the glass and I can smell it from a few feet away.
Honestly, I'm struggling to pick out all the nuance buried in this glass.
After swirling and some rest, I smell this odd but awesome dance between dark and dense fruit and effervescent something I can't quite pinpoint. There so much dark and dried cherry, blueberry, apricot, prune, caramel, butterscotch, roasted vanilla, dark old oak, mint, dry tobacco, old dry citrus, and rose.
All these notes have incredible definition and clarity, like going from 1080p to 4K TV. It's super fruity, dark, complex, and entrancing. I often complain about muddled, flat, and/or "blobish" traits, but I can't do that here.
Old Armagnac kind of comes to mind with some of the darkness and fruitiness, but there's this incredible void of darkness (in a good way) that I can't really wrap my head around. Truly, there are moments where I get subtle hints of the earthy, herbal, and rose-y
Kentucky Owl Rye Batch 1
.
With the 57% ABV (probably has changed some over the years), I keep expecting to get overwhelmed, but it remains gentle, refined…and oh so welcoming if you can call it that.
Just wow, wow, wow, wow, what an amazing smelling bourbon.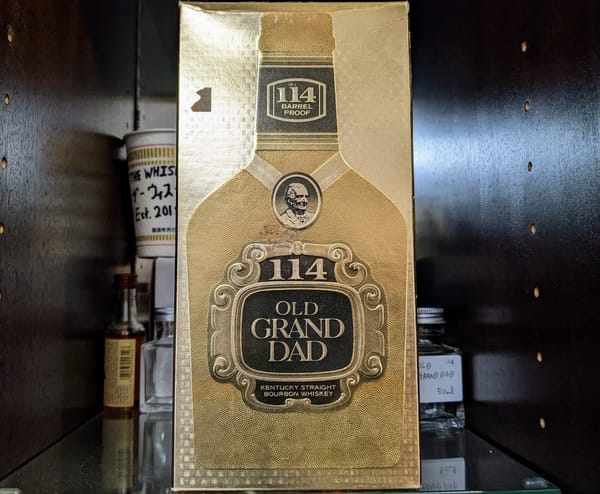 old grand dad 114 lot 17 taste and aftertaste
My first sip comes with a huge rush of dried cherry, honey, vanilla, dry oak, dried apricot, tobacco, dry ginseng, rose, licorice, old oak, gentle barbeque-like char, and chocolate. There's tons of tobacco here, and it's so impressive.
The flavors bounce all over the place, with cherry and honey, flying to oak and tobacco, then herbal licorice, then oak again, then fruit. It just goes on and on with all these deeply fruity and oaky flavors that are utterly immaculate.
After "chewing" I taste a surge of outrageously rich cherry, caramel, butterscotch, dried apricot, vanilla, dry oak, rosemary, tobacco, mint, dry licorice, thyme, and very dark chocolate. There's a distinct earthy and medicinal quality, like dry roots, dry oak, licorice, and tobacco that I've never experienced before.
Actually, I've never tasted a bourbon like this. It's hugely sweet, fruity, oaky, earthy, and tobacco-y all at the same time, which makes me think that it was finished in red wine or Armagnac, although in reality it wasn't.
The finish has a captivating split between dry oak and tobacco, and sweet dried fruit. It's roasted oak, tobacco, smoke, dried cherry, apricot, burnt vanilla, and licorice, lingering into old oak, tobacco, and dry fruit for ages and ages.
After "chewing" the aftertaste is sweet, earthy, and oaky – caramel, cherry, vanilla, dry tobacco, roasted oak, freshly roasted coffee, and chocolate. There's a lingering gentle oakiness, tobacco, smoke, cherry, and even a slight savoriness after a minute or two. And while the earthy oakiness and dryness build, it's always pleasant. It feels like I just smoked a cigar.
If you're shopping on Amazon, support The Whiskey Shelf by shopping through my affiliate link – Shop Amazon. I may earn a commission from your Amazon purchases.
Old Grand Dad 114 Lot 17 Rating

Old Grand Dad 114 Lot 17 is near perfection, if that even exists. I'm still at a loss for words to adequately describe this truly exquisite experience because the more I smell and taste, the more puzzled I become. I can't quite fully wrap my head around it…and I'm not worthy.
Old Grand Dad 114 Lot 17 is just so dense and complex with everything it has: dried fruit (and then even more fruit), black hole-like dark oak (but overly burnt or astringent), tobacco, dry earthiness, and more. It feels like endless depth.
Not only that, everything is so defined and refined. The dried fruit, oak, and everything else feel so vivid, so I have absolutely zero complaints about anything being muddled, "blobish", or dull, like I've found in great bourbon such as
Elijah Craig Barrel Proof
. I'm completely and utterly hooked.
There's something to be said about how approachable it is as well. It may be 57% ABV (likely changed over 30+ years), but it still allows me to slowly try to process and appreciate everything without the alcohol freely wailing away at me like I'm in the ring with Mike Tyson. The near "Glass Case"
George T Stagg from 2015
, as incredibly rich as it was, was often unmanageable because of the heat.
In Old Grand Dad, it's all there waiting for me to discover and enjoy, if I have the ability and patience to do so.
The reason why I finally cracked the lock on "Glass Case" is because it's by and far the best bourbon I've ever had. Incredible fruity and oaky richness and clarity – check. Rich and mature oak – check. Constantly cascading and evolving flavors – check. It has pretty much everything I could ever want, and does all of it to perfection.
The closest modern parallel I can think of is
Joseph Magnus Cigar Blend
, with some qualifications. Take Cigar Blend's dark fruitiness and oak, and then layer on heaping amounts of fruit, oak, and dry herbalness on top of it, and that's Lot 17 to some degree. Even then, Cigar Blend still doesn't come close because Lot 17 is that spectacular.
If I have one critique of this "Glass Case" bourbon, it's that I actually wish it were more viscous. I'm talking a little bit more low end body and oiliness, sort of like what
Blanton's Straight From The Barrel
has.
Like I mentioned already, Old Grand Dad 114 Lot 17 is the best bourbon I've ever had. Bourbons like this don't just magically stroll into your life…until it comes out of nowhere and leave an unforgettable impression. And damn those greedy angels, but I understand why they came back and stole more bourbon after it was bottled. I would do the same.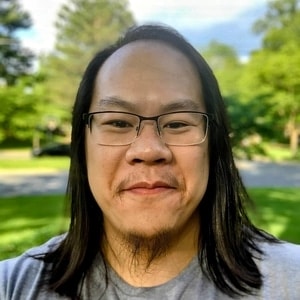 I have far too much fun writing about whiskey and singlehandedly running The Whiskey Shelf to bring you independent, honest, and useful reviews, comparisons, and more. I'm proudly Asian American and can speak Cantonese, Mandarin, and some Japanese.
There are no sponsors, no media companies, and no nonsense. Support The Whiskey Shelf by 
Buying Me A Shot
.
Comments are closed.