Old Forester Single Barrel Barrel Strength Single Barrel BK Miller Review [In Depth]
Old Forester Single Barrel Barrel Strength BK Miller
Old Forester Barrel Strength Details
From the company website:
Consistency, balance, and above all, quality. That's what drove our founder, George Garvin Brown, to seal Bourbon in a glass bottle – and sign his name to it as a personal guarantee – for the very first time way back in 1870. Today, Old Forester remains the distinguished choice for those who appreciate authenticity in their Bourbon. Individuals who wish to share a special place in this legacy have an exclusive opportunity to select a single barrel of Old Forester for purchase and personalization through our unique Single Barrel program.
Old Forester Single Barrel Barrel Strength overview
Old Forester Barrel Proof Single Barrel came onto the scene with a bang in 2020 as the first ever Barrel Proof Old Forester Bourbon, and seemingly everyone wanted a bottle. The fact that it only came as barrel picks further limited its availability. You had to be allocated an entire barrel.
The initial verdict of these barrel picks was generally mixed, as there seemed to be just as many people who loved these as found them to be overly hot and harsh. I got a bottle from the early
wave of barrel picks, coming from Potomac Wine and Spirits
, and was underwhelmed as I found it to be good but missing meaningful richness to be "Top Shelf". It wasn't a great showing for Old Forester's top of the line bourbon. At that point, I considered it one of the most overrated bourbons out there.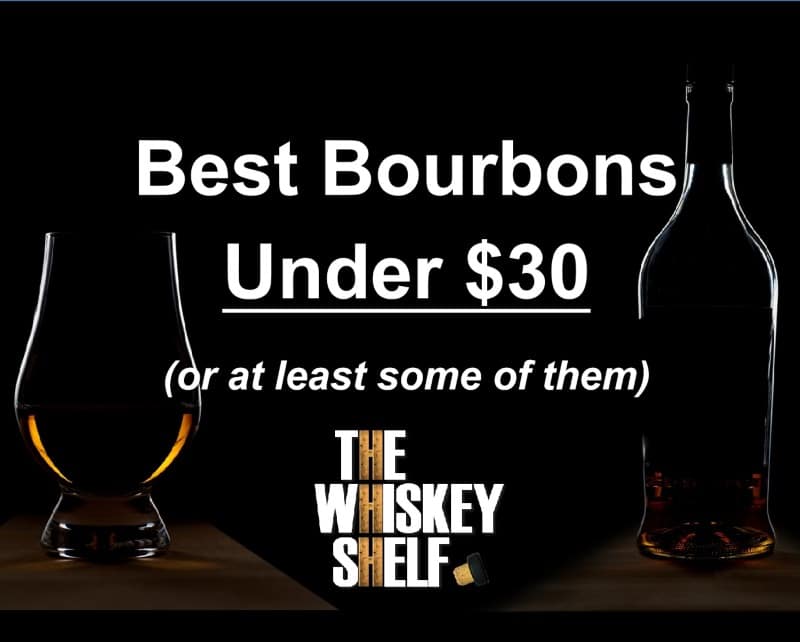 Fast forward to early 2021, and I got the fun opportunity to help pick a barrel of this, coming from warehouse H floor 2. For me, it was clearly the best option of the lot. One of them was really bad too. So fun fact, there is an unofficial The Whiskey Shelf Old Forester Barrel Strength pick out there out with my influence in it but not the name on the label.
From what I've seen, these picks generally range in the 4-6 year range. The barrel we picked was 4 years old, although one option was 6 years old (but not the winner). Old Forester heat cycles their rickhouses to accelerate the aging process, which is why they choose to release these at 4-6 years and not 8-10 years like Heaven Hill does with their
Elijah Craig Barrel Proof Single Barrels (I helped pick one of those too)
.
I'm not the biggest fan of Old Forester going younger yet making it so limited and expensive, but maybe that's their scheme to keep prices and demand high. I don't know how Old Forester gets away with the $80-100 price tag for 4-6 year old bourbon as one of the largest bourbon distilleries on the planet, but that's a hell of a strategy if you can make it work.
That was a bit of a tangent, but nonetheless I set out with 2 others to pick something great. As long as it smells and tastes great the other stuff doesn't matter that much. Let's find out if this is a winner and well-selected barrel in this BK Miller Old Forester Barrel Proof Single Barrel Bourbon review.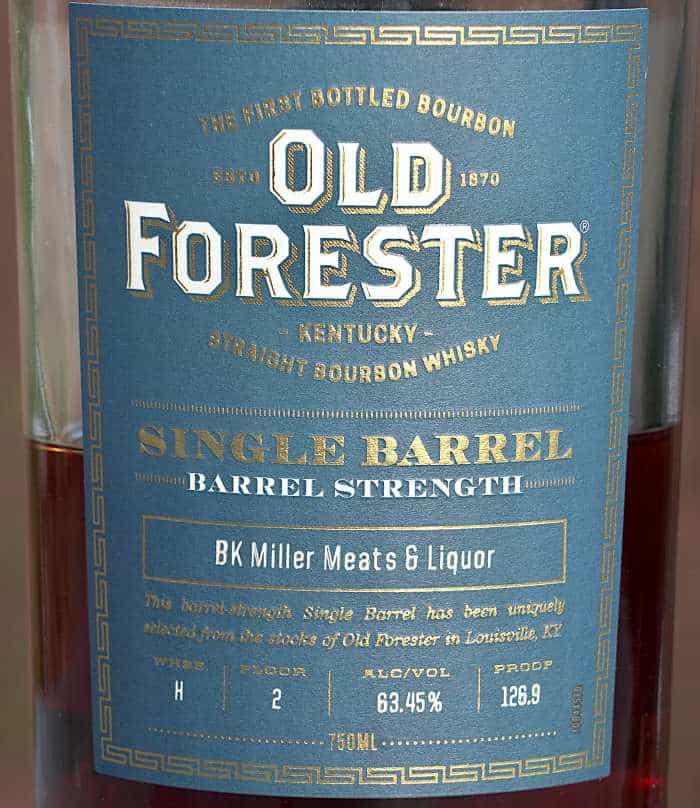 Old Forester Single Barrel Barrel Strength smell
Old Forester Single Barrel has big and bold roasted caramel, roasted banana, roasted oak, dried red apple coated in cinnamon, roasted cinnamon bun, dried cherry, even more cinnamon, a little licorice and earthy caraway seed, and roasted coffee grounds.
It's a dark and dense bourbon that's very caramel and oak forward, but there is some dry fruit in the background for an added layer of complexity. In this case, unlike the newer
Barrell Single Barrel Bourbons (not a big fan of it)
, this isn't overly oaky and dry in a negative way.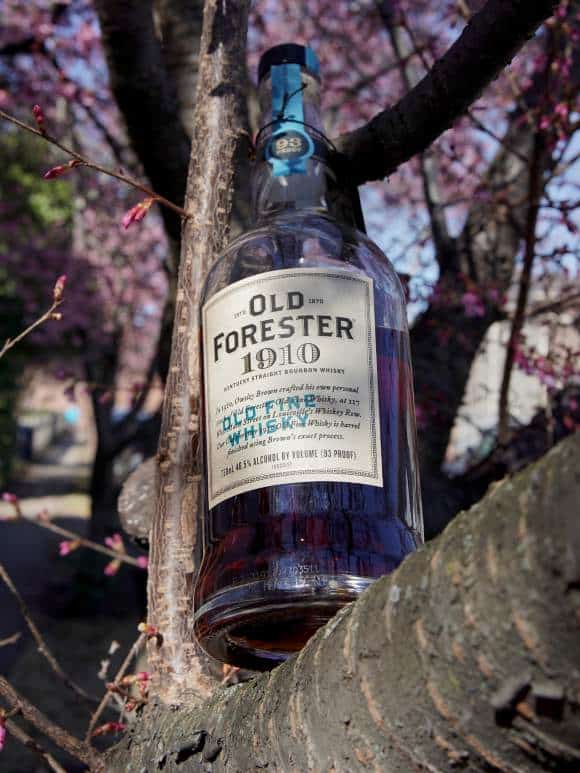 After swirling and 12 minutes of rest, I smell super dense candied caramel (is candied caramel even a thing?) and butterscotch followed by vanilla, roasted oak, roasted banana, a lot of cinnamon, dried red apple and cherry, licorice, butter pecan ice cream, and a little peach and pumpernickel.
This Old Forester Barrel Proof Single Barrel smells great: dense, heavy, rich, and decadent. It's not really herbal or earthy, just super sweet and woody with just enough fruitiness to keep it interesting and not entirely one dimensional.
When I pick bourbons, I always look for ones with great density, and this fits the bill.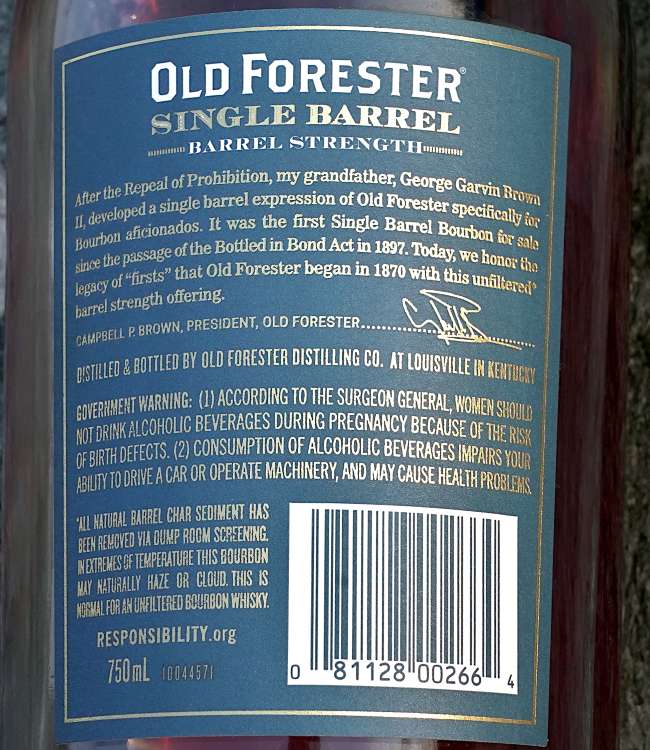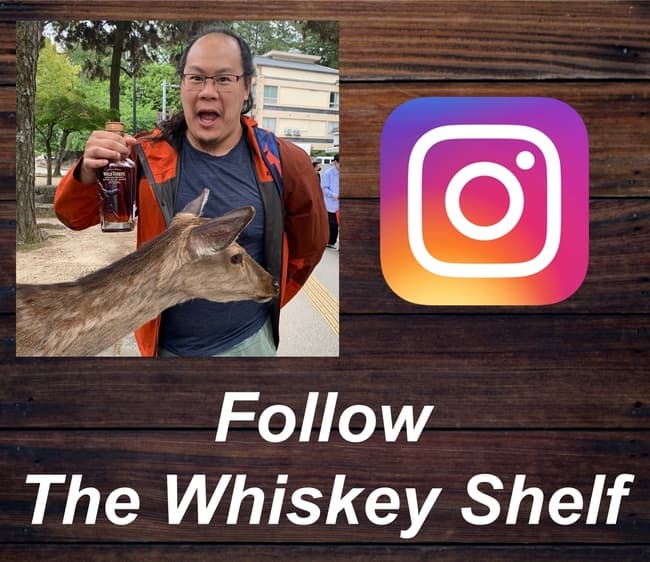 Old Forester Single Barrel Barrel Strength taste and aftertaste
My first sip starts with a huge surge of roasted caramel then dried orange and red apple, roasted oak, tons and tons of cinnamon, licorice, roasted banana, vanilla, and some dried grass, caraway seed, and roasted grains. This is very viscous and oily. My notes may be a little misleading given how long they are, but while this isn't that varied, it is super dense and intense with what's there.
While it's both super sweet and oaky, it's not at all dry and overly woody like the
newer Barrell Single Barrel Bourbons
using MGP sourced 99% corn bourbon. The two get along very well and I'm enjoying it immensely.
With "chewing" I taste dense and oily caramel and butterscotch followed by roasted oak, vanilla, cinnamon, toasted banana, dried red apple and cherry, earthy pumpernickel, roasted coffee, toasted grains, and a little pecan. All that flavor comes rushing out onto my taste buds and it can be intense, although the heat isn't overly strong given the ABV.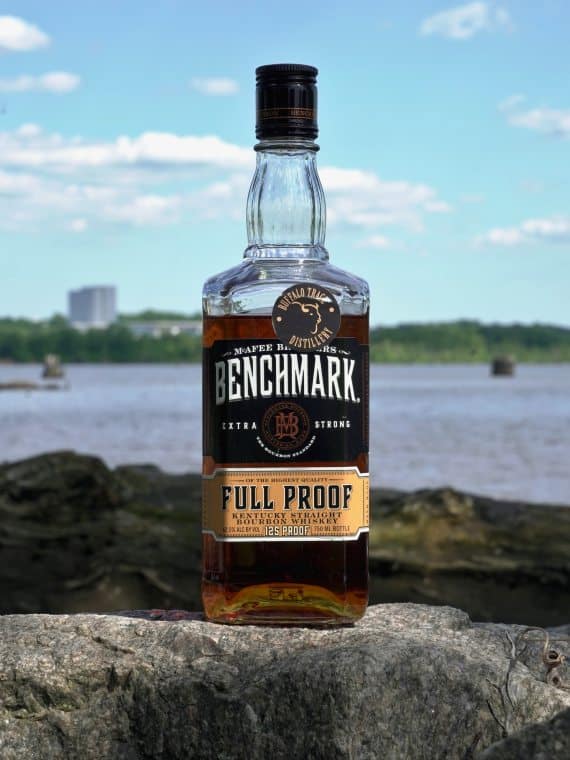 This particular BK Miller Old Forester Barrel Proof Single Barrel has a sweet cinnamon roll vibe that's densely sweet, roasty, and decadent with backing fruit. I drank half of this bottle before reviewing it, but with cleaner senses for this review, I'm surprised how densely rich it is.
At first the aftertaste has roasted caramel, oak, dried red apple peel, cinnamon, clove, drying oil, and roasted coffee. After "chewing" it leaves roasted caramel, banana, oak, cinnamon, pecan, coffee grounds, and pumpernickel. It's a dark, roasty, oily, and intense finish.
This is fantastic. As a side note, this is what I hoped that Barrell Single Barrel Bourbon would be like: bold, sweet, oaky, and somehow generally balanced between all of it.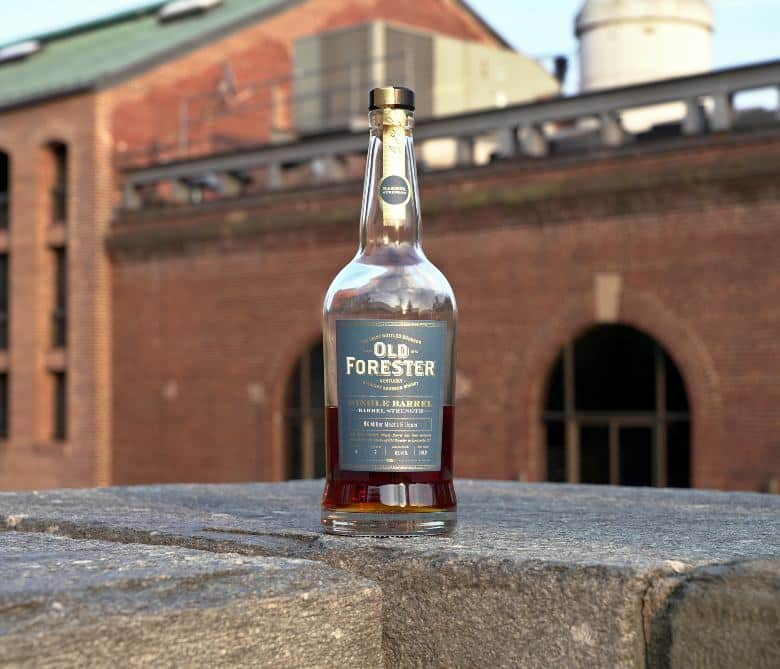 If you're shopping on Amazon, support The Whiskey Shelf by shopping through my affiliate link – Shop Amazon. I may earn a commission from your Amazon purchases.
Old Forester Barrel Strength Single Barrel BK Miller Rating

Take everything I'm about to write with as much salt as you desire because I helped pick this barrel, but know that I am not being swayed by that fact. Truly though, this BK Miller Old Forester Single Barrel pick is well aged and developed with great character. I am proud of what we picked.
It's big, bold, and not that varied, yet still surprisingly well controlled and a little delicate at times. It is more or less what I expect from these picks: a flavor bomb. And years after I helped with this pick, it's fun to look back at that experience (before I moved to Japan) and now review the final result years later.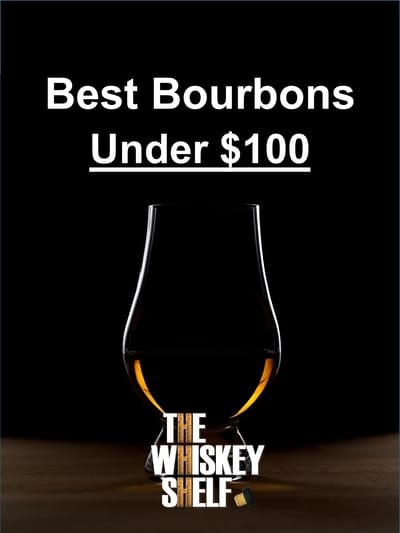 This review is mostly pointless because you most likely won't ever get to try this bottle, but it still provides a general idea of what a good single barrel of this can be like. I've had one before that fell short of "Top Shelf" and heard that some picks were quite bad or average. I still don't have much experience with these picks so I personally can't attest to the barrel variation, but I wouldn't be too surprised if this was an above average barrel.
This pick was sold in 2021 and is long gone, although this bottle has apparently made its rounds on secondary. And you know what, maybe my hidden personal touch made enough of a difference.
I hope it means that Old Forester has improved the overall quality of barrels that are part of the single barrel program, because a bourbon like this gives me a better impression of Old Forester. This particular one is a great expression from the brand, but they're still leaving out things that could make it so much more.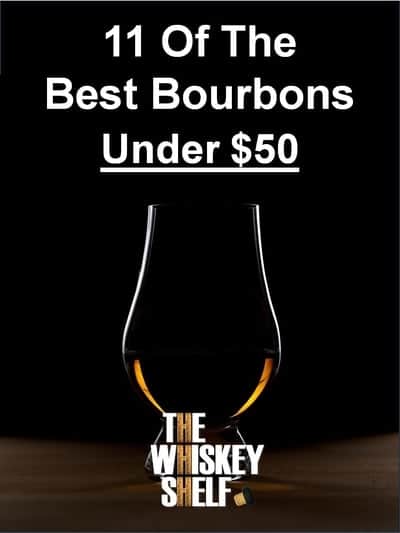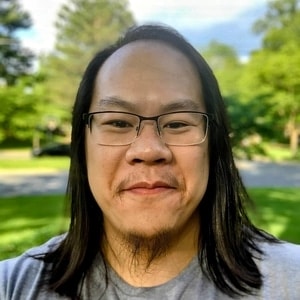 I have far too much fun writing about whiskey and singlehandedly running The Whiskey Shelf to bring you independent, honest, and useful reviews, comparisons, and more. I'm proudly Asian American and can speak Cantonese, Mandarin, and some Japanese.
There are no sponsors, no media companies, and no nonsense. Support The Whiskey Shelf by 
Buying Me A Shot
.