Woodinville Cask Strength Single Barrel Bourbon review [In Depth]
Woodinville Cask Strength Single Barrel Bourbon "Grootinville"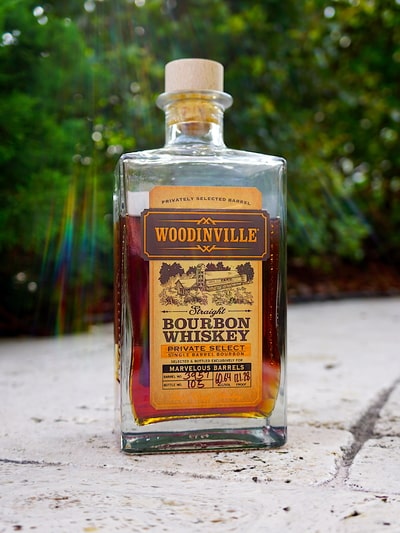 Distillery: Woodinvile
Type & Region: Bourbon, Washington State, USA
Alcohol: 60.64%
Composition: 72% corn, 22% rye, 6% barley
Aged: 5 years
Color: 1.4/2.0 on the color scale (tawny)
Price: $75
From the company website:
"Our Flagship 5 year straight bourbon – straight from the barrel – undiluted and unfiltered."
woodinville cask strength single barrel bourbon overview
Woodinville Whiskey Company is a distillery out in Washington State that makes a range of bourbon and rye whiskeys. While there are a lot of new craft distilleries, Woodinville seems to do a few unique things to differentiate themselves. For one, they also toast the barrel heads for added oak influence, not just the staves. 
Second, they distill their whiskey in the Seattle area and truck it hundreds of miles away to the western part of the state to age, where the weather is hotter and more varied than the more moderate and temperate Pacific Northwest. This is not your normal short jaunt from the distillery to the rickhouse half a mile away.

With a number of standard and other distillery-only releases, Woodinville Whiskey Company also has a pretty robust single barrel program already. At this point, most of these single barrels are around 5 years old. I think some are creeping up to 6 years, but those are few and far between and may be distillery-only releases at the moment. Anyways, I have a Woodinville Single Barrel Bourbon "Grootinville" (barrel 3957), picked by the Marvelous Barrels group that I'm a part of. 
Yes, I did help pick this barrel so you can take everything written afterwards with as much skepticism as you want, but I swear that I've done my best to be as objective as possible. This was also the first barrel pick I ever did. In this Woodinville Cask Strength Single Barrel Bourbon "Grootinville" review, let's find out if the group (including myself) did a good, great, or terrible job picking this bourbon.

woodinville cask strength single barrel bourbon smell
Woodinville Cask Strength Single Barrel Bourbon Grootinville (that's a really long name) starts off with dark and dense caramel and vanilla, followed by earthy rosemary, cherry, slightly funky apricot, baked apples coated in cinnamon, fennel, charred oak, clove, eucalyptus, licorice, and hints of baked bread. This bourbon has a slightly more earthy backbone, which reminds me of a toned-down New Riff Single Barrel bourbon. 
While there still are some gentle hints of grainy youth, it's overall quite dark, rich, and mature. The 60% ABV is also generally well-controlled, showing Groot's more gentle side, but be forewarned because Grootinville needs a lot of air to calm-down, so rushing into it will just lead to unpleasant results.
After swirling I smell very rich caramel, vanilla, maple syrup, milk chocolate, baked apple, cherry, peach, and then slightly more subdued and earthy rosemary, thyme, and fennel, as the sugars come more to the front. Woodinville Single Barrel Bourbon is quasi-MGP-like with the sweet and high rye earthy character, but it's nowhere near as overpoweringly earthy as New Riff Single Barrel bourbon was. 
This has such a nice caramel and fruit denseness to it that few craft bourbons, or really many bourbons, have in it. Shoot, it's so much better than the Old Forester Barrel Proof Single Barrel Bourbon I reviewed. Grootinville's scents are already showing-up what the big boys have to offer.

woodinville cask strength single barrel bourbon taste and aftertaste
First comes dense caramel with nearly equal amounts of rosemary, thyme, apple, and roasted oak, followed by more apple, peach, licorice, and cinnamon. There are hints of a grassy nuttines, but it's nowhere close to what's in Jim Beam or Heaven Hill whiskey. This is a richly sweet bourbon that's quite earthy and fruity, but less herbal. Grootinville also has a very viscous and oily mouthfeel, leaving a lot of drying oils in my mouth in ways that only a few other bourbons do, including George T Stagg and EH Taylor Barrel Proof.
"Chewing" brings sweet caramel with nearly as much rosemary and thyme, apple, peach, pear, and vanilla, then roasted oak, cinnamon, fennel, licorice, black tea, and dried berries. "Grootinville" is apologetically a high rye bourbon – there's a solidly earthy and fruity base that adds a lot of layers I rarely get in craft whiskey, or really most other whiskeys for that matter. The alcohol bites a little, but it's normal for 60% ABV. 
All I can say now is that Woodville Cask Strength Single Barrel bourbon "Grootinville" has rich flavors from top to bottom with dark sugar, dark fruits, brighter herbal character, all-over earthiness and oak, nothing "off" or "too young" for me. It's not super complex yet per-se, but there's still so much flavor stuffed into this that I can't help but enjoy and savor it.

The finish is very oily and slightly drying with honey, rosemary, thyme, roasted oak, very dried apple, cinnamon, fennel, mint, and eucalyptus. This really isn't that far off from EH Taylor Barrel Proof. With "chewing" it starts oily, earthy, and sweet. After a few seconds, this interesting berry, apple, orange, and licorice sweetness appears with the earthiness and oak. This really wraps up a delicious and compelling bourbon.
Whiskey is also for sharing, so I use Vivaplex, 12, Amber, 2 oz Glass Bottles, with Lids for smaller samples and Vivaplex, 12, Amber, 4 oz Glass Bottles, with Lids for larger ones. Full transparency – This is an Amazon affiliate link so I may earn a commission if you buy this or something else. Regardless, I actually use these myself.
Place on the Whiskey Shelf

Even though I helped pick this, I'm still pleasantly surprised how great Woodinville Cask Strength Single Barrel Bourbon "Grootinville" is. It's seriously has no business being just 5 years old when it's outshining so much of what comes out of the major Kentucky distilleries. 
To compare with other craft bourbons I've reviewed (from memory), the 4.5 year old Wilderness Trail Single Barrel Bourbon I reviewed ended up being very good but just slightly underdeveloped, and New Riff Single Barrel bourbon was borderline overpoweringly earthy and a little weird for me so I sometimes had a tough time enjoying it, but Grootinville takes the best notes from both and delivers everything in a rich and intense manner. Again, take everything you're reading with as much skepticism as you want, but I swear that this rating is valid.

At least from my personal experience, while doing a barrel pick I have a hard time fully comprehending just how good a whiskey is when I'm jumping back and forth trying to first sift out the bad ones then pick between a smaller subset of better / great options. At that point, my palate gets tired so I can't quite pick out all the nuance I can when I do a single review with a not worn-out mouth. 
In many ways, this really is the first time I was able to give "Grootinville" my full attention, and it's made such a great impression. Well done Woodinville and well done Marvelous Barrels.

There's a lot of great content to come, so consider supporting The Whiskey Shelf on Patreon. Support here.
Comments are closed.