Still Austin Bottled in Bond Red Corn Review [In Depth]
Still Austin Bottled in Bond Red Corn Bourbon
Still Austin Bottled in Bond Red Corn Details
Distillery: Still Austin
Type & Region: Bourbon, Texas, USA
Alcohol: 50%
Composition: 36% Jimmy Red Corn and 34% White Corn (70% corn in total), 25% Rye, 5% Barley

Aged: At least 4 years
Color: 1.4/2.0 on the color scale (tawny)
Price: $80
From the company website:
For this Summer 2023 release—represented by the heat-loving snake and cactus—we combined the robust nuttiness of Jimmy Red corn with the sweet spice of rye. The result is a summertime bourbon offering creamsicle and black tea scents, followed by a palate of peppermint and marzipan.
suntory hakushu whiskey overview
Fun fact: this is Still Austin's first ever bottled in bond bourbon. To celebrate that, and to explore how different ingredients lead to different results, they decided to do something different: use Jimmy Red Corn, an heirloom corn. They also set the bar high with a fairly pricey ($80) one-time limited release for Summer 2023. It's not a big release in terms of bottle count, but it's a release with a big focus on uniqueness.
You probably already know this but I'll mention it anyway just in case, Still Austin is the Austin, TX based craft distillery making some great whiskey. Their base
Still Austin The Musician Bourbon
is good, and their
Cask Strength Bourbon
is excellent. I highly recommend the cask strength bourbon, so try it if you haven't already.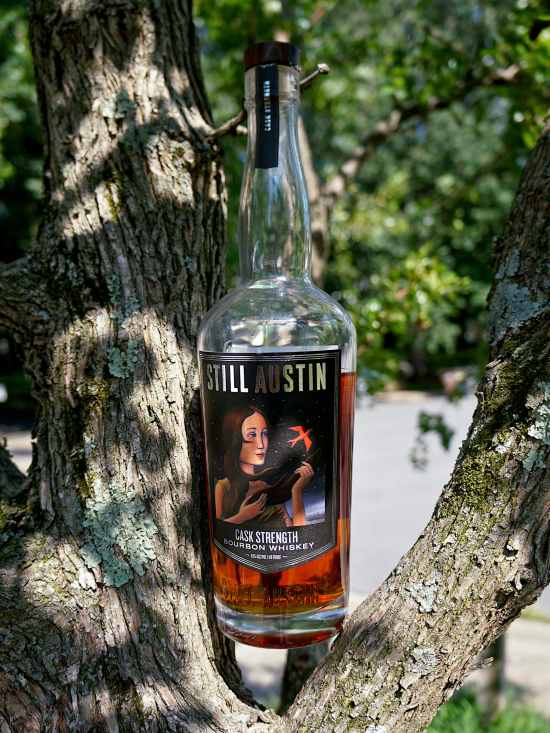 Now the conversation on red corn and price. I'm fairly certain that this is one of their most expensive releases to date, and it's because they used Jimmy Red Corn, an heirloom corn native to the Southern United States. And yes, it is red…very red, and quite different from the yellow dent corn used in most bourbon today. Years back, it apparently was very popular in making moonshine, yet a bit of a hidden secret too to the point that it almost went extinct. You can
read more about the special corn here in NPR's article
. It's worth reading.
This is truly "craft" corn. The plant itself is far lower yield than the usual yellow corn, and it's still grown at a relatively small scale, so there's way way way less of it. As a result, less availability means more expensive, although the expectation is that the corn makes a meaningful difference in the bourbon. They didn't only use Jimmy Red Corn, but a little more than half of the corn used is that. Funny enough, the white corn is also unique, but the focus isn't on that. FYI, that white corn comes from Texas.
As for the age, I couldn't get a straight answer, just that it's at least 4 years old since it's bottled in bond. I wish I could get a straight answer on X years and Y months, but I guess it's not happening. Using what I know, I think it's most likely 4 years and some months old and not quite 5 years old.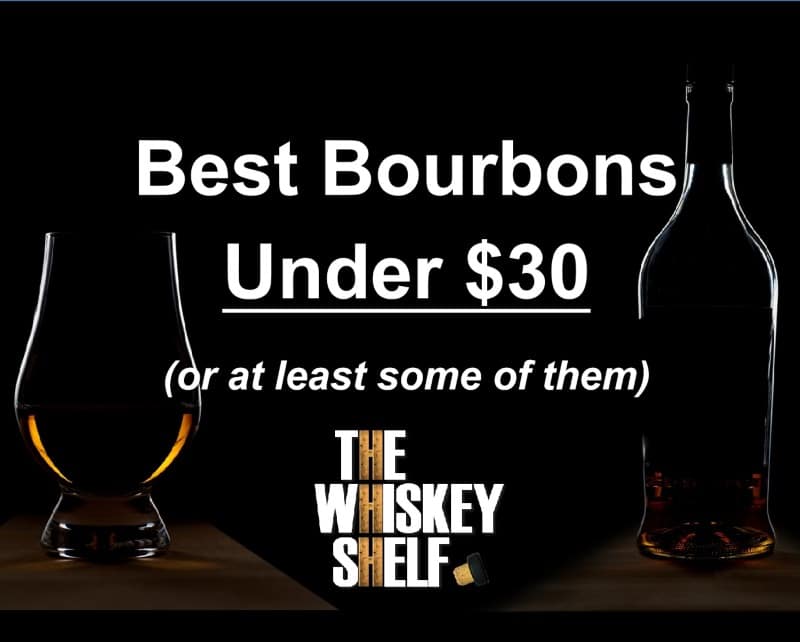 Since this was released in Summer 2023 and I think that some of Still Austin's bourbon is just starting to reach 5 years old, I suspect that this is most likely less than 5 years old. Regardless, the 3-4 year old Cask Strength bourbon is "Top Shelf" for me already, so the relatively young age isn't a deal breaker for me.
Let's find out more about Still Austin's first ever bottled in bond bourbon in this Still Austin Red Corn Bottled in Bond bourbon review.
Thank you to Still Austin for providing this bottle. All opinions good, bad, amazing, or terrible are still my own.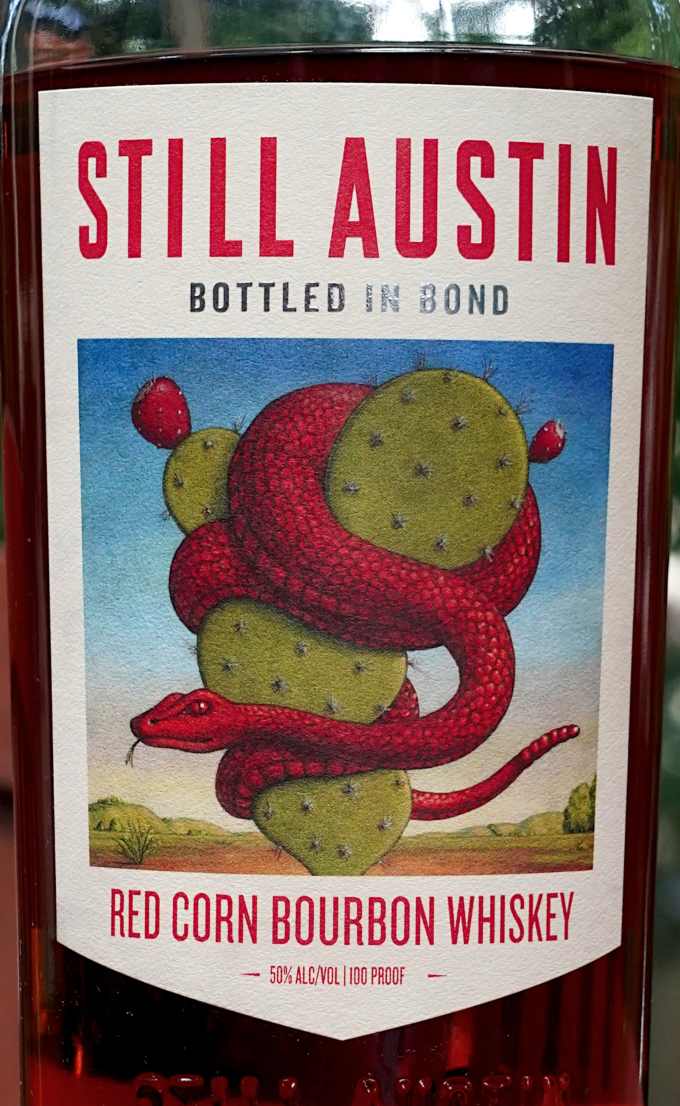 Still Austin Bottled in Bond Red Corn smell
Still Austin Red Corn Bottled in Bond starts with dense candied caramel, caramel nougat, maple syrup, mocha coffee, maraschino cherry, vanilla, oak, red apple peel, heavy cinnamon, licorice, sweet bread, ginger, pine, and a little earthiness. Man, there's a lot going on here.
There are brief moments where I smell a similar medicinal earthiness like New Riff Winter Whiskey, which uses various types of barley (malted and un-malted) in the mash. There's also a distinct graininess that's something like stewed grains or bread being baked, not to mention a unique mocha sweetness that I get with Still Austin bourbons. It's not a youthful graininess, so that's fantastic. It's also not that oaky either, which I'm always a fan of.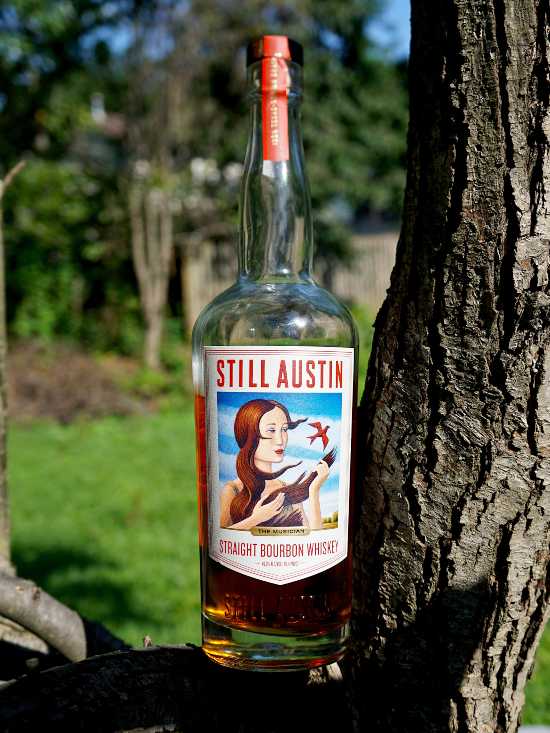 After swirling, I smell dense caramel and maple syrup sweetness with some roasty and earthy mocha, roasted oak, cherry, vanilla, earthy pine, cinnamon, candied ginger, apricot, and this sweet bread coated in syrup vibe. This is the same mocha note that's in Still Austin Bourbon and Cask Strength, and it's great.
Sweetness prevails here, but with a little more earthy oakiness and spice, and a little less fruit. Still, there's enough fruitiness there that I don't feel like it's missing. I'm a sucker for fruity bourbon, but it's not a problem here. That said, there's a really nice round sweetness that's actually quite uncommon. The scents feel mature, rich, and layered beyond its years, and it's one of the better and unique-smelling bourbons I've had lately.
Still Austin Bottled in Bond Red Corn taste and aftertaste
First, I taste caramel, maple syrup, maraschino cherry, orange, roasted oak, cinnamon, clove, mocha, red apple peel, pumpernickel, ginger, sweet corn, and toasted whole grains. Still Austin Red Corn Bottled in Bond tastes very good, with flavorful dark sweetness followed by oak, fruit, and spice. It's balanced and varied.
At the same time, the 100 proof starts to show with the not quite as expressive and round flavors as compared to the scents. I think the younger-ish age is a factor too. Nonetheless, this easily drinks like an 8-10 year old bourbon with far more maturity than it has any business having.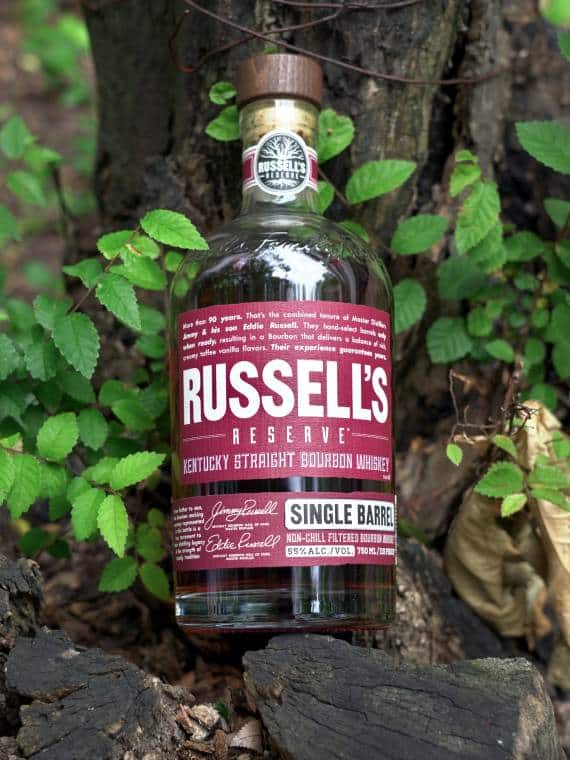 After "chewing" I taste dense caramel and maple syrup followed by cherry, vanilla, mocha, roasted oak, cinnamon, pine, ginger, red apple peel, and sweet cornbread. Still Austin Red Corn Bottled in Bond has a lot of sugar sweetness up front, and "chewing" opens up more oak and spice, while not overpowering the fruit.
The finish initially leaves slightly sticky caramel, mocha, roasted oak, cinnamon, cherry, pine, and ginger.
After "chewing", it leaves maple syrup, vanilla, roasted oak, cherry, cinnamon, orange and apple peel, ginger, earthy and sweet mocha, and…dried seaweed (?). Yeah, that one's really strange, but there's a certain savory character. Put together, it has a nice finish that brings a little more oakiness and roastiness to the experience.
There's a little more body than before, but the viscosity still feels fairly average. It makes up for it with a great range of delicious flavors that show a lot of maturity. I just wish that it was a little more pop and vibrance, but it already drinks far beyond its age.
I've unfortunately lost some Glencairn's while in transit, and that made me very sad. So, I wised up and bought this Glencairn Travel Case that comes also comes with 2 glasses so I don't need to worry so much about them breaking. I think it's great, and I think you'll love it too.
Seriously, if you already have glasses, protect them.
Still Austin Bottled in Bond Red Corn Bourbon

If you know Still Austin, I think you're already trying to get a bottle. Now that I've reviewed it, I'm sold on it too, although I have the luxury of getting a free bottle. Nonetheless, this is another big win by Still Austin and I'm impressed how they continue to release relatively young bourbon (4-5 years old) that drinks more like 8-10 year old bourbon. It's nuts, but the proof is in the drinking experience and this is "Top Shelf" bourbon.
That brings up the question of what Jimmy Red Corn does. I still can't say for sure, but I guess it brings more maple syrup sweetness, and possibly more sweetness overall. At bare minimum it makes the bourbon better. I still might prefer Still Austin Cask Strength by a little bit because the added ABV brings everything out even more. Who knows, maybe a cask strength version of this might come out in the future, and that would be fantastic.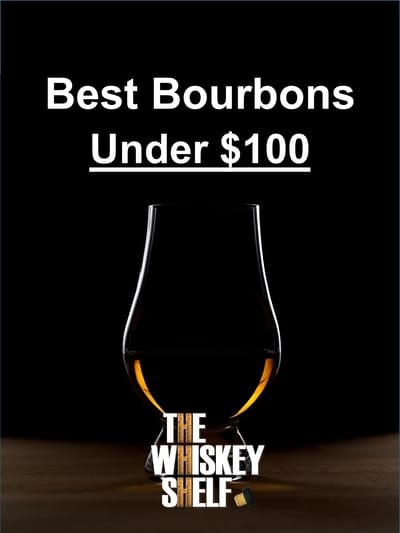 The crazy thing is that bourbon this young (again assuming it's 4-5 years old) often has some clear shortcomings. I have especially not been shy with my criticism of young but expensive bourbon. There's often more graininess and thinness, a lack of fruitiness, and an overall lack of maturity and character that makes it feel like a cash grab. This more or less avoids all of it, and offers a compelling and unique experience that impresses even me. It's the kid who graduated from college at 15 years old…way ahead of its time.
Sure, there are things I wish could be different / better. Out of everything, I wish the flavors were more like the incredible scents. The scents are "chef's kiss" with impressive expressiveness and layers that outdo so many other bourbons out there today, but the flavors aren't quite as rich and expressive. I wish the flavors had a little more body and pop to maximize the masterful aging and blending. It's not that the flavors don't have it, but a little more would have made it that much more interesting.
Still Austin is a distillery to watch (if you aren't already), because they are crushing it. If you're trying to find a bottle, know that I approve of it. It's pricey, but it just might be worth it.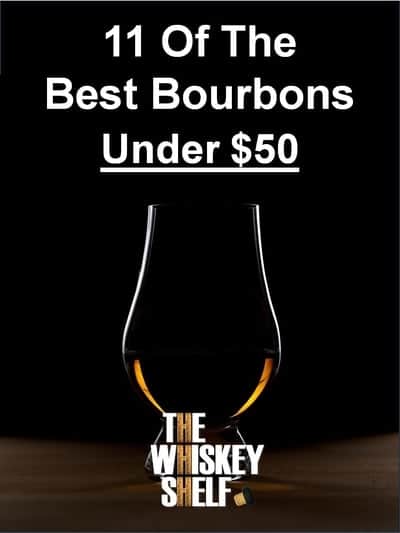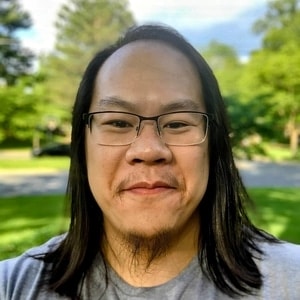 I have far too much fun writing about whiskey and singlehandedly running The Whiskey Shelf to bring you independent, honest, and useful reviews, comparisons, and more. I'm proudly Asian American and can speak Cantonese, Mandarin, and some Japanese.
There are no sponsors, no media companies, and no nonsense. Support The Whiskey Shelf by 
Buying Me A Shot
.