weller antique 107 review
Booker's Kitchen Table (2018-04)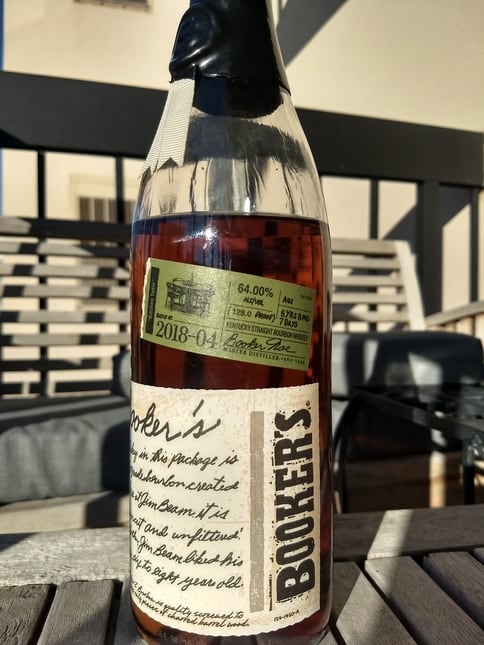 Distillery: Jim Beam
Type & Region: Bourbon, Kentucky, USA
Alcohol: 64%
Composition: 75% Corn, 13% Rye, 12% Barley
Aged: 6 years, 8 months, 7 days in virgin American white oak
Color: 1.3/2.0 on the color scale (russet, muscat)
Price: $48 (750mL) because Costco is great, usually $55-80
From the Booker's website:
"The fourth and final batch of Booker's Bourbon for 2018 is called 'Kitchen Table,' named after one of my dad's favorite places. There, Dad liked to read the newspaper, tinker with his projects, and notably, it's where he gathered our family and friends to help him select batches of his namesake whiskey. It's special for me to name this batch after a place that was so important to Dad and the creation as we know it today."
Booker's Kitchen Table (2018-04), part of Jim Beam's line of small batch bourbons including Knob Creek, is the fourth and final normal release of 2018 (excluding the 30th anniversary release). Each batch is given a different name, in this "Kitchen Table", to commemorate something important to the master distiller or the company. Compared to the rest of the small batch line, Booker's has 2 main differences: 1) it's always bottled at cask strength, and 2) some details are provided as to what barrels go into the blend. As a result, each batch can vary. 
Per the Booker's website and the card that comes in the product box, "Kitchen "Table" is "made from barrels produced on three different production dates and stored in six different locations. The breakdown is as follows":
 – 7%: 4th floor of 9-story warehouse E
 – 14%: 5th floor of 9-story warehouse E
 – 4%: 6th floor of 9-story warehouse E
 – 24%: 5th floor of 9-story warehouse J
 – 44%: 6th floor of 9-story warehouse J
 – 7%: 6th floor of 9-story warehouse D
I expect a surge of intensity and heat, but it never comes. Booker's Kitchen Table is surprisingly delicate yet rich and deep with vanilla buttercream, honey, flowers, and lightly charred wood followed by moderate amounts of dried cherries and cranberries. The Beam woody and nutty "funk" is very present and combined with the honey turns into honey roasted peanut butter. There's also a light breadiness with cinnamon, nutmeg, and cloves, as well as musty corn and wood. The alcohol ebbs and flows, but overall is docile for its age and proof. The alcohol is there but it doesn't try to punch me in the face.


Swirling releases both musty and freshly cut wood with peanuts, dried dates, grapes, and cocoa, as if it were briefly finished in port or sherry. Moderate amounts of vanilla and maple syrup blend together into vanilla cake frosting on cornbread topped with peanuts. Interestingly, there's also a fruity and floral tea blend of cherry, peach, and apricot, characteristic of bourbon-aged Scotch. It's a very complex nose that constantly evolves. It may be young, but it's refined and deep, not brash and wild.
Booker's Kitchen Table introduces itself with warm cherries, brown sugar, vanilla, wood, and nutmeg all wrapped in a thin slice of cornbread. The alcohol is more noticeable but it never takes over the drinking experience. Booker's is not gentle by any means, but it doesn't hammer me like Stagg Jr does. "Chewing" brings out a rush of nuts with some honey, vanilla, and grass, like honey roasted peanut butter on whole grain bread. Beneath the nuts are freshly dried wood, cocoa, cinnamon, and clove. Even with the nut and wood-forward flavors, I also taste a gentle fruit salad of cherries, grapes, peaches, and spice that bounce back and forth in my mouth. The nose's light and sweet white-tea fruits, flowers, and sugars also appears on my tongue.
Booker's Kitchen Table finishes with a gentle honey sweetness and woodiness sprinkled with mint. Chewing brings out a stronger alcohol tingle with nuts, honey, and wood bitterness like an oaked dry red wine or aged sherry. The flavors overall are just so deep, complex, and interesting.
Place on the Whiskey Shelf

Booker's Kitchen Table is complex and flavorful yet delicate and balanced, definitely a "Top Shelf" bourbon. It's an absolute steal at $48 after tax (thanks Costco) and is still a great buy at $55-60. While Booker's may be comparatively young, it holds its own against older "Top Shelf" bourbons such as Stagg Jr (8-9 years), Four Roses Single Barrel Private Selects (9-11 years), and Elijah Craig 12 Barrel Proof.  Booker's is also noticeably different than Knob Creek Single Barrel, but that's for later. I highly recommend Booker's Kitchen Table 2018-04 as part of your shelf.