Bardstown Bourbon Company Origin Rye Review [In Depth]
Bardstown Bourbon Company Origin Rye
Bardstown Bourbon Company Origin Rye Details
Distillery: Bardstown Bourbon Company
Type & Region: Rye, USA
Alcohol: 48%
Composition: 95% rye, 5% malted barley
Aged: At least 5 years and 8 months
Color: 1.4/2.0 on the color scale (wany)
Price: $70
From the company website:
A celebration of innovation, our rye whiskey is finished in hybrid American oak and cherry wood barrels for up to 6 months. Alternating cherry wood and oak staves toasted to custom specifications in the second finishing barrel, provide this 95% rye with unique bursts of flavor and represents the best of our collaborative, creative spirit.
Bardstown Bourbon Company Origin Rye overview
Bardstown Bourbon Company Origin Rye is the first homemade rye whiskey ever released by the well-known Kentucky distillery. Unlike the two bourbons released alongside the rye, we never got to try it in the various Fusion releases…well unless it ended up in someone else's sourced release. Unless that's the case this is truly the first time that people will get the chance to try their rye under their label.
This being the third review of Origin series whiskey, I've noticed the trend of Bardstown Bourbon Company utilizing the same grain ratios for their own distillate. The rye'd bourbon (60% corn, 36% rye, 4% barley) is the same as MGP's extra high rye, and the wheated bourbon (68% corn, 20% where's, 12% barley) is the same as Heaven Hill's wheated bourbon.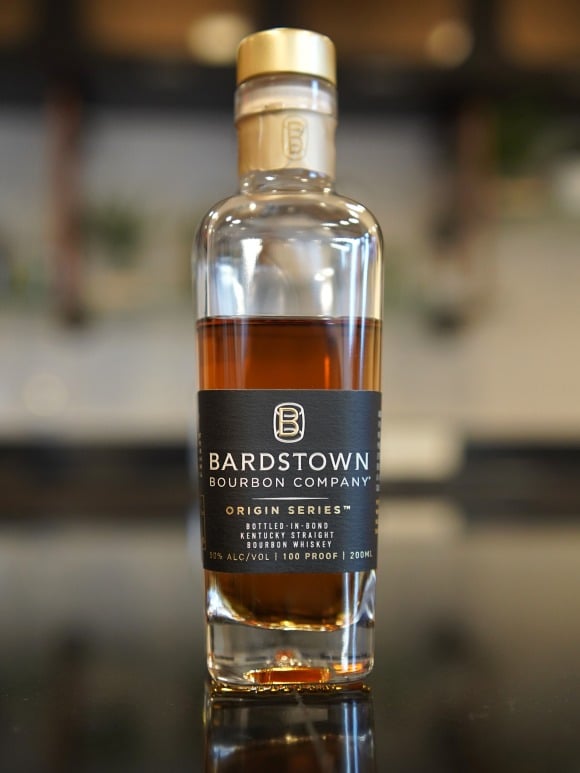 This time, their rye whiskey mashbill, 95% rye and 5% malted barley, is exactly the same as MGP's widely used rye whiskey mashbill. Seemingly anyone who has ever sourced rye has used that 95/5 rye at one point or another. It is ubiquitous with rye whiskey. I guess Bardstown Bourbon Company didn't want to fix a tried and true formula from MGP.
Shoot, they even use that 95/5 Indiana Rye in their
West Virginia Great Barrel Company rye
, plus some 12 year old Canadian corn whiskey for good measure. You could say that they're re-imagining these mashbills. This isn't a knock because they're still distilling and aging it themselves. It's more a fact to mention for your reference if you already didn't know that.
On the topic of the West Virginia Great Barrel Company rye, the Origin Rye is also finished in special barrels made up of cherry wood and oak staves. On paper, this looks like the Jr version of that collaboration rye that's less than half the price (the collaboration is $160). The initial collaboration release then may have been the grand unveiling of their relationship with WV Great Barrel Company.
Let's uncover where their first-ever all homemade rye whiskey has to offer on this Bardstown Bourbon Company Origin Rye review.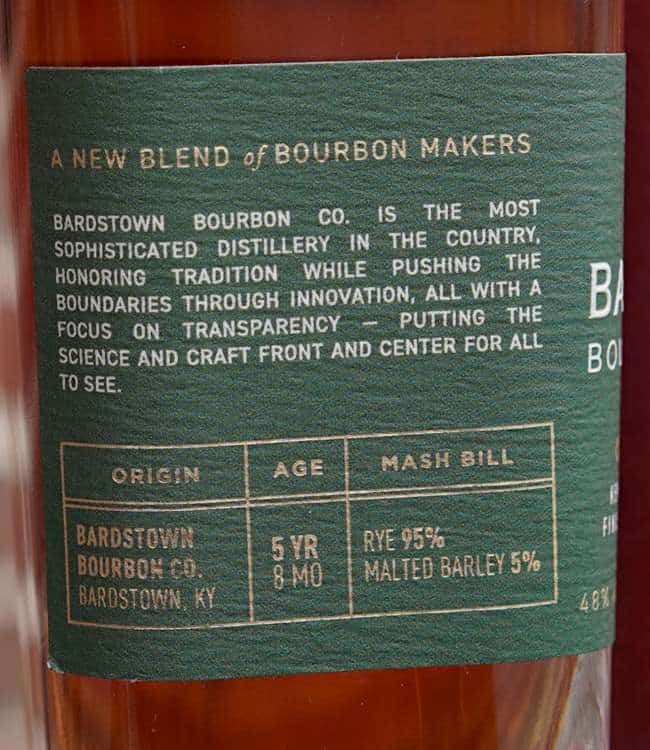 Bardstown Bourbon Company Origin Rye smell
Bardstown Bourbon Company Origin Rye has a lot of herbal honey, fennel, candied cherry and orange peel, and dried apricot wrapped up in earthy pumpernickel, black tea, roasted oak, clove, and cinnamon. The scents are herbal and fruit forward with slightly less-forward earthiness that smells well balanced.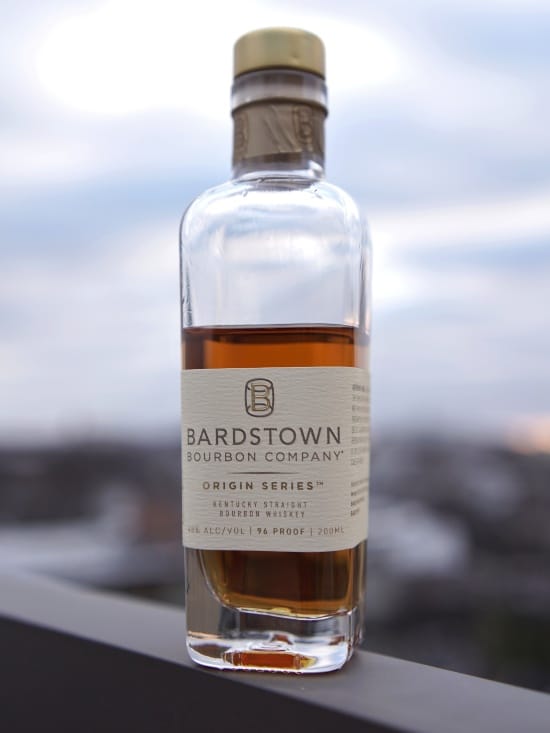 To no surprise, this smells a lot like the West Virginia Great Barrel Company rye with that same focus on concentrated candied fruitiness and herbalness, but at half the price. The density and expressiveness are surprisingly there given the proof and age, especially with the herbal and candied sweetness and fruitiness. I'm not saying that it's anywhere close to its more expensive relative, but I get the same idea.
After swirling I get similar herbal honey, candied cherry, and licorice, but now I get a little more earthy pumpernickel and dried oak, then bubblegum, mint, orange peel, dried pineapple, and dried lemon. It still smells great with a lot of herbal, fruity, and vibrant rye character that provides variety and brightness.
The denser scents really benefit from the additional finish, firming up the fruitiness and providing extra depth.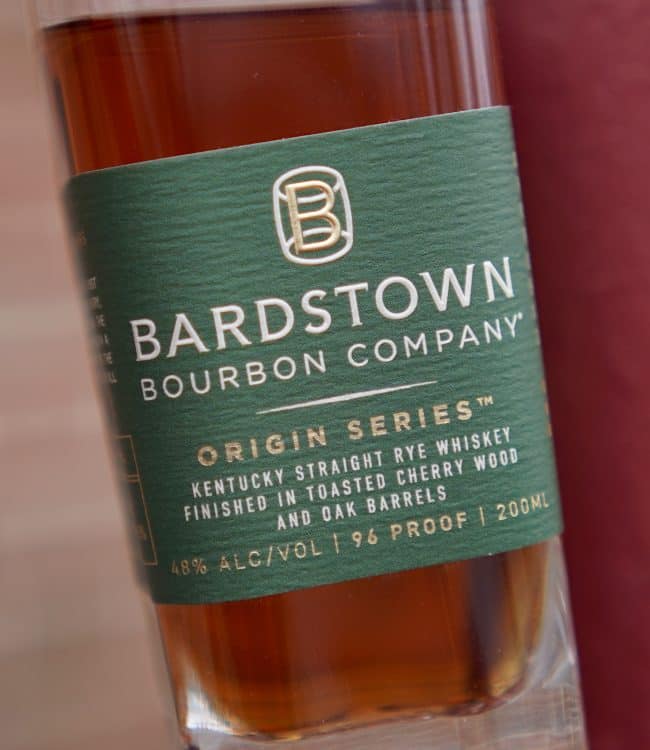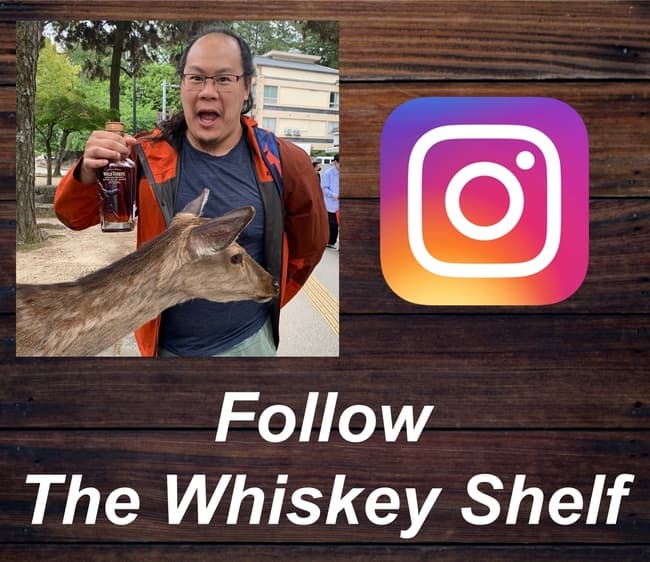 Bardstown Bourbon Company Origin Rye taste and aftertaste
My first sip has herbal honey, candied cherry, black tea, roasted oak, fennel, earthy caraway seed, orange peel, vanilla, lightly bitter oak, bubblegum, mint, and toasted grains. The flavors have solid density and pep that's herbal, sweet, and fruity. At the same time there's a bigger surge of dry earthiness, oakiness, and bitterness that throws off the balance enough to feel a little out of place. This is where I think the younger-ish rye comes through and makes it feel less put together.
Bardstown Bourbon Company Origin Rye unabashedly tastes like rye whiskey, so that should immediately help you understand if this is something you might like.
With "chewing" I get herbal and earthy honey, licorice, candied cherry, earthy caraway seed, dried oak, clove, cinnamon, orange peel, mint, bubblegum, and a little caramel nougat. I get more Juicy Fruit gum now too. "Chewing" pulls out more dry earthiness, which thankfully is mostly buffered by the denser herbal and fruity character that also comes out with the agitation. I still don't love it though.
The finish eases into earthy and herbal honey, bubblegum, pumpernickel, licorice, mint, dried oak, clove, and cinnamon. It's still noticeably dry and earthy, but less so than the flavors are.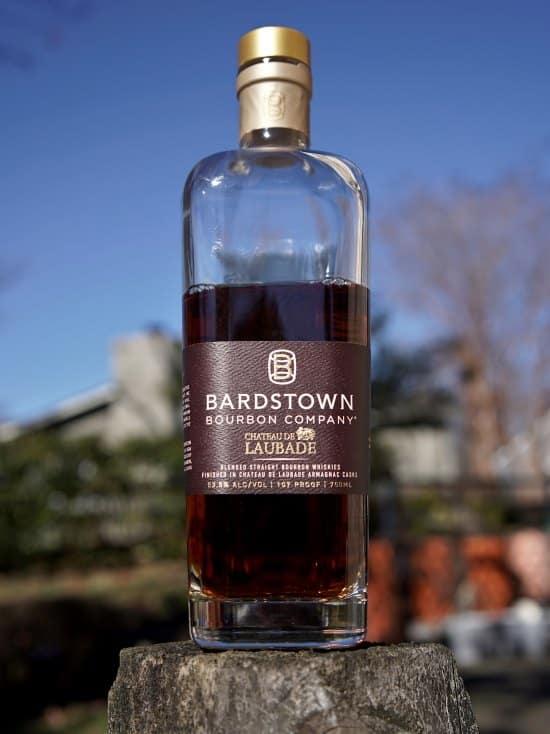 After "chewing" there's honey, fennel, caraway seed, oak, dried pineapple, lime, cinnamon, and bright and lightly spicy peppercorn. The peppercorn sensation really sticks out to me, and this isn't some made up bullshit. Believe me, I've even eaten a raw peppercorn off a tree (in Japan), and I'll never forget it. The peppercorn in the finish isn't nearly as intense as that, but there are elements of it that feel similar – everything but the numbing sensation.
That mix of freshness, brightness, and Juicy fruitiness with the contrasting darker earthiness, oakiness, and spiciness is nice. While it mostly tastes great, I honestly have some reservations about "Top Shelf", although I will say that it's close. The slightly overdone earthiness and dryness don't completely click with me.
If you're shopping on Amazon, support The Whiskey Shelf by shopping through my affiliate link – Shop Amazon. I may earn a commission from your Amazon purchases.
Bardstown Bourbon Company Origin Rye Rating

Oh man, Bardstown Bourbon Company Origin Rye is so close to "Top Shelf". There is a lot to enjoy, especially the dense, tropical, and vibrant fruitiness that remind me so much of the
West Virginia Great Barrel Company Collaboration Rye
, which I rated "Top shelf+". Then again, both are super high-rye rye whiskey finished in cherry wood, but the the different blends, ages, and barrel selection make all the difference.
You don't see the numerical score I have, but this got the highest rating of the 3 homemade whiskeys I reviewed.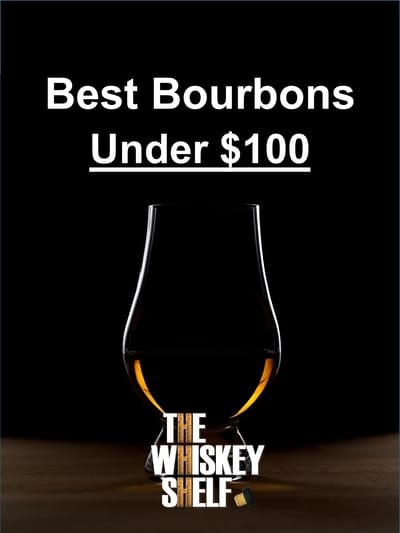 My reservation is with the earthiness, which throws off the balance of the whole experience. Earthiness itself isn't an issue, but this time it sticks out in a way that feels strange and brings marginally undesirable contrast that feels a little out of place. Otherwise, the viscosity is there and I enjoy it.
As for the price, I recognize that $70 is a lot to ask, but at the same time I get why the price is that way. The 5 year 8 month old homemade rye would probably cost $50ish on its own, and I imagine that those custom cherry wood and oak barrels used to finish the rye are not cheap either. The end result still works out really well. Plus, all the finished rye whiskeys from Sagamore Spirit, around 4-5 years old + long finishes, cost about the same anyways, so it's not an outlier.
If you couldn't justify spending $160 on Bardstown Bourbon Company West Virginia Great Barrel Company because it's really expensive, consider this to be the baby / Jr version. It's not quite as good, but there are similarities with the nice herbalness and candied fruit so you'll get a sense of what the super-premium version is like. Overall, this a delicious first release.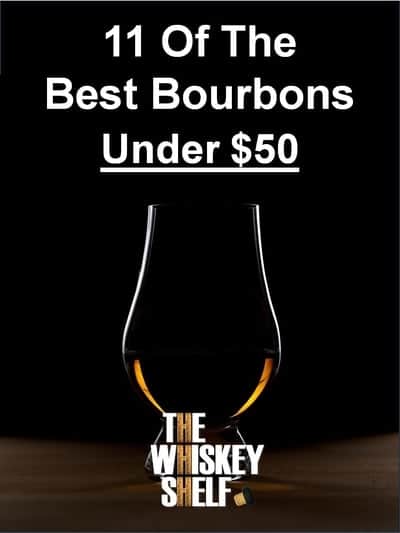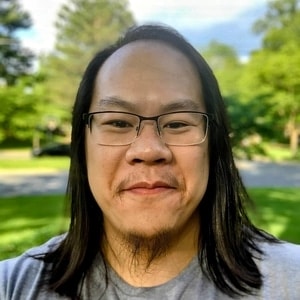 I have far too much fun writing about whiskey and singlehandedly running The Whiskey Shelf to bring you independent, honest, and useful reviews, comparisons, and more. I'm proudly Asian American and can speak Cantonese, Mandarin, and some Japanese.
There are no sponsors, no media companies, and no nonsense. Support The Whiskey Shelf by 
Buying Me A Shot
.