Old Grand Dad 114 Bourbon Review [In Depth]
Old Grand Dad 114 Bourbon
Old Grand Dad 114 Bourbon Details
old grand dad 114 bourbon overview
The Old Grand Dad line of bourbons, distilled and sold by Jim Beam, is Jim Beam's line of high-rye bourbon, used in Old Grand Dad 80 proof, Old Grand Dad Bottled in Bond, Basil Hayden's, and Old Grand Dad 114 Bourbon, the focus of this review.
The main differentiating factor for Old Grand Dad 114 Bourbon among other Old Grand Dads is the higher 57% ABV (114 proof, hence the 114 in the name), whereas the others are 50% or lower. This is also often lauded as a great "budget" or "affordable" bourbon, although I'm not that familiar as to why since this is the first time I've ever had this bourbon. Still, it's always a good thing to hopefully find a tasty and affordable bourbon
There's a long history behind the man's name and the brand itself, but I don't want to pretend an expert in any of that. If you're here, I'm guessing you want to learn more about the whiskey itself, and I recommend that you go elsewhere for the background on the brand. I can mention that for Jim Beam, high-rye means 27% rye instead of the usual 13% rye used for Jim Beam, Knob Creek, and Booker's.
Before I get into the review, I might as well mention the fun fact that I bought a sample of this from a resell store in Tokyo, so I didn't actually buy a whole bottle. And yeah…resell stores are a legal thing in Japan. They focus primarily on re-selling unopened bottles (often older) that they buy from people looking to sell their unopened whiskey, so they are often the place to find those old bottles you've been searching for. These stores also have some open bottles to sell samples, so I took advantage of that.
That said, let's uncover more about this bourbon and whether I think it makes a great "affordable" one too in this Old Grand Dad 114 Bourbon review.
As an FYI, I bought and use these Glencairn glasses for my reviews and comparisons (because they're the best): Glencairn Crystal Whiskey Glass, Set of 6, Clear, 6 Pack. Full transparency, this is an affiliate link, so I may earn a commission if you buy this or something else from Amazon.

old grand dad 114 bourbon smell
Old Grand Dad 114 launches out of the gate with dry, grassy, and slightly nutty caramel with a lot of dry oak, dried ginger, rosemary, toasted bread, vanilla, dried orange peel, sweet corn, dried cinnamon, and a little licorice and pineapple. It comes off quite dry and earthy, but the added ginger creates this toasted gingerbread vibe. 
And there is some bite, but it's pretty normal for 57% ABV. I'm also noticing fairly quickly that this smells quite young because there's a lot of dryness without as much underlying sugar and fruit richness and heft. Still, it smells pretty good so far.

Swirling really livens up the dry, nutty, and ginger-y oakiness that's toasted caramel and vanilla, a lot of dry oak, grass, and nuts, then vanilla, rosemary, orange, cherry, a lot of cinnamon, and lighter licorice. Every now and then I get stronger scents of crushed peanut shells and what might be a drop of maple syrup. 
Old Grand Dad 114 is quite dry, nutty, earthy, and ginger-y, and those dry and earthy scents without enough sweetness suggest that it's not quite mature enough yet. To wrap up the scents, Old Grand Dad is not quite outstanding because it lacks developed sweetness, but it's certainly not bad or unpleasant.

old grand dad 114 bourbon taste and aftertaste
The flavors start off with earthy and dry caramel, rosemary, vanilla, dried ginger, roasted oak, dry and grassy nuttiness, more dry oak, and cinnamon. If you couldn't tell already, this is quite dry, earthy, nutty, and spicy. That grassy nuttiness is unmistakably Jim Beam, moreso than most other Beam bourbons. The ABV is just about right for what it is. 
"Chewing" gives me the same earthy and dry caramel mixed with rosemary, ginger, vanilla, licorice, and roasted oak, then cinnamon, dry and grassy nuttiness, toasted peanuts, and maybe a hint of orange and apple. I do get this nice dry gingersnap cookie thing as well, but Old Grand Dad 114 really isn't all that sweet or fruity. The bite isn't bad at all for 57% ABV, so that's good. 
Let me say it again, Old Grand Dad 114 Bourbon is dry, grassy, nutty, and earthy. I mean it's so noticeably nutty (but not overpowering) that it could be the nuttiest Jim Beam bourbon I've ever had. It also leaves this slightly sticky and drying sensation in my mouth that could be oils or even just that black tea sensation, but I wouldn't call it all that viscous or oily. 
At the end of the day though, the flavors are straightforward and not particularly interesting. They taste fine, but lack any real punch in a way to make it that interesting. Now if I were going to use this in a cocktail, I bet it would be great in a ginger and/or cinnamon-focused cocktail.

The finish continues to be dry, grassy, and nutty, followed by some honey, cinnamon, dried ginger, and rosemary. "Chewing" leaves that similar dry, grassy, and nutty finish with some background sweetness and spice, that over time leaves a lingering dry gingersnap flavor. Overall it's not bad, but really not great either. It's very just fine.
Whiskey is also for sharing, so I use Vivaplex, 12, Amber, 2 oz Glass Bottles, with Lids for smaller samples and Vivaplex, 12, Amber, 4 oz Glass Bottles, with Lids for larger ones. Full transparency – This is an Amazon affiliate link so I may earn a commission if you buy this or something else. Regardless, I actually use these myself.
Old Granddad 114 Bourbon is a pretty straightfoward, dry, oaky, earthy, and nutty bourbon. It's also one of the nuttiest bourbons I've ever had. That's saying a lot because I've had a lot of Jim Beam, Wild Turkey (for example Wild Turkey 101), and Heaven Hill whiskey (for example Evan Williams Bottled in Bond).
Overall, it'd say Old Grand Dad 114 is good but doesn't really stand out in any way because it never puts it all together into a more fragrant and flavorful mix that find compelling.
The added ABV gives it a little extra oomph to the scents and flavors, and the gingersnap thing is a nice touch, but it's not enough to get it to "Mid Shelf+". It teeters right on the edge and I truly flipped back and forth between the two ratings. Usually when that's the case, I will go with the lower rating. If you don't like the Jim Beam dry and grassy nuttiness, you're going to continue to hate it here, so you can avoid it.
The thing is, I don't mind just how dry, oaky, earthy, nutty, and ginger-y it is because I absolutely adore gingersnap cookies. I'd eat those all day. The not-quite-enough sweetness, sometimes overtaken by the dryness and nuttiness, takes away from my enjoyment, as if the cookies didn't have enough sugar and came out a little too dry. 
The dryness and not-enough-sweetness also makes this smell and taste like a younger bourbon, maybe 4 years old. Four years old inherently isn't a bad thing, but it's very obvious that it's young and not quite developed-enough, unlike say New Riff Single Barrel Bourbon (4 years old), Woodinville Cask Strength (5 years old), and Willett 4 Year Rye that drink far older than their age states, but they're 2-2.5x the price as well. I guess you get what you pay for.
I know some people swear by Old Grand Dad 114 as their go-to budget bourbon, but it's not quite that for me. In the $25-35 range, I recommend Elijah Craig Small Batch or Jim Beam Single Barrel 108 Bourbon. Both bring richer sweetness, yet still have an oaky, spicy, and herbal backbone that provide a far more enjoyable and complex experience.
Now if you want to stay within the Jim Beam family, then I definitely recommend Jim Beam Single Barrel 108 Proof Bourbon, although it does lean a bit more delicate, fruity, and herbal than Old Grand Dad 114.
And guess what, if you don't agree with me and still swear by this, that's totally cool. You read this to the end and I appreciate you for doing that, and I hope you still found it useful. Cheers!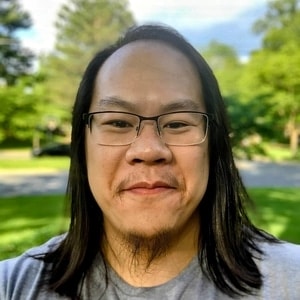 I have far too much fun writing about whiskey and singlehandedly running The Whiskey Shelf to bring you independent, honest, and useful reviews, comparisons, and more. I'm proudly Asian American and can speak Cantonese, Mandarin, and some Japanese.

There are no sponsors, no media companies, and no nonsense. Support The Whiskey Shelf by Buying Me A Shot.