New Riff Single Barrel Bourbon Review [In Depth]
New Riff Single Barrel Bourbon
New Riff Single Barrel Bourbon Details
Distillery: New Riff
Type & Region: Bourbon, Kentucky, USA
Alcohol: 51.9%
Composition: 65% corn, 30% rye, 5% barley
Aged: 4 years in virgin American white oak
Color: 1.3/2.0 on the color scale (russet muscat)
Price: $50-60
From the New Riff website:
"New Riff Distilling's core Bourbon expression is a genuinely high-rye, full bodied whiskey offering savory, spicy character, bottled at Barrel Proof without Chill Filtration. Featuring a mash bill of non-GMO grains at 65% corn, 30% rye, and 5% malted barley, it represents a new riff on Kentucky's most hallowed whiskey traditions. Aged four years in 53-gallon toasted and charred new oak barrels, there are no shortcuts taken in our production. All New Riff whiskeys are made with the full sour mash Kentucky Regimen; all carry an age statement, and are always bottled without chill filtration."
new riff single barrel bourbon overview
New Riff, founded in 2014, is part of the new breed of distilleries that's starting to make a name for itself. With a nearly national presence in retail, online, and local whiskey groups, word is getting out about what they do. 
Like Wilderness Trail, New Riff is located in the heart of bourbon country (Newport, KY) and has a prolific single barrel bourbon and rye program that's available to virtually everyone. To my understanding, they make it pretty easy to pick and buy a barrel, contrary to what the major distilleries are doing today.

In this review, I explore a New Riff Single Barrel Bourbon, barrel 16-10806, that was selected by the distillery and not a retailer. This single barrel was distilled in spring 2016 and bottled in fall 2020, making it a hair over 4 years old, comparable to what I've seen elsewhere, although the 51.9% ABV is on the lower-end of the spectrum.
New Riff bourbon's mashbill is one of the more unique features, containing 30% rye when most bourbons have 10-25%, so I expect that high-rye content to bring something different to the glass. That said, Four Roses' "B" mashbill has 35% rye and one of MGP's frequently used bourbon mashbills has 36% rye. New Riff Bourbon sits with pretty great company.
All that said, let's dive into my first experience with New Riff in this New Riff Single Barrel Bourbon review.
new riff single barrel bourbon smell
New Riff Single Barrel Bourbon is definitely interesting to start and the 30% rye in the mashbill makes itself immediately known. It's a mix of honey, caramel, freshly opened tangerine, dried citrus peel, and a little vanilla, with a ton of herbal dill, fennel, and thyme with a little less licorice.
You wouldn't be wrong to think that this was a 51%-rye rye whiskey. Even at 4 years old, I can already smell the roasted oak foundation through all that rye, making it smell a little older than it is, although I can still smell that youthful grain and just a little soggy cardboard. Overall it doesn't smell so young or hot, and has some nice fragrance and richness already.
The balance shifts after swirling, and New Riff Single Barrel Bourbon becomes more uniquely rye-y. It leads with sweet honey, dark citrus, and dried apple, but the rye influenced fennel, thyme, rosemary, dill, bubblegum, ripe pineapple, roasted oak, half baked whole grain bread, and eucalyptus come sprinting next to it. 
There's so much herbal, vegetal, and earthy rye influence, with some bonus tropical notes in this New Riff bourbon. The nose is pleasant and bold, but it still lacks variety and depth. The list of traits is growing, but they're not quite fully developed yet.
new riff single barrel bourbon taste & aftertaste
Honey and caramel come first, followed by a surge of dill, licorice, fennel, vanilla, roasted oak, cinnamon, and cloves. There's a little bit of roasted graham cracker that gently reminds me that this is relatively young bourbon, but overall New Riff Single Barrel Bourbon tastes quite good.
The rye influence is unmistakable and makes this bourbon particularly earthy, vegetal, and unique to any other bourbon that I've had. I'm so intrigued by the lower cask strength ABV, and the 51.9% ABV does not disappoint by staying out the way and not battling for my attention.
After "chewing", I taste the same mix of sweet honey and dried citrus with just as much herbal and vegetal dill, caraway seed, fennel, licorice, and pumpernickel bread with a thin layer of peppermint vanilla frosting.
Oak, cinnamon, and oak tannins come after, but still take a back seat to the rye. The earthy and vegetal qualities stand out the most to me.
As much as I like the existing flavors, this particular barrel of New Riff Single Barrel Bourbon still lacks the variety and depth to round out and complement the rye. It lays it all out there and leaves it at that, but what it offers is already good.
The finish is lightly herbal and sweet with honey, licorice, fennel, dried citrus, oak tannins, and pine. The herbal fennel and licorice linger the longest, reinforcing the power of the rye in the mashbill.
After "chewing", the finish is similar, with sweet, herbal, and vegetal honey, fennel, dill, thyme, licorice, dried citrus, and honey. As that all fades, winter-y eucalyptus, mint, and licorice linger for a while.
If you're shopping on Amazon, support The Whiskey Shelf by shopping through my affiliate link – Shop Amazon. I may earn a commission from your Amazon purchases.
New Riff Single Barrel Bourbon Rating

To be frank, New Riff Single Barrel Bourbon still smells and tastes fairly young, but 4 years of barrel aging has already created a strong foundation that outperforms its age and makes me optimistic for what is to come. 
The high rye bourbon mashbill is already different, but it also carries over into the big vegetal, earthy, and herbal personality to go along with the usual bourbon honey, vanilla, and citrus that meld together to create this interesting bourbon. This New Riff bourbon already has its own unique personality.
As to be expected, this 4 year old New Riff Single Barrel Bourbon still lacks a lot of depth or complexity, but it still has a lot of richness to offer and is undoubtedly bold and unique.
I imagine that there may be a lot of variation between these single barrels, so this review is definitely not the end-all of New Riff bourbon reviews. This review moreso provides guidance on what you might expect from their other single barrels. The main takeaway is that New Riff bourbon is trending in the right direction.
I've gone and back and forth on this. I'm pleased with my $50 purchase and the opportunity to try something new, I'm not 100% sure if I want to try other barrels. On the other hand, I'm very curious how much variation there is. Regardless, if you want to experience something totally different from what's out there right now, New Riff Single Barrel Bourbon is one to consider.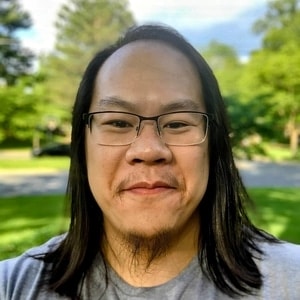 I have far too much fun writing about whiskey and singlehandedly running The Whiskey Shelf to bring you independent, honest, and useful reviews, comparisons, and more. I'm proudly Asian American and can speak Cantonese, Mandarin, and some Japanese.

There are no sponsors, no media companies, and no nonsense. Support The Whiskey Shelf by Buying Me A Shot.

Comments are closed.