Jim Beam Single Barrel Bourbon Review [In Depth]
Jim Beam Single Barrel Bourbon 108 Proof
Distillery: Jim Beam
Type & Region: Bourbon, Kentucky, USA
Alcohol: 54%
Composition: 75% corn, 13% rye, 12% barley
Aged: NAS, likely 5-6 years old
Color: 1.2/2.0 on the color scale (burnished)
Price: $30-40
From the company website:
"Every bottle of Jim Beam Single Barrel is unique and perfect in its own way—both in the distinct flavor and personality of the liquid itself and the wisdom of our master distiller printed on the back. It is an extraordinary bourbon experience that's different each time you break open a new seal."
jim beam single barrel bourbon overview
In late 2019, Jim Beam updated their single barrel offering with a brand-new bottle design and additional 108 proof version, in addition to the existing 95 proof. I'm a bit of a proof whore, so while I mostly ignored the original 95 proof version, the new 108 proof version (higher than the 100 proof  Knob Creek 9 Year Small Batch) certainly caught my eye. If you're looking for a higher ABV Jim Beam-made bourbon, Old Grand Dad 114 Bourbon is an option too.
Not only is it the highest ABV Jim Beam-branded release, I would expect that it's probably a little older than the other Jim Beam releases (my best guess is around 5-6 years old). 
The barrel in this review is Barrel JB 000203071, although no other information is provided on warehouse location, fill date, or bottle date. In this Jim Beam Single Barrel 108 Proof Bourbon review, let's find out if the higher proof and possibly additional aging create something worth buying.

jim beam single barrel bourbon smell
Jim Beam Single Barrel has honey, dried orange and apple, licorice, fennel, vanilla, roasted oak, cinnamon, clove, and candied pineapple. It has a nicely fragrant mix of pretty much everything a good bourbon usually has, plus very manageable heat. This actually smells like a mature bourbon, making it a more refined and developed Jim Beam White, and a step up from the quite good Jim Beam Distiller's Cut.
Swirling brings fairly rich, bright, and vibrant honey, baked apple, orange, vanilla, and pineapple at first, then a little more herbal fennel and licorice, then roasted oak, clove, and cinnamon. The Jim Beam grassy nuttiness is light at best, so it's very easy to miss. Over time, Jim Beam Single Barrel Bourbon becomes more apple-y and orange-y, which is great. 
Unlike other Jim Beam-branded bourbons I've had, this single barrel brings some extra fruitiness and herbalness that makes it that much more interesting. And while it's not so deep, complex, or unique, it still has enough fragrance and variety to be plenty enjoyable.

jim beam single barrel bourbon taste and aftertaste
The flavors have a nicely rich honey, vanilla, orange, and apple sweetness, then more herbal and oaky notes led by licorice, fennel, roasted oak, clove, pineapple, and a little nuttiness. Jim Beam Single Barrel Bourbon tastes good, drinking closer to Knob Creek 9 Year Bourbon than Jim Beam White.
"Chewing" gives me nicely bright and rich honey, vanilla, apple, orange, and vanilla, then fennel, oak, cinnamon, clove, smoke, and dried berries. It's sweet, fruity, a little herbal, and solidly oaky and spicy, making it a fairly mature and delicious all-around bourbon. Even at 54% ABV, the heat is well controlled. The flavors aren't necessarily spectacular or that rich / complex, but they're developed and varied enough to keep me interested.

The finish has a balanced mix of honey, licorice, roasted oak, and coffee grounds. Over time, there's more herbal, pineapple, and nutty notes. After "chewing", I get a similar mix of honey, roasted vanilla, baked apple, orange peel, pineapple, fennel, roasted oak, and smoke. 
Whiskey is also for sharing, so I use Vivaplex, 12, Amber, 2 oz Glass Bottles, with Lids for smaller samples and Vivaplex, 12, Amber, 4 oz Glass Bottles, with Lids for larger ones. Full transparency – This is an Amazon affiliate link so I may earn a commission if you buy this or something else. Regardless, I actually use these myself.
Jim Beam Single Barrel Bourbon 108 Proof Rating

Well well, the updated release of Jim Beam Single Barrel Bourbon is quite good, bringing a well-balanced and interesting blend of honey, fruit, herbal, and oak traits that cover the full spectrum from dark to bright. The higher ABV adds additional character without any unpleasant heat, so the barrel selection was also well done.
It's a ridiculous steal for the $25 I paid for it, and I believe it's still an easy buy up to the ~$35 MSRP, where it starts to overlap with Knob Creek 9 Year Small Batch. It used to overlap with the bottom end of Knob Creek 9 Year Single Barrel, but that skyrocketed in price lately. This Single Barrel is a massive step up from Jim Beam White and is worth the upcharge for the upgraded experience (if you can afford it of course).
That said, Jim Beam Single Barrel isn't so complex or rich, but it's not an issue when you consider what this is – a high quality $30-40 mid-range bourbon. Price doesn't factor into the rating, so it's just an observation and I'm certainly glad that Jim Beam added the higher ABV version. 
Jim Beam Single Barrel Bourbon 108 Proof version is definitely worth trying if you're looking to upgrade from something like Jim Beam White or even Evan Williams Bottled in Bond, or you're just looking for something worthwhile in the $25-40 price range. And if you happen to find this for under $30, there's really no reason to buy Old Grand Dad 114 Bourbon either. Jim Beam 108 Proof has a similar-ish proof and is so much better.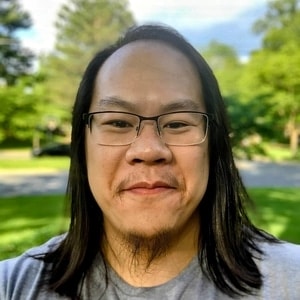 I have far too much fun writing about whiskey and singlehandedly running The Whiskey Shelf to bring you independent, honest, and useful reviews, comparisons, and more. I'm proudly Asian American and can speak Cantonese, Mandarin, and some Japanese.

There are no sponsors, no media companies, and no nonsense. Support The Whiskey Shelf by Buying Me A Shot.

Comments are closed.