little book chapter 4 review
Little Book Chapter 4 Lesson's Honored Whiskey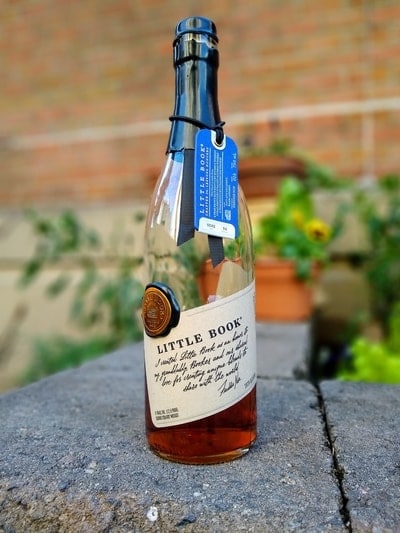 Distillery: Jim Beam
Type & Region: Bourbon, Kentucky, USA
Alcohol: 61.4%
Composition: Blend of rice'd bourbon, rye'd bourbon, and rye whiskey
Aged: 4 years
Color: 1.3/2.0 on the color scale (russet, muscat)
Price: $100-120
"Expertly blending a 4-year-old Kentucky Straight Brown Rice Bourbon, an 8-year-old Kentucky Straight "high rye" Rye Whiskey and a 7-year-old Kentucky Straight Bourbon Whiskey, Freddie Noe achieves a unique and well-composed whiskey with no one component overpowering another."
little book chapter 4 overview
Little Book Chapter 4 Lesson's Honored Whiskey is the fourth release of one of Booker's limited releases, not to be mistaken with the Booker's Anniversary Bourbon and Rye releases. Each Little Book release is a different blend of cask strength whiskeys, not necessarily bourbon, to experiment with different types of whiskeys in a blend, different mashbills, and honor the past. If you're reading this, you've probably read other reviews so I'll spare you the additional details of why Little Book was created in the first place. 
What I want you to know about this whiskey (not bourbon), is that this a blend of both bourbon and rye. You can call it a "bourye", but I'm not referring to High West Bourye. Besides blending bourbon and rye together, also re-introduces their straight brown rice bourbon. It's still bourbon, which means that it's made from at least 51% corn, but rice likely replaces all the rye and possibly barley too. I think around 2014, Jim Beam released an 11 year old brown rice bourbon (made with brown rice in the mash), but I'm not sure if this Little Book uses the same mashbill as before. Jim Beam has experimented with mashbills over the years and are pulling them as needed for certain releases, and now they've called the rice'd bourbon up to the big leagues. Let's find out if this experimental and a little out-there blend is a success in this Little Book Chapter 4 Lesson's Honored review. 
little book chapter 4 smell
Little Book Chapter 4 has caramel, orange, sorghum syrup, dried crackers, roasted nuts and grass, rosemary, dried roots, toasted oak, cinnamon, apricot, heavily spiced apple cider, and oddly…strawberry yogurt-coated nuts. I have no idea how I smell that. This whiskey smells different than anything else I've had, and I certainly have the fleeting thought of "what the hell is this?" but in a good way. The Beam grassy and nutty funk is still there, so that hasn't changed with this limited release. Chapter 4 kind of reminds me of EH Taylor Amaranth Grain of the Gods and New Riff Winter Whiskey with that dry and earthy ginseng / root note, but without nearly as much of the strange and "off" character that New Riff Winter Whiskey had. The heat is also decently controlled after an hour airing-out in the glass.
After swirling, Chapter 4 has this interesting earthy sweetness that's caramel, sorghum syrup, rosemary, dried grass, roots, nuts, toasted pie crust, hints of gushers candy and fennel, and sugar coated almonds. It's not such a fruity whiskey, more toasty and dry, which probably comes from the rice'd bourbon, not the rye whiskey or rye'd bourbon. There's some good richness and roundness in the scents with an extra few helpings of earthiness. This smells very good and unique, but not quite amazing. 
little book chapter 4 taste and aftertaste
Little Book Chapter 4 has roasted caramel, sorghum syrup, baked apple with orange, clove, cinnamon, toasted vanilla, eucalyptus, and rosemary with a solid alcohol kick. The flavors are interesting and unique from the distinctive sorghum syrup and earthy rosemary, but they also lack low end sweetness and richness, so that it doesn't really get my attention. 
"Chewing" gives me dry and earthy sweetness with more than subtle medecinalness – honey, rosemary, thyme, sorghum syrup, vanilla, dried grass, nuts, and roots, baked apple, orange peel, rosemary, and eucalyptus. There's a distinctive earthiness and dryness, with less fruitiness, that flavor-wise is a less earthy and medicinal version of New Riff Winter Whiskey. The best way I can describe it is a somewhat young bourbon with a little extra dry, earthy, and Chinese medicine character. I'm Chinese American and grew up taking Chinese medicine, so I know a thing or two about that. I have no idea where those traits are coming from (and I don't mind them), but my best guess is the brown rice bourbon since other Jim Beam bourbons and ryes are nothing like that. Admittedly, I haven't had that Jim Beam 11 Year Harvest Rice bourbon yet so I can't say for sure. So overall, I like where the flavors are going, but I always get the sense that there's something missing. It's kind of overdoes the dryness and earthiness, without enough of everything else, for its own good.
Chapter 4 transitions into a toasty and dry cracker-like finish with caramel, apple, roasted oak, dried grains, grass, and nuts. "Chewing" leaves sorghum syrup, rosemary, thyme, roasted oak, nuts, and grass. It leaves a noticeable dryness that goes on and on. It's good, but I'm not sure that I like it that much.
Place on the Whiskey Shelf

Little Book Chapter 4 Lesson's Honored is good and has some unique traits that I respect, but it leaves me wanting so much more…especially in the flavors that don't have the richness and depth I'd expect from a whiskey like this (price, availability, and limited edition-ness are not a factor in the rating). I wanted to absolutely adore this in whatever form it took, but it never fully delivered over multiple tries. In both a compliment to New Riff and knock to Little Book – Little Book Chapter 4 is really no better than New Riff Single Barrel Bourbon. I can't shake the thought that the 4 year old rice bourbon makes up a bulk of the blend because it drinks like a younger cask strength whiskey, to the detriment of the overall blend. I'm not saying that the rice bourbon is bad, it just probably wasn't developed-enough to be bottled yet, and especially not for a special release over $100. In this case, the price is utterly awful, which extends to normal Booker's too. Jim Beam is really letting pricing get out of control.
It just doesn't have the sweetness, low end roundness, oaky fragrance, variety, and/ or overall depth of other Jim Beam releases including Knob Creek 12 Year Bourbon and even the normal Booker's, among others. If you still have the chance to buy Little Book Chapter 4, I recommend that you don't. I strongly recommend Knob Creek 12 Year Bourbon instead if you can find that, because that's one of the best Jim Beam / Knob Creek whiskeys I've ever had. To sum it all up, Little Book Chapter 4 Lesson's Honored is often a good, but still quite disappointing, release that used components that weren't ready for showtime. My lesson learned – don't rush to bottle young whiskey (unless you absolutely have to), slap the limited edition label on it, and charge over $100 for it. Jim Beam has way too many resources and barrels, and should not have done that.
Comments are closed.