new riff winter whiskey review
New Riff Winter Whiskey Bottled in Bond Bourbon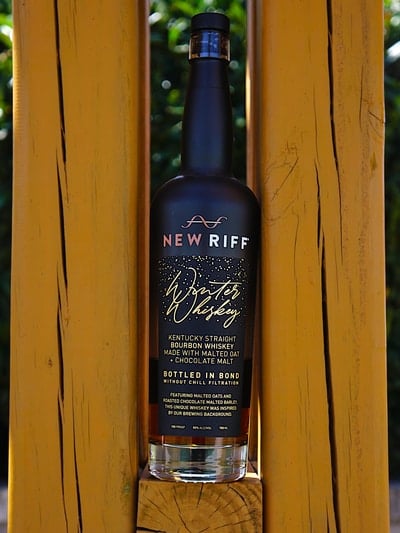 Distillery: New Riff
Type & Region: Bourbon, Kentucky, USA
Alcohol: 50%
Composition: 65% corn, 20% malted oats, 7% pale malt, 5% steel cut raw oats, 3% chocolate malt
Aged: 4-5 years in virgin American white oak
Color: 1.3/2.0 on the color scale (russet, muscat)
Price: $50-60
From the New Riff website:
"When we considered putting oats in a Bourbon, our minds wen tto the chocolate oatmeal stout we enjoyed in our brewing careers. The result is "Winter Whiskey," a Bourbon with the unique spice of raw and malted oats, backed by boasted cocoa notes of chocolate malt. Distilled Fall 2015 bottled Fall 2020″
new riff winter whiskey overview
In late 2020, New Riff went on a release spree with 3 new products in quick succession featuring experimental mashbills. There were the Maltster Wheat and Maltster Rye, experimenting with wheat / rye plus corn, and then this Winter Whiskey. New Riff Winter Whiskey (also a bourbon) is a 4-5 year old bottled in bond bourbon that uses oats and barley (and no rye or wheat) to create a bourbon that highlights the team's prior experience as brewers. I don't know much about New Riff's history or the people behind it, but I'm definitely interested with the experimental mashbill that uses oats and barley malt in ways that few have likely ever tested for bourbon. Let's find out if this grain experiment was a success in this New Riff Winter Whiskey review.
new riff winter whiskey smell
What the heck is happening? New Riff Winter Whiskey is fragrant, starting off with caramel, but then immediately smacks me with this dense medicinal and earthy note that I've never smelled in a whiskey before. My best description is that it reminds me of Chinese medicine stores I used to visit when I traveled to China. It's dried ginseng, dried roots and herbs, a little soggy cardboard, chives, rosemary, thyme, and must. One past that wall of scents, I get baked apple, orange, cherry, oak, cinnamon, and dark cocoa powder. The bourbon smells pretty dark and fruity, but it's absolutely dominated by whatever the heck that is. I really like stouts, the base idea for this mashbill, but this is odd even for me.
After swirling, the medicinal Chinese medicine scent (dried roots and herbs, rosemary, thyme, dried pine) becomes even more prominent over the actually fairly rich caramel, maple syrup, vanilla, orange, apple, and sweet maple cereal. This has some of the earthiness and herbalness of a rye whiskey on steroids, but with absolutely no rye in the mash; and I can't completely decide if I like it, but it does get better once I adjust to it, or the medicinal-ness fades some. What a strange and intriguing bourbon.
new riff winter whiskey taste & aftertaste
Oh wow, the same medicinal and earthy quality in the scents also dominates Winter Whiskey's flavors, enveloping the caramel, vanilla, orange creamsicle, apple, cinnamon, oak, clove, and cocoa powder. New Riff Winter Whiskey is like a more "traditional" bourbon wrapped in this dense layer of Chinese medicine, and with not much heat. The underlying bourbon tastes good, but all put together it's a weird experience. How do I know how Chinese medicine tastes? Let's just say I grew up taking it from time to time.
After "chewing", Winter Whiskey tastes the same. Once I get past the medicinal notes (dried roots, herbs, earthy rosemary and thyme, coffee grounds), I do like the caramel and maple syrup mix, vanilla, dark chocolate, roasted coffee grounds, apple, orange, oak, and cinnamon. I also find this espresso and lightly sweet mocha flavor that helps this bourbon tastes older than its 4-5 years, likely in part from the high percentage of oats and barley. No matter what though, I can't shake that medicinal note that's puzzling and captivating. I don't know what to make of it, but I also want to find out more. What a deliciously strange bourbon.
It all fades into an oaky, earthy, and medicinal finish with a little honey, dark cocoa powder, and coffee grounds. After "chewing" I get a similar finish with a little honey, orange peel, apple peel, cocoa powder, coffee grounds, espresso, rosemary, and thyme. 
Place on the Whiskey Shelf

New Riff Winter Whiskey is a non-traditional bourbon that's odd yet for the most part succeeds in its mission. It may be the most unique smelling and tasting bourbons I've ever had and the most polarizing as well. I kind of don't like it, yet still kind of do, so I'll explain. That medicinal and earthy note, I characterize as Chinese medicine, is off-putting and interesting at the same time. I immediately recognize that smell but don't necessarily want it in my whiskey, but I'm still intrigued enough to sift through it to figure out what the heck it is, as well as discover what the rest of the bourbon has to offer. 
That medicinal and herbal note did grow on me some, or I at least got used to it and was eventually able to appreciate most everything for what it is. It's still a fragrant and flavorful bourbon with this subtle, yet great, maple syrup pop, so there's a lot to like. Still, I wouldn't blame you if you disliked New Riff Winter Whiskey because of how weird it is, but my rating includes the fact that I lean towards being ok with the medicinal-ness…although I'm glad I only had 1/3 of a bottle. While I generally didn't like it initially, for some reason I landed on mostly liking it during this review and definitely appreciate New Riff's continued experimentation. Keep on pushing the boundaries.
There's a lot of great content to come, so consider supporting The Whiskey Shelf on Patreon. Support here.