From the company website:
"Bulleit Bourbon is inspired by the whiskey pioneered by Augustus Bulleit over 150 years ago. Only ingredients of the very highest quality are used. The subtlety and complexity of Bulleit Bourbon come from its unique blend of rye, corn, and barley malt, along with special strains of yeast and pure Kentucky limestone filtered water. Due to its especially high rye content, Bulleit Bourbon has a bold, spicy character with a finish that's distinctively clean and smooth. Medium amber in color, with gentle spiciness and sweet oak aromas. Mid-palate is smooth with tones of maple, oak, and nutmeg. Finish is long, dry, and satiny with a light toffee flavor."
If you've drank bourbon at least a few times, you've probably already had Bulleit Bourbon, or at least seen it. You've probably had it in your bourbon-based cocktail too and didn't even know it.
This broadly available bourbon is brought to you by Diageo, owners of one of the largest portfolios of whiskey and other spirit brands. Bulleit Bourbon is the entry-point into the line of bourbons, including their 10 year old, barrel strength, and single barrel bourbons.
Let's find out if this is just a decent entry-level bourbon that you can find everywhere, or something worth adding to your list of daily drinkers in this Bulleit Bourbon review.
Bulleit Bourbon has a moderate mix of honey, licorice, slightly sour peach, baked apple, dried orange, pineapple, oak, and cinnamon. There's a decent fruitiness here, which I think mostly comes from the tropical rye influence. There's also this gentle underlying oakiness that's surprisingly fragrant, but not big. Bulleit smells alright but just a bit too thin for my own liking.
After swirling there's honey, fruity Gushers candy, vanilla frosting, licorice, fennel, baked apple, pineapple, some roasted oak, cinnamon, faint sourness, spritz of fresh orange and lemon, and cherry.
bulleit bourbon taste and aftertaste
My first sip gives me honey, roasted vanilla, licorice, baked apple, pineapple, clove, fennel, roasted oak, and cinnamon. Bulleit Bourbon has that higher-rye tropical fruitiness mixed-in with the sugars that makes it taste like a higher-rye bourbon.
After "chewing" I get honey, roasted vanilla, licorice, fennel, dried cherry, roasted oak, cinnamon, hint of cocoa powder, dried apple, and orange peel. There's a little more fruitiness and kick this time around, but the flavors are quite subdued.
Bulleit bourbon tastes alright, but certainly isn't anything great. It leans a little bit towards being light and approachable, but still isn't boring or too thin, so it's still nice to drink.
Honey, licorice, fennel, gentle oak tannins, and hints of rosemary come through on the finish, with a longer lasting oakiness and earthiness.
After "chewing" there's light honey, licorice, and pear sweetness with a tad more roasted oak and cinnamon. The oakiness fades over time, leaving the gentle sweetness to linger a little longer.
Whiskey is also for sharing, so I use
Vivaplex, 12, Amber, 2 oz Glass Bottles, with Lids
for smaller samples and
Vivaplex, 12, Amber, 4 oz Glass Bottles, with Lids
for larger ones. Full transparency – This is an Amazon affiliate link so I may earn a commission if you buy this or something else. Regardless, I actually use these myself.

Bulleit Bourbon does a good job of offering a little bit of everything with some extra apple, orange, cherry, and pineapple fruitiness, so it's not one-dimension or boring.
The problem really is that it never quite gets my attention or makes me want to explore further, so it doesn't even reach "Mid Shelf+" level. Regardless of whether Bulleit Bourbon is primarily intended to be a mixer, it's serviceable neat and I'd happily drink it if there were no other options.
I'm abundantly aware that this list skews towards Heaven Hill, but man do they make delicious and less-expensive bourbon. Admittedly, most Heaven Hill whiskey is quite different, so all I'm saying is that I prefer other things to Bulleit Bourbon, not that these are exact substitutes.
At the end of the day, Bulleit Bourbon can definitely get the job done, it's just not necessarily one I would pick for myself.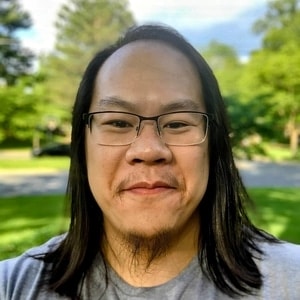 I have far too much fun writing about whiskey and singlehandedly running The Whiskey Shelf to bring you independent, honest, and useful reviews, comparisons, and more. I'm proudly Asian American and can speak Cantonese, Mandarin, and some Japanese.
There are no sponsors, no media companies, and no nonsense. Support The Whiskey Shelf by 
Buying Me A Shot
.
Comments are closed.