A Midwinter's Night Dram review
High West A Midwinter Nights Dram Act 8 Scene 1 Rye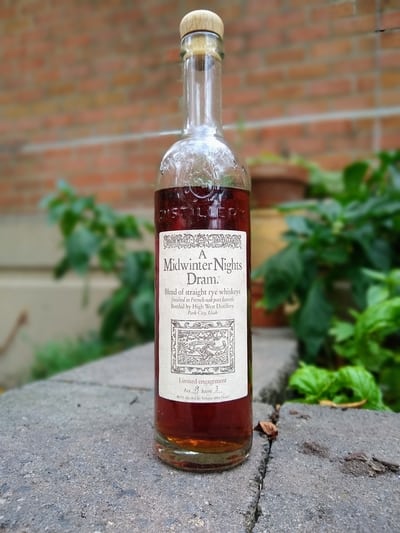 From the High West website:
The description on the website is very long, so I'll let you read it there if you can enough to do so.
high west a midwinter night's dram overview
High West's A Midwinter Night's Dram is one of, if not the only, annual limited release from the Utah-based distillery. High West takes their usual Rendezvous Rye Release (now a blend of 4-7 year old rye from MGP and High West), adds less water to get it to 49.3% ABV, and finishes it in port and French oak barrels to create A Midwinter's Nigh Dram. Port is a very dense, sweet, and nutty dessert wine that adds a lot of dark and sweet fruit notes (think cherry, dates, prunes, raisins, grapes) and some nutty / cheesy / buttercream funk.
I don't know much about French oak, so I won't comment on what it brings to the whiskey. The only other port finished rye I can think of, outside of Double Rye! barrel selects, is Sagamore Spirit Port Finish, so A Midwinter Night's Dram is a pretty unique whiskey.

This happens to be my first experience with this, which is exciting, so let's get some first, second, and third impressions in this High West A Midwinter Night's Dram Act 8 Scene 1 review. Even before smelling or tasting, I already notice the beautiful dark reddish hue, courtesy of the wine finish.

As an FYI, I bought and use these Glencairn glasses from Amazon for my reviews and comparisons (because they're the best): Glencairn Crystal Whiskey Glass, Set of 6, Clear, 6 Pack. Full transparency, this is an affiliate link, so I may earn a commission if you buy this or something else from Amazon.

high west a midwinter night's dram smell
Even with the finishes, A Midwinter Night's Dram first and foremost smells like rye – licorice and anise-forward with white sugar, honey, fennel, pineapple, guava, and citrus then doused in darker cherry, syrupy pear, green grape, and a little bit of Angosutra bitters from the port. The dark and intense sweetness reminds me of Sagamore Spirit Moscatel Finish (Moscatel is also dessert wine).
A Midwinter Night's Dram is very sweet, but not overpoweringly so as there is supporting oak and cinnamon in the background to contrast the other notes. I did notice that there isn't that much roasted oak here, which is similar to what I found in a Rendezvous Rye batch from 2017 (I recognize that this 2020 release was made using a different blend than was used in 2017). With everything going on, there isn't much heat either, courtesy of a lot of air time in the bottle.

Swirling brings out some heat, but it's still far from intense. After it settles, I smell that dense and syrupy dark honey and cherry sweetness, pear, licorice, anise, fennel, candied pineapple, some coffee grounds, toasted vanilla, and a little roasted oak. I'm actually getting a lot of pear, which is unexpected, that takes me back to the Copper and Kings Single Barrel Pear brandy, made from 100% pear. 
The nose overall is rich and interesting, with the port and rye getting along nicely even though the port finish is very noticeable. I like it, simple as that.

high west a midwinter night's dram taste & aftertaste
A Midwinter Night's Dram is very sweet up front with a lot of honey, dark cherry in syrup, other red fruitiness I can't quite pick out, licorice, anise, fennel, cinnamon, and oak. The flavors are round, rich, and kind of syrupy, but in a good way, and all with virtually no heat. 
The flavors after "chewing" are still very sweet with syrupy cherry, honey, licorice, anise, fennel, candied apple, roasted oak, cinnamon, and a subtle hint of sweet wine funk, almost like funky buttercream. It's a little more spicy now with more cinnamon, clove, and paprika.

The red fruits lead into the finish with licorice, fennel, pear, cinnamon, and honey. As the fruitiness subsides, I'm left with something a little vegetal and sweet that I can't quite name, and it all lingers for ages with cherry and licorice. "Chewing" leaves more licorice and toasted vanilla first followed by cherry syrup, anise, and roasted oak. It turns into pear and licorice after a few minutes. Ah, so the lightly vegetal and sweet note is pear.
If you couldn't tell already, A Midwinter Night's Dram is a very fruity and tropical-y rye. The port and rye play well together, making it a great combination of dark and sweet from the port, and bright, herbal, and sweet from the rye. This is just delicious.
Whiskey is also for sharing, so I use Vivaplex, 12, Amber, 2 oz Glass Bottles, with Lids for smaller samples and Vivaplex, 12, Amber, 4 oz Glass Bottles, with Lids for larger ones. Full transparency – This is an Amazon affiliate link so I may earn a commission if you buy this or something else. Regardless, I actually use these myself.
Place on the Whiskey Shelf

I've enjoyed the heck out of High West's Midwinter Night's Dram Act 8 Scene 1, but it shouldn't come as much of a surprise. I love finished bourbon and I also love rye, so a well finished rye is a no brainer for me. Even at sub 100 proof, it still has this great richness, viscosity, and depth. 
I'm not well-versed in French oak, but the port finish influences are clear and well-integrated, meshing well with and elevating the high-rye Rendezvous Rye and providing a ton of varied sweetness – cherry, honey, licorice, pear, and anise. I know that some people have a love / hate relationship with port, but Midwinter does it right. I also happen to like port, as well as sherry.

My main critique is that Midwinter Night's Dram could use more body and viscosity. It's great at 49.3% ABV, but I think it'd be even better at 55% ABV or cask strength. Having had a number of finished cask strength bourbons, this could have been even bigger, bolder, and richer without sacrificing complexity from a higher proof. 
I wonder why High West stays away from cask strength releases, apart from the rare cask strength Rendezvous Rye Barrel Select. As-is though, High West A Midwinter Night's Dram is a very unique rye whiskey and a definite winner, so if you like rye, I think you'll really dig this.