EH Taylor Small Batch Review [In Depth]
EH Taylor Small Batch Bourbon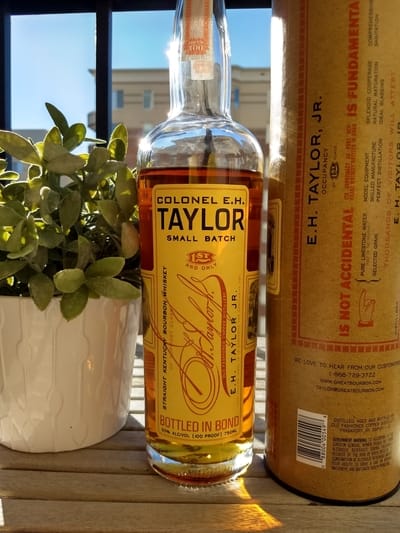 EH Taylor Small Batch Details
Distillery: Buffalo Trace
Type & Region: Bourbon, Kentucky, USA
Alcohol: 50%
Composition: 
Mash #1, speculated to be 75% corn, 10% rye, 15% barley
Aged:
 NAS, but rumored to be ~7 years
Color: 1.1/2.0 on the color scale (burnished)
Price: $40 MSRP (750mL) but frequently marked-up to $60+
From the back of the bottle:
"As founding father of the bourbon industry, Colonel Edmund Haynes Taylor, Jr. left an indelible legacy. His dedication to distilling began at the close of the Civil War when he purchased O.F C. Distillery. There, he developed innovative techniques that are still in use today. Made by hand, this Small Batch Bourbon Whiskey has been aged inside century old warehouses constructed by E.H. Taylor, Jr.  Barrels are evaluated and selected to create a perfect blend of distinctive character that is like no other. This bourbon is a true sipping bourbon that honors the uncompromising legacy of E.H. Taylor, Jr."
EH Taylor Small Batch Overview
EH Taylor Small Batch is a Buffalo Trace product made from the very popular 
Mash #1
, also used for bourbons such as Buffalo Trace, Eagle Rare 10, and Stagg Jr. EH Taylor 
comes in a few different versions (small batch, single barrel, barrel proof, and more) that are quickly snatched up left and right. 
To my knowledge, the main differentiator is that all EH Taylor whiskeys are aged in the warehouse that was constructed during EH Taylor's time as owner, not the other ones used for the other Mash #1 bourbons. It also comes with sweet vintage-looking packaging. Let's find out if any of that matters in this EH Taylor Small Batch review.
Buffalo Trace Lineup of Reviews
EH Taylor Small Batch Smell
EH Taylor Small batch starts with raisins, flowers, fresh pine, sandalwood, and black pepper, followed by a sprinkle of cinnamon, caramel, cherry, and candied oranges. Other bright fruits such as pears and oranges bounce in and out of the scents, adding an interesting touch.
The combination of fruit, wood, and alcohol creates a perfumey, vibrant, and effervescent scent that is so pleasant.
Swirling releases more of the bright flower, charred wood, nut, and pine notes, but the alcohol remains present yet reserved. That agitation also releases more raisin, buttercream, and vanilla frosting, akin to a fresh frosted cinnamon bun (yum) that's across the room. For all the raisin and wood notes, it is not overly oaky.
As the liquids disappears, I smell something akin to marshmellows from the vanilla, dusty wood, dried corn, and a little mint. The smells are presented very nicely, and I especially enjoy frosted cinnamon buns
EH Taylor Small Batch Taste & Aftertaste
My first taste is covered in sweet corn, pumpernickel bread, orange, and starfruit with brown sugar and mint to finish. The semi-sweet orange fruit notes under the corn and rye remind me of marmalade on bread with just a pinch of nuts, but not quite a PB&J. 
There's more bright citrus and sweet stewed corn on subsequent tastes with some caramel, nuts, mint, and woody pine supporting it. 
EH Taylor Small Batch has wonderfully bright citrus flavors that add a lot of character and complement the floral nose. Every now and then I also taste nibs of chocolate and marshmallow. Chewing definitely brings out some of the alcohol bite and tang, but it's never unmanageable. I'm surprised I didn't taste raisin, but it just may be covered up.
Honey, citrus, guava, and peppermint linger on the finish. The more I swish, the more wood and grassy nuts linger, fading into sweet corn and peppermint that leave a slightly gummy and bitter residue on my mouth, like eating a little bit of orange rind. It's a fantastic finish to a great tasting bourbon.
If you're shopping on Amazon for Black Friday, Cyber Monday, the holidays, or any other occasion, support The Whiskey Shelf by shopping through my affiliate link – Shop Amazon. Disclaimer: I may earn a commission from your purchases.
EH Taylor Small Batch Rating

EH Taylor Small Batch is an excellent bourbon, even more so at $40 (assuming MSRP). It has delicious fruit, vanilla, spice, and nut notes with a commensurate amount of alcohol that provides a nice body and kick. I also really love the fragrant floral notes that remind me of running through a field full of flowers and grass. 
I wish the flavors could be a little more full and deep, but they overall are still strong and complex enough to earn a "Top Shelf" rating. If you like brighter, floral, and citrusy bourbons, this is one for you.
Now if I had to pick, I'd honestly pay an extra $10 (assuming MSRP) for
Stagg Jr.
over EH Taylor Small Batch, but ideally I would have both. Drinking Stagg Jr. is like being swept away in an wild wave of flavor and alcohol while EH Taylor is a more gentle and floral, yet equally interesting experience. 
EH Taylor Barrel Proof 
and Stagg Jr. are the gold standards for Buffalo Trace bourbons short of anything from the Antique Collection, but EH Taylor is a fantastic bourbon as well.
Funny enough, this one is also
better than the EH Taylor Single Barrel Bourbon
I reviewed. Maybe it was an off barrel, or maybe the single barrel truly is so variable that EH Taylor Small Batch is comparable to the average Single Barrel. I'll have to drink more single barrels to find out, but those are becoming quite difficult to find.
EDIT: After drinking this again after a few months, I'm upgrading the rating from "Mid Shelf+" to "Top Shelf". Time has brought out even more of the vibrant floral notes that are so great. The flavors have also improved, with even more bright citrusy flavors that are complex and interesting. I'm enjoying EH Taylor Small Batch even more than I did before.
So much hard work goes into each and every review, comparison, guide, and article, so please consider supporting The Whiskey Shelf in its continued journey of whiskey exploration and sharing.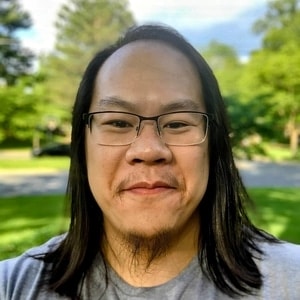 I have far too much fun writing about whiskey and singlehandedly running The Whiskey Shelf to bring you independent, honest, and useful reviews, comparisons, and more. I'm proudly Asian American and can speak Cantonese, Mandarin, and some Japanese.
There are no sponsors, no media companies, and no nonsense. Support The Whiskey Shelf by 
Buying Me A Shot
.

Comments are closed.