Evan Williams Single Barrel
Evan Williams Single Barrel Review
Evan Williams Single Barrel Bourbon Details
Distillery: Heaven Hill
Type & Region: Bourbon, Kentucky, USA
Alcohol: 43%
Composition: 78% corn, 10% rye, 12% barley
Aged: 7 years 11 months in virgin American white oak
Color: 1.1/2.0 on the color scale (burnished)
Price: $25-30
From the Heaven Hill website:
"Evan Williams Single Barrel is the only vintage dated single barrel Bourbon on the market. Similar to the way vintage wines are selected, our distillers hand-select individual barrels that meet the specifications they've established. Then each bottle is marked with the vintage date it was put into oak, along with the year it was bottled and the exact barrel number of the single barrel that the Bourbon was drawn from."
evan williams single barrel bourbon overview
Evan Williams Single Barrel Bourbon is the most affordable entry point into Heaven Hill's widely distributed single barrel bourbons. There's also Elijah Craig Small Batch Single Barrel, but those only come as store picks, and
Henry McKenna 10 Year Single Barrel Bottled in Bond
, but that is still tough to find due to the awards it won in 2017 and 2018 that still have an impact years later.
Now unlike the other ones I mentioned, Evan Williams Single Barrel is widely distributed across the US and not particularly difficult to find. That likely means that there are thousands of barrels out there to be had, including in Japan where I seem them from time to time.
One thing that makes Evan Williams Single Barrel Bourbon unique and interesting is the "vintage" stamped on the front label that indicates the year the bourbon was put into oak to age. That alone only tells half the story, so you still want to look at the back label to see the exact dates when it was barreled and bottled. That said, I have no idea if any particular dates are better than others.
I mention this because the more recent vintages are around 7-8 years old, but in the early 2000's, Evan Williams Single Barrel was 10+ years old. It's just another sign of the bourbon boom making distilleries sell younger whiskey than they used to, although I don't have any personal experience on how much that affects the quality.
When I walked into a store to buy one of these, I could pick from 3 different barrels from the 2012 vintage. The one I picked came from barrel 1707, which was barreled on 12/31/2012 (who knew they still barreled bourbon on New Years eve) and bottled 12/4/2020, making it 7 years and 11 months old. This was the oldest of the bunch by a few months.
Let's find out if affordable single barrel bourbon can be any good in this Evan Williams Single Barrel Bourbon review. As always, your mileage with this review may vary as every barrel is different, even within the same vintage year.
*Unfortunately as of May / July 2022, it was announced that Evan Williams Single Barrel would become a Kentucky-only release due to various factors such as barrel supply
evan williams single barrel bourbon smell
Evan Williams Single Barrel Bourbon has a mix of darker honey, roasted oak, cinnamon, lightly funky and toasty vanilla buttercream, the quintessential Heaven Hill dried nuttiness, licorice, dried citrus peel, cinnamon, and hints of tobacco. It's actually quite oaky and roasted, which adds extra fragrance, aided by the lack of heat.
Swirling releases darker honey, candied pineapple, roasted oak, a little tobacco and smoke, vanilla, sliced orange, apple, peach, cinnamon, clove, and cocoa powder. Again, there is a nice toasty, oaky, and smoky fragrance; and at times there's something lightly floral intermingled with the darker and roasted notes. 
evan williams single barrel bourbon taste & aftertaste
At first I taste lightly charred honey, vanilla, dried nuts, baked apple and peach, oak tannins, cinnamon, nutmeg, and clove. It's not hugely flavorful per se, but I can taste some depth and life, so it's good.
The second time around, Evan Williams Single Barrel initially has a mix of honey, vanilla, toasted oak, lightly burnt caramel nougat, chocolate, and licorice, followed by apple, orange peel, cinnamon, coffee grounds, nutmeg, and clove.
The oak expands a little after a few seconds, adding a little more toastiness and smokiness.
Oaky tannins lead the finish followed by honey, licorice, orange peel, and mint. It's not a big finish, but it does have some staying power with the freshness and mint. 
After "chewing", I get a tad more sweetness from the honey and licorice that's equally matched with roasted oak, coffee grounds, and cinnamon. The oak definitely makes itself known, but stays in check to maintain balance.
So overall, Evan Williams Single Barrel tastes pretty good, not at all bland or boring for the ABV. Sure I'd like a higher ABV, but that's not the point when Heaven Hill has so many other options at various ABV's.
If you're shopping on Amazon, support The Whiskey Shelf by shopping through my affiliate link – Shop Amazon. I may earn a commission from your Amazon purchases.
Evan Williams Single Barrel Rating

Evan Williams Single Barrel is a solidly good bourbon that brings a range of pleasant and interesting scents and flavors, especially the slightly stronger oak, spice, and smoke that complement the sweetness, but it suffers from the lower ABV.
Now that I think about it, Evan Williams Single Barrel seems like the odd one out when Elijah Craig Small Batch and Elijah Craig Single Barrels picks are so dang good and usually comparably priced. I guess that's also dependent on finding an Elijah Craig Single Barrel, which is far from guaranteed.
That said, I will always recommend Elijah Craig Small Batch Bourbon over Evan Williams Single Barrel, even if Elijah Craig is $5-10 more than Evan Williams. It has extra richness and depth that's worth the extra money. And of course if you want to spend less,
Evan Williams Bottled in Bond
is a great budget alternative.
It's even better if you can find an 
Elijah Craig Single Barrel
 (ranging from 8-12 years old), because that's where Heaven Hill shines the most with affordable bourbon. So, in summary, Evan Williams Single Barrel Bourbon is a good bourbon at a good price, but buy Elijah Craig Small Batch instead if you can.
A bit of a tangent – I also think Evan Williams Single Barrel is a solid substitute for Blanton's, so check my 
writeup on that topic
.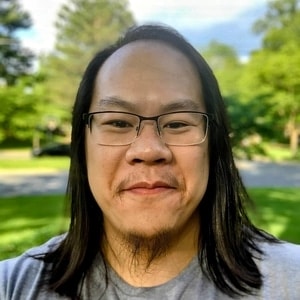 I have far too much fun writing about whiskey and singlehandedly running The Whiskey Shelf to bring you independent, honest, and useful reviews, comparisons, and more. I'm proudly Asian American and can speak Cantonese, Mandarin, and some Japanese.
There are no sponsors, no media companies, and no nonsense. Support The Whiskey Shelf by 
Buying Me A Shot
.
Comments are closed.