EH Taylor Single Barrel Review [In Depth}
EH Taylor Single Barrel Review
EH Taylor Single Barrel Details
Distillery: Buffalo Trace
Type & Region: Bourbon, Kentucky, USA
Alcohol: 50%
Composition: Mash #1, speculated to be 75% corn, 10% rye, 15% barley
Aged: NAS, but rumored to be ~7 years
Color: 1.1/2.0 on the color scale (burnished)
Price: $60-75 MSRP (750mL), $150+ secondary
From the Buffalo Trace website:
"Colonel Edmund Haynes Taylor, Jr. is widely considered one of the founding fathers of the bourbon industry, fighting for the Bottled-in-Bond Act of 1897, nearly three decades after he purchased what is now called Buffalo Trace Distillery. During his time, Taylor implemented several innovative methods still used today, including climate controlled aging warehouses. E.H. Taylor, Jr. Single Barrel is aged exclusively in Warehouse C, which was built by Taylor in 1881 and proven to be an excellent aging warehouse. Each barrel is hand-picked and Bottled in Bond at 100 proof to honor its namesake."
EH Taylor Single Barrel Overview
EH Taylor Single Barrel (E.H. stands for Edmund Haynes) is a bourbon from Buffalo Trace's EH Taylor product line that uses the low-rye mash #1, also used for bourbons such as Eagle Rare 10 and Stagg Jr. 
Unlike EH Taylor Small Batch, blended from various barrels, this Single Barrel version comes from specially selected barrels individually bottled to highlight what each barrel has to offer. Barrels vary, so will your experience compared to the one in this review. The serial number for this bottle is L18184010920K.
There are two main things make EH Taylor bourbons different from other Buffalo Trace bourbons: 1) they are bottled in bond, and 2) they are aged in a warehouse C, special rackhouse built during Taylor's time. I let this rest for 25 minutes first, so let's dive-in to this EH Taylor Single Barrel review.
Buffalo Trace Lineup of Reviews
EH Taylor Single Barrel Smell
EH Taylor Single Barrel starts off with nice blend of honey, baked bread, vanilla, and light apples, raisins, and grapes, like a lightly sweetened bread stuffed with fruits. Black pepper, citrus, and grass with a light underlying wood note round it out, bringing a bright and refreshing pine and lemon scent to my nose, accentuated by the bright and generally moderate, but occasionally sharp, alcohol. 
Swirling brings it all together, combining sugar, vanilla frosting, bread, raisins, and just a little raw dough to form a boozy cinnamon bun with a slightly earthy and musty wood note. It's like the smell of walking past an Auntie Anne's at the mall. 
Letting this bourbon sit for a little longer reveals light berries, peaches, dried apricots, and oranges, but they're easy to miss if you're not paying attention.
EH Taylor Single barrel is bright and interesting, but not quite as rich and developed as I would like.
EH Taylor Single Barrel Taste & Aftertaste
Moderately strong honey sweetness with fruits, freshly ground black pepper, clove, and charred oak initially cover my taste buds. The black pepper and cloves poke my tongue from time to time, a little surprising given that there's not much wood on the nose.
"Chewing" brings out more honey, vanilla, and apricot sweetness, as well as slightly sweet yet bitter orange rind. The wood, infusing cloves, nutmeg, cinnamon, and peppermint patty-like chocolatey mint add to the overall bright and enjoyable flavors. 
EH Taylor Single barrel is woody, but not in the dark and dense way that Knob Creek Single Barrel is. The 50% alcohol feels just about right. 
The finish starts with honey and apple sweetness, charred wood, and grass. With "chewing", the finish becomes more oaky and sweeter with honey, apples, and buttercream. As the wood fades, mint, cocoa powder, and anise sweetness appear.
If you're shopping on Amazon, support The Whiskey Shelf by shopping through my affiliate link – Shop Amazon. I may earn a commission from your Amazon purchases.
EH Taylor Single Barrel Rating

EH Taylor Single Barrel is very good and enjoyable, but doesn't blow me away. It's a frosted cinnamon bun with fruit slices, the bourbon equivalent of Auntie Anne's (that's a compliment). While the scents are pleasant and inviting, I wish the flavors could have been a little sweeter and fruitier, and less peppery.
For better or worse, this EH Taylor Single Barrel isn't noticeably better than the much cheaper 
Small Batch 
($40 MSRP vs $60+), but variation is always a risk with single barrels. There probably are incredible barrels out there, this one just happens not to be.
My recommendation: look for the cheaper and likely more consistent EH Taylor Small Batch. Booker's also offers a more complex, albeit radically different, experience and can often be had for under $60.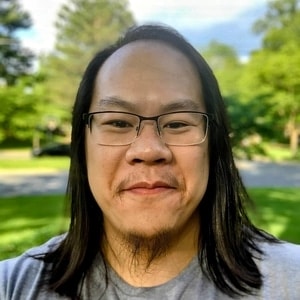 I have far too much fun writing about whiskey and singlehandedly running The Whiskey Shelf to bring you independent, honest, and useful reviews, comparisons, and more. I'm proudly Asian American and can speak Cantonese, Mandarin, and some Japanese.

There are no sponsors, no media companies, and no nonsense. Support The Whiskey Shelf by Buying Me A Shot.

Comments are closed.