Lux Row 12 Year Double Barrel Bourbon Review [In Depth]
Lux Row 12 Year Double Barrel Bourbon
Lux Row 12 Year Double Barrel Bourbon Details
From the Lux Row website:
"Our limited-release double barrel bourbon was bottled to commemorate the grand opening of Lux Row Distillers. Like the name suggests, the bourbon was aged in two different barrels — for 12 years each — allowing for an extra-aged expression highlighted by notes of caramel, vanilla, oak and tobacco. Even the proof of 118.4 is a nod to the distillery, as we opened our doors in April 2018."
lux row 12 year double barrel bourbon overview
In September 2019, Lux Row released ~6,000 bottles of Lux Row 12 Year Double Barrel Bourbon to commemorate the 2-year anniversary of the distillery's grand opening. Odd timing aside (September release to celebrate an April anniversary), this mainly distillery-only release (with some bottles making it to select Kentucky retailers) offers an interesting concept by blending 2 barrels at a time, hence "double barrel". 
In this case it does not mean additional aging in a second charred oak barrel (e.g., Woodford Reserve Double Oaked, Old Forester 1910 Bourbon). If you think about it "double barrel" is a pretty confusing and vague term.
Even though you could call 2 barrels "small batch", in spirit this falls between single barrel and small batch, providing the focus of a single barrel while marrying two so you get the best of both. This also means that there's going to be variation between different bottlings. The particular blend for this review comes from barrels 5071911 and 5071915, both barreled on 8/16/06.
Images of other bottles indicate that Lux Row used barrels aged as early as July 2006 and as late as May 2007 (~10 month difference), so while some blends are closer to 12 years, others may actually be nearly 13 years. Let's learn more about this celebratory release in this Lux Row 12 Year Double Barrel bourbon review. 
As an FYI, I bought and use these Glencairn glasses for my reviews and comparisons (because they're the best): Glencairn Crystal Whiskey Glass, Set of 6, Clear, 6 Pack. Full transparency, this is an affiliate link, so I may earn a commission if you buy this or something else from Amazon.

lux row 12 year double barrel bourbon smell
Oh…wow…Lux Row 12 Year Double Barrel bourbon smells so beautifully dark and rich. There's luscious dark caramel, sweet candied fruits, vanilla, dark blueberries and blackberries, cherries almost like Twizzlers, dried citrus peel, peach, licorice, mint, cocoa powder, freshly ground coffee beans, and roasted oak.
The oak is bold, yet in a refined and understated way that has a lot of great Armagnac finished tobacco notes with lighter amounts of roasted wood and a sprinkle of cinnamon and nutmeg. The heat is very calm after 30-40 minutes of air. The maturity and depth are very apparent, and the nose is so dang interesting, layered, and evolving…more please.
Swirling makes it even better – initially a lovely mix of caramel, brown sugar, and toasted vanilla followed by candied ginger, dried berries, orange peel, fragrant dried wood, tobacco, cinnamon, mint, and a little sour funk. 
The dark, dense, and fragrant oaky notes are not shy at all, making this smell much older than 12 years old. Those sherry-finished dark fruit notes with just a little funk also add great fruitiness within the roasted sugar and old wood, creating a luscious and clear balance amongst everything.
lux row 12 year double barrel bourbon taste & aftertaste
Rich caramel, roasted brown sugar, vanilla, ripe apples, cherries, licorice, cocoa powder, and a little cheesy funk come first, followed by a big rush of heavily roasted oak, coffee grounds, and dryness that coat everything. The flavors are much drier and roasted than the nose is, with less gentle and rich tobacco and fruit.
After "chewing", Lux Row 12 Year Double Barrel bourbon has the same dense and rich roasted caramel, brown sugar, charred marshmallow, dried berries, licorice, citrus peel, and just a little date, candied ginger, mint. At the same time there's a constant oaky and roasted blanket of coffee grounds, cinnamon, nutmeg, and dark chocolate. 
The flavors are very oaky and dry, and while not overpowering, muddy some of the rich sweetness and fruitiness, making it a bit unbalanced and holds it back just enough from "Top Shelf+".
Some of the rich and delicate Armagnac-like notes in the nose don't quite carry over to the flavors, so while Lux Row 12 Year Double Barrel tastes fantastic, it doesn't quite have that "wow" factor of a "Top Shelf+" whiskey, but it's so close. I'm also surprised that the mouthfeel isn't that thick, nowhere near as viscous and oily as Elijah Craig Barrel Proof, even though the ABV is still pretty high. 
The finish is sweet and dry with a mix of caramel, maple syrup, a lot of oak tannins, unsweetened cocoa powder, coffee grounds, cinnamon, licorice, and dry citrus peel. Over a few minutes, it slowly morphs into a dry, lightly tannic, and minty finish that would hold up to a cigar.
 After "chewing", the finish is more dark, dry, and oaky, but not at all harsh or bitter. It becomes less sweet as the oak builds, ending with a long-lasting roasted finish with some caramel, licorice, citrus peel, and dried berries. While it leaves my mouth a little dry at the end, the finish is excellent and noteworthy.
If you're shopping on Amazon, support The Whiskey Shelf by shopping through my affiliate link – Shop Amazon. I may earn a commission from your Amazon purchases.
Place on the Whiskey Shelf

Lux Row 12 Year Double Barrel Bourbon leaves me conflicted because it's fantastic, but misses pure greatness by just a hair. The nose is sublime and definitely "Top Shelf+" on its own with absurdly rich, refined, defined, and balanced caramel, vanilla, dark fruit, and oak, but the flavors fall just short of that same peak, although they are still excellent.
Tasting this over multiple reviews (to make sure), I always found the flavors to always be a bit too oaky and dry, taking away from the roasted sugar, vanilla, and fruit richness, and my overall enjoyment. This is still an incredible bourbon, but sometimes it's the little things that make the difference between "Top Shelf" vs "Top Shelf+".
The oak especially seems to wash out some of the underlying fruitiness, leaving it inches away from true greatness. It pains me to not give this a "Top Shelf+" rating, but the flavors don't quite get me there. Just like Old Fitzgerald 15 Year Bottled in Bond, it's so close.
The question then becomes is this "worth" the $150 MSRP (a bit more for me since I had it shipped)? First off, it really depends on the two barrel blend you get. Only considering this one I reviewed (because there's probably quite a bit of variation between each blend), it's not quite a resounding hell yes, but I certainly don't regret it because it's still so damn good. I've spend the same on far less…cough…Michter's 10 Year Single Barrel Bourbon.
I just won't be stashing away more of this particular blend, although I am open to trying other batches if the opportunity arises. If you're willing to spend the money, this is still interesting enough to buy and experience the magic of what Heaven Hill's bourbon can be since I think this is better than Elijah Craig Barrel Proof, but at nearly over double the price.
The extra price gives you much more defined and mature oak, tobacco, and fruit. You might say it's more "ripped" while Elijah Craig Barrel Proof often comes off as blobish, undefined, and all mashed together. That said, if you're going to spend $150-200 anyways, you're better off with this than Michter's 10 Year Single Barrel bourbon, Stagg Jr (at secondary), Woodford Very Fine Rare Bourbon, or many other bourbons in the general price range.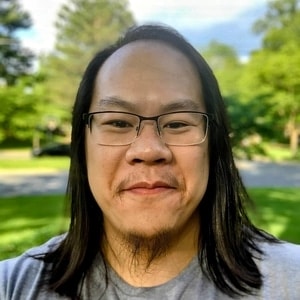 I have far too much fun writing about whiskey and singlehandedly running The Whiskey Shelf to bring you independent, honest, and useful reviews, comparisons, and more. I'm proudly Asian American and can speak Cantonese, Mandarin, and some Japanese.

There are no sponsors, no media companies, and no nonsense. Support The Whiskey Shelf by Buying Me A Shot.