Russell's Reserve 10 Year
Russell's Reserve 10 Year Bourbon
Russell's Reserve 10 Year Bourbon Details
From the Wild Turkey website:
"Master distillers and premier whiskey makers Jimmy and Eddie Russell have brought nearly 100 years of combined experience to artfully crafting Russell's Reserve 10 Year Old Bourbon. Bottled at 90 proof, this hand selected small batch bourbon has a rich, caramel and vanilla taste and a uniquely smooth finish"
russell's reserve 10 year bourbon overview
Russell's Reserve 10 Year bourbon is one of the few widely released and age-stated Wild Turkey whiskeys, with the 6 year rye being the other (I'm not counting anything limited such as Master's Keep, Cornerstone, or Decades).
From what I understand, the Russell's Reserve line is Wild Turkey's ode to Jimmy Russell, their Master Distiller. That may also mean that Jimmy Russell (and/or his son Eddie) have more involvement in picking barrels for these whiskeys.
From what I recall, it started out as Wild Turkey's response to Eagle Rare 10 year, hence the same age statement and 90 proof. The price point is similar as well: $35-40. Still, I'm a little confused about the differences between Wild Turkey and Russell's Reserve because most of the limited releases (e.g., Master's Keep, Cornerstone) are under the Wild Turkey name.
russell's reserve 10 year bourbon smell
Russell's Reserve 10 Year starts out of the gate with very Heaven Hill-like sweet and grassy nuttiness. I'm talking crushed roasted peanut shells with a little burnt caramel nougat, chocolate drizzle, and eucalyptus. With the dry grassiness comes just a little campfire smoke as well, but not the vegetal and ocean-y peat smoke from Laphroaig.
Next comes a little vanilla with dried orange oils (e.g., how your hand might smell after peeling an orange), followed by a little oak and cinnamon. It's really more dry, grassy, and nutty than oaky, and the heat is well contained.
Russell's Reserve 10 Year smells about the same after swirling. There's still that dry and sweet grassy nuttiness followed by sweet and honeyed vanilla buttercream. Blind, I'd strongly believe that this was Heaven Hill bourbon and you'd be hard pressed to convince me otherwise. 
Russell's Reserve is quite balanced all around, adding hints of roasted oak, roasted coconut flakes, cherries, orange juice, eucalyptus, and stewed corn into the mix, and ending with a little alcohol tingle; it's quite pleasant to smell.
russell's reserve 10 year bourbon taste & aftertaste
Russell's Reserve 10 Year begins primarily with caramel followed by vanilla, cocoa, sweet corn, and citrus. Grassy toasted bread and malt then come through with oak and cinnamon towards the back; and the 45% barks a little without being a problem.
With "chewing", the caramel and orange sweetness come forth again mixed with roasted oak bite, but too strong, followed by cinnamon, black pepper, grass, a drop vanilla, and licorice.
It's pretty balanced between the sugar, oak, spice, and alcohol, and it's not nearly as nutty as I expected from the nose. Nothing is particularly unique, but not is bad either.
The finish is sweet, bitter, and roasty with a little honey, grass, and orange peel. In some ways it reminds me of slightly sweet coffee grounds. Post "chewing", I find the same sweet, oaky, grassy, and slightly bitter coffee ground finish with a light alcohol tingle and just a little honey and licorice. 
The sweet licorice, dried nuts, grass, and coffee ground linger for a while longer. At the end, Russell's Reserve 10 Year is a nice and enjoyable bourbon, and sometimes that's all you need.
If you're shopping on Amazon for Black Friday, Cyber Monday, the holidays, or any other occasion, support The Whiskey Shelf by shopping through my affiliate link – Shop Amazon. Disclaimer: I may earn a commission from your purchases.
Russell's Reserve 10 Year Bourbon Rating

Russell's Reserve 10 Year is a balanced bourbon, but not quite an excellent one. I'm quite surprised at how grassy and nutty the nose is, similar to Heaven Hill bourbons such as
Evan Williams Bottled in Bond
and
Elijah Craig
.
This 10 year hits every note I'd expect from a solid bourbon: caramel, vanilla, citrus, oak, cinnamon spice, and licorice (for bourbons with rye), but like I often say with "Mid Shelf" bourbons, nothing stands out enough for me to go back to buy another bottle. It's nice to drink neat and share with friends, but I'll look elsewhere if I'm looking for something under $40.
Because
Eagle Rare
is usually the other 10 year bourbon that comes to mind, go for Russell's Reserve 10 Year if you like more dark, oaky, grassy and nutty notes in your whiskey, and Eagle Rare if you don't. Check out the results of my
comparison of the two
for all the details to help you understand how to differentiate the two.
Now that I think about it, I'm surprised that Wild Turkey doesn't do barrel picks for the 10 year, because that would be another way to compete with Eagle Rare for shelf space. I could see some of these 10+ year old picks being special.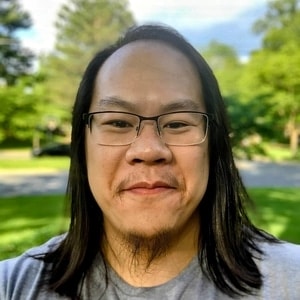 I have far too much fun writing about whiskey and singlehandedly running The Whiskey Shelf to bring you independent, honest, and useful reviews, comparisons, and more. I'm proudly Asian American and can speak Cantonese, Mandarin, and some Japanese.
There are no sponsors, no media companies, and no nonsense. Support The Whiskey Shelf by 
Buying Me A Shot
.
Russell's Reserve 10 Year Bourbon Review [In Depth] | The Whiskey Shelf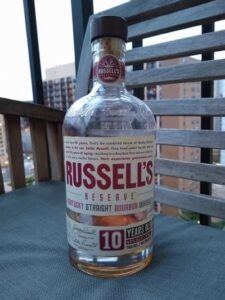 The Whiskey Shelf explores one of the few age-stated and accessible Wild Turkey bourbons in this Russell's Reserve 10 Year bourbon review.
Product In-Stock: InStock