wild turkey freedom vs wild turkey father and son
Wild Turkey Freedom vs Wild Turkey Father and Son: Young vs Old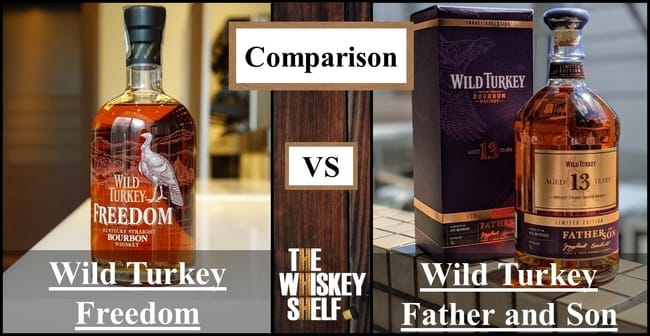 Over the years, Wild Turkey has released quite a few export-only bourbons. But did you know that in 2002, there was a duty-free release of Wild Turkey Freedom?
It's a quasi Rare Breed Bourbon made from a blend of 7-13 year old bourbon and 53% ABV. Fast forward 19-20 years, Wild Turkey released a spiritual successor in Wild Turkey Rare Breed Non Chill Filtered…wait…wrong bourbon…this is about Wild Turkey Father and Son.
I didn't intend to do this Wild Turkey Freedom vs Wild Turkey Father and Son comparison. In the process of setting up the Freedom vs Non Chill Filtered comparison, I absentmindedly grabbed the bottle that looked like Rare Breed NCF and didn't even think to check it.
I discovered my mistake after completing the comparison, and it also explained why I thought Rare Breed Non Chill Filtered felt so light (because it wasn't Rare Breed).
So what we have here is an accidental comparison of a 7-13 year old & 53% ABV Wild Turkey bourbon, and a 13 year old & 43% ABV Wild Turkey Bourbon, more or less opposite sides of the age and ABV spectrum.
This comparison isn't entirely pointless though because there is one point of overlap worth exploring – Freedom has 13 year old bourbon in the blend while Father and Son is 13 years old. Admittedly, the 13 year old bourbons are years apart (2002 vs 2020), but let's run with it and see what happens.
This happens to be a chance to find out if I can pick out any of that older bourbon. Sure this comparison would have been better with Russell's Reserve 13 Year, but I can't get that in Japan.
And since I already did the comparison, I might as well finish it. Let's find out more about the breadth and depth of what Wild Turkey makes in this Wild Turkey Freedom vs Wild Turkey Father and Son comparison.
The table below outlines the two bourbons.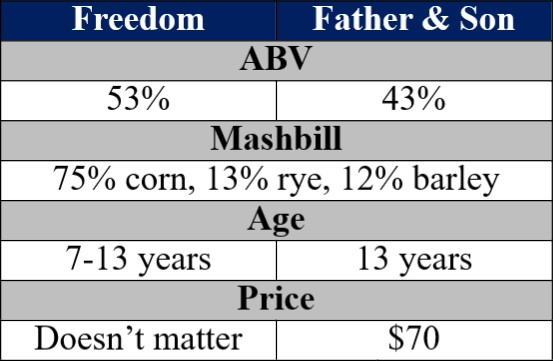 As an FYI, I bought and use these Glencairn glasses for my reviews and comparisons (because they're the best): Glencairn Crystal Whiskey Glass, Set of 6, Clear, 6 Pack. Full transparency, this is an affiliate link, so I may earn a commission if you buy this or something else from Amazon.

If you're shopping on Amazon, support The Whiskey Shelf by shopping through my affiliate link – Shop Amazon. I may earn a commission from your Amazon purchases.
This is going to be an obvious point:
Wild Turkey 13 Year Father and Son
and
Wild Turkey Freedom
are extremely different. Even then, I can't detect any of the older bourbon in Wild Turkey Freedom. And even though there's no point in picking a winner, I'm going to pick Father and Son anyways.
Part of the beauty of this accidental comparison is that it reinforces that a distillery can create so many different bourbons using one mashbill (entry proofs have changed over 20 years). When you're as old as Wild Turkey, having tens of thousands of 0-30+ year old barrels (speculating on the top end) gives you so much freedom to craft a specific type of bourbon.
Using what I think is mostly 7 year old bourbon, they created Wild Turkey Freedom: a sweet, earthy, spicy, and kind of grainy bourbon that emphasizes those more bold, youthful, and slightly brash notes. Like I mentioned in my review, it reminds me a bit of
New Riff Single Barrel bourbon
or
Woodinville Barrel Proof
.
With 13+ year old barrels, they crafted a more luxurious, mature, and dessert-y bourbon that reminds me of black forest cake (chocolate + cherry). I distinctly remember thinking, "oh that smells so good," when I got chocolate, sweet oak, and berries with my first sniff.
The honey, cherry, dark berries, chocolate, tobacco, and fudge in the scents and flavors are truly enjoyable, but the lower ABV is still painfully obvious in the flavors and takes away from my overall enjoyment. Still, I'd pick the more mature and dessert-y Father and Son over the more intense and youthful Wild Turkey Freedom.
With all of that said, Wild Turkey Freedom doesn't seem to have any of those chocolate, dark fruit, tobacco, or sweet oak notes that are in the 13 year old Father and Son. Maybe the older bourbon in Freedom brings something entirely different. Maybe I'm not supposed to detect anything like Father and Son in Wild Turkey Freedom because it was intentionally blended that way.
How both bourbons were blended and the bourbon they had in each time period of course might affect all of this (also knowing that Jimmy Russell probably wasn't thinking about Father and Son when he made Freedom).
The 13 year old bourbon Wild Turkey had in 2002 is probably very different from what we get today. Also, Jimmy Russell may have had two very different profiles in mind, so the 13 year old bourbon used in Freedom may have been nothing like the ones used for Father and Son.
This was a strange comparison, but hopefully interesting nonetheless. If you take anything away from this accidental comparison, it's that bourbon can be and is extremely diverse.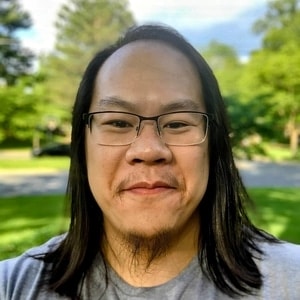 I have far too much fun writing about whiskey and singlehandedly running The Whiskey Shelf to bring you independent, honest, and useful reviews, comparisons, and more. I'm proudly Asian American and can speak Cantonese, Mandarin, and some Japanese.

There are no sponsors, no media companies, and no nonsense. Support The Whiskey Shelf by Buying Me A Shot.

Maker's Mark Cask Strength Comparison