Old Forester 86 Proof Bourbon Review [In Depth]
Old Forester 86 Proof Bourbon
Distillery: Old Forester (Brown Forman)
Type & Region: Bourbon, Kentucky, USA
Alcohol: 43%
Composition: 72% corn, 18% rye, 10% malted barley
Aged: NAS
Color: 1.1/2.0 on the color scale (burnished)
Price: $18-25 (750mL)
From the Old Forester website:
"Created in 1870, Old Forester is the only bourbon continuously distilled and marketed by the founding family before, during and after Prohibition. At 86 proof, Old Forester delivers a genuine bourbon experience, with rich, full flavor and a smooth character that is ideal for sipping neat, on the rocks, with a splash of water or in a classic cocktail."
old forester bourbon overview
Old Forester Bourbon 86 Proof is a shelf staple offered by Brown Forman, the company well known for Woodford Reserve and Jack Daniel's. As the Old Forester line has expanded to include the Whiskey Row series and more recently the 100 proof and cask strength Old Forester Single Barrels, the 43% ABV version continues to be the most affordable entry point into Old Forester bourbon at around $18-25 per bottle. 
Funny enough, it's about the same price as Jack Daniel's Old No.7, which is also owned by Brown Forman. There's not much more to say than that, so let's find out how this bourbon performs in this Old Forester 86 Proof Bourbon review.
As an FYI, I bought and use these Glencairn glasses for my reviews and comparisons (because they're the best): Glencairn Crystal Whiskey Glass, Set of 6, Clear, 6 Pack. Full transparency, this is an affiliate link, so I may earn a commission if you buy this or something else from Amazon.

old forester bourbon smell
Old Forester Bourbon has this oaky, roasty, and sweet caramel, vanilla, and gently smoked grain up front, followed by dried citrus peel, apple, candied fruits, cinnamon, and hints of licorice afterwards. 
It definitely smells young and is generally light, but it's not all that bad. The smoked grain and oak kind of remind me of young MGP bourbon, although MGP has more rye in the mash that brings out more licorice, anise, and dill.
After swirling I smell the same combination of roasted caramel, smoked grain and oak, and crème brulee followed by dried citrus, apple, cinnamon, eucalyptus, and a little roasted banana / plantain. As to be expected, there isn't much heat either. 
old forester bourbon taste & aftertaste
Old Forester 86 Proof Bourbon starts off with roasted caramel, apple, vanilla, and citrus with toasted oak and cinnamon that follow close behind. There is a little bite at first, but it's nothing major.
After "chewing" I taste a moderate amount of caramel, brown sugar, vanilla, banana, toasted oak, cinnamon, citrus, and baked apples. While there still isn't much heat, Old Forester does have a little spicy cinnamon and nutmeg bite to it, as well as a middle of the road and not thin mouthfeel. To be honest, it's not a complex or interesting bourbon, but it's also decently enjoyable. It could be a lot worse, so I'll take it
The finish initially is light with honey, toasted grains, licorice, and citrus; and after a minute I start to get hints of banana. I didn't expect that Jack Daniel's trait to carry over to Old Forester, but I'm starting to realize that it's a Brown Forman thing. 
With "chewing", the finish becomes a little more oaky, dry, and sweet all at the same time with honey, toasted grains, vanilla, sliced apple, and citrus. After a minute or so I get some roasted banana, dried citrus, licorice, and mint. The finish, while light, is actually kind of nice and certainly a good ending for Old Forester. 
If you're shopping on Amazon for Black Friday, Cyber Monday, the holidays, or any other occasion, support The Whiskey Shelf by shopping through my affiliate link – Shop Amazon. Disclaimer: I may earn a commission from your purchases.
Old Forester Bourbon Rating

I haven't had basic Old Forester for years, but turns out Old Forester 86 Proof Bourbon is more interesting than I expected. It's still not great, but it's also not so bad for a $20ish bourbon, although I still prefer
Evan Williams Bottled in Bond
at around the same price.
It's pretty clear to me that the bourbon is relatively young, but I'm finding a somewhat fragrant and flavorful, yet light, mix of sugars, fruits, oak, wood spice, and that Brown Forman banana note usually found in Jack Daniel's. On that note, this is way better than 
Jack Daniel's Old No. 7
 and 
Gentleman Jack
.
To close this out, Old Forester Bourbon 86 Proof is a decent bourbon that isn't going to blow anyone away, but it's also not bland or offensive so it's easy enough to drink without issue. It's a decent option for daily drinking, but you're not missing out if you pass on it. That can't be said for 1980's Old Forester 86 Proof Bourbon, which is far more mature and rich bourbon, making it a completely different bourbon.
I lament that 
Virgin 7 Year Bourbon
was discontinued in mid-2019 because that was the one sub-$20 bourbon to rule them all. To reiterate one last time – Old Forester 86 Proof Bourbon is alright, but it's not for me.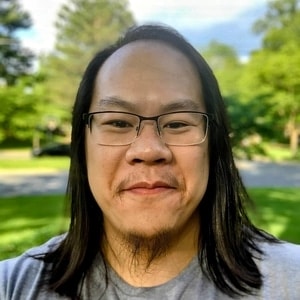 I have far too much fun writing about whiskey and singlehandedly running The Whiskey Shelf to bring you independent, honest, and useful reviews, comparisons, and more. I'm proudly Asian American and can speak Cantonese, Mandarin, and some Japanese.
There are no sponsors, no media companies, and no nonsense. Support The Whiskey Shelf by 
Buying Me A Shot
.
Comments are closed.