Wild Turkey Rare Breed W-T-01-99 Review [In Depth]
Wild Turkey Rare Breed W-T-01-99 (2001)
Wild Turkey Rare Breed W T 0 1 99 Details
Distillery: Wild Turkey
Type & Region: Bourbon, USA
Alcohol: 54.2%
Composition:
75% corn, 13% rye, 12% barley
Aged: Blend of 6-12 year old bourbon
Color: 1.4/2.0 on the color scale (tawny)
Price:
I paid $110, which is not normal. You'll probably pay a lot more than that.
From the back of the bottle:
The spirit of Wild Turkey has been captured in this barrel proof whiskey to create the finest of bourbon pleasures. Hand-crafted and uncut with water, Rare Breed is truly a legendary treasure to savor.
Wild Turkey Rare Breed W T 0 1 99 overview
Wild Turkey Rare Breed has been in production for decades, as far back as the early 90s. So for over 30 years, people have been enjoying Wild Turkey in its barrel proof form. In this review, I have Wild Turkey Rare Breed W-T-0-99 that was likely bottled in 2001 based on the L0152024 laser code.
That's right, the batch ends with 99 (indicating 1999) but this was bottled in 2001. This batch spanned a few years.
I again was extremely lucky to locate this bottle for not an exorbitant price – $110. It wasn't cheap by any means (around $60-70 more than today's releases), but justifiable to me at least since it's 20+ years old. Deals on older Wild Turkey are hard to come by, and I haven't seen many bottles of older Rare Breed on top of that.
"Dusty" Wild Turkey bourbon prices have skyrocketed since 2017, due to a combination of overall explosive demand for bourbon in general, greater recognition of older Wild Turkey bourbon, and dwindling supply of these discontinued bottles.
I can't actually substantiate this, but I think Japan may still one of the largest, if not the largest stockpiles of old Wild Turkey bourbon, if you're lucky enough to find it. You can always go the auction route, but it's going to cost you quite a few pretty pennies.
I've been told that Wild Turkey 12 Year "cheesy gold foil" could be had in Japan for $200-300 even in 2017-2018. Fast forward a few years, and stores are asking $1000+, an absurd spike. Then again, stores in Japan are also asking for $1200+ for
Yamazaki 18 Year
(it's good but not that good), so parts of Japan's whiskey market are just as ludicrous as they are in the US.
Wild Turkey Rare Breed W T 0 1 99 smell
My first whiff of Rare Breed W-T-01–99 packs a wall of toasted caramel, creamy vanilla, creme brulee, tobacco, roasted oak, dried cherry and apple, cinnamon, orange peel, dark chocolate, and a little nuttiness and licorice. I haven't gotten so much nuttiness from modern Wild Turkey, so that's a nice note to find again.
It's immediately clear that dense dark and roasted sugars lead the charge. After that there's amazingly fragrant oakiness mixed in with everything else that really shows off the older parts of the blend.
Rare Breed Non Chill Filtered
has some of those same chocolate and tobacco notes too.
After swirling I smell luscious, round, and rich roasted caramel and vanilla, brown sugar, maple syrup, fragrant oak, tobacco, dried cherry, apple, and orange, roasted coconut, cinnamon, roasted coffee, dark licorice, and dry nuttiness.
There's abundant roasted dark sugars and a wonderfully oaky and roasty backbone that shows off how much older bourbon is in the blend, but with none of the harshness and over-oakiness you sometimes can get. The longer you smell it, the better it smells. Just amazing.
Everything has fantastic richness and heft. At the same time, I wouldn't say that anything is particularly unique. It's not a bad thing at all because it's expertly executed. It's sort of like the
Rare Breed we have today
, but with drastically more density, maturity, and refinement, which of course makes it smells incredible.
There are few bourbons out there today that smell like this or are as good as this.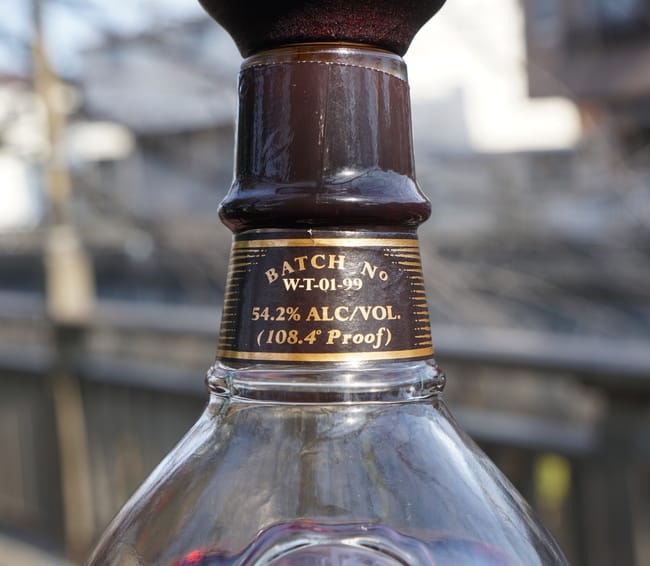 Wild Turkey Rare Breed W T 0 1 99 taste and aftertaste
My first sip crams roasted caramel and vanilla, brown sugar, licorice, dried cherry and apple, coconut, roasted oak, cinnamon, tobacco, and a little dry grassiness and nuttiness into those immense flavors.
The combination of sweetness, nuttiness, and round viscosity are peanut butter-like, although I wouldn't say that they're as nutty as Jim Beam bourbons such as
Booker's
and
Knob Creek Single Barrel
.
Oh boy, Wild Turkey Rare Breed W-T-01-99 is already a very sweet, roasty, and spice-forward bourbon that has my full attention. The round and rich flavors and mouthfeel are captivating, and the alcohol does a good job staying out of the way. There seems to be a little oiliness too, but I'm fairly certain that it's chill filtered.
After "chewing", Wild Turkey Rare Breed W-T-01-99 has dense roasted caramel and vanilla, dried licorice, dry cherry and apple, orange, roasted oak, dark chocolate, grilled pineapple, and a lot of cinnamon, clove, and coffee grounds. "Chewing" really brings out more of the fruity cherry, apple, and orange, which adds to the immense roasted sweetness, oak, and spice.
This isn't a hugely fruity bourbon per-se, like Blanton's 1991 or
Old Grand Dad 114 Lot 17
, but there's still generous amounts of fruit to complement everything else. Then again, this 2001 Wild Turkey Rare Breed is still more fruity (and developed) than most bourbons sold today at any price.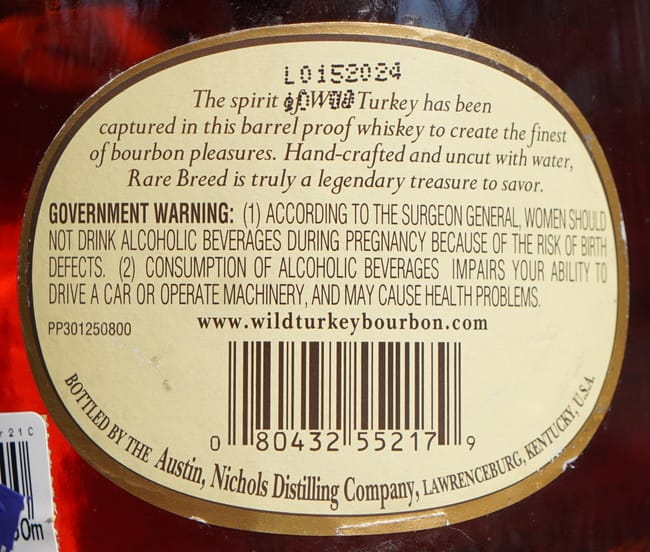 Especially the second time around, I notice far more roastiness and spiciness (cinnamon, clove). It's not overdone, but reinforces that there's likely a very high percentage of top notch 12 year old bourbon in the blend. There's no "throw away" overoaked and harsh older bourbon that needed to be blended away and hidden.
At the same time, 2001 Rare Breed doesn't push any boundaries in terms of unique flavors. Not every bourbon needs to do that, but that comes to mind as I drink. In some ways, it reminds me of the great barrel of
Henry McKenna 10 Year I reviewed
(not all of them are good), in how laser-focused it is on the dark and roasty flavors.
The finish initially has roasted oak, dried cherry, honey, licorice, and a little nuttiness. It fades into roasty oak, tobacco, dried nuts, and lightly sweet licorice. After a few minutes, I start to get mint…didn't see that one coming.
After "chewing" the aftertaste is roasty and sweet with caramel, roasted oak, vanilla, a little dry nuttiness, licorice, and dried apple. It slowly fades into long-lasting roasted oak, tobacco, dry nuts, licorice, orange, and mint. It's an incredibly deep and luscious ending.
If you're shopping on Amazon, support The Whiskey Shelf by shopping through my affiliate link – Shop Amazon. I may earn a commission from your Amazon purchases.
Wild Turkey Rare Breed W-T-0-1-99 Rating

Wow, Wild Turkey Rare Breed W-T-0-1-99 is incredible, a superbly crafted bourbon from a time when distillers and blenders likely had free reign and virtually no limits to what they could do because there were barrels abound, filled with magical older bourbon. I wouldn't be surprised if the blend was mostly 12 years old.
This 2001 Rare Breed has so much of what I could want from bourbon – tons and tons of roasty sweetness with dried fruit, tobacco, oak, spice, and everything nice. That said, it doesn't necessarily introduce any unique nuances or twists that could take it even higher (e.g., dark berries). It's just a wonderfully blended Wild Turkey Bourbon that sticks to more of the quintessential bourbon traits.
Since Wild Turkey Rare Breed Non Chill Filtered is my personal gold standard for Rare Breed these days, I can't help but constantly compare them as I write this review (and I will compare them side by side). This 2001 Rare Breed focuses more on roasted sweetness and roasted and fragrant oak, while Non Chill Filtered has a little more dried berry and earthiness. From memory, they are very different.
If you think about when this was made in 2001 (when bourbon still wasn't that popular), Wild Turkey Rare Breed was likely supposed to be an affordable and accessible barrel proof bourbon that catered to a relatively small group of bourbon enthusiasts who wanted a higher ABV bourbon.
It probably wasn't meant to be a superbly game-changing bourbon like some of the subsequent and more pricey limited releases that only came out in Japan (e.g., Wild Turkey 17 year 101).
Nonetheless, Wild Turkey Rare Breed W-T-0-1-99 is an exquisite bourbon that I'll continue to savor until it's all gone. Since you will likely never get the chance to buy a bottle or try it, I think the closest comparable bourbon you can buy today may actually be
Redemption 10 Year Bourbon
, which I also rated "Top Shelf+".
It too emphasizes the rich and roasty sweetness, oak, and spice with supporting fruit and herbal traits, not really pushing any boundaries but absolutely nailing the quintessential bourbon.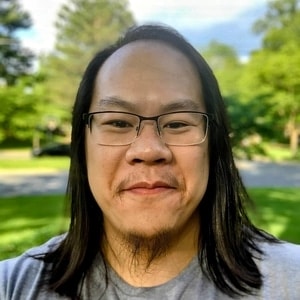 I have far too much fun writing about whiskey and singlehandedly running The Whiskey Shelf to bring you independent, honest, and useful reviews, comparisons, and more. I'm proudly Asian American and can speak Cantonese, Mandarin, and some Japanese.
There are no sponsors, no media companies, and no nonsense. Support The Whiskey Shelf by 
Buying Me A Shot
.