Wild Turkey Freedom Review
Wild Turkey Freedom Details
wild turkey freedom overview
Wild Turkey Freedom is a bit of an afterthought in terms of older Wild Turkey releases. It was initially a Hong Kong duty free release in 2002 (no idea why Hong Kong specifically), but didn't sell well and found its way to some normal stores.
In my case, I bought this in 2021 from Amazon Japan for about $180, from a seller who probably bought it from someone who no longer wanted it. Since it was oldish and higher-ABV Wild Turkey bourbon (couldn't be bad right?), I figured I'd gamble and give it a try even though I didn't know much about it.
Wild Turkey Freedom is interesting because while it's Rare Breed-like with a slightly older blend of 7-13 year old bourbon (Rare Breed is 6-12 year), the 53% ABV is a bit lower than normal. It also uses the Russell's Reserve bottle, not the Wild Turkey Rare Breed one.
But unlike all the other releases, Wild Turkey Freedom has an amazing etched bottle of a turkey (presumably a wild one) standing in a grass field in front of some trees with a mountain range in the background.
It's truly a majestic work of art that you can feel on your fingertips, and one of the most beautiful wild turkey bottle I've ever seen.
Let's find out if the bourbon filled inside this work of art is equally as beautiful in this Wild Turkey Freedom review.
wild turkey freedom smell
Wild Turkey Freedom starts off with roasty caramel and oak, vanilla, dried orange and apple peel, cardamom, roasted grains, freshly sawn oak, pear, licorice, cinnamon, nutmeg, rosemary, coffee ground, and a little floralness. The alcohol isn't bad either, but then again this is not nearly as strong as Rare Breed usually is.
Swirling opens up the earthiness and intensifies the sweetness, so now I get caramel nougat, butterfinger candy (yum), ginger, cardamom, caraway seed, dried cherry and apple, roasted oak, cinnamon, apricot, and pineapple.
Wild Turkey Freedom has some density and is sweet, earthy, roasty, oaky, and moderately fruity, making it fairly well rounded. I like it, but there's also nothing quite unique or exceptional about it, even by today's standards.
wild turkey freedom taste and aftertaste
My first sip has a nice and dense pop of roasty caramel, vanilla, cherry, coffee grounds, roasted oak, caraway seed, licorice, apple, cinnamon, dried apricot, and dried peanuts. There's a noticeable oakiness and earthiness across the flavors with good viscosity and richness. If anything, the flavors skews a bit more roasty, oaky, and spicy.
"Chewing" offers the same roasty caramel with cherry, vanilla frosting, roasted oak, caraway seed, cardamom, cinnamon, dry nuttiness, ginger, pear, and roasted grains.
Like before, Wild Turkey Freedom has a lot of oakiness, roastiness, earthiness, and spiciness. I suspect that a lot of the bourbon in the blend came from the upper racks of the rickhouse, where the liquid and oak barrel interacted more intensely over time, thus infusing more woody, roasty, spicy, and earthy traits.
This time around there's also a more noticeable layer of roasted graininess throughout, which makes me think that most of the blend is 7 years old, although I usually don't get so much graininess with bourbon this old.
The finish starts nutty, sweet, and oaky and gradually fades into freshly sawn oak, cherry, pineapple, vanilla, orange, caraway seed, and ginger. It has a bit more of this baked bread thing towards the end.
After "chewing" it's roasty and spicy with caramel, vanilla, apple peel, roasted coconut, ginger, oak, cinnamon, nutmeg, licorice, and roasted grains. All in all a nice way to end Wild Turkey Freedom.
If you're shopping on Amazon, support The Whiskey Shelf by shopping through my affiliate link – Shop Amazon. I may earn a commission from your Amazon purchases.
Wild Turkey Freedom Rating

Let me just say that I've enjoyed drinking Wild Turkey Freedom, but special, exceptional, and amazing don't come to mind. At best it's a good but unspectacular representation of a higher-ABV Wild Turkey Bourbon. I guess that may partially explain why it never comes up in conversation today about desirable older Wild Turkey.
For the most part, this export release is bold with roasty, oaky, earthy, and slightly grainy traits that lean more youthful, although 7-13 year old bourbon is far from that. It's kind of like
New Riff Single Barrel Bourbon
in that sense, although New Riff is 4 years old.
It's a little strange to me that I don't get many of the traits I associate with older and more mature Wild Turkey (e.g.,
13 year Father and Son
,
13 year Distiller's reserve
) that have more dark fruit, chocolate, and tobacco. Shoot, even Rare Breed Non Chill Filtered has those luxurious traits.
It's actually surprising that Wild Turkey Freedom isn't better since I hear that Rare Breed from that time was amazing. I bet that Wild Turkey 8 Year 101 from that era (only 5 proof / 2.5% ABV lower) might be equally as good as Freedom as well.
I guess Wild Turkey Freedom's uniqueness comes from the etched bottle (amazing by the way) and tube with the twist lid, not so from the bourbon inside. I was pulling for it to be exceptional, but I can't lie to myself when I drink it.
There are a few takeaways from this review.
One
– it's not really "worth" paying a markup if you intend on drinking it. Just go buy the
usual Rare Breed
you can find today. Then again, it still might make a cool display-piece if that's your thing.
Second – if you have one and are wondering what it's like before you open it, then know that it's good but not amazing. Sorry to burst your bubble.
In hindsight I wouldn't pay $180 again, but oh well it happens.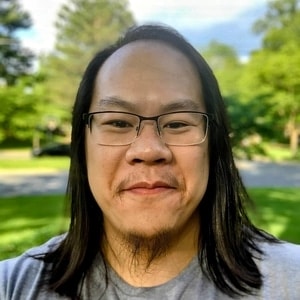 I have far too much fun writing about whiskey and singlehandedly running The Whiskey Shelf to bring you independent, honest, and useful reviews, comparisons, and more. I'm proudly Asian American and can speak Cantonese, Mandarin, and some Japanese.
There are no sponsors, no media companies, and no nonsense. Support The Whiskey Shelf by 
Buying Me A Shot
.
Comments are closed.