Eagle Rare Bourbon 10 Year Review [In Depth]
Eagle Rare Bourbon 10 Year
Eagle Rare Bourbon 10 Year Details
Distillery: Buffalo Trace
Type & Region: Bourbon, Kentucky, USA
Alcohol: 45%
Composition: Mash #1, speculated to be 75% corn, 10% rye, 15% barley
Aged: 10 years in virgin American white oak
Color: 1.2/2.0 on the color scale (chestnut, oloroso sherry)
Price: $30 (750mL) from Costco, $40+ in many markets
From the company website:
"Eagle Rare 10 year old Kentucky straight Bourbon whiskey has a sweet, oaky nose and full, complex body. Reminiscent of a fine port wine, this rare whiskey is best served neat, or over ice. Of course, feel free to drink Eagle Rare in such classic cocktails as the Manhattan or Whiskey Sour."
Eagle Rare 10 year bourbon review
Unlike all the others, Eagle Rare 10 year carries a 10-year age statement, although I've read rumors that it could be older. I know for a fact that some of the older single barrel picks had 13 year old bourbon in them.
In years past, Eagle Rare was a single barrel bourbon, but that changed when bottling switched from hand to machine-bottled, creating the chance that different barrels might mix. As a result, Buffalo Trace doesn't put single barrel on the labeling anymore.
I also must mention that like other Buffalo Trace products, Eagle Rare bourbon tends to fly off the shelves, leading to occasionally inflated prices at some stores and/or difficulty finding it. Can the inflated prices be justified? Let's find out in this Eagle Rare Bourbon review.
As an FYI, I bought and use these Glencairn glasses for my reviews and comparisons (because they're the best): 
Glencairn Crystal Whiskey Glass, Set of 6, Clear, 6 Pack.
Full transparency, this is an affiliate link, so I may earn a commission if you buy this or something else from Amazon.
Buffalo Trace Lineup of Reviews
Eagle Rare bourbon 10 year smell
The first sniff of Eagle Rare Bourbon 10 Year reveals a light and delicate mix of sweet mashed corn, caramel, honey, vanilla, citrus, and a dark fruit I can't quite identify, mixed-in with woody oak and minty rye.
It's has nice woody, spicy, and fruity qualities with minimal heat, attributed to the "lower" 45% alcohol. Swirling releases more charred wood, nuts, pine, mint, and rye, likely coming from the wood and not so much from the low-rye mash. 
The agitated alcohol nicely accentuates the mint like the scent of a freshly opened pack of peppermint gum bursting from the wrapper. It also releases light vanilla frosting, orange and vanilla creamsicle, and the faintest hint of dark fudge and dried oranges. Yeah, Eagle Rare 10 Year bourbon smells good, but not quite amazing.
When the glass is empty, I smell bright mint and musty rackhouse wood. The nose is light but not lacking in character and complexity.
Check out The Whiskey Shelf on Instagram, and don't forget to follow for even updates, adventures, and more
Eagle Rare bourbon 10 year Taste & Aftertaste
Moderate wood, spice, and mint immediately hit my tongue, followed by caramel and some alcohol heat. The first taste of Eagle Rare bourbon is not particularly complex, but "chewing" the second time does improve it.
It unveils orange, plum, more caramel, honey, and vanilla sweetness in addition to the existing wood, pine, and mint. Eagle Rare 10 Year definitely gets better with air and "chewing".
There's also a lightly nutty taste mixed with stewed corn. The alcohol remains reserved throughout, adding a little body to the otherwise thinner mouthfeel that's a little rougher and unrefined than expected for a 10 year old bourbon. 
Wood tannins initially linger throughout, mixed-in with vanilla, fruit, rye, and caramel. The woodiness transitions into chocolate and then light and tangy orange, all reinforcing that this is 10 year old bourbon.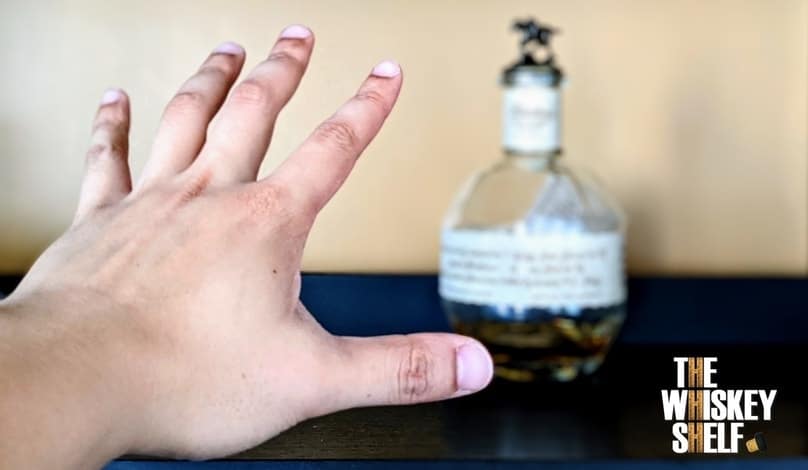 "Chewing" really changes the finish. Wood and pine are still present, but a slightly stronger nuttiness appears as well as fleeting notes of coconut, fading into a lasting mint. It all makes my mouth feel a little dry.
Eagle Rare 10 year's taste is overall very pleasant and enjoyable, but not nearly as outstanding as something that flies off the shelves should be. Still, I've enjoyed drinking Eagle Rare and will probably buy more every now and then.
If you're shopping on Amazon for Black Friday, Cyber Monday, the holidays, or any other occasion, support The Whiskey Shelf by shopping through my affiliate link – Shop Amazon. I may earn a commission from your purchases.
Eagle Rare Bourbon 10 Year Rating

Eagle Rare 10 Year is pretty good. It's well balanced and has essentially everything you could want in a bourbon but is a little rougher than I think it should be.
The flavors could be even better, but they're held back and dulled a bit by the lower proof that doesn't allow it to showcase everything it has to offer. Yes of course there are higher-ABV options such as
Stagg Jr
, but good luck finding one. Still, Eagle Rare 10 Year is enjoyable and would be great as a more wallet-friendly daily sipper (assuming you can find it at MSRP).
I'm happy to drink Eagle Rare Bourbon 10 Year and recommend it as a good place start drinking good bourbon. I'm not going to try too hard to get more and/or over pay, but I'll buy it again when the time is right.
So much hard work goes into each and every review, comparison, guide, and article, so please consider supporting The Whiskey Shelf in its continued journey of whiskey exploration and sharing.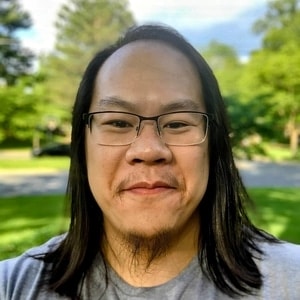 I have far too much fun writing about whiskey and singlehandedly running The Whiskey Shelf to bring you independent, honest, and useful reviews, comparisons, and more. I'm proudly Asian American and can speak Cantonese, Mandarin, and some Japanese.
There are no sponsors, no media companies, and no nonsense. Support The Whiskey Shelf by 
Buying Me A Shot
.

Comments are closed.