Maker's Mark Gold 1986 Review [In Depth]
1986 Maker's Mark Gold Personalized
1986 Maker's Mark Gold Details
Distillery: Maker's Mark
Type & Region: Bourbon, Kentucky
Alcohol: 45%
Composition: 70% Corn, 16% Soft Winter Wheat, 14% Malted Barley
Aged: NAS
Color: 1.4/2.0 on the color scale (tawny)
Price: No idea, I paid about $80
From the back label:
The Maker's Mark Whisky in this bottle has been specially aged to maturity in charred oak barrels and has been personally selected and bottled for your enjoyment.
Bill Samuels
Kentucky Straight Bourbon Whisky. Old Style Sour Mash
1986 Maker's Mark Gold overview
Did you know that Maker's Mark has been around since the 1950s? Yeah seriously, this distillery has tons of history behind it, and they've been rocking the same bottle shape for decades.
I mention this because I had the outrageous opportunity to buy a bottle of Maker's Mark Gold from 1986 (based on numbers stamped on the bottom of the bottle), coming in at 45%. There also is a 50.5% version that was released in the 90s, which has a goldish and greenish label and has the same bottle shape as regular Maker's today. A review of that coming at some point.
Maker's Mark back in the 80's was probably a medium sized operation. On Maker's Mark Gold from 1994, the label states they have capacity of a 38 barrels A DAY, not in a shift. I can only imagine that they makes multiples more than that today given how ubiquitous it is around the world.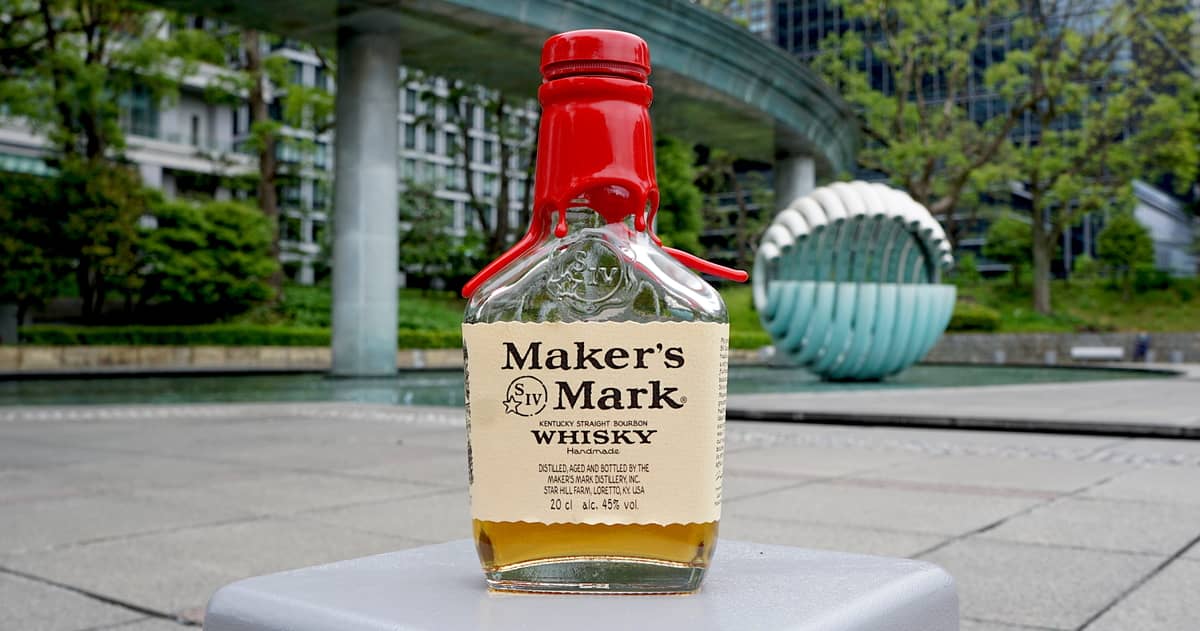 Maker's Mark has always wax dipped their bottles by hand, and this gold wax (with a greenish hue) is no different. I was most caught off guard by the twist top hiding underneath the wax. I personally don't think twist tops are better / worse than cork, I was just expecting to have to fish out some broken cork.
I had my strainer, bottle, and wine opener ready to go. But in this case, I just peeled off some very dry and crackly wax, twisted that top, and voila, started to enjoy it with no drama. I'm thankful for that
Besides this bottle being quite old, there are other fun tidbits about it. If you look at the
Whisky Auctioneer link
for a similar bottle, you'll see that the label for this bottle could be personalized with a name. The one I have for this review is not personalized, but instead sports the fact that it was selected by Bill Samuels. It likely just means a blend selected by him, because the bottle doesn't say single barrel.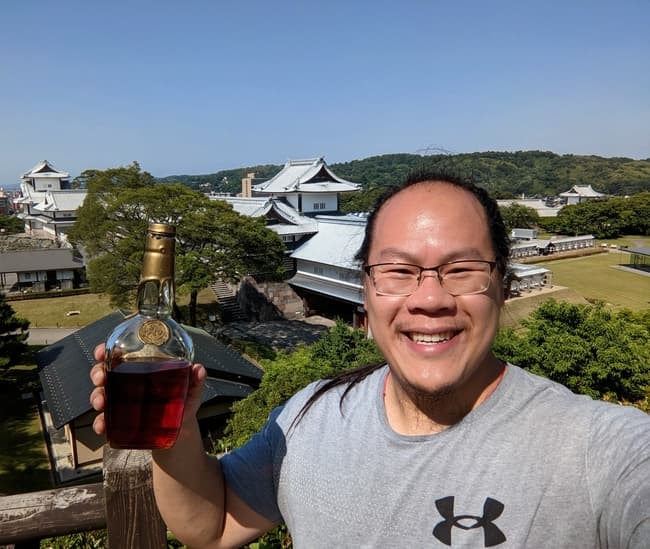 Me, Maker's Mark Gold, and Kanazawa Castle in Japan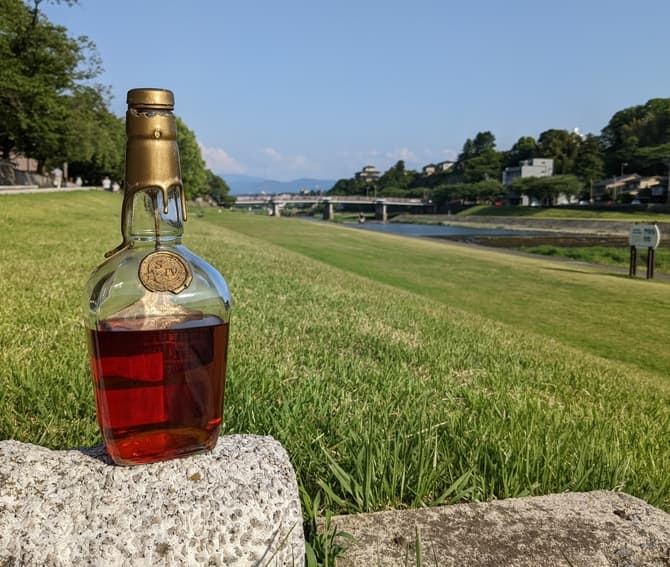 More Maker's Mark Gold in Kanazawa
Even with some digging, I haven't been able to figure out what makes this Maker's Mark Gold Personalized different from the red wax "normal" version from the same time period. My best guess is that this is the upgraded version using bourbon that was aged longer and/ or blended with even better barrels.
Given how much smaller they were back then, it wouldn't make much sense to release the exact same bourbon as an entirely different product, just with a different color wax and labeling. But nowadays, I wouldn't be that surprised if a company did that.
Let's explore some of Maker's Mark history in this 1986 Maker's Mark Gold bourbon review.
The color is awesome, just look at it.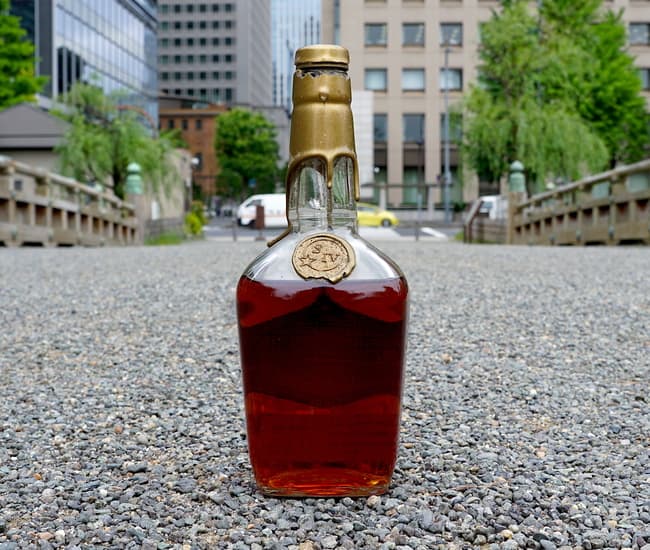 1986 Maker's Mark Gold smell
Talk about an explosion of fragrance. There's dark honey, dry cherry and apricot, dried prune, vanilla cream, old oak, dried orange, tobacco, dark cinnamon, malt chocolate ball, and hints of dry grass (but in a dark way, which doesn't make much sense). Wow there's a lot of dark fruit, like older oloroso sherry.
I can't help but think, "what the hell is this…is this Maker's Mark?" It smells more like
old Blanton's
, and has some gouda cheese and old school dusty funk there too. It's not as strange as that sounds, but whoaaa. Did I mention that this has tons of dried berries?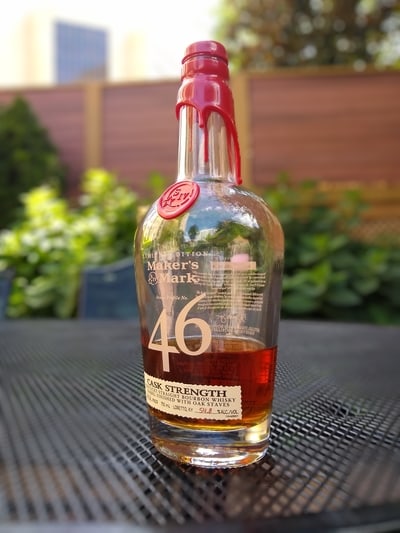 I've had Maker's Mark Gold Personalized a few times already , but this is the first time I actually let it rest for a while for a review, and whoa that was unexpected. And while there's a little heat, there's so much there that it stays way out of the way.
After swirling and a little rest, I smell candied honey, dried cherry and date, preserved lemon and orange, old oak, cinnamon, cream, clove, nutmeg, tobacco, and candied ginger. There's a slightly sweet earthiness that I can't quite put a name to. It just smells old, but in the best way possible.
1986 Maker's Mark Gold taste and aftertaste
Maker's Mark's Gold starts off with honey, dried cherry and prune, tobacco, cinnamon, old oak, vanilla, and orange. It's not a huge tidal wave of flavor, more gentle and controlled because of the ABV, but wow it's still incredibly delicious nonetheless. The dried cherries and prunes are superb, spicy and fruity, like cinnamon coated dark fruit drizzled in honey. Yes please.
With "chewing" I taste dark honey, old oak, dried cherry and prune, dark cinnamon, clove, creamy, vanilla, and candied ginger. Everything is so rich and fruity…it just pops.
And yes, Maker's Mark Gold from 1986 tastes old. As simple and vague as that sounds, it makes more sense if you've had bourbon bottled before…say 1995, although that's also an unhelpful statement
The best way I can describe it is that there's a gentle blanket of dark oak, dry tobacco, and oak spices with a dry earthiness. It provides a dense background darkness and heft that is round and refined, with minimal bite or burn. The oak and spice feel very smooth, less prickly and intense. It feels totally different from what we can get today.
But even though it tastes dark and old, there's still an amazing freshness, vibrance, and sparkle that makes it pop and keep me intrigued at all times. It feels contradictory: dark yet sparkly, old yet vibrant. It's amazing, and some of Maker's Mark's finest work.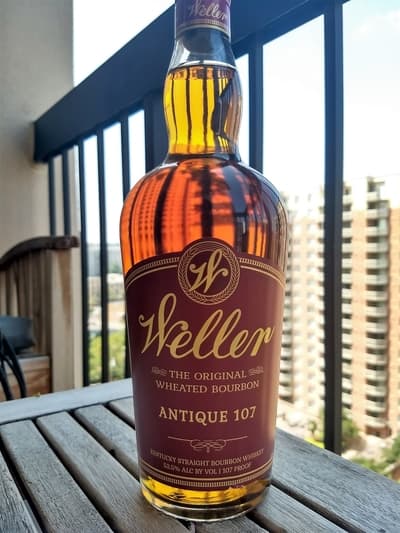 The magic just rolls into the finish with honey, cinnamon, dried cherry and prune, old oak, and tobacco, with the old oak, cinnamon, and dried fruit just coasting on for a while.
After "chewing", Maker's Mark Gold leaves candied honey, old oak, ginger, cinnamon, clove, tobacco, and dried prune with long-lingering old oak, tobacco, and candied ginger zing and freshness. Just incredible.
If you're shopping on Amazon, support The Whiskey Shelf by shopping through my affiliate link – Shop Amazon. I may earn a commission from your Amazon purchases.
1986 Maker's Mark Gold Rating

Wow, this is Maker's Mark at its finest. I've had a few bottles from normal Maker's Mark all the way up to Private Selects (plus other wheated bourbons including
Van Winkle 10 Year
and
12 Year
), but this 1986 Maker's Mark Gold is in a totally different universe of excellence.
The depth and complexity are on another level that Maker's Mark can't / won't offer today. Adding the best staves wouldn't be nearly enough to come close to the old Gold because they are so different to the core. It even steamrolls today's Van Winkle 10 and 12 Year, which are so shallow in comparison (from memory at least. I sure know they have zero dark berry or old oakiness).
I had no idea that wheated bourbon could be so fruity, because many of today's wheated bourbons aren't, or at least the ones I've had spanning various distilleries. Wheated bourbons these days are usually spicy and orange-y, which isn't a bad thing, but this old Maker's Mark Gold is not at all like that.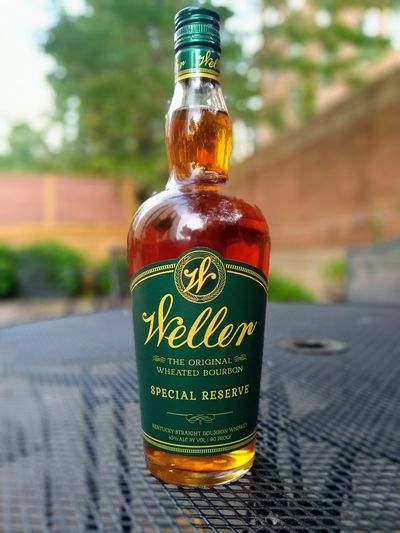 Yeah there's some cinnamon, clove, and orange, but holy shit I didn't expect all that sherry-like dark cherry, prune, and apricot. The spice doesn't bite, but instead seems to add this vibrant shimmer. This feels so similar to the
1991 Blanton's
I reviewed, it's uncanny.
It's cinnamon coated dried dark cherry, prune, and apricot drizzled in honey. It feels like it was finished in a sherry cask, although it probably wasn't. I shouldn't be surprised after all the old bourbon I've had, which is generally fruit-forward, because at their core they're not drastically different. Even though Maker's is wheated, it still has the overlapping 70-80% corn.
I mention that because I keep finding this overarching dark fruit and old oak across multiple dusty bourbons such as
Old Forester
,
BJ Evans 10 Year
,
Blanton's
,
Old Grand Dad 114 Lot 17
, and
Four Roses
. These are different distilleries with different mashbills (although predominantly corn), yeast strains, warehouses, and more, but the oak barrels used may be common to all of them.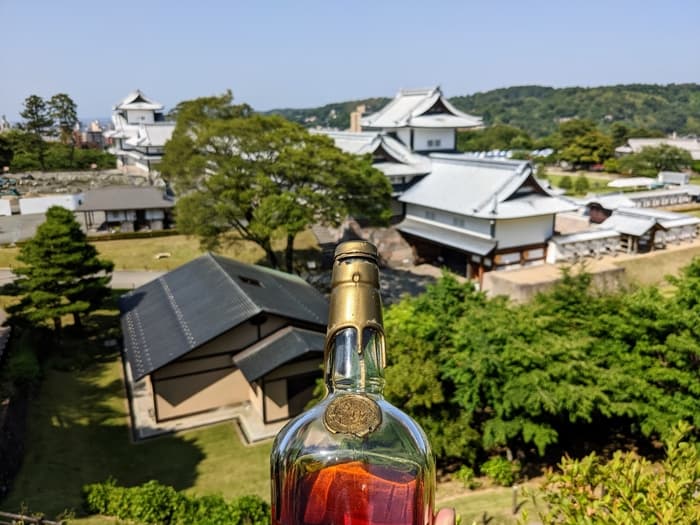 Maker's Mark Gold looking over Kanazawa Castle in Japan
They all may have gotten their charred white oak barrels from the same cooperage, who got their trees from the same forests with abundant amounts of old trees. My point is that the oak used back then may be a big reason why those bourbons from the 80s to early 2000s are more fruity than their modern versions. It's just a theory, but I think it's possible.
To finish up on-topic, I'll mention it again – wow Maker's Mark Gold of old is a superb bourbon, wheated or not. It's easily the best wheated bourbon I've had so far, and the best $80ish I've ever spent on a bourbon.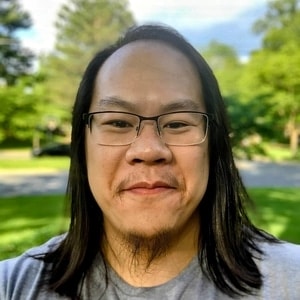 I have far too much fun writing about whiskey and singlehandedly running The Whiskey Shelf to bring you independent, honest, and useful reviews, comparisons, and more. I'm proudly Asian American and can speak Cantonese, Mandarin, and some Japanese.
There are no sponsors, no media companies, and no nonsense. Support The Whiskey Shelf by 
Buying Me A Shot
.