weller antique 107 review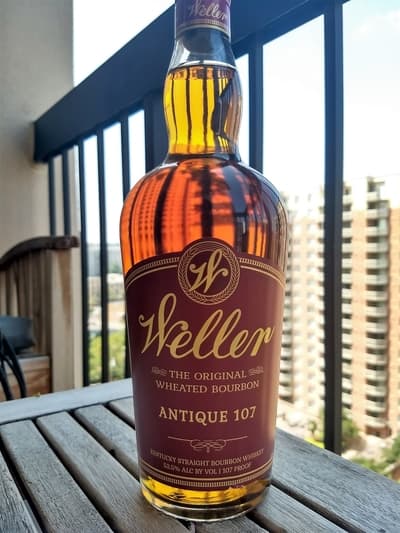 Distillery: Buffalo Trace
Type & Region: Bourbon, Kentucky, USA
Alcohol: 53.5%
Composition: Buffalo Trace wheated mash, speculated to be 70% corn, 16% wheat and 14% malted barley
Aged: ~6-7 years in virgin American white oak
Color: 1.3/2.0 on the color scale (russet muscat)
Price: $23 MSRP prior to 2019 but ~$50 after. $80+ in secondary market
From the Buffalo Trace website:
"A wheated bourbon with a full-bodied flavor and a balanced palette. Old Weller Antique is bottled at 107 proof, offering a complex taste and bold finish. It's certainly a recognizable member of the Weller label, with its own unique characteristics to compliment the high proof."
Distillery: Buffalo Trace
Type & Region: Bourbon, Kentucky, USA
Alcohol: 53.5%
Composition: Buffalo Trace wheated mash, speculated to be 70% corn, 16% wheat and 14% malted barley
Aged: ~6-7 years in virgin American white oak
Color: 1.3/2.0 on the color scale (russet muscat)
Price: $23 MSRP prior to 2019 but ~$50 after. $80+ in secondary market
From the Buffalo Trace website:
"A wheated bourbon with a full-bodied flavor and a balanced palette. Old Weller Antique is bottled at 107 proof, offering a complex taste and bold finish. It's certainly a recognizable member of the Weller label, with its own unique characteristics to compliment the high proof."
weller antique 107 overview
Weller Antique 107 has one heck of a family name. It's one of the very popular Weller wheated bourbons, part of the Buffalo Trace, including Weller Antique 107, Weller Special Reserve, Weller 12, Weller Full Proof, Weller Single Barrel (orange label), the Kosher Weller releases, and the super (duper ultra offer your first child as tribute) exclusive William Larue Weller. Since 2019, the lineup has been rapidly expanding even though availability is still so limited already I don't know why they keep doing it.
What you need to know is that Weller Antique is a wheated bourbon, replacing rye with wheat as a secondary grain in the mash. Maker's Mark and Maker's Mark Cask Strength are other well-known "wheaters" that you should also consider as you search for Weller, as well as the growing number of wheated bourbons being released every year. Let's find out more in this Weller Antique 107 review.
As an FYI, I bought and use these Glencairn glasses for my reviews and comparisons (because they're the best): Glencairn Crystal Whiskey Glass, Set of 6, Clear, 6 Pack. Full transparency, this is an affiliate link, so I may earn a commission if you buy this or something else from Amazon.

The first sniffs reveal a moderate mix of caramel, wood, vanilla, honey, and alcohol that form the foundation of the nose, like a caramel taffy soaked in alcohol. I can tell by smell alone that this is a higher proof bourbon. 
The dark caramel and cocoa smell mixed with wheat and corn also remind me of peanut brittle or fudge. Light to moderate notes of apricot, green apple, wood, and cinnamon are also mixed into the fray, creating a subdued smell of baked apple chips with cinnamon and honey.

Digging deeper after swirling Weller Antique 107, the liquid riles up the alcohol but also riles up sweeter notes in the nose, including caramel, maple syrup, and vanilla, like a dab of vanilla birthday cake frosting, but not as sweet as the real thing. 
Roasted almonds and wood line the moderate sweetness. Once the glass is empty, dusty wood and dried corn rise from the remains. Every now and then, I catch a whiff of tobacco.

For all the hype, Weller Antique 107 smells quite good, aided by the higher proof. I spent lot of time smelling it to try to unravel its mysteries. This doesn't smell quite like a wheated bourbon, but the lack of rye notes hints at its true wheated nature.
weller antique 107 taste & aftertaste
My first introduction to Weller Antique 107 is hot and spicy, but not pepper or pumpernickel spice from rye. It's moderate sweet caramel and kettle corn mixed with slightly stronger Red Hot candy-like cinnamon and moderate alcohol. The Red Hots and alcohol flavors, while not overpowering, are intense. 
After that, less potent, but still noticeable vanilla, wood, nutmeg, and almond flavors appear. While it doesn't quite come together to taste like peanut brittle or fudge as on the nose, it's still very enjoyable.
Swishing Weller Antique 107 (aka the "Kentucky chew") releases more alcohol as well as an oily and sticky mouthfeel from the wood tannins and a light malty bread taste. It's like leaving a small piece of bread in your mouth and you can taste the grains and feel it sucking the moisture out of your mouth. I also get additional hints of spice, as if it had some rye in the mash (it doesn't).
The oiliness and stickiness in the taste carry over into the aftertaste and leave my mouth very dry. Light corn and vanilla frosting sweetness, mixed with a gentle nuttiness, intermingle with the dryness. 
Weller Antique 107 is pleasant, spicy, and hot from beginning to end, but I expected more fruit and mellowness, and less spice from the wheat. This is fairly young and rowdy. It's not a bad thing, but something I noticed. 
If you're shopping on Amazon for Black Friday, Cyber Monday, the holidays, or any other occasion, support The Whiskey Shelf by shopping through my affiliate link – Shop Amazon. Disclaimer: I may earn a commission from your purchases.
Place on the Whiskey Shelf

I enjoy drinking Weller Antique 107, but I don't fully understand the hype. Don't get me wrong, there's a lot to like from the nice blend of sweet, spicy, wood, and alcohol, but the hype exceeds the actual spirit. It's still a little rougher around the edges than I would like, and the flavors need a little more "oomph" and pop in order to give it a "Top Shelf" rating, but it's close.
With that said, it's an absolute steal at $23 and I would buy it frequently if it were actually available, but paying secondary market prices (often upwards of $80+) is a bit much. Buy it at whatever price you're willing to pay, but I wouldn't spend more than $40-50.
If you're afflicted with a lack of access to Weller Antique 107 (including me), I suggest that you buy Maker's Mark Cask Strength, which I gave a "Top Shelf" rating.
Maker's Mark Cask Strength may have a higher MSRP ($40-60) but it's significantly easier to find and doesn't suffer from absurd markups (because capitalism). It has many of the same, if not better and more pronounced scents and flavors, without any of the stress of trying to get it. Buy Weller Antique 107 if it's close to MSRP, otherwise go with Maker's Mark Cask Strength.

*EDIT: With Weller's Antique 107 MSRP price increase to $50 and the release of Weller Full Proof (also $50 MSRP) in 2019, I recommend that you give Maker's Mark Cask Strength a second look. Now that there isn't much of an MSRP price difference, Maker's Mark is a significantly more attractive option that you can find pretty much anywhere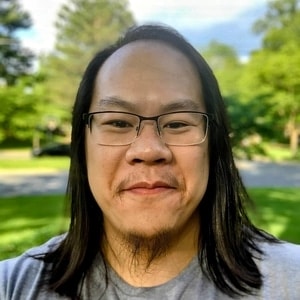 I have far too much fun writing about whiskey and singlehandedly running The Whiskey Shelf to bring you independent, honest, and useful reviews, comparisons, and more. Proudly Asian American and speaks Cantonese, Mandarin, and some Japanese.

There are no sponsors, no media companies, and no nonsense. Support The Whiskey Shelf by Buying Me A Shot.