1980s Old Forester 86 Proof Bourbon ​review
BJ Evan 10 Year Bourbon Details
Distillery: Not disclosed (likely Heaven Hill)
Type & Region: Bourbon, USA
Alcohol: 43%
Composition: Not disclosed, may be 78% corn, 10% rye, 12% barley
Aged: 10 years
Color: 1.4/2.0 on the color scale (tawny)
Price: $50 (purchased in Japan)
bj evans 10 year bourbon overview
For decades, Japan has received a lot of Heaven Hill bourbon, sourced and unsourced. There's the better known ones such as Evan Williams and Ezra Brooks, but did you know about names such as Andersen Club, Mark Twain, Yellow Rose of Texas, Virgin (in the US too), Bourbon Hill, and BJ Evans to name just a few?
I didn't before coming to Japan, and only learned more about this because I've stumbled onto these bourbons that have the exact same bottle shape as Evan Williams. Yeah, Evan Williams' bottle shape hasn't changed in decades.
Along the way, I happened to stumble onto BJ Evan 10 Year Bourbon for $50. The date on the bottom of the bottle either says 1989 or 1990, so this is probably some old school pre-fire Heaven Hill. If we back up 10 years, the bourbon in the bottle was distilled in or before 1979 / 1980. So, it was a rare opportunity to obtain some old Heaven Hill at a compelling price.
Backing up a bit, I claim that this is sourced Heaven Hill because this uses the Evan Williams bottle, label says distilled and aged in Kentucky, and the bottler was in Bardstown. I've seen sites mention it possibly being Willett as well. I don't have any guarantees about what this is, but it's the best guess that I have.
Internet sleuthing didn't reveal much information either besides auction prices (I got a good deal), so this bottle and brand are shrouded in mystery. Most of the information on the labels are marketing BS anyways, trying to sell some nonexistent heritage (since 1790…come on). Then again, this still happens frequently today.
While most will never drink BJ Evans 10 Year, this still can provide a unique look into what people were enjoying (or ignoring) during a different time in bourbon's history. There's still a lot that we can learn from solely drinking it, so let's explore the unknown in this BJ Evans 10 Year Bourbon review.
bj evans 10 year bourbon smell
My first sniff of BJ Evans 10 Year just blasts ripe apricot, cherry, honey, date, plum, and a little ripe fruit funk into my nose followed by vanilla, licorice, and some background oak and cinnamon. It's surprising how fruity it is, because most bourbon nowadays isn't like this.
It kind of smells like opening a bag of dried fruit and having all the scents rush out. Surprisingly, there isn't as much roasted oak or spice as a 10 year old bourbon might have, instead it's very dark fruit dominant. It's an excellent first smell, and with minimal heat as well.
BJ Evans 10 Year smells about the same after swirling, and by that I mean awesome. If anything, now I get a little more of this gushers-like candied fruit, but still with that slightly funky and nutty preserved dark grape, date, and prune, and soft / round / pillow-y marshmallow.
It's reminiscent of oloroso sherry, but not quite as intensely (some say overpowering) sweet and rich. The dense fruitiness is unique too, lacking in most unfinished bourbons today.
This would be the perfect introductory bourbon too given how fruity it is, but also plenty rich and complex for everyone else.
bj evans 10 year bourbon taste and aftertaste
BJ Evans 10 Year leads with honey, cherry, date, plum, raisin, vanilla, roasted oak, cinnamon, something kind of funky, and cinnamon bun. Now the roasted oak and oak spices appear, but overall is led by the dark fruit. For better or worse, the flavors are thinner than the scents, but overall still taste great and are far from watery.
After "chewing" I taste honey, cherry, prune, date, grape, and apricot up front with vanilla buttercream frosting, roasted oak, cinnamon, a little roasted grain, licorice, and faint nuttiness. There's a nice roundness and viscousness even at 43% ABV.
This time BJ Evans is less like densely sweet oloroso sherry and more like a toasted cinnamon bun with dark fruit drizzled in buttercream frosting. BJ Evan's 10 Year is unique and doesn't taste like any other Heaven Hill that I've had (assuming it is Heaven Hill).
It shouldn't be a surprise that the finish starts with raisin, date, cherry, plum, and honey followed by some roasted oak and a faint hint of grass. The dark fruit really lingers, and over time I start to get just a little refreshing mint.
With "chewing", the aftertaste has dark fruit, vanilla, roasted oak, and cinnamon. The oak is more prominent in the finish, but generally stays out of the way. Still, the oak and slight bitterness do build with each sip. There's long lingering dried dark fruit with just a little earthy oak and char, like slightly burnt raisin, that ties it all together. This is a great conclusion.
Now that I think about it, I usually find that preserved and more dense apricot, dark fruit, and vanilla funk in wine finished bourbons such as Joseph Magnus Bourbon and Joseph Magnus Cigar Blend. This level of fruitiness is rare in unfinished bourbon these days.
If you're shopping on Amazon, support The Whiskey Shelf by shopping through my affiliate link – Shop Amazon. I may earn a commission from your Amazon purchases.
BJ Evans 10 Year Bourbon Rating

I got this unknown bourbon on a whim hoping it was good (not all old bourbon is good), and thankfully it delivered on my gamble in the most surprising way. I absolutely got my money's worth and more.
BJ Evans 10 Year smells like oloroso sherry and tastes like a roasted cinnamon bun with ripe dark fruit and drizzled frosting. I don't know if it's a dusty Heaven Hill thing, but this is a brand new Heaven Hill experience for me that also reminds me of old Blanton's Red. The ABV is not ideal though, because it probably would have been spectacular at 101 proof.
Releases these days tend to be far more caramel, vanilla, oak, and spice forward. The older (11-12 years) Elijah Craig Single Barrels at 47% ABV that I've had are also far less fruity and viscous, so who knows what led to BJ Evans being the way it is. It's also possible that these barrels were off-profile (meaning not what Heaven Hill wanted for their products).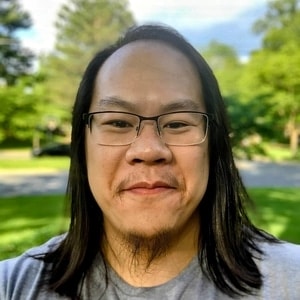 I have far too much fun writing about whiskey and singlehandedly running The Whiskey Shelf to bring you independent, honest, and useful reviews, comparisons, and more. I'm proudly Asian American and can speak Cantonese, Mandarin, and some Japanese.

There are no sponsors, no media companies, and no nonsense. Support The Whiskey Shelf by Buying Me A Shot.

Add Your Heading Text Here
Comments are closed.