Maker's Mark 46 Cask Strength
Maker's Mark 46 Cask Strength Review
Maker's Mark 46 Cask Strength Details
Distillery: Maker's Mark
Type & Region: Bourbon, Kentucky, USA
Alcohol: 54.8%
Composition: 
70% corn 16% wheat 14% barley
Aged:
 ~NAS, but finished for 9 weeks with French oak staves
Color: 1.4/2.0 on the color scale (tawny)
Price: $60
From the Maker's Mark website:
"The first bourbon in our wood-finishing series, Maker's Mark 46™ was created by Bill Samuels, Jr., to amplify the flavors he loves in Maker's Mark. The innovative wood-stave-finishing process starts with fully matured Maker's Mark® at cask strength. We then insert 10 seared virgin French oak staves into the barrel and finish it for nine weeks in our limestone cellar. The result is Maker's Mark 46: bolder and more complex, but without the bitterness typical of longer-aged whiskies."
maker's mark 46 cask strength overview
Finally, Maker's Mark has widely released their own version of Maker's Mark 46 Cask Strength (usually a distillery-only release). While it initially was a 2020 limited release to celebrate 10 years of Maker's Mark 46 being in-market, it seems like it has become a permanent annual release.
To be fair though, Maker's 46 Cask Strength has technically been available to the public for a while, as those doing private selections could use the same 10 French oak staves and create it themselves. I believe a few have actually done that, but it's also possible that Maker's Mark did not allow anyone to do that.
As a refresher, Maker's Cask Strength is made by taking 
Maker's Mark Cask Strength
 (yummy bourbon already) and adding 10 French Oak staves into the barrels for 9 weeks to impart additional character. The Maker's Mark website says that these staves add dried fruit, vanilla and spice.
Adding staves is like barrel finishing, but instead of dumping the whiskey into another barrel, you add smaller oak staves to the existing barrel. These additional wood staves also infuse more character into the existing bourbon, but without the added work of transferring bourbon from one barrel to another and the cost of expensive finishing barrels.
Maker's Mark Cask Strength is already one of my favorite wheated bourbons out there today, so let's find out if the extra steps taken make a difference in this Maker's Mark 46 Cask Strength review.
maker's mark 46 cask strength smell
Maker's Mark 46 Cask Strength initially gives-off piney and grassy maple syrup, milk chocolate, malt milk balls, vanilla, dried orange, ripe apple, cinnamon, clove, toasted oak, and just a little nuttiness. The piney and grassy dark sweetness are signature Maker's Mark notes.
There also are some underlying dried cranberry with a little sourness, but orange and apple are the primary fruits here, making this a sweet and inviting nose. At times, the chocolate and fruit also come together like one of those orange chocolate balls, and the 54.8% ABV smells about right. To state the obvious, this smells very much like Maker's Mark Cask Strength.
With swirling, I get densely packed sweetness – brown sugar, caramel syrup, pine, chocolate malt milk balls, vanilla, baked apples, cinnamon, toasted grains, grilled peaches, baked apples, and faint hints of dark fruits. 
The chocolate malt milk balls remind me a little of the dark, rich, and oaky 
Old Fitzgerald 15 Year Bottled in Bond
, which is an outstanding bourbon. That said, Maker's 46 Cask Strength's scents are fragrant and inviting, making me want to sniff it over and over again.
maker's mark 46 cask strength taste & aftertaste
At first, Maker's 46 Cask Strength has sweet caramel with cinnamon, chocolate malt balls, apple, cherry, toasted oak, cinnamon, clove, a little bourbon mash, a blade of dried grass, and cocoa powder. I pick up a lightly earthy note, not quite fennel or rosemary, so it may be from grain or staves. So far, the flavors are decently rich and varied, but it lacks much complexity that I can't quite describe yet.
"Chewing" brings out more malty sweetness of caramel, chocolate malt balls, cinnamon, clove, a little dried grass, citrus peel, baked apples, oak, some sour mash, freshly baked raisin bread, and mocha. The 54.8% ABV has some bite, but it's nothing out of the ordinary.
As sweet as Maker's Mark 46 Cask Strength is, there's still this equally present dark chocolate, cinnamon and clove bite, dried crackers, and coffee grounds that create an interesting balance. All that said, the flavors are nice but don't have the same depth and richness as the nose – a bit of a letdown
The finish is sweet and toasted with caramel, dark chocolate, cinnamon, and oak that over time turns into dry citrus peel and something almost a little minty. After "chewing", the finish is sweet and a little tingly with caramel, vanilla, lingering alcohol, dry oak tannins, coffee, grass, dried citrus, cinnamon, and toasted grains.
If you're shopping on Amazon, support The Whiskey Shelf by shopping through my affiliate link – Shop Amazon. I may earn a commission from your Amazon purchases.
Maker's Mark 46 Cask Strength Rating

Maker's Mark 46 Cask Strength bourbon overall is good, but not quite excllent. The nose is especially great at times with the fragrant and attractive apple, orange, and background dark fruit notes. Still, it often leaves me wanting deeper and richer flavors, especially when the nose promises so much fruitiness.
Don't get me wrong, the flavors are still enjoyable and have some complexity, but there isn't that single attention-grabbing or noteworthy flavor to get it over the hump to "Top Shelf". It starts to scratch the surface to being more rich, but doesn't quite get there.
The chocolate malt milk ball note, possibly from the French oak staves, is probably the one almost noteworthy trait, but it also comes off too light at times, again leaving me wanting more. The best I can say is, "yeah this is good" but not quite, "I need another one."
Maker's 46 Cask Strength's more straightforward flavors make me think that Maker's Mark is using more younger bourbon than they used to in these blends. I say this because the 
2015 Maker's Mark Cask Strength
I reviewed was amazingly rich and expressive, possibly because Maker's Mark used older stock back then.
That's purely speculation though. I really do think that the base bourbon is holding this back from being great, because I get the sense that the French oak staves did add a lot of toasted vanilla, fruit, and spice; it just couldn't elevate the base bourbon enough to push it over the top.
In the end, Maker's Mark 46 Cask Strength is a good limited release, especially for those who love Maker's Mark and Maker's 46, but I don't think it's quite a must have. I'd still go as far to say that this is better than
Weller Antique 107
. But if I was trying to save a little money, normal Maker's Mark Cask Strength would probably do the trick.
Regardless, props to Maker's Mark for not going crazy and charging exorbitant prices for these limited releases, because quite a few distilleries these days are guilty of overcharging for limited releases.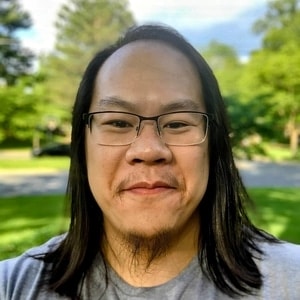 I have far too much fun writing about whiskey and singlehandedly running The Whiskey Shelf to bring you independent, honest, and useful reviews, comparisons, and more. I'm proudly Asian American and can speak Cantonese, Mandarin, and some Japanese.

There are no sponsors, no media companies, and no nonsense. Support The Whiskey Shelf by Buying Me A Shot.