1993 Blanton's Red Single Barrel Bourbon review
Blanton's Red 1993 Single Barrel Bourbon
Blanton's Red 1993 Details
Distillery: Buffalo Trace
Type & Region: Bourbon, Kentucky, USA
Alcohol: 46.5%
Composition: Buffalo Trace Mash #2, speculated to be ~15% rye
Aged: Rumored to be ~8 years
Color: 1.3/2.0 on the color scale (russet, muscat)
Price: I got this for $50 in Japan, but this not normal
From the back of the bottle:
"The finest bourbon in the world comes from a single barrel."
blanton's red 1993 overview
Gaze at the glory of this Blanton's Red from 1993 (dumped 5/4/93, barrel 15, rick 21), rescued from the back of a Japanese store shelf in 2021, over 28 years since it was bottled.
Backing up though, Blanton's, love it or hate it, has had quite the grip on the bourbon world for years. While it's a more recent phenomenon in the US, the craze really started in Japan in 1984, when it was released, and sold far better than it did in the US (that specific tidbit coming from 

Punchdrink

). Oh how times have changed.
As a result, more Blanton's was sent to Japan in the 80's and 90's. That also happens to mean that there are still some older 80s and 90s bottles to uncover today, although who knows how many are left sitting on store shelves or unopened in people's cabinets.
You might be wondering how I stumbled into one of these. I found this 1993 Blanton's Red (I know it's a Red based on the faded red color of the dump date and barrel numbers, and gold wax) at a shop in Nagano, tucked behind a jumbled mess of other bottles near the exit behind the counter.
After looking through what I thought was everything, I started walking out of the store empty handed. But then, I spotted a horse top from the corner of my eye, investigated, and stumbled into this old-school find. And at 5500 yen (about $50), I walked out a happy man. This wasn't a resell shop, so the bottle probably sat in the store for decades.
I also want to note that about 40% of the wax seal was already gone when I bought it. While it possibly could have been an issue, the price and the store's location (sort of the middle of nowhere) didn't scream fake. Also, the waxes are notorious for cracking easily, even after a few months, let alone decades. For fun, here's a photo of the original top and wax before I opened it
If you looked at some of the other photos (but not the one above), you may have seen that that the top had a letter on it (N). That's because I was worried about the cork blowing up on me after opening it. While I got lucky and it somehow stayed intact when I first opened it, I swapped it with a modern Blanton's Red top to avoid future problems. Blanton's from the 80's and early to mid 90's didn't have letters (as shown in the image above).
I wanted to share all that background because Blanton's and this particular bottle have quite an interesting backstory. But now, let's crack open some history and uncover the scents and flavors in this Blanton's Red 
1993
Review.
As an FYI, I bought and use these Glencairn glasses for my reviews and comparisons (because they're the best): Glencairn Crystal Whiskey Glass, Set of 6, Clear, 6 Pack. Full transparency, this is an affiliate link, so I may earn a commission if you buy this or something else from Amazon.

Oh interesting…it's tough to truly capture how this 1993 Blanton's Red smells, but I'll try nonetheless. My first sniff has this deep honey, dried cherry, ripe peach, dry and dark fennel, funky vanilla, oaked cabernet sauvingnon, old but not so burnt oak, cinnamon, and hints of tobacco and fresher rosemary. There's also this dried apricot and vanilla buttercream "rancio" aged funk that kind of reminds me of an Armagnac finish, like what Joseph Magnus Cigar Blend has.
There's so much dark fruit and this dense old red wine scent that it smells like it was finished in red wine for 6-12 months. It smells quite dark, but mostly from the dark fruit and fennel, not so much the oak.
Swirling gives off a bit more dry licorice and oak up front, honey, cherry, dark fruit (cherry is still the most prominent), orange, dry old oak, ripe apricot and funk, and vanilla frosting. All the underlying heft and dark fruitiness just keeps making me think that there's a red wine finish that actually doesn't exist.
And while this 1993 Blanton's Red is herbal, it's not as herbal and earthy-forward as the non-pick Blanton's Red. It's more like the sugar and fruit forward Blanton's Red HBA Pick, but so much more expressive. Maybe it's because I know it's old, but this old bottle has a certain oldness and funkiness that underpins the scents, like musty oak from an old cabin or closet.
Overall, this smells incredible and like no other Blanton's I've ever had. It's very rich, developed, and complex. If the modern ones smelled like this, I'd for sure go full tater for these.
blanton's red 1993 taste and aftertaste
Blanton's Red 1993 starts off with big and dense honey, dried cherry, herbal and slightly earthy dry licorice, fennel, lightly toasted and earthy oak, vanilla buttercream, orange, hint of rosemary, and the occasion brighter pop of fresh orange. That sweet, herbal, and vibrant cherry really grabs my attention, so there's no shyness or closed-off-ness in the flavors. 
The flavors are certainly round and fairly dense, but they're also not super viscous or at all oily. I'm going to guess that it was chill filtered. Oh man this would have been outrageous at a higher ABV. I wonder if I can find an early 90s Blanton's Gold.
"Chewing" brings the big and hefty honey pop with dried cherry, dark berries, dried licorice and fennel, vanilla frosting, old oak, cinnamon, a little earthy ginseng, and a sprinkle of chocolate. The ABV is controlled, so it's pretty easy to chew for a longer period of time. I'm definitely savoring it.
I'm really surprised how dark fruity it is (really just how flavorful it is in general), mixed with old and earthy wood. It's not shy at all like the Blanton's Red HBA pick, so it's quite easy to pick out everything. This feels like the true Blanton's experience…like I'm having Blanton's in high definition for the first time. It's kind of like watching TV in high definition for the first time, if you're old enough to remember that. Blanton's Red 1993 is delicious, complex, and oh so enjoyable through and through.
The finish has honey, cherry, and licorice that fade into more earthy ginseng, dry oak, and rose. Over time it turns into a long lingering dry orange, cherry, fennel, and dry toasted oak.
"Chewing" brings out more of the earthiness. It's cherry, honey, dark fruit, dry licorice, dry old oak, and a drip of orange juice. It's really just the flavors not wanting to let go and continuing to hold on for a while.
Blanton's Red 1993 Rating

Ah, so this is what Blanton's Red is like when Buffalo Trace can take it's time and select barrels only when they're ready, because they don't make Blanton's like this anymore. It's such an interesting and amazing, yet sad experience to drink bourbon that pre-dates Amazon, small cell phones, online whiskey blogs, and likely quite a few of you reading this review. This is the best Blanton's I've ever had. I wonder if Elmer T Lee picked this barrel himself (he was involved in Blanton's creation so it's possible).
I mention it in that way because this 1993 Blanton's Red is an incredible bourbon that I've never quite experienced before. It is overstuffed with dense honey, dried cherry and dark fruit that makes me think this was finished in red wine, yet at the same time has a noticeable herbal and earthy side that overall is so rich, interesting, and enjoyable. This is all at 46.5% ABV. I know the rumored consensus is that these are 8 years old, but this comes off even older.
Blanton's Red 1993 also has this old, musty, dusty, and funky quality. It could be from the bottle sitting on a shelf for decades, but it's possible that it was already like that back in 1993 as well. I can't say for sure until I get a time machine.

I mention that drinking this makes me a little sad too because 1) they don't make Blanton's like they used to, and 2) a bottle like this is nearly irreplaceable, although Japan is the best place to try to find a replacement. I guess that's part of the beauty of a great whiskey – it's fleeting yet memorable.
I also keep saying "they don't make bourbon like they used to" because as I explore bourbon from the late 80's and early 90's, I'm noticing that they're just completely different from what we get now. So much of what we have today smells and tastes rushed in comparison, but probably because it is.
In the 80s and early 90s, distilleries weren't expanding and rushing to make and sell as much as possible. They were sitting on a lot of old whiskey and were trying to offload it because it wasn't selling well in the US, and Japan just happened to love it. They must have had a blast with all this amazing bourbon.
Speaking of the good 'ol days, this also brings up the question – how has Blanton's changed over time? Guess what, I can find that out too because I have a 2018 Blanton's Red HBA Barrel Pick that also has a more fruit forward personality like this 1993 Blanton's Red. That should be an awesome comparison, so stay tuned.
So yeah, if you ever get a chance to try old Blanton's, do it and savor it.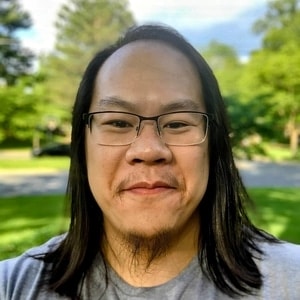 I have far too much fun writing about whiskey and singlehandedly running The Whiskey Shelf to bring you independent, honest, and useful reviews, comparisons, and more. I'm proudly Asian American and can speak Cantonese, Mandarin, and some Japanese.
There are no sponsors, no media companies, and no nonsense. Support The Whiskey Shelf by 
Buying Me A Shot
.
Comments are closed.