Blanton's 1991 Review [In Depth]
Distillery: Buffalo Trace (was called George T Stagg when it was dumped)
Type & Region: Bourbon, USA
Alcohol: 46.5%
Composition: Mashbill #2 (rumored 12-15% rye)
Aged: NAS
Color: 1.4/2.0 on the color scale (tawny)
Price: About $68 for this bottle. You'll likely pay far more for it
From the back of the bottle:
"The finest bourbon in the world comes from a single barrel."
Up now is a 1991 Blanton's, aged on Rick #6, barrel 286, and dumped 6/11/1991. You're reading that correctly, it's 1991, not 2001, 2011, or 2021. This was barreled during the reign of grunge, parachute pants, and when the distillery was still called George T Stagg, not Bufallo Trace.
For a quick history lesson that I myself have learned along the way, Blanton's has been on sale since 1984, with Blanton's Red appearing in 1990. I actually thought that this bottle was Blanton's Red because of the reddish ink of the barrel information, but turns out that's not a good indicator for old bottles.
Turns out that this particular bottle is likely just a "regular" one, if you can call any early 90's Blanton's that. I consulted Warehouse H and he kindly let me know that because the top label doesn't have Japanese on it (implemented sometime in '91), it's likely not Blanton's Red.
There's also an interesting story around how I got this. I found this bottle, in a glass case at a store, with absolutely zero wax on it. So yes, it'd be fair to think that it had been opened and/ or tampered with. Still, I decided to gamble and bought it, receiving reassurance that it had never been opened.
Opening it that night, it turns out it was most likely never opened. There was the slight hiss of air escaping as I started to release the cork from the bottle, the little plastic ring appearing that helps keep the bottle sealed, and then an exploding cork. Yup, the old cork broke on me, but I was quickly able to remove it with a wine corkscrew. All things considered, probably real.
Let's learn more about the scents and flavors to get to the bottom of this in this Blanton's 1991 review.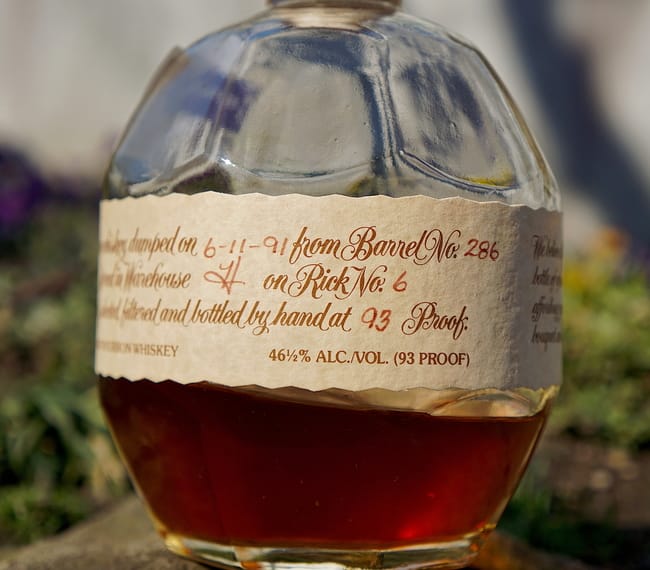 Whoa, Blanton's 1991 smells incredible from the beginning. There's abundant dried fruit (dried cherry, apricot, and blueberry), honey, old oak that's not too roasty so it just has a lot of darkness but not burnt-ness, mint, freshly squeezed orange, and a hint of rose. I mean, wow.
There's even some banana too, maybe bananas foster, which is completely unexpected because that's often associated with Brown-Forman and Barton. Then again, this was distilled at a totally different time and / could have picked that up over time sitting in the bottle.
Blanton's 1991 smells even better after swirling, with dried date, prune, cherry, and blueberry, dark honey, toasted vanilla, old oak, mint, rosemary, freshly peeled orange (with some of the more earthy orange peel), ripe apple, coffee grounds, and banana.
Are we sure that this wasn't finished in oloroso sherry? It's so fruity that it has to have been…right? As much dark fruit as there is, there's still this contrasting vibrant character that adds to the incredible richness, depth, and complexity. Just incredible.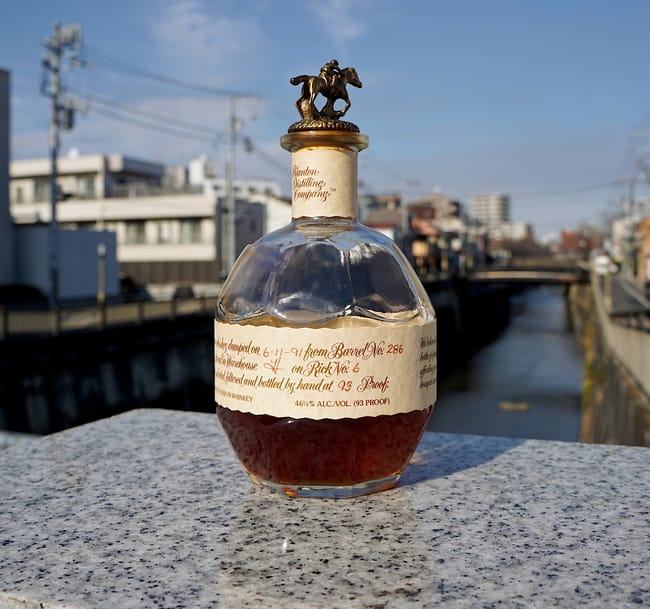 blanton's 1991 taste and aftertaste
My first sip comes with dense and dark honey, dried cherry, apricot, berry, and pineapple, toasted vanilla, old oak and tobacco, dried licorice and rose. Somehow, Blanton's Red 1991 has some of that dried licorice and rose that's in
Kentucky Owl Rye Batch 1
and
Michter's 10 Year Rye
, which is just wow.
There's also this tingly sweetness, almost like rock sugar. There's just something about Blanton's 1991 that has so much more richness and definition than even
Blanton's 1993
. Honestly, it tastes incredible and might taste better than Blanton's 1993. I'll have to compare them side by side to determine if that's true.
After "chewing" I taste dense cherry, cranberry, apricot, dark berries, pineapple, dense honey, toasted vanilla, old oak that's not so charred and rolled tobacco, cinnamon, toasted banana, dried licorice and ginseng, and rose. It's rich, vibrant, and divine.
1991 Blanton's starts with a lot of dark fruit, and extra time brings out more of the old oak, earthiness, and cinnamon red-hot-like spice. The spicy kick just adds another dimension to all that fruit and "oldness". The abundant dark fruit pops like fireworks all over the place and is spectacular.
Even at 46.5% ABV there's incredible richness on par with Kentucky Owl Rye Batch 1 and Micher's 10 Year Rye. Those are both ryes, but there is a comparable level of deep and rich fruitiness, dark and dried herbalness, and rose.
It's superbly well matured, refined, and developed in a way that is hard to match. Just wow, wow, wow.
The aftertaste starts off fruity, oaky, and slightly bitter – dried cherry and toasted vanilla, old oak, dried licorice, and rose. There's long lingering old oak with a little dried ginseng and fruit.
"Chewing" creates an amazing finish that's old oak, dried tobacco, dried cherry, candied pineapple, and licorice. It tapers off and smolders for a while, leaving me with the need to have more.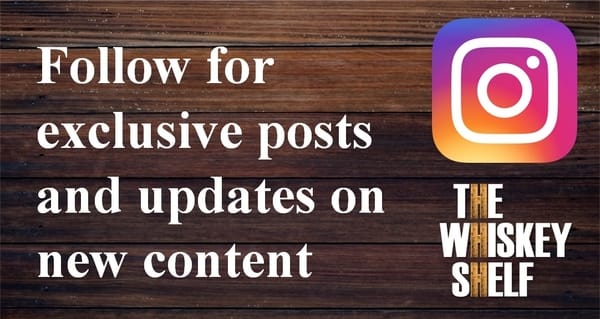 If you're shopping on Amazon, support The Whiskey Shelf by shopping through my affiliate link – Shop Amazon. I may earn a commission from your Amazon purchases.
Wow, this 1991 Blanton's is spectacular, and I mean for bourbon overall not just for Blanton's. It's an absolute dried fruit BOMB with deep and complex oak, tobacco, and dry herbal and earthy traits. It just screams wine / Armagnac finished bourbon, my favorite types of finishes.
It's just so complex and captivating from top to bottom that it even takes on some of the rich fruity, herbal, and earthy traits of the best rye whiskeys I've ever had (
Michter's 10 Rye
,
Kentucky Owl Rye Batch 1
). This is a spectacular showing of a "high rye" bourbon with a bit more of that mature rye-ness.
While it's not quite as hefty as I'd like (
Old Grand Dad 114 Lot 17
from the late 80's is the super elevated version of this Blanton's), all I can say is that I'm still so lucky to drink something like this.
Most of today's releases, excluding Straight From the barrel, are good but nothing noteworthy, dump dates and letters aside.
Sure, accuse me of being a Blanton's hater (I'm not, just a realist), but I've reviewed enough bourbon at this point to know where it stands in relation to what else is out there. I've always wanted Blanton's to blow me away, but only the old ones ever have, and Straight From The Barrel to some degree.
At this point, I've long since hopped off the hype horse for today's releases because drinking the old ones ruins it for me. Maybe writing that makes me snobby and privileged because most will never get the chance to try the old stuff, but I trust what I smell and taste.
But if you love today's Blanton's, trust yourself and carry on because ultimately what you like matters most, just like I trust myself and have my own opinions.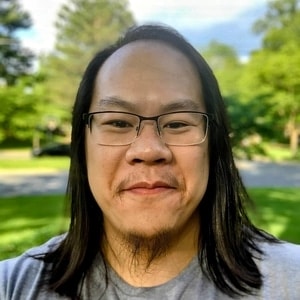 I have far too much fun writing about whiskey and singlehandedly running The Whiskey Shelf to bring you independent, honest, and useful reviews, comparisons, and more. I'm proudly Asian American and can speak Cantonese, Mandarin, and some Japanese.
There are no sponsors, no media companies, and no nonsense. Support The Whiskey Shelf by 
Buying Me A Shot
.