Blanton's Black Review [In Depth]
Blanton's Black (Takara Black)
Distillery: Buffalo Trace
Type & Region: Kentucky, Bourbon
Alcohol: 40%
Composition: Rumored to be around 12-15% rye
Aged: Rumored to be around 8 years old
Color: 1.2/2.0 on the color scale (chestnut, oloroso sherry)
Price: No idea what MSRP is supposed to be. Paid $45 in Japan
Blanton's Black (aka. Blanton's Takara Black) is the export-only version that clocks in at 40% ABV / 80 proof. It's one of three extra-aged Blanton's Takara versions (takara means "treasure" in Japanese) that also include
Red (46.5% ABV)
and
Gold
(there are 2 versions of Gold, both 51.5% ABV).
This particular bottle comes from rick 16 barrel 26, dumped 5/20/21, and was purchased with no drama for $45 in Japan. I know crazy right, it's easy to get this stuff.
And with this review, I will finally have reviewed one bottle from each Takara release, as well as every normal one (except Green, which I think is only sold in Europe) plus some from the
early 90s
. I guess that's an achievement? I wonder if instead of a stave with all the tops, Buffalo Trace just sends me a full barrel with bourbon still in it.
Either way, I'm primarily on a journey of discovery (I'll drink some
Bardstown Bourbon Company Discovery
too) and trying to understand what is hype and what is purely great bourbon.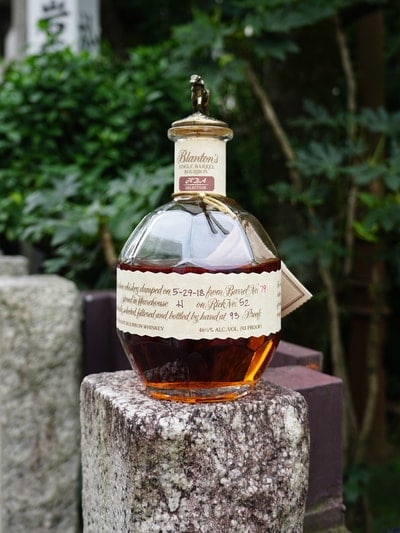 And if you're wondering why I've done so many Blanton's reviews, it's because Japan is the best place to easily buy it with no fuss, no lines, and no need to ask "do you have any Blanton's?". If it's that easy, it's only rational to take advantage while I have the chance, because it's a completely different situation in the US. Plus, someone's gotta do it for knowledge's sake.
Let's find out what the lowest ABV Blanton's is like and whether it crams enough in there to meet the hype in this Blanton's Black review.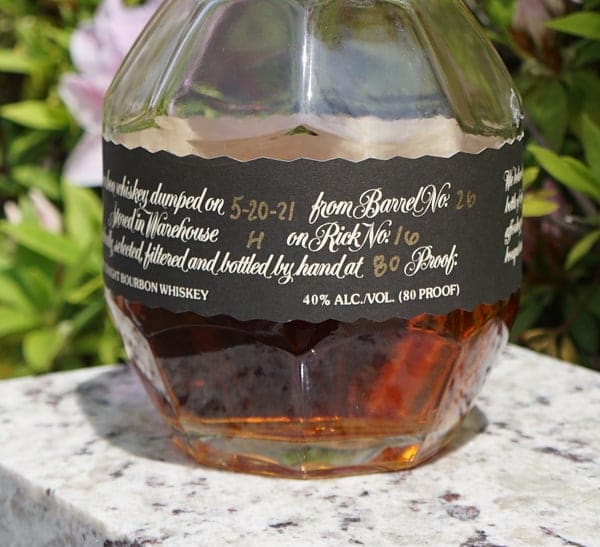 My first smell of Blanton's Black welcomes me with earthy and oaky sweetness – honey, roasted caraway seed, roasted oak, dried apricot and cherry, vanilla, fennel, rosemary, cinnamon, clove, smoke, and hints of brown sugar at times.
It starts sweet and oaky at first, but over time the fruitiness and herbalness expand. Hinting at its 8ish years, it also has an underlying oakiness and smokiness, which gives it some life.
So far Blanton's Black smells good with nice balance, and it's already richer and better than most other 40% ABV bourbons out there. Then again, most bourbons at that ABV tend to be very cheap.
The fairly fragrant roasty, oaky, and smoky background with a little fruity low end offers a range of scents that I enjoy. At the same time, I certainly miss the roundness and richness of a more developed and/or higher ABV bourbon. The water dilutes it a low.
Regardless, low ABV doesn't have to also mean low on character, and
old school Blanton's
expertly uses all 46.5% well.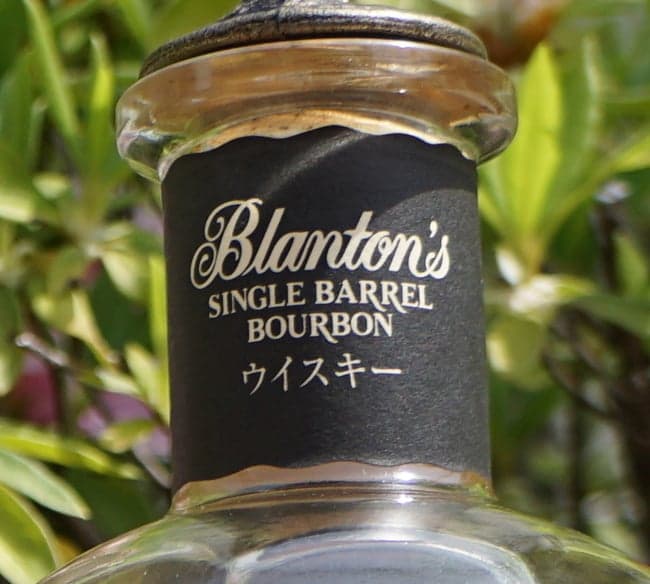 Blanton's Black taste and aftertaste
On the first sip, Blanton's Black has honey, orange, licorice, fennel, pineapple, roasted oak, caraway seed, clove, cinnamon, and rosemary. It starts sweet and fruity, and then the oak, spice, and earthiness settle in after a few seconds.
While it has the earthiness I now associate with Blanton's, this particular barrel isn't as earthy and grain-forward as
Blanton's Takara Gold
, which I guess is due to barrel selection more than anything else. That's the double edge sword of single barrels – it's intentionally inconsistent.
After "chewing", I taste roasted honey, licorice, dried apricot and cherry, caraway seed, vanilla, roasted oak, clove, cinnamon, and dried pineapple. The earthiness takes a moment to appear, and the older age crops up again with the oaky and roasty background.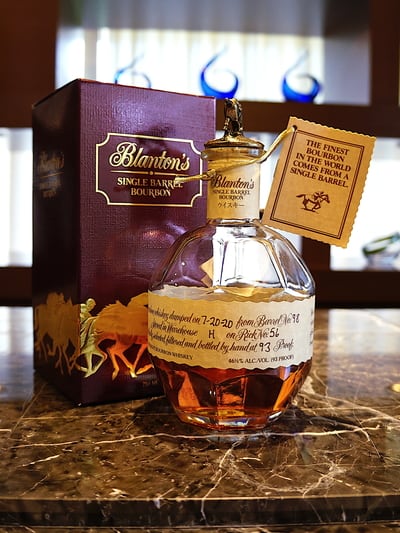 Honey, licorice, apricot, caraway seed, and roasted oak ease into the finish, and over time transforms into wrigley's spearmint chewing gum after you've thrown it away (in the trash please). It's similar after "chewing", with a bit more oakiness and a hint of grassiness – a gentle finish that lightly lingers.
So while there's a nice range of flavors, it's also watered-down quite a lot so it all lacks heft, viscosity, or depth. It's neither thin nor flat, I'm just keenly aware that it's missing so much body. The ABV is probably the main culprit, which I understand is an intentional decision, although not necessarily one that I like.
I don't know why there's a 40% ABV version, but maybe it helps with making it supremely sippable and gentle (to a fault). Blanton's at 46.5% really didn't need more water to begin with, so adding even more of it just takes it down more.
If you're shopping on Amazon, support The Whiskey Shelf by shopping through my affiliate link – Shop Amazon. I may earn a commission from your Amazon purchases.

Let me start by mentioning that I enjoyed smelling and drinking Blanton's Black. It has a nice range of sweet, herbal, earthy and fruity traits with a solid background oakiness, roastiness, and smokiness that all mesh together well.
It very much captures the Blanton's personality I've come to expect from
Blanton's Red
and
Blanton's Gold
, but not so much
Straight From The Barrel,
which is a totally different breed. The more vibrant and effervescent oak and smoke is really a nice touch.
It all comes together into an approachable and sippable drink, yet is not devoid of character. To use a beer term, I consider it a "session" bourbon if you want to call it that, and I nearly gave it a "Mid Shelf+" rating. The drawback is that it's nothing particularly great or noteworthy, lacking much richness, depth, or complexity in any of its traits. The dilution sucks the life out of it.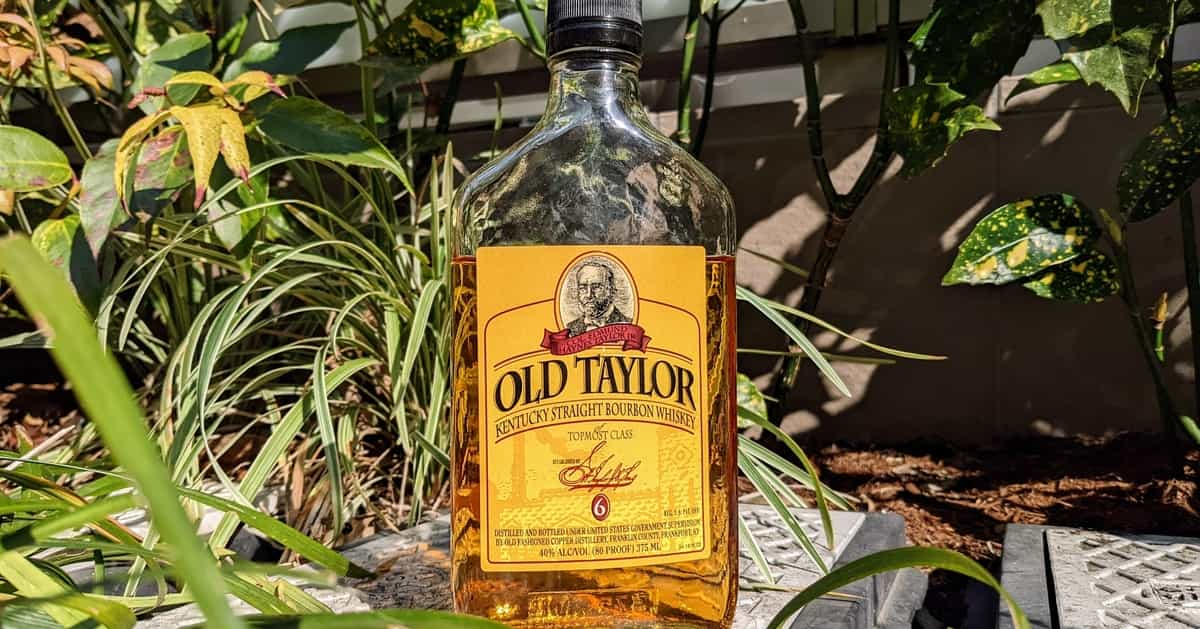 So Blanton's Black is fine enough for the $50 or so it costs in Japan. That's $15-20 less than Blanton's Red, but it's far from a must try and nowhere near good enough to justify it's secondary value. I thought
Elmer T Lee
was overrated, this is even worse. Honestly,
Evan Williams Single Barrel
and
Four Roses Single Barrel
are better in my opinion.
Regardless, do whatever you want with your money. Just know that you're especially not paying for the quality of the bourbon inside the bottle, you're paying for a show piece, a collector's item, and something you can't find in the United States. If you're going to spend the money, I suggest getting Red, Gold, or Straight From the Barrel instead. They're equally as flashy and better drinkers.
You also have other great Blanton's alternatives to consider that are as good if not "better"…but I digress. If you want a lower ABV Blanton's, just water it down yourself and don't back yourself into the diluted corner that is Blanton's Black.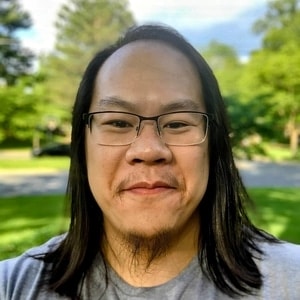 I have far too much fun writing about whiskey and singlehandedly running The Whiskey Shelf to bring you independent, honest, and useful reviews, comparisons, and more. I'm proudly Asian American and can speak Cantonese, Mandarin, and some Japanese.
There are no sponsors, no media companies, and no nonsense. Support The Whiskey Shelf by 
Buying Me A Shot
.