Blanton's Takara Gold Review
Blanton's Takara Gold Details
Distillery: Buffalo Trace
Type & Region: Bourbon, USA
Alcohol: 51.5%
Composition: Buffalo Trace Mashbill #2 (supposedly 12-15% rye)
Aged: Rumored to be ~8 years old
Color: 1.3/2.0 on the color scale (russet, muscat)
Price: No idea what MSRP is supposed to be. Paid $150 in Japan
blanton's takara gold overview
This was a huge surprise for me…turns out there is a second version of Blanton's Gold: Blanton's Takara Gold. Just like regular Blanton's has Takara Red (older, same ABV), Gold has this supposedly 8 year old version (still 101 proof) that's pimped out in a gaudy gold box that differentiates it from the comparatively plain-looking "standard" Gold. This particular bottle was dumped 7/22/20 from rick 54, barrel 49.
I think this might actually be a Japan-only release (not even Europe or the Caribbean), and I had no idea it existed until I posted a photo of some bourbon I saw and someone called it out as something different. Up until then, I just wondered why Blanton's Gold had such a flashy box, kind of like those chromed-out gold Lamborghinis people drive at 5 mph on the cramped roads in New York City.
As of when I wrote this review, regular Blanton's Gold has become uncommon in Japan, but not quite rare yet. I see it every now and then on store shelves for around $130-150 (was only $80ish a few years ago) and online for a little more. It's far less abundant than regular, Black, or Red.
Takara Gold is more difficult to find, but still easier to obtain than normal Gold is in the US. In Tokyo at least, it still sits on some store shelves, likely because many don't want to pay $150+ for new bourbon. They'd rather overpay for Japanese whiskey or dusty Wild Turkey.
As of this review, I actually haven't had normal Gold, so this is my introduction to Blanton's Gold in any form. Let's give it a try and find out if it's as good as gold in this Blanton's Takara Gold review.
blanton's takara gold smell
With my first smell, all I can think is, "wow this smells like Blanton's Straight From The Barrel…but lighter". Blanton's Takara Gold has earthy and gingery honey, vanilla, cardamom, baked apple, cinnamon, caraway seed, rosemary, dry orange, musty and dry licorice, pear, pineapple, and maybe a hint of cherry.
It's earthy and spicy-forward with a more delicate but still present fruitiness, which may be aided from the lower ABV. From memory, Takara Gold seems to have a little more licorice and fennel than Straight From The Barrel. And just like Blanton's Straight From The Barrel, I'm reminded of
Old Grand Dad 114
because of the ginger and spice.
After swirling, the heat seems to wash out everything, but it does come back down to normal after a few minutes. So depending on your amount of patience, you may not want to swirl this. After a bit, it all settles down and I smell earthy and ginger-y caramel, caraway seed, cardamom, dried honey, toasted gingersnap cookie, chai tea, cinnamon, fennel, and dried apricot.
It's still quite earthy and spicy but lacks the same density of Straight From The Barrel, which should come from the huge difference in ABV. As a result, the heat is also more tame. Still, that comes at the cost of the overall experience as Blanton's Takara Gold has some richness, complexity, and depth, but is nothing exceptional. I like it, but I'm not amazed.
blanton's takara gold taste and aftertaste
With my first sip, I taste earthy honey, vanilla, licorice, pear, caraway seed, rosemary, roasted oak, cinnamon, and nutmeg. There's a little bite, but it's not out of line for 101 proof. It's glaringly obvious how it doesn't have any of the intensely sticky and drying oiliness of Straight From The Barrel.
They must chill filter these, but I wish they hadn't. So far, Blanton's Takara Gold tastes nice, but there's isn't necessarily a ton there to appreciate.
After "chewing", the flavors thankfully become richer with earthy and herbal caramel that's darker, caraway seed, cardamom, ginger, cinnamon, vanilla, licorice, roasted oak, some dry orange peel and apple, clove, dried apricot, and toasted pumpernickel bread. It's comes together like toasted gingersnap cookie.
Oh boy I'm glad that "chewing" releases the rounder and more fruity bottom end, maybe apple and apricot, that wasn't there before. It makes Blanton's Takara Gold more round, rich, and complex, because that first sip wasn't so impressive.
While this is an earthy, gingery, and spicy-forward bourbon like the particular Straight From The Barrel I reviewed, it seems that the lower ABV allows a little more of the fruit and herbal quality to appear. It was likely washed away by the stronger alcohol in Straight From The Barrel.
The aftertaste at first leads with honey, licorice, pear, roasted oak, and caraway seed. It's a similar earthy, herbal, and fruity mix as the flavors. "Chewing" leaves caramel, caraway seed, ginger, honey, orange, licorice, and apricot. I'm not going to over-index on the finish, but it's nothing noteworthy here. It doesn't really linger or evolve in a way that ties up the entire experience.
If you're shopping on Amazon, support The Whiskey Shelf by shopping through my affiliate link – Shop Amazon. I may earn a commission from your Amazon purchases.
Blanton's Takara Gold Rating

Oh boy Blanton's Takara Gold is difficult to rate because it's right at the cusp of "Top Shelf". It could really go either way. Ultimately, I picked Mid Shelf+ (but so close to "Top Shelf") because while there's a lot to enjoy and appreciate, as a whole I'm not wowed enough to go to the higher rating. I really wanted to find out that this was special.
There definitely are some highlights, especially the richer sweetness and fruitiness that came after "chewing" that meshed well with the earthy and spicy flavors, but it felt oddly light at times. The not quite amazing scents are also a deciding factor, although not necessarily the most important one.
Overall, there just isn't enough depth in the earthy caramel, gingersnap, spice, and other traits to get it over the hump. I guess the best way to word it is that Blanton's Takara Gold isn't consistently excellent across the board, or gangbusters in at least one way to make up for other shortcomings. This isn't such an apples to apples comparison, but I prefer
Wild Turkey Rare Breed Non Chill Filtered
.
I'm surprised-ish to find that Blanton's Takara Gold smells and tastes more like the watered-down version of Blanton's Straight From The Barrel (because of the gingersnap cookie and cardamom), and less like the proofed-up
Blanton's Red
. The
two Reds I've reviewed
didn't have much in the way of those distinct notes.
Then again, that may just come down to the single barrels that I got, so other barrels of Red, Takara Gold, and SFTB could have more / less gingersnap and cardamom. Comparing single barrel thing can be quite tricky, so one other takeaway is that there can be quite a lot of variation (apart from ABV) between Red, Gold, and Straight From The Barrel.
In conclusion, Blanton's Takara Gold is an upgrade from both Blanton's Reds that I've already reviewed, but not the younger and higher ABV Straight From the Barrel. But with my sample of one, I have no idea how this particular barrel compares to others.
I technically could buy more to find out, but that's a pricey proposition given these are at least $150 a bottle. I'm not hellbent to find out.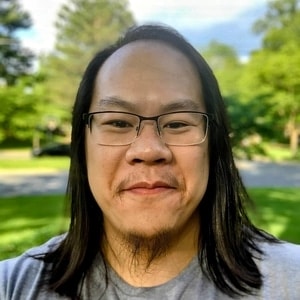 I have far too much fun writing about whiskey and singlehandedly running The Whiskey Shelf to bring you independent, honest, and useful reviews, comparisons, and more. I'm proudly Asian American and can speak Cantonese, Mandarin, and some Japanese.
There are no sponsors, no media companies, and no nonsense. Support The Whiskey Shelf by 
Buying Me A Shot
.